Planning a home remodeling project? It can be a great way to add value to your property and make it more comfortable for you and your family. Maybe it's a new kitchen, redoing the master bath, or maybe you want to finish the basement.

Whichever remodeling project you're planning on tackling, it pays to plan ahead. Just talk to any homeowner who's got a few remodels under their belt and they'll tell you that it can be a huge headache if you don't plan it properly.

So how can you plan your remodeling project like a pro? Here are five steps that can help you plan your project, skip the headaches, and avoid wasting your money.
Let's start with that first one…the budget.




How to Plan Your Home Remodel in 5 Steps
1. Set a Budget
You probably have a good idea of what you want to spend on your project. But it pays to do a little research first. Get some estimates from contractors or even just ask friends who've done similar projects.

Once you have a general idea of the cost, add about 10-20% for unforeseen expenses. You might find that the electrical in your home isn't up to code and needs to be redone. Or you might want to upgrade some materials or fixtures. Either way, it's always good to have a little extra in the budget for these types of things.

2. Design Your Space
This is the fun part! You probably already have a rough idea of what you want to accomplish with your remodel. But now you get to sit down and really plan out what you want your new space to look like.

Start by looking through magazines or online for inspiration. Save pictures of rooms that you love. Then start planning how you can recreate that look in your own home.

As you plan your remodel design, think about things like:
The layout of the space
Needs and wants for your project (Focus on the needs first and then add wants based on how much flexibility you have in your budget)
Which parts of the project you can DIY and which parts will need a professional
The style of furniture and fixtures
PRO TIP! – Instead of relying on your imagination and mood boards, use a 3D home design program like Cedreo. Cedreo is powerful enough for professionals yet easy enough to use for homeowners.

With Cedreo you can build a virtual model of your dream renovation in just a few clicks including:
Realistic 3D layouts
Furniture & decorations
Flooring, paint & lighting
Designing your remodel in Cedreo is even a huge help when it comes time to communicate your ideas to a contractor. When your contractor clearly understands what you want to achieve, they can help make that dream become a reality.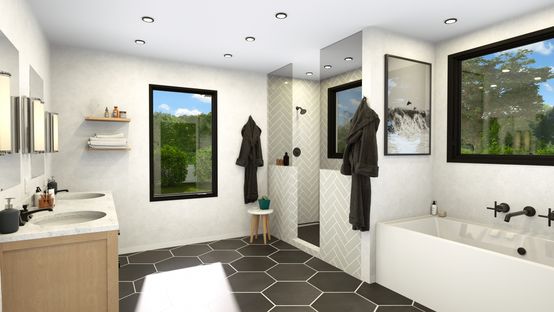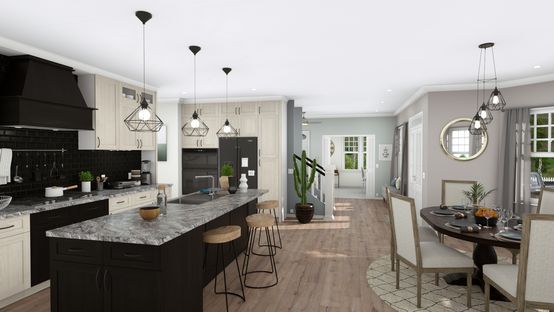 3. Hire Contractors
Once you have a plan for your space, it's time to start looking for contractors. This is an important step because you want to make sure you hire someone who is qualified and who you can trust.

Get recommendations from friends, neighbors, or family members who've done similar projects. You can also check out websites like Angie's List or HomeAdvisor to find qualified contractors in your area.

When choosing between contractors, consider:
Years of experience
Past projects
References
Insurance
How they handle payments
Licenses (Especially for mechanical trades like electrical, HVAC and plumbing)
For big remodels that involve a lot of different trades, consider hiring a general contractor. They'll either have the employees on staff with skills for each trade or they'll take care of organizing subcontractors for each trade.

4. Build a Timeline
Once you have your team of contractors, it's time to start building a timeline for the project. This is important because you want to make sure that everyone is on the same page about when things need to be done.

You and your contractors need to factor in things like:
How long it will take to get materials
The time of year (you might not want to start a big exterior project in the middle of winter)
How long it will take to complete each stage of the project (remember to add in some buffer days)
If you're remodeling one of your primary living spaces like a kitchen, it's important to understand how long it'll be out of commission
Projected completion date
5. Set Expectations for Ongoing Communication
One of the most important things you can do during a remodel is set expectations for ongoing communication. This is important because you want to make sure everyone is on the same page and that there are no surprises.

Some things you might want to consider:
How often you'll need updates from your contractors
The type of communication you each prefer (email, text, phone call, etc.)
What information needs to be included in each update
How to proceed when problems arise
What to do if you want to request a change
PRO TIP! – A program like Cedreo can really help streamline communication. If you want to request a change, just make the adjustment to the 3D design in Cedreo and show it to your contractor — there's no need to depend on a verbal explanation that your contractor could misunderstand.

And if your contractor runs into a speedbump — maybe certain materials are no longer available or building codes require a change — then they can make changes to the design in Cedreo and you'll instantly get to see an updated version of the finished project!




Conclusion
Now it's time to start planning your remodeling project! Yes, you should be prepared for a few bumps along the way. But if you…
Set a reasonable budget
Create a detailed design
Hire experienced contractors
Build a timeline
And set clear expectations for ongoing communication
…your dream remodel will soon be a reality!

And don't forget to join 1,000's of other remodelers and professional contractors who use Cedreo to plan their remodels.
Create an entire set of designs in just 2 hours!
Choose from 1,000's of different decorations, materials, and furniture pieces in the design library
Download HD photorealistic 3D renderings to show your contractors exactly what you're planning