3D renderings have made their way into virtually every type of business, including the construction industry. In the past, it took days or even weeks to get decent 3D renders.
But now with easy 3D rendering software, you can render images faster than ever — even with no previous 3D design experience!
Want to learn how to make rendering faster?
In this 5-minute read, we'll give you everything you need to know.
What is a 3D Rendering?
A 3D rendering is a three-dimensional image of an object or scene.
In the construction industry, architects first create a set of 2D blueprints and floor plans. They'll also create 2D drawings that show one side of a building or of a room.
Then, using 3D rendering software, designers create three-dimensional models of the home with perspective, lighting effects and realistic textures. Once the models are created, you can move throughout the 3D space and capture still images from certain perspectives.
3D renderings like this are a great sales tool that helps you win more clients and communicate your ideas more effectively.
Check out our article What is a 3D Rendering and How to Get Great Ones? to learn more about the benefits of renderings for housing professionals.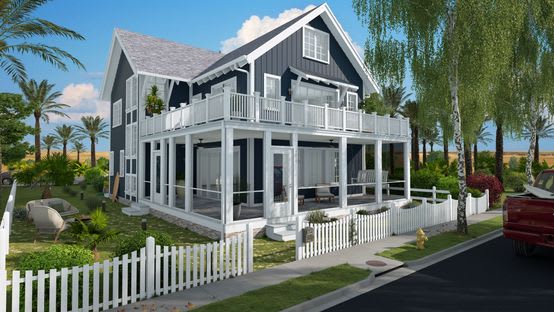 Why is Rendering Speed Important for Architects and Builders?
It can take the best home and office computers hours or even days to render detailed 3D images. On the other hand, with modern cloud-based software, you get to take advantage of powerful servers built specifically for fast 3D rendering. These can cut your rendering times down from hours to just 5 minutes or less.
So why should architects and builders like you opt for the fastest rendering software? Here are 4 reasons.
Visualize projects faster
The sooner you get your rendering, the sooner your design team can visualize the finished project. Also, the faster you get the rendering, the faster you can show it to your client and help them form an emotional connection with the design.
Shorten the feedback cycle
The faster you can show clients a 3D rendering, the faster you can get their feedback and make edits to the designs. And if you're able to show them a new 3D rendering immediately after you make the edits, you can agree on a final design faster and be able to move on to the next stage of the project.
Gain a competitive edge
A lot of construction professionals are intimidated by the thought of creating 3D renderings, so they end up outsourcing their 3D design work. That takes a lot of time.
So while your competitors wait days or even weeks to get their 3D designs back, think of the edge you would have by generating 3D renderings in-house in just a few minutes.
Close deals faster
The longer a potential client has to wait on you, the more likely they'll go with another contractor or scrap their project altogether. So look for ways to get your renderings done faster so you can help clients envision their finished project. The faster you can do that, the faster you will close your deals.
5 Programs That Can Accelerate the 3D Rendering Process
Here are 5 of the top programs that the pros use for 3D rendering. Let's start with an easy-to-use design program that gives you photorealistic renders in 5 minutes or less!
Cedreo
Best for: Residential housing professionals
Cedreo is a cloud-based 3D home design and rendering software. It is easy to use for complete beginners but is still powerful enough to create professional 3D renders for builders, remodelers, interior designers and real estate agents.
And as far as rendering speeds go, Cedreo is one of the fastest rendering programs. With its cloud-based software, Cedreo's advanced servers take care of the heavy lifting. That means your professional renders are ready in just 5 minutes!
Key features:
Create interior and exterior renderings
Adjust the sun orientation to get accurate natural lighting effects
Render the scene at different times of day
Download renders in easy-to-share image formats
Large catalog of 3D objects to bring your designs to life
Pricing: Check out all of our pricing packages here.
SketchUp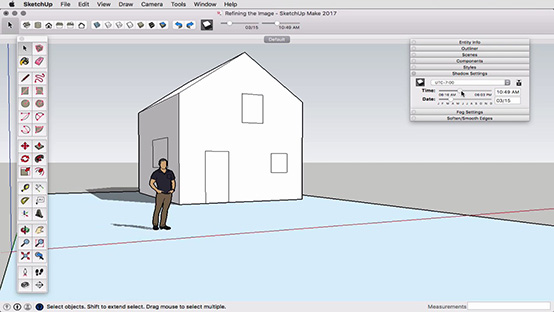 Best for: Residential and commercial 3D design professionals
SketchUp is a versatile 3D modeling program that lets users create 3D models of anything — from a simple object to a large commercial building.
While SketchUp does make its software simple to use for basic tasks, if you want to create more complicated models (like entire buildings), it helps to have some previous 3D design experience. You'll also have to purchase add-ons and extensions in order to create realistic renderings.
Key features:
Very large library of user-generated 3D objects
Large extension warehouse
Add-ons available for creating 2D blueprints
Create virtual walkthrough videos with the right extensions
Pricing:
Free with limited features.
Shop: $119 per year
Pro: $299 per year
Studio: $699 per year
Blender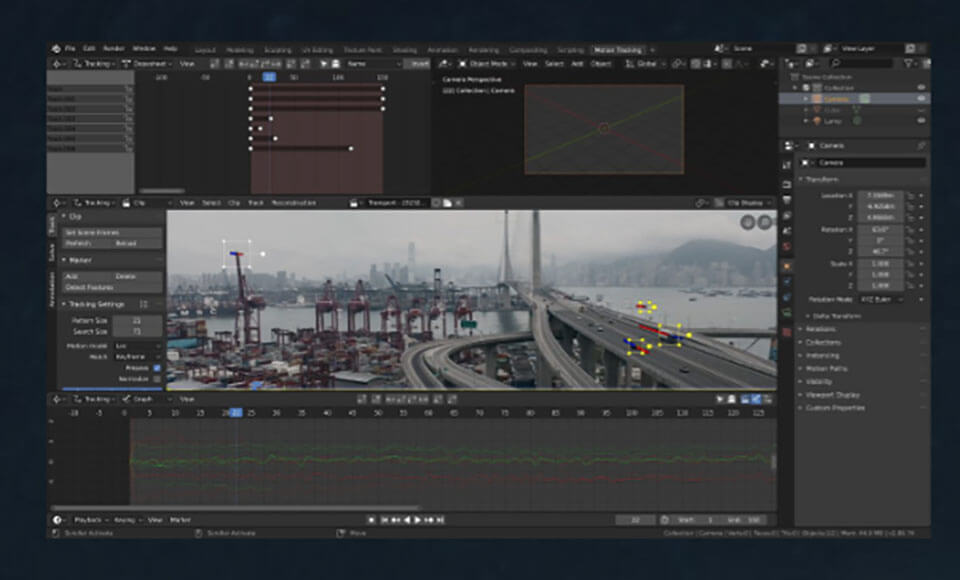 Best for: Students learning 3D creation
Blender is an open-source program that makes a great option for students or professionals who are getting their feet wet in the 3D design world. It's got tools for creating virtually every type of 3D design — animation, 3D video editing, VFX, sculpting, and more.
Key features:
Extensive modeling tools
VFX camera and object tracking
Animation and rigging tools
Customize the tool layout to fit your needs
Pricing:
Free, open-source program
Revit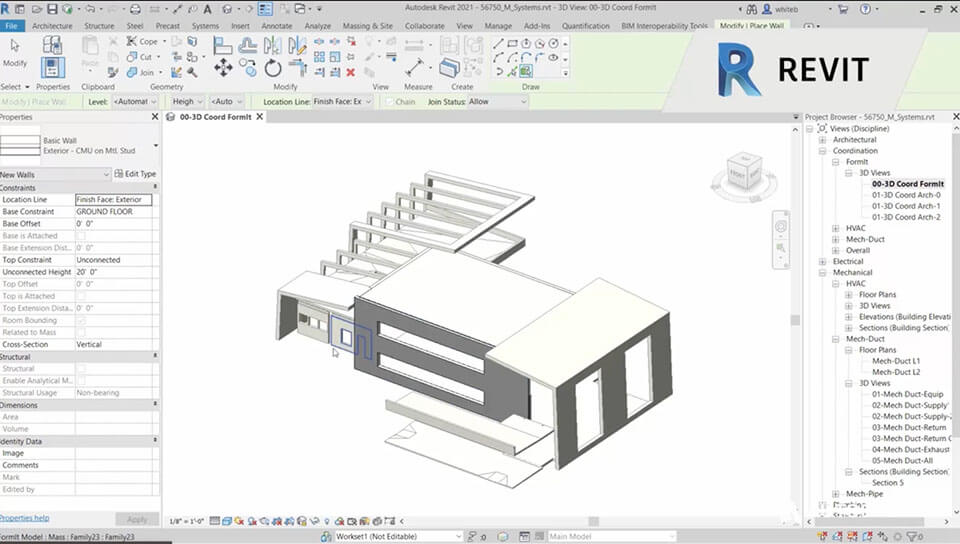 Best for: Large commercial construction firms
Revit is a BIM (Building Information Modeling) software that helps architecture, engineering and construction teams collaborate within a single program.
In addition to creating top-quality renderings, Revit has tools for structural analysis, project documentation, and cost estimating. However, because Revit is such an extensive program, it requires extensive training to use the 3D rendering tools.
Key features:
Tools for running large commercial projects more efficiently
Create 3D panoramic images
Coordinate with engineering and construction teams through one program
Monitor building performance over its lifetime
Pricing:
Subscription plans start at $335/month
Occasional users can buy tokens to use Revit when needed — $300 for 10 tokens. One day of use costs 10 tokens.
Renderro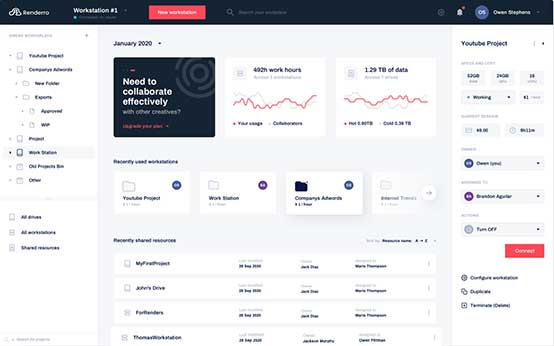 Best for: Desktop rendering software users
Renderro isn't a rendering program but rather a way to harness the power of cloud computing to get faster renders. Instead of using your own desktop computer to render images from a program like Blender, Renderro gives you cloud access to superfast computers that can handle resource-intensive tasks (like 3D rendering) many times faster than your own computer.
Key features:
Use a cloud desktop with the power of 48 2.8 GHz CPUs, 4 NVIDIA A10G 24 GB GPUs and 192 GB of RAM
Access your cloud desktop from any device as long as you have internet
Get more computing power whenever you need it in order to render 3D images faster
Pricing:
Freelancer: $49/month
Pro: $149/month
Studio: $250/month
Plus Pay-As-You-Go for usage from $1.99/hour for Basic up to $9.99/hour for Turbo.
Render Quickly and Close More Deals
Being able to render 3D images quickly should be a priority in your project workflow. You'll be able to…
Shorten the feedback cycle
Gain a competitive edge
And close deals faster
If you're a housing professional, the easiest way to generate 3D renderings faster is by switching to Cedreo.
Create an entire set of 3D home plans in just 2 hours
Get photorealistic renderings from Cedreo in just 5 minutes
Customize lighting and perspective
Impress clients and close more deals
Sign up today and see how Cedreo 3D rendering software can help take your business to the next level.