3D rendering is making a 3D picture of an object based on a 2D blueprint. They are used in multiple industries to get realistic images of a product before it is actually created. 3D rendering is the best way to efficiently present and communicate a vision to another person. There are many ways to create them and get great ones, depending on your objectives.
The Objectives of a 3D Rendering
2D blueprints are necessary to give different specifications, such as measurements, electricity or plumbing aspects to the civil engineer or specialty contractors but they are too complicated for people without a technical background to read and they would struggle to translate them into a tangible product.

This is where the 3D renderings are necessary to move forward.
1. Help the Customer Visualize the Project
In the housing industry, 3D renderings are being used more and more by home builders, remodelers and interior designers to give a view of the finished design to the customers, especially because they can't see the house or the addition yet. It is a challenge to sell a completed house, so selling one that doesn't exist yet is even more complex and need more attention from the home builder in order to close the sale.

Here is the typical translation from a 2D floor plan to an exterior 3D rendering.

It is a no-brainer to know which picture will help the customer take a decision: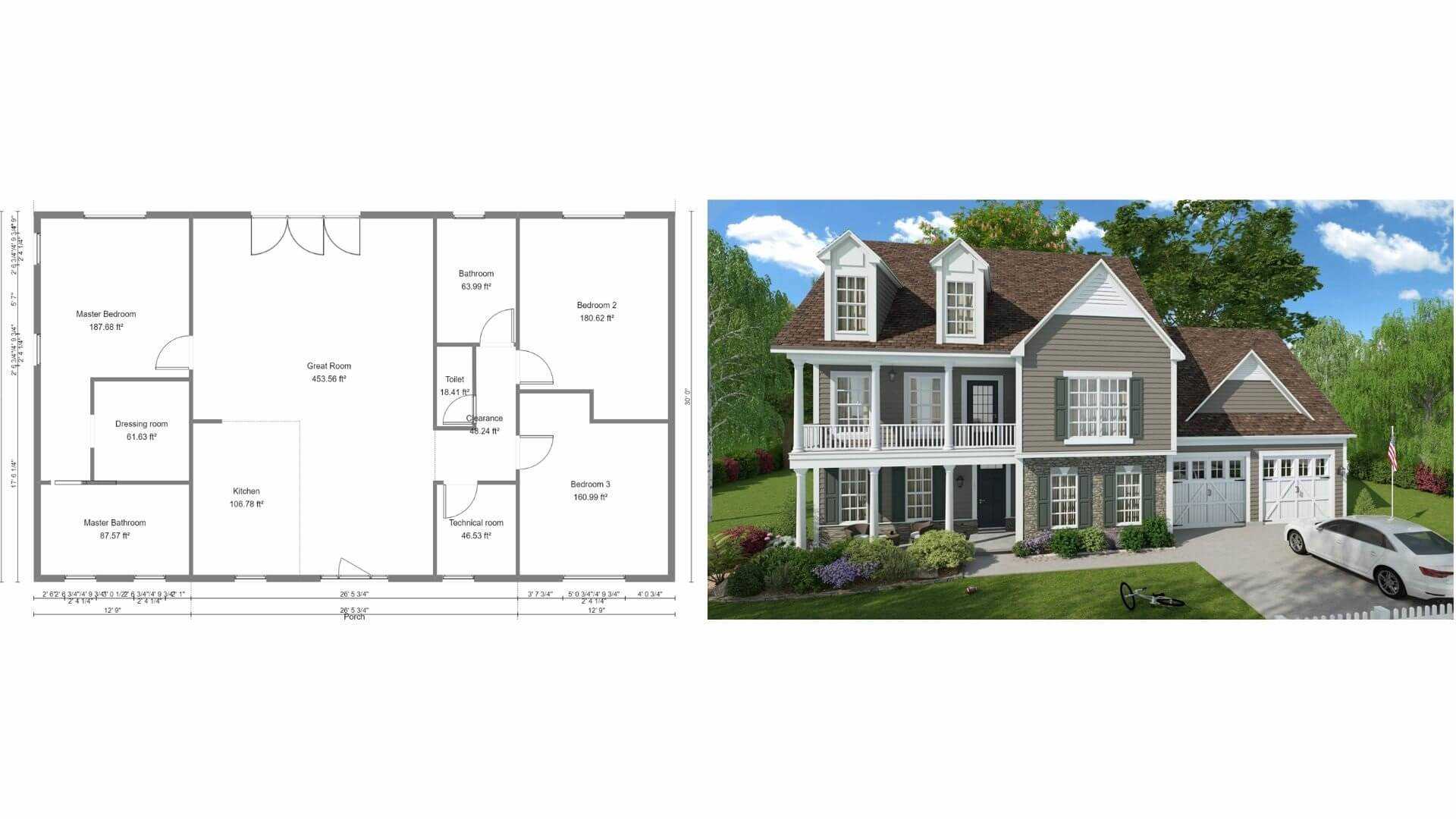 2. Improve the Buying Experience
Customers usually have several options when it comes to choosing a home builder, remodeler or interior designer, they will select the one they trust and the one who understood and reflected most accurately their needs.

To stay ahead of the competition and offer a straightforward experience to their clients, 3D renderings are key to communicate more smoothly and make sure that everyone is on the same page. It avoids discrepancies between the client's vision and the home builder's understanding.
3. Ultimately, Sell More
Residential builders don't have many options other than providing interior and exterior 3D renderings to their clients to help them visualize to sign off on such big projects. Customers need to trust that the home builder that they hired can turn their dream home into a reality taking into consideration the cost involved. 3D renderings clearly have a positive impact on sales and this is the must-have deliverable to present to customers to engage them.

To go further: See how 3D renderings benefit Heartwood Build & Design, a savvy design-build firm, to boost sales

The Options to Get Great 3D Renderings
1. Outsourcing the 3D Renderings Creation
A majority of home builders allocate a large part of their capital to the conceptual designs. They outsource the drawing of floor plans and the 3D renderings to an architectural firm for each potential new client. They have to pay to create a proposal with all necessary materials, without knowing if the client will sign off on it.

These firms usually need about 20 days to send the first version of the floor plan and 1 rendering. They charge per hour or per project with extras for revisions and 3D renderings, resulting in costs ranging from a couple hundred to several thousands of dollars per project. The quality of the 3D renderings is great most of the time however the time and cost attached to this process prevent the home builders, remodelers and interior designers from being efficient and scaling their business.
2. Using a Complex 3D Modeling Software
Some residential building companies are handling the preliminary designs in-house with the internal architect or civil engineer. This process allows them to be slightly faster as they can prioritize the projects drawn by the architect and revise the floor plan more easily.

However the CAD software used by the architects are very complex and they require strong 3D design skills. It takes them days to draw a floor plan. These types of software are powerful enough to produce the technical drawings necessary for contractors but unfortunately they are not designed to generate appealing photorealistic 3D renderings quickly.

This solution isn't the best for housing companies who want to streamline their pre-sale process and to reduce the cost and time allocated to the conceptual designs.
3. Using an Easy-to-use 3D Home Design Software to Streamline Pre-sales Like Cedreo
Cedreo is an intuitive and easy to learn 3D home design software that will cut down both the time and the cost allocated to conceptual designs.

You will be able to draw floor plans, furnish your project and generate multiple 3D renderings in 2 hours. Even less when you use an existing project which you only have to customize for a new client.

As it is cloud based, you can work from your office, home or directly on site during the meeting with your client. You only need a basic laptop and an internet connection to create high quality 3D renderings.

With Cedreo, you can generate photorealistic 3D renderings in just 5 minutes! The interface is simple, in only 2 clicks you'll be able to launch the rendering calculation. No more never ending setup procedure or waiting hours for the rendering to be ready and no need to upload the image to another software to improve the image quality.

This is the all-in-one 3D home design software to quickly create the most realistic 3D renderings to wow your clients and sell the job.
Interior 3D Renderings
As an home builder, remodeler or interior designer, you will be delighted to present effective interior 3D renderings to your clients to help them visualize their project.

You can really create an emotional connection thanks to all the details you can add, especially in the most important rooms like the kitchen, the bathroom or the master bedroom.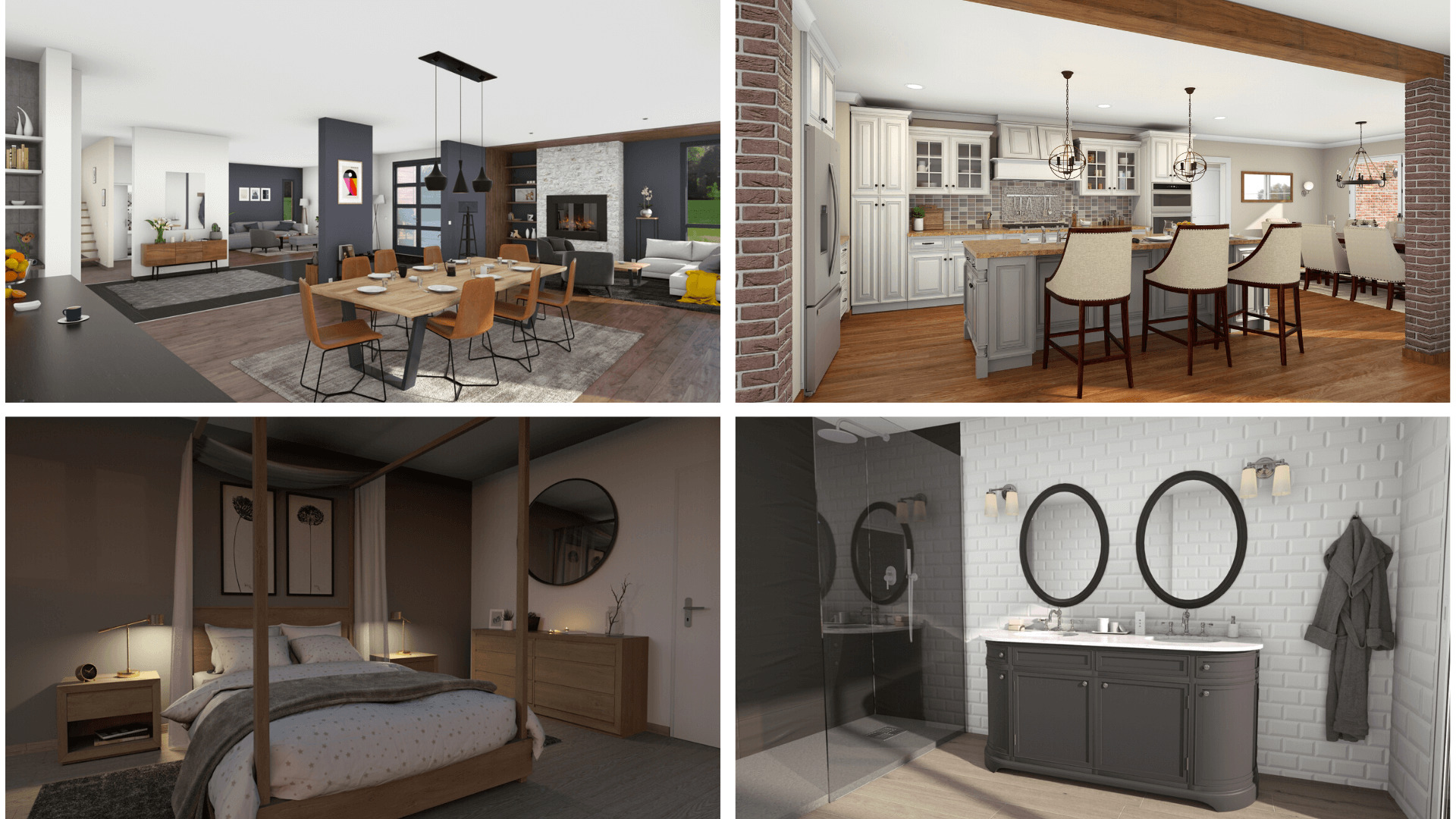 Exterior 3D Renderings
New home construction requires photorealistic exterior 3D renderings to give an exact view on the overall style.

Thanks to the possibility of having multiple perspectives you can make sure that the project fits the client vision. You can present daylight or sunset images to impress your clients and plunge them in another atmosphere.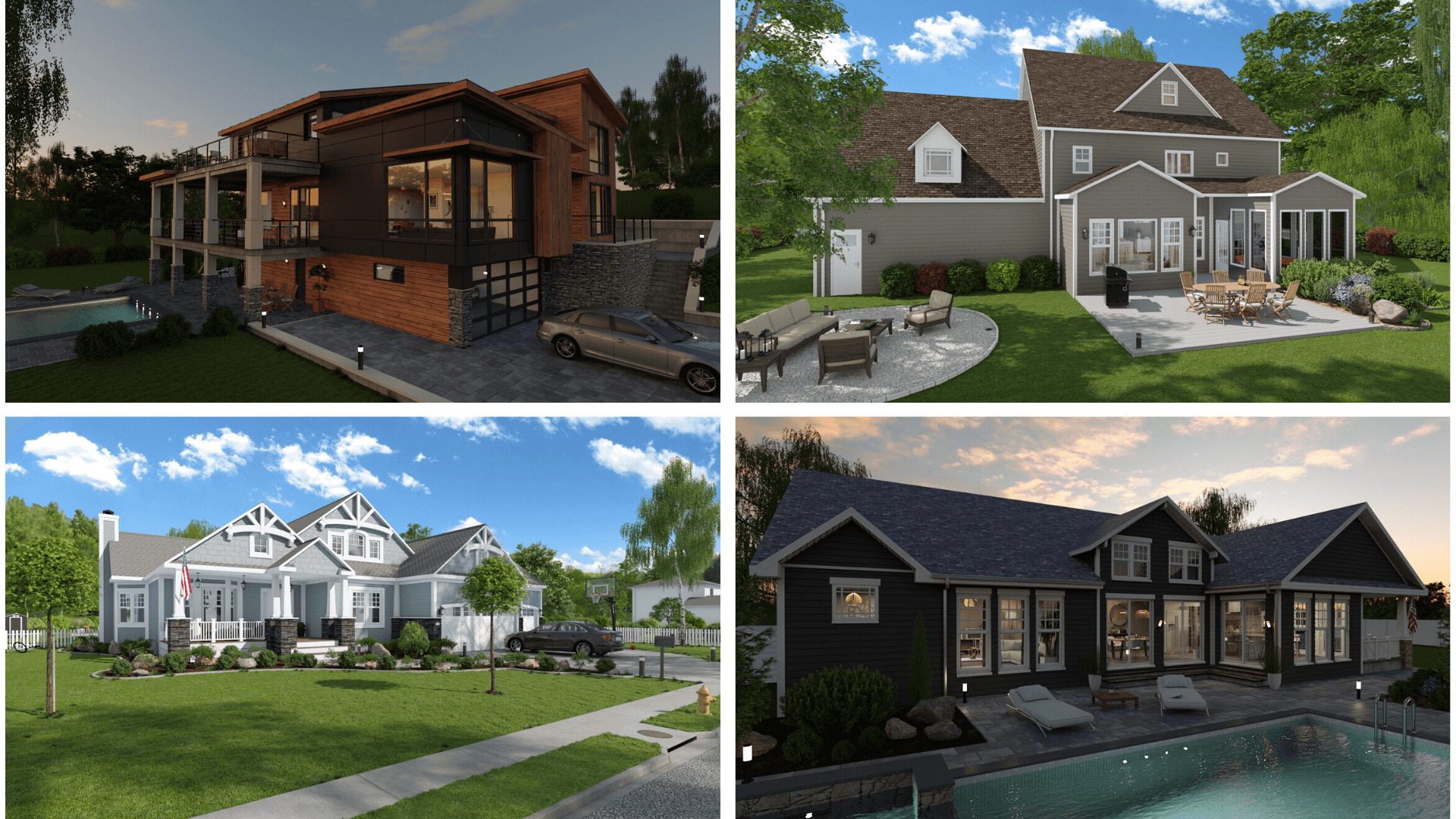 Also, Cedreo has an incredible Customer Success team to help you getting started with the software and then whenever you need, to make your vision come to life on the most complex projects. You can reach them by email chat or phone on weekdays.