Like any modern business, roofing companies are increasingly looking toward software to manage their day-to-day work, coordinate with clients and contractors, and deliver roofing projects on-time and under budget.

Now, it's important to note that "roofing software" spans a diverse range of applications. There's roofing design software, like Cedreo, roofing CRM software for managing the sales process and client relationships, and a number of tools dedicated to project management and roofing estimations.

In 2022, you'll want to look for cloud-based solutions that integrate with the rest of your tech stack. Otherwise, you'll end up wasting time on manual tasks or using bad data to make inventory decisions and generate project estimates.

In these next few sections, we'll look at the best roofing software, across several categories.




11 Best Roofing Software (Free and Paid) for 2022
We've put together a list of the best roofing software for 2022 that includes a mix of specialized tools and all-in-one systems that cover the entire business.
1. Cedreo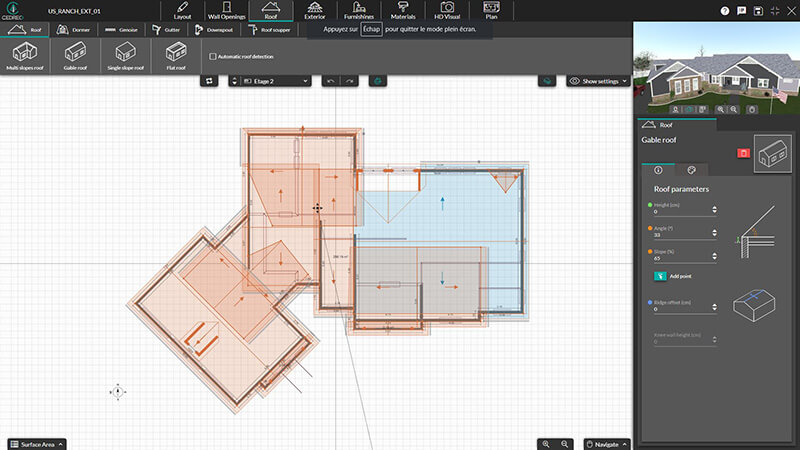 Best for: 2D & 3D roof design

Overview: Cedreo's roof design software helps contractors and home builders streamline the planning process and put together a winning design in a matter of clicks. The platform allows users to create roofing plans in a variety of styles and materials.

You can add windows, gables, and multiple slopes, and set the pitch to any angle you'd like. Cedreo automatically calculates the roof area and syncs it to your blueprint. When you're happy with your design, you can turn it into a photorealistic 3D rendering, then share your vision with colleagues via email, social media, or directly from the app.

Key features:
Trace or automatically add a roof
2D and 3D designs
Custom roof types and materials
Add structural modifications – dormers, scuppers, skylights etc.
Photorealistic 3D renderings
Download and share roof designs
Price: There's a Cedreo plan to meet any budget. Check out our plans here.

Get started with a free account to see these features in action.
2. AccuLynx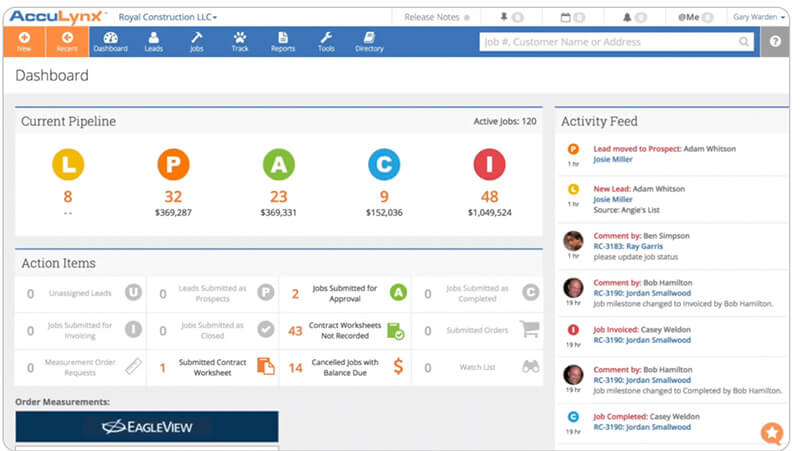 Best for: Roof estimations and business management

Overview: AccuLynx is an all-in-one business management platform for roofing contractors, designed to help streamline their workflows and drive growth.

The platform comes with a built-in CRM, as well as a customer portal you can use to collaborate with clients directly—without giving them access to your entire system. Users also gain access to a robust set of project management and scheduling tools that make it easy for growing teams to stay on top of everything that goes into running a business.

Key features:
CRM
Aerial measurements
Estimation
Live activity feed
Customer portal
Project, product, & labor management
Price: Pricing available upon request
3. RoofSnap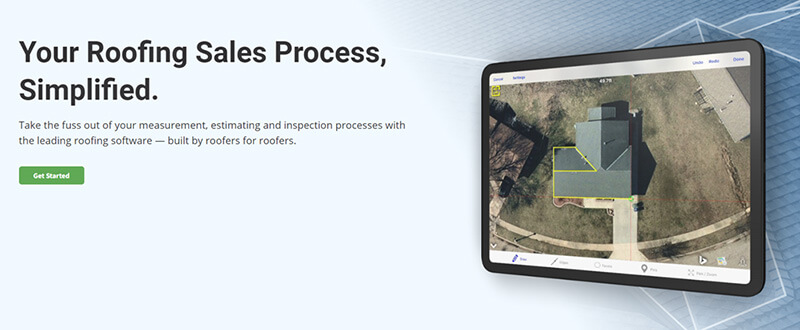 Best for: Roofing project management and estimations

Overview: Like AccuLynx, RoofSnap promises to give roofers and insurance adjusters an all-in-one tool for managing their business. And, while it doesn't include as many out-of-the-box tools, RoofSnap is still a solid choice for roofing pros looking for roof estimating software that can generate blueprints, aerial measurements, and accurate quotes in a matter of clicks.

Key features:
Project management & estimation
Flexible measurement tools
Estimate builder
High-definition aerial imagery
Roof measurement reports
Contract management
Price: Monthly plans start at $99 per user, per month. Annual plans range from $1776 to $5888 per year.
4. Buildertrend
Best for: Roofing project management

Overview: Buildertrend is a construction management platform designed for commercial contractors, home builders, remodelers, and specialty contractors. Inside you'll find tools that tackle the entire construction–from pre-sales and client management to project updates and scheduling.

Buildertrend offers unlimited file sharing, scheduling, and in-app collaboration tools that make it easy for the entire team to stay on the same page. Users also gain access to several tools that allow them to manage payments, track expenses, and send quotes, updates, and invoices to clients.

Key features:
Estimates & proposals
Client & lead management
Email marketing
Daily logs
To-do lists
Scheduling
WIP reports
Financial management
Price: Core Plan is $349 per month ($99 for the first two months), while the Pro Plan is $599 per month ($399 for the first two months).
5. Vonigo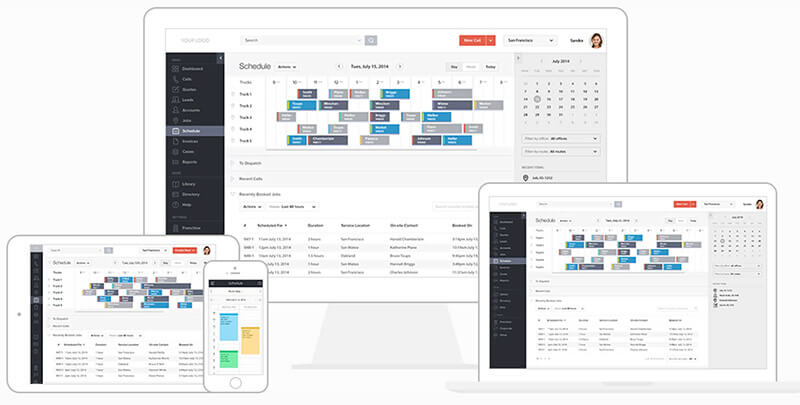 Best for: Roofing project and business management

Overview: Vonigo is another all-in-one platform that provides roofers and contractors with everything they need to run a successful company. Inside, you'll find a suite of tools that aim to streamline each step in the service delivery process — from scheduling and billing to full 360-degree visibility into all job activities.

Users can automate dispatching and routing, view appointments in Google Maps—with directions and client info—and access work order details from anywhere.

Key features:
Quoting & estimation
Payment processing
Inventory management
Case management
Invoicing
Reporting
Price: Plans range from $99 to $139 per user, per month. Mobile-only access is available for $29-49 per user, per month.
6. SPOTIO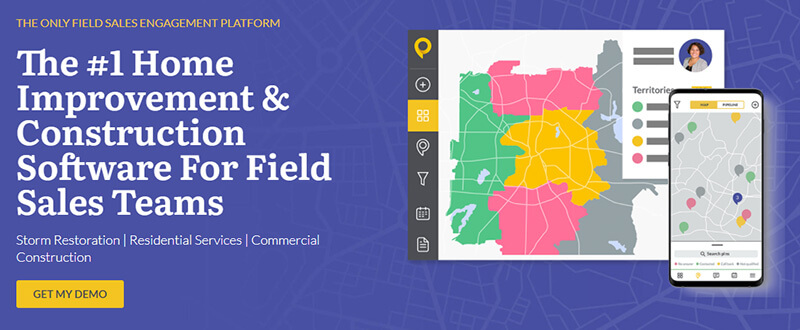 Best for: Field sales engagement

Overview: SPOTIO is a leading field sales engagement platform that caters to a wide range of service-based organizations – including roofing companies. SPOTIO provides a range of features, including GPS tracking that gives managers real-time visibility into field sales activity.

For roofing companies, SPOTIO can be used to locate contractors/employees, verify site visits, and provide optimized directions to workers with multiple stops. SPOTIO also includes a number of sales productivity and reporting tools, as well as multichannel communications that make it easy to engage prospects and get in touch with your team–even if they're on the move.

Key features:
Territory management
Location tracking
Canvassing
Sales prospecting
Lead and client management
Pipeline management
Activity tracking
Route optimization
Price: Pricing available upon request
7. iRoofing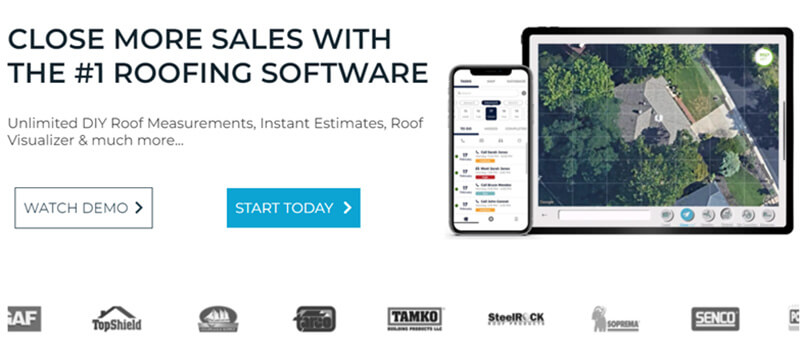 Best for: Remote roof measurements, materials ordering, estimation

Overview: iRoofing is a mobile roofing software platform designed to help contractors and builders perform DIY measurements and generate estimates without setting foot on the job site.

The user-friendly app allows contractors to create accurate measurements from existing blueprints, as well as aerial, drone, or satellite images. Other features include a roof inspection tool, a roof simulator, and an automatic pitch detection tool. Additionally, users can order materials from directly inside the app from its digital catalog and create custom pitch books to win more business.

Key features:
DIY roof measurements
Instant estimates
Roof visualizer
Digital pitch book
Customer database
Digital catalog
Materials ordering
Price: Monthly membership is $129 per month for 3 users. Annual plans are $1368 for 3 users or $1788 for 3 users, plus an iPad or drone. Two-year memberships are $2378 for 3 users.
8. JobNimbus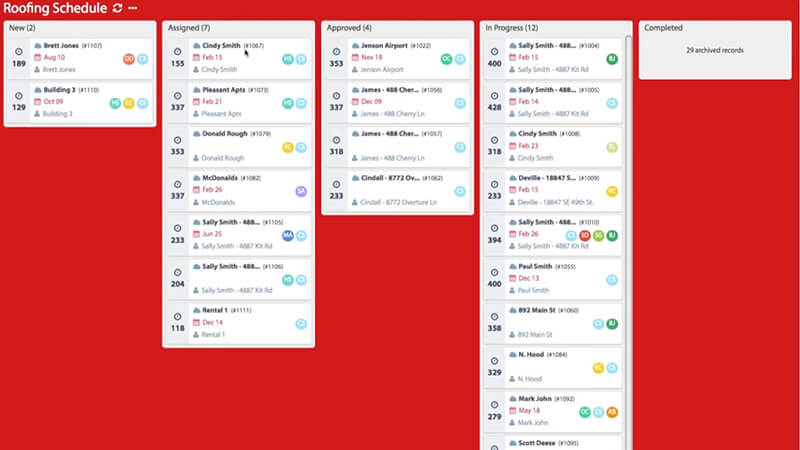 Best for: Project management & CRM for home service companies

Overview: JobNimbus is an all-in-one CRM and project management software for roofing contractors, builders, and other home service providers. The platform allows users to manage scheduling, clients, and contracts, along with all of the moving pieces within each job.

JobNimbus is easy to use and features interactive boards and built-in collaboration tools that make it easy to share estimates, photos, and status updates with clients and colleagues.

According to the JobNimbus website, users experience 43% growth in revenue, on average, and save eight hours per person each week. While we're not clear on where those numbers come from, it's clear that JobNimbus' automation capabilities and intuitive reporting & project management tools stand to generate major productivity gains.

Key features:
Budgeting & job costing
Invoicing & billing
Change order management
Contract & license management
Aerial measurement
Bid management
Client & contractor management
Comments & notes
Scheduling
Price: Pricing available upon request
9. Builder Prime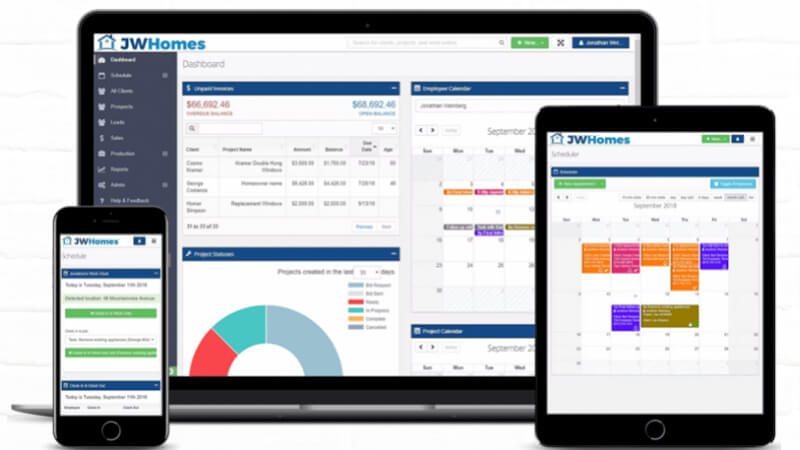 Best for: CRM and project management

Overview: Builder Prime is a roofing CRM software that helps roofing companies, builders, and contractors manage the end-to-end sales process. Inside, you'll find many of the same features you'd get in a traditional CRM – lead management, sales reports, automated lead nurturing, and so on. But, you'll also find features that tackle the unique challenges facing roofers and construction teams – job costing, project management, and timesheets.

Key features:
Automated lead tracking
Drag-and-drop scheduling
Data-driven insights
Custom proposals
E-signing
Automated follow-up sequences
Timesheets
Job costing
Inventory management
Price: Paid plans range from $99 to $299 per month, with Enterprise pricing available upon request. 14-day trial available, no credit card required.
10. RooferPro

Best for: Proposals and estimation

Overview: RooferPro is an on-demand estimation software that handles contact management, ordering, scheduling, bid building, and materials ordering. The platform offers unlimited aerial roof measuring and makes it easy to generate proposals and measurement reports with accurate, pre-programmed calculations.

Unfortunately, the website doesn't include any UI shots and there aren't many reviews available online. The RooferPro site feels a bit outdated and it's hard to tell whether the software has that same "old" look and feel or if the site just needs a refresh.

Ultimately, it seems like an affordable tool for managing the key parts of any roofing business. But, you'll want to sign up for a free demo before you commit to ensure that RooferPro is indeed the right fit.

Key features:
Proposals
Customer management
Sales management
Aerial image integration
Scheduling
In-app materials ordering
Price: Pricing available upon request (though per Capterra, plans start around $100 per month).
11. Quickbooks

Best for: Accounting & financial management

Overview: Quickbooks is a popular accounting platform designed to help smaller companies manage their finances, handle billing & invoicing, and stay on top of payroll and receivables. The platform is easy to use and integrates with a long list of business tools and productivity apps – so, chances are, it'll fit right into your existing tech stack.

It's worth mentioning that while Quickbooks is an excellent standalone solution, it's generally better to manage finance & accounting activities in the same platform you're using for project management, sales, and so on. This is because Quickbooks only handles accounting tasks – and as a result – creates a separation between accounting/finance and the rest of the business. That, in turn means, you may not have access to real-time data when putting together an estimate, ordering inventory, or creating a budget.

At the same time, if you're running a smaller business and don't have the budget for a more robust solution, Quickbooks can help you manage your cash flow, forecasting, tax deductions, time-tracking, and more.

Key features:
Expense tracking
Accounts payable
Accounts receivable
Manage 1099 contractors
Inventory management
Profitability tracking
Cash flow management
Financial reporting
Estimation
Mileage & time tracking
Price: Plans start at $25 per user, per month.
Which Roofing Software is Right for You?
We've looked at roof estimating software, roofing CRM software, as well as dedicated apps for accounting, project management, or roofing design.

But ultimately, choosing the right roofing software for your business is all about examining your business requirements, budget, and work processes. And from there, selecting the solution(s) that best align with those needs.

Cedreo's roof design software is ideal for roofers and contractors looking for a way to streamline the design process, collaborate with clients, and win more bids.

Users can create reusable templates that save hours of work, while real-time, cloud-based collaboration tools make it easy to incorporate changes and move projects through the pipeline. 3D rendering tools help roofers communicate their ideas visually and can be used to improve advertising and marketing efforts and enhance proposals – boosting sales and fast-tracking the decision-making process.

Sign up for a free account to start designing today.