Smartdraw vs Sketchup vs Cedreo: Which Home Design Software is Right For Your Business?


It can be tough to choose home design software for your construction business. We want to help. So let's take a look at three popular software options — Smartdraw vs Sketchup vs Cedreo — to see which is the best one for you.

When comparing these programs, they do have some things in common. They all let you…
Create professional 2D floor plans
Add architectural symbols to your drawings
Share your design files in easy-to-view formats
But there are quite a few differences between the three. That's why in this article we'll compare Smartdraw vs Sketckup vs Cedreo to find out which one has the features you need to save time and grow your business!




A Brief Introduction to Smartdraw, Sketchup and Cedreo
As we mentioned, Smartdraw, Sketchup, and Cedreo do have some similarities. They're all designed as easier-to-use alternatives to traditional CAD software. But there are also some differences that make each of them best suited to certain types of construction professionals.

Here's a quick overview of each program.

Smartdraw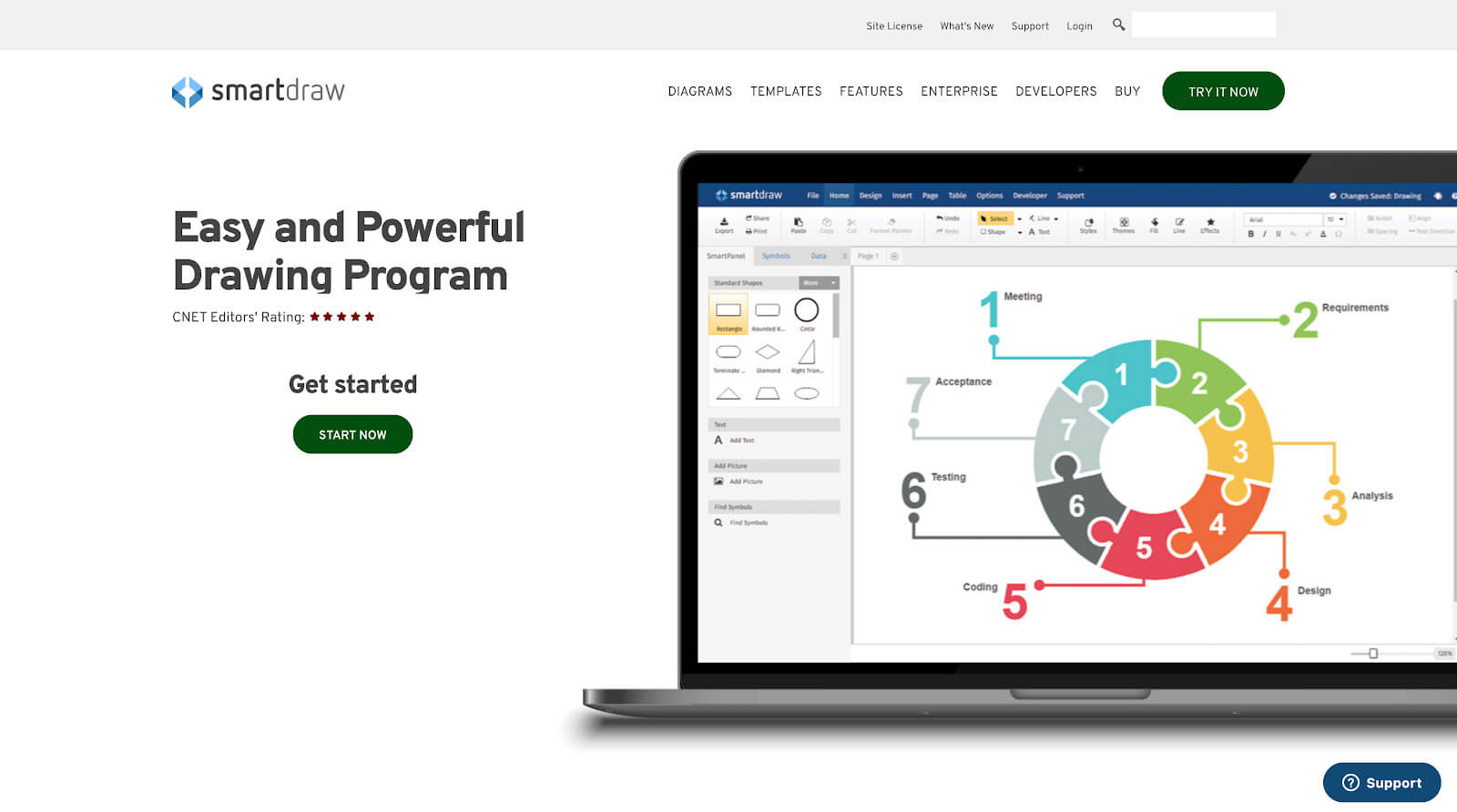 Smartdraw is a diagramming and drawing app. While it can be used to create 2D home floor plans, it's really designed to create a variety of graphs, diagrams, and charts.

For housing professionals, Smartdraw has plenty of tools for creating basic layouts. It's got architectural symbols, floor plan templates, and the ability to download and print plans to scale. However, Smartdraw does lack the 3D design tools that modern housing professionals need.
Create drawings with architecture symbols for HVAC, electrical, and plumbing
Draw on the go with mobile apps
Easy collaboration thanks to cloud storage integrations
Best for: Remodelers who only need to create basic 2D layouts

Sketchup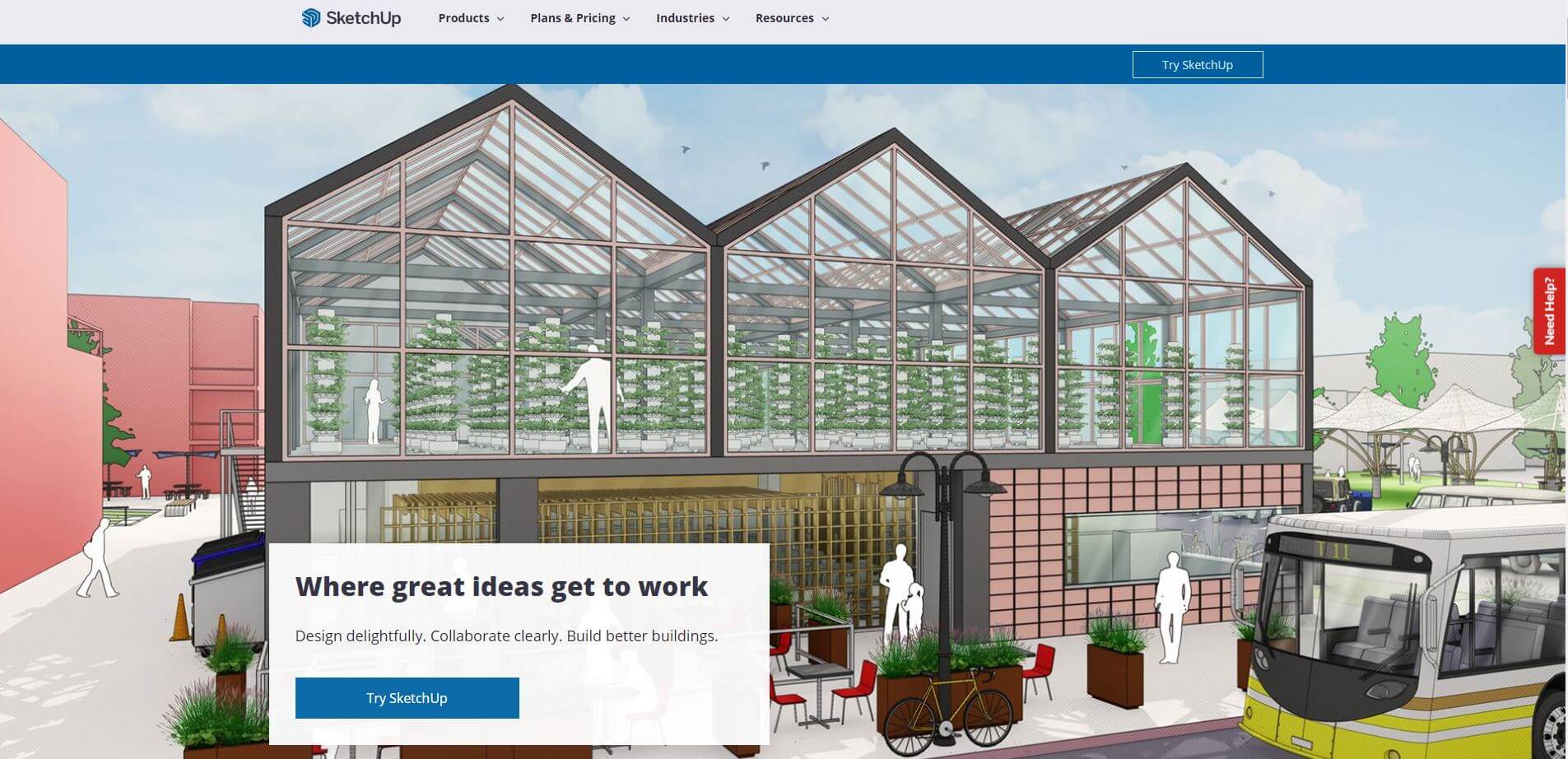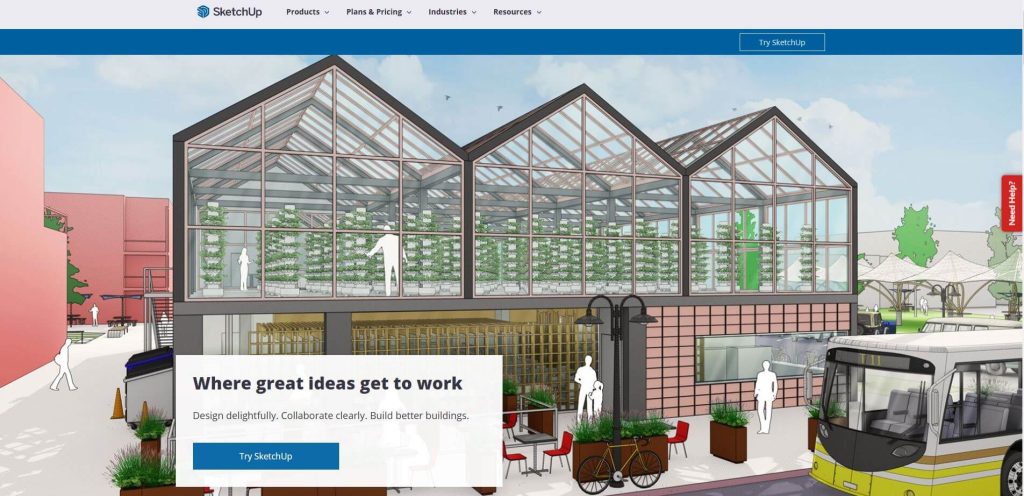 Sketchup is one of the most popular 3D modeling platforms in the world. While it's not just a home design program, some construction companies do use it to create 2D plans and 3D renderings.

However, there are a few drawbacks that you'll quickly run into. One is the steep learning curve, especially if you're new to 3D modeling. And the other is the need to purchase additional add-on programs in order to create professional renderings, blueprints, and virtual tours.
Add thousands of pre-made 3D objects to your designs
Create furniture, decorations, and custom home designs yourself
Produce interactive presentations to show your clients
Purchase a wide variety of extensions to enhance your designs
Best for: Large construction companies with a dedicated design team and 3D modeling or CAD experience.

Cedreo
Cedreo strikes the right balance between ease of use and powerful design tools. With it, you can create professional layouts, 3D floor plans, and realistic renderings — no design experience required.

It's got an extensive 3D design library and an intuitive interface so users can create custom home designs faster than ever. In fact, most users can create an entire home design from start to finish in under two hours!

And best of all, Cedreo's entire toolset is included for all paying users. That means you don't need to purchase any add-ons or extra programs to print plans to scale or produce high-definition 3D images.
Create advanced designs with dropped ceilings and complicated roofs
User-friendly drawing tools make designing 2D & 3D floor plans easier than ever
Drag and drop interface makes it simple to furnish the space
Customize virtually every part of the home from the windows to the landscaping
Get your professional-quality 3D renderings in just 5 minutes
Best for: Professional home builders, remodelers, and interior designers who are looking to streamline their project workflow.




SmartDraw vs Sketchup vs Cedreo: Pricing Comparison
A big consideration when choosing a design platform is your budget. So how do SmartDraw, Sketchup, and Cedreo stack up when it comes to their pricing models? Let's see!

SmartDraw
Free plan: Just a 7-day free trial

Pricing model: Per User

Paid plans:

Individual – $9.95/month

Team – Starts at $5.95/user/month (5 user minimum)

Enterprise – Starts at $2,995/year

Sketchup
Free plan: Yes (for Sketchup Free)

Pricing model: Per User

Paid plans:

Shop – $119/year

Pro* – $299/year

Studio – $699/year

*You need Sketchup Pro or higher to create 2D design documentation and get access to plugins to expand its capabilities.

Cedreo
Free plan: Yes

Pricing model: Either per project or per month (for unlimited projects)

Paid plans:

Personal – $119/project

Professional – $119/month

Enterprise – $149/user/month with team collaboration tools
SmartDraw vs Sketchup vs Cedreo: Feature Comparison
How do these programs compare when it comes to specific features? Check out the chart below. You'll see that while Sketchup has some more advanced 3D modeling tools than Cedreo and Smartdraw, Cedreo definitely edges the other two out when it comes to home-design-specific features.
| Features | SmartDraw | SketchUp | Cedreo |
| --- | --- | --- | --- |
| 2D Floor Plans | ✔ | ✔ | ✔ |
| 3D Floor Plans | ❌ | ✔ | ✔ |
| 2D Site Plans | ✔ | ✔ | ✔ |
| 3D Site Plans | ❌ | ✔ | ✔ |
| 3D Renderings | ❌ | ✔ | ✔ |
| 3D Printing | ❌ | ✔ | ❌ |
| 3D Sculpting | ❌ | ❌ | ❌ |
| Import Blueprints | ✔ | ✔ | ✔ |
| Surface Area Calculations | ✔ | ✔ | ✔ |
| 3D Library | ❌ | ✔ | ✔ |
| Interior Design | ❌ | ✔ | ✔ |
| Lighting & Sun Orientation | ❌ | ❌ | ✔ |
| Share Designs | ✔ | ❌ | ✔ |
| Draw to Scale | ✔ | ✔ | ✔ |
| Custom Camera Viewpoints | ❌ | ✔ | ✔ |
| Reusable Project Templates | ✔ | ✔ | ✔ |
SmartDraw vs Sketchup vs Cedreo: Home Design Deep Dive
Let's see how SmartDraw, Sketchup, and Cedreo do when tackling these three common tasks in your home design workflow.

Floor Planning
Each of these three programs has tools for creating 2D floor plan layouts. SmartDraw makes it easy to create basic 2D blueprints, but that's about it.

Sketchup also has the ability to create 2D floor plans, especially with a part of the software called Layout. However, it's not available in Sketchup Free or Shop. It's only available with the Pro or higher plan, and since it's linked to your 3D models, you first have to know how to make the 3D version of your home.

Cedreo simplifies the floor planning process while still giving you full access to all its 3D design tools. Save time when you import and export floor plans. Use the continuous drawing mode to draw layouts in just a few clicks. And use the drag and drop tools to add 1000s of design elements which you can then customize as needed.

Plus, there's no need to switch programs or even windows to see your design in 3D. Cedreo lets you view the 2D and 3D plans simultaneously as you work.

Interior Design
SmartDraw is the most limited of the three when it comes to interior design. Since users can only make 2D plans, Smartdraw's interior design tools are limited to placing basic furniture symbols on the plans.

Sketchup gives you a lot of interior design customization options, provided you have 3D modeling experience. Plus, there's an extensive library of premade furniture and decorations that you can place in your 3D models.

Cedreo's toolset saves you tons of time in the interior design stage. There are thousands of pieces of furniture and decorations you can choose from and they're even organized by style. And with pre-made product packs, you can furnish and decorate a room with one click!

3D Rendering
Sadly Smartdraw only offers 2D drawing tools. So if you want 3D renderings, you'll need to use another program.

With Sketchup, you're in a similar boat. By itself, it doesn't offer any rendering tools, so you'll need to purchase additional programs that integrate with Sketchup in order to create renderings. While those programs do create realistic renderings, they're complicated to use and can often cost more than Sketchup itself.

Cedreo has everything you need included in the program. Seamlessly go from working with 2D plans to creating professional-quality photorealistic 3D renderings in just a few clicks. Cedreo lets you customize advanced features like the sun's orientation, lighting, and time of day to produce realistic images that wow clients.

And since it's online cloud-based software, you don't have to worry about having a supercomputer or waiting hours for a finished rendering. Cedreo's servers take care of the heavy lifting so you can get your rendering in just 5 minutes!




SmartDraw vs Sketchup vs Cedreo: Which Tool is Right For Your Business?
So which is the right program for your business — SmartDraw, Sketchup, or Cedreo?

If you're a hobbyist who just needs to experiment with some 2D layouts, then Smartdraw should work for you. If you already have 3D modeling & CAD experience, don't mind dealing with extra plugins, and need to create detailed engineering documents, Sketchup could be a good choice.

But for most contractors who are simply looking for an easier way to make professional home designs and 3D renderings, Cedreo is the right pick. It's hard to beat its user-friendly, yet powerful interface and world-class support team. No other design program lets users do so much, so fast.

So why not make the smart choice and switch to Cedreo today? Start with the FREE version and see what Cedreo can do for your business.