Cedreo has just freshened up. The brand-new version is now available! Discover everything that has changed right here.
The New Cedreo. Even Easier Than Before.
Creating an easy-to-use solution for your home design process is at the very heart of our business. The goal remains the same: to speed up the home design step to help you sell faster, and sell more.

The new Cedreo is here! Some users have already seen it, and others have even tested it. They testified that it is simpler, smoother, and more intuitive than before. In short: the new version of Cedreo is easier to use. In addition to the graphical user interface which has been totally revamped, improvements have been made at every stage of the floor plan software to make your life easier, and new, exciting features have been introduced.
Save Even More Time.
Your Projects Load Faster.
Project loading time has been shortened. Your home projects, furnished or unfurnished, open faster. Much faster. You'll see, it changes everything.

In practice:
Your house projects open twice as fast.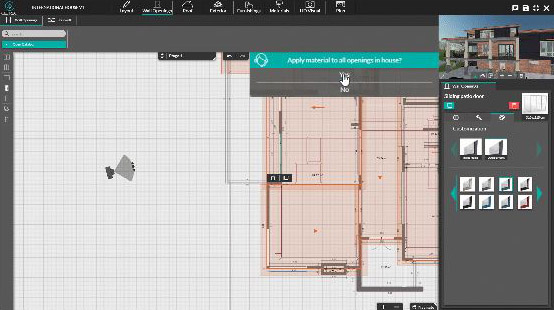 No More Repetitive Tasks. They Are Automated.
A task automation wizard has been developed to help you avoid repetitive and boring actions. After certain actions, a message appears that will allow you to replicate the action on similar elements of the project.

In practice:
Walls and partitions can be automatically duplicated when you add a new floor.
The same coating can be automatically applied to all the openings, walls, shapes, etc. of your project.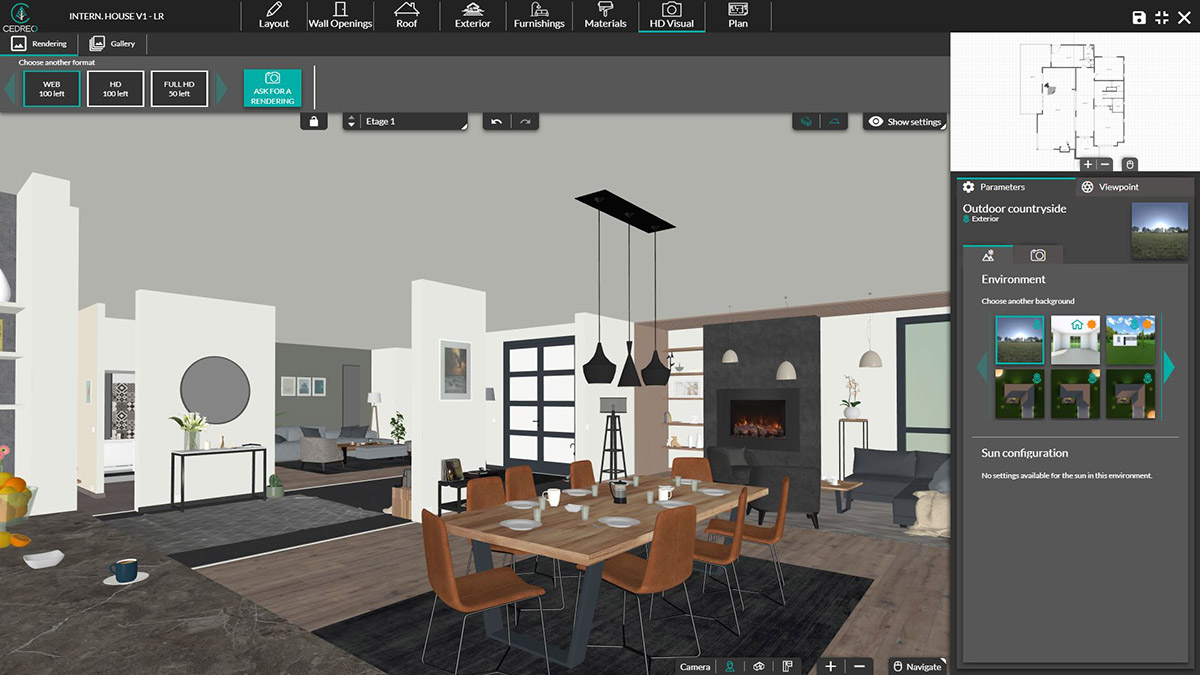 Moving in 3D Is Smoother.
The performance of the real-time 3D application has also been improved. Whatever the size of your project, whether it's furnished or unfurnished, shifting in 3D is faster and smoother.
The Product and Material Searches Are Simplified.
You asked for it and we listened. A new search function has been added to make your life easier. At the Wall Openings, Exterior, Furnishings, and Materials stages, a search bar appears to help you find what you are looking for.

In practice:
Type in a product name, a dimension, a coating type, or a color to find all the elements corresponding to your search.
Design Your Home Projects More Intuitively.
2D and 3D Always Visible on the Screen.
There is a new window at the top right of your screen. It is visible at all times, whatever stage you are in. This window displays your project, in 2D or 3D, depending on the selected step, so you always see both views.

In practice:
2D floor plan drawing and 3D project visualization in real-time.
Instant 3D visualization of any addition/modification/deletion of wall openings, products, and materials without changing steps.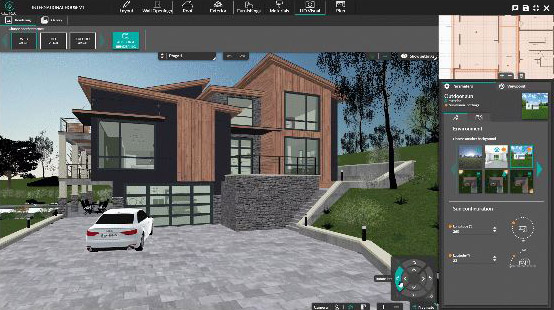 Moving in 3D Made Easier.
In every step, the new moving tool appears at the bottom of the workspace. It is more intuitive and it facilitates your movements in space.

In practice:
It is also easier to move in 2D.
In 3D, you can select either a top view, a standard 3D view, or at eye level.
Intuitive adjustments of the viewing angle in "Person View" mode: camera height, forward/backward, lateral movements, and rotations.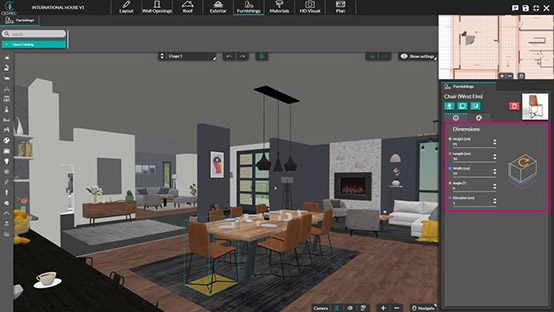 Schematics and Color Codes to Guide You.
When selecting a product or a wall opening, a new side panel will appear on the right to help you identify what dimensions or colors can be modified.

In practice:
For the wall openings: height, width, lintel, and spandrel heights are schematized and colored.
For the products: height, length, width, angle, and elevation are schematized and colored.
Revamped Layout.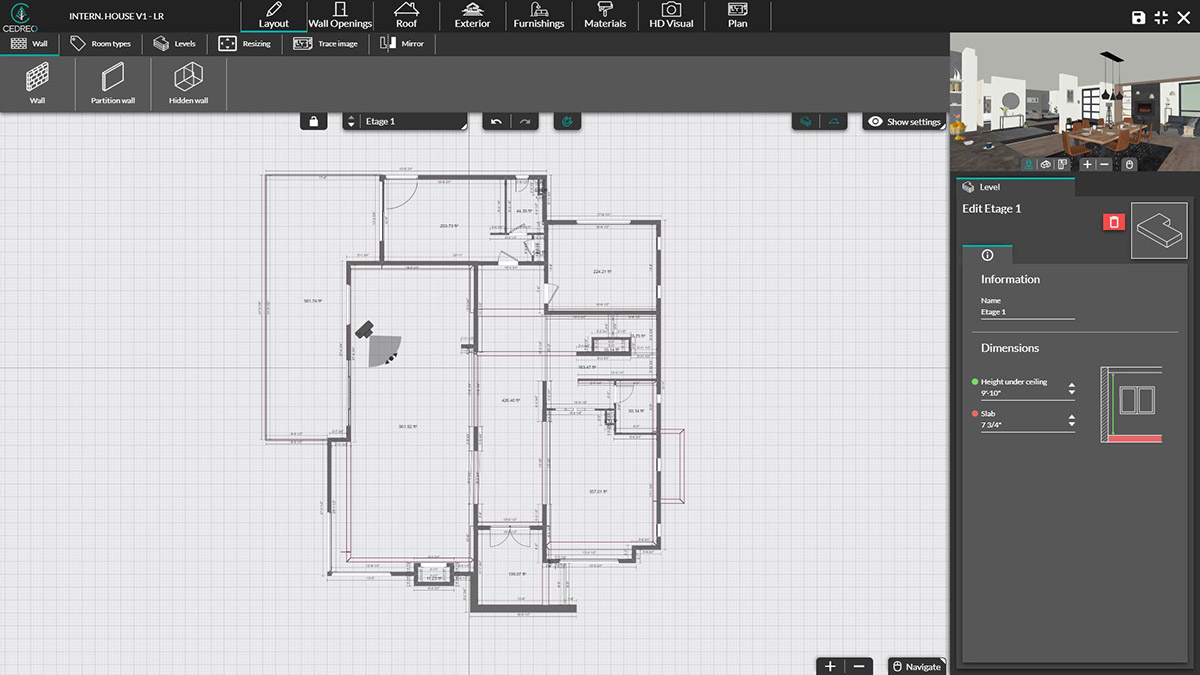 New to the Layout Step.
Drawing your floor plans is faster with the new features in the Layout step. We made these changes based on your feedback and suggestions. We will let you be the judge:
Enhanced continuous drawing.
Improved alignment of partitions of different thicknesses. You won't fail anymore.
No more classic mounts. From now on it is automatic.
New object "Partition Wall" is different from "Wall".
It has always been possible to invert the floorplan or rendering on the horizontal axis. It is now possible to do so on the vertical axis and you can also invert shapes.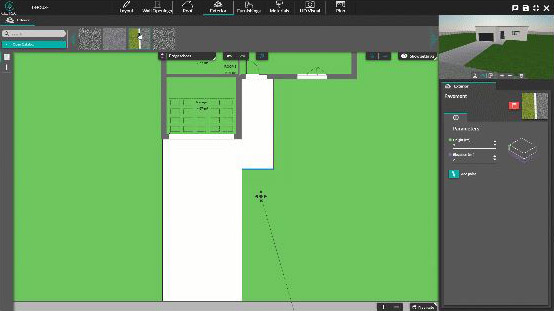 Magnetism and Continuous Drawing to Save Time on the "Exterior" Step.
The Exterior step is not to be outdone. You are able to draw continuously, just the same as you can in the Layout step, and take advantage of the magnetism option which helps guide you more precisely.

In practice:
Gain greater precision and speed thanks to the magnetism.
Draw your hedges, borders and walkways continuously.
Modify your hedges, borders and walkways more easily.
Enriched "HD Visual" Step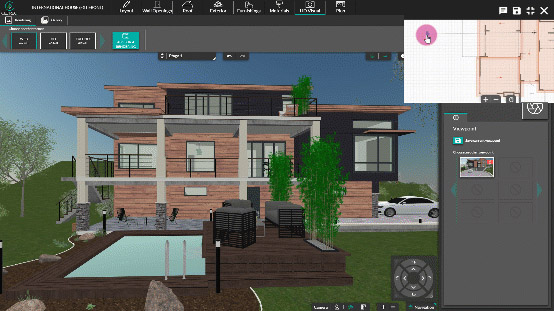 View and Move the Camera Over the 2D Area.
A camera is automatically placed on your 2D plan, displayed in the top right corner. You just have to move it on the plan while checking its placement thanks to the 3D view.

In practice:
Video speaks louder than words.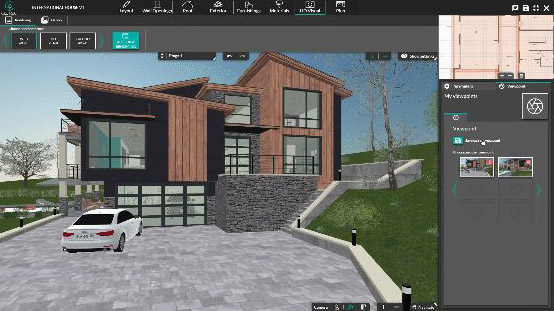 Save Your Viewpoints.
Your viewpoint is where the 3D camera is positioned. Once you have found the ideal camera angle to generate a HD visual, you can save your viewpoint. You can come back later to this exact perspective that appears in 3D on the workspace.

In practice:
Your viewpoints are saved on the right side of the HD Visual step. You can use it to generate a new rendering.
Saved viewpoints are ideal to test different layouts or coverings without having to reposition the camera to create a new rendering.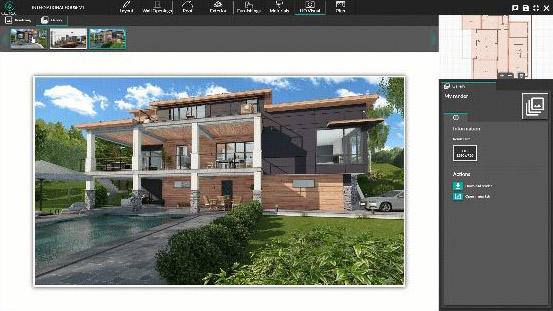 Your Rendering Gallery Is Available Directly from the "HD Visual" Step.
There's no need to close your project to view your HD visuals anymore. All the renderings of the current project are at your disposal in the "Gallery" tab.

Bonus:
You can also check your HD visual credit for the current month.
You can now use this brand-new version of Cedreo.

Even faster, more intuitive, and complete for an easier home design. This new version will definitely save you even more time in the conceptual design phase.

If you have any questions about the new version, your Customer Success Manager will bend over backward to answer them. You can contact them by email, by phone, or via the chat available in your personal Cedreo space.