Create Professional Outdoor Floor Plans in just minutes
See your 2D floor plan come to life in 3D
Generate stunning 3D renderings in 5 minutes
6 Things to Remember When Creating Outdoor Plans
Building outside comes with its own unique challenges. Understanding what you need to consider before you start the planning process is essential if you want a smooth design and construction experience. To help you on your way, here are a few things you should keep in mind when creating outdoor floor plans.
Check Permits
Always inquire with both local and state-level authorities to understand what permitting you might need for your outdoor project.
Review Neighborhood Rules
Alongside local and state permits, you want to make sure your floor plans for an outdoor area meet any rules or regulations coming from the HOA or other neighborhood organizations.
Historic Home Ordinances
If you happen to have a historic home, you'll need to consult with the appropriate local body to understand what you need to know before you break ground.
Buried Lines
Before you start digging, always dial your local before-you-dig organization. This will ensure you don't break water, gas or internet lines on accident.
Property Lines
If you aren't sure where the property line lies, be sure to hire a surveyor to give you accurate and up-to-date property borders.
Know Your Land
Read the title report for the property. This will give you critical insight into any potential easements that could affect your project.
Outdoor Floor Plan Examples
Regardless of the scope of your project, Cedreo provides building professionals with the ability to draft 2D and 3D floor plans that will make transforming your client's outdoor area easier.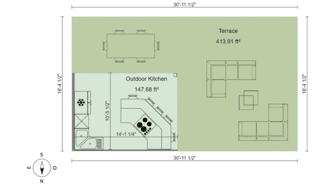 Outdoor Kitchen Floor Plan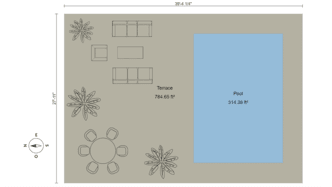 Outdoor Living Area Floor Plan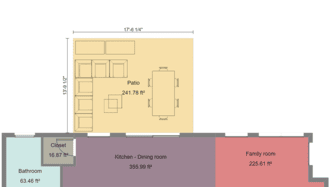 Outdoor Patio Floor Plan
Outdoor Dining Area Floor Plan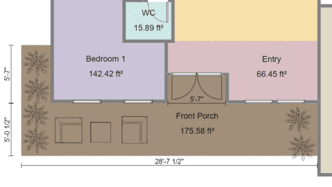 Outdoor Front Porch Floor Plan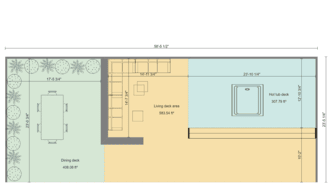 Outdoor Deck Floor Plan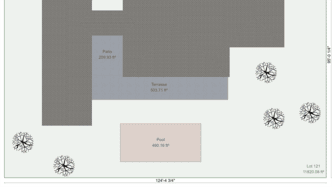 Full Backyard Floor Plan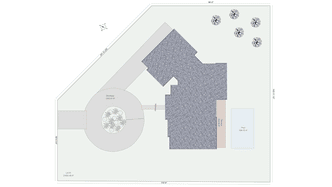 Outdoor Floor Plan with Landscaping
Outdoor Floor Plan & Design  FAQs
Ready to get started planning your outdoor layouts and breaking ground? Before you do, here are a few common questions and answers around the outdoor project planning process.
Why Should You Use an Outdoor Floor Plan Creator?
While you can do a lot with a pen and pad, getting the right design software can help you shave off time and save on resources. But not all outdoor floor plan creators are created equal. Platforms, like Cedreo, offer everything you need to go from idea to final plans in just a few hours.
Are Outdoor Kitchens a Good Investment?
With all the allure of grilling outside in the sun, outdoor kitchens are becoming quite popular. So, should you add one to your outdoor layout? You might not get a whole lot of value added to your property, but it can certainly make your outdoor space feel more luxurious and comfortable.
What Do You Need to Know About Landscaping?
As you might imagine, landscaping is an essential part of any backyard. To get the most out of your designs, consider using landscape design software. This kind of software is affordable and easy-to-use, making it a welcomed tool for any outdoor design project.
How Can You Create a Site Plan?
If you're looking to create a site plan for your outdoor project, consider using design software. Since the site plan is such an essential part of starting a project, you want to make sure you're getting it right the first time.