A bathroom can be a spa-like oasis or it can be an uncomfortable necessity. What makes the difference between the two is a thoughtful design and plan.

Bathroom design goes beyond tile and paint color — you also have to consider functional layout, average bathroom size, plumbing, and more technical aspects of engineering. When designing a bathroom for a client, the blueprint needs to consider all the details, starting with size, dimension, and layout.

In this article, we'll discuss the size options for master and standard bathrooms, so you can create a flawless design that will impress your client.

What is the Average Size of a Bathroom?
Before diving into the bathroom design, you first need to determine what sort of bathroom your client wants. A master bathroom will have the largest average bathroom size, whereas a powder room will be considerably smaller.

Typical bathroom sizes are difficult to determine since houses vary greatly in shape and size. A smaller apartment, for example, can have bathrooms as small as 40 square feet. Large homes can have bathrooms larger than 100 square feet.

As a general rule of thumb, your bathroom layout should always allow for a smooth flow of traffic. If you're working within a confined space, that means limiting the number of fixtures that obstruct traffic. If you have a lot of space to work with, it means creating a design that directs traffic well.

Types of Bathrooms: Size and Dimensions
Once you've determined the type of bathroom a client needs, it's time to calculate the size and dimension.

Primary Bathroom/EnSuite
A primary bathroom is often referred to as a master bathroom or ensuite. This is usually the largest bathroom in the house. It is often a place for homeowners to relax, so it can be luxurious and curated to their unique tastes.

The average size for a master bathroom is between 75 to 100 square feet in an older home or as large as 210 square feet in a new build. Consider the elements the client wants when deciding on size. A tub, shower, double sink, and toilet are typical features in the average ensuite bathroom.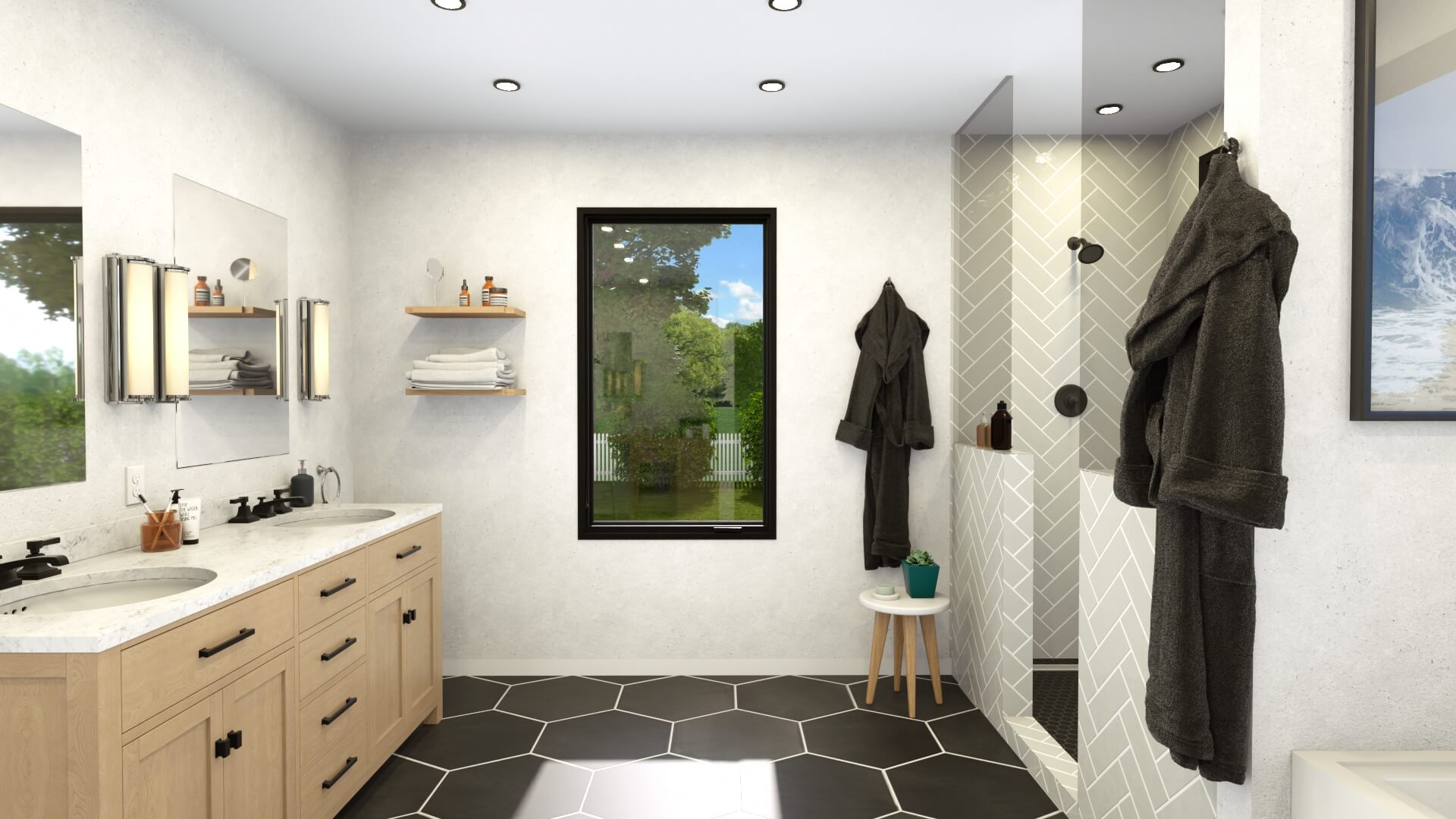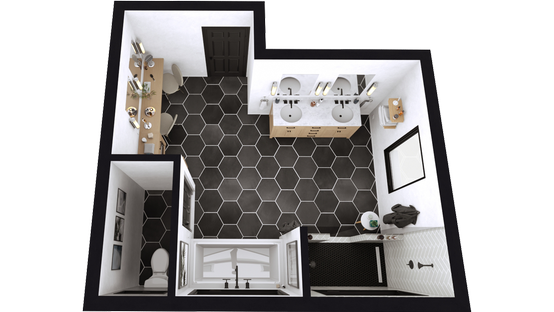 Full-Bathroom
In homes with multiple bedrooms, a full bathroom is a great addition that can serve as a guest bathroom or children's bathroom. The average full bathroom is typically about 40 square feet in size. They include all the fixtures needed in a bathroom such as a toilet, sink, and shower tub combination.

Three-Quarter Bathroom
A three-quarter bathroom is often featured in place of a full bathroom in smaller homes. It has a toilet and sink, but instead of a shower tub combo, it has a standing shower stall. Generally, these are approximately 36 square feet.

Half-Bathroom/Powder Room
Most homes have powder rooms on the main level. These bathrooms have only a toilet and sink and are commonly used by guests due to their location beside hosting areas such as the living room, dining room, and kitchen.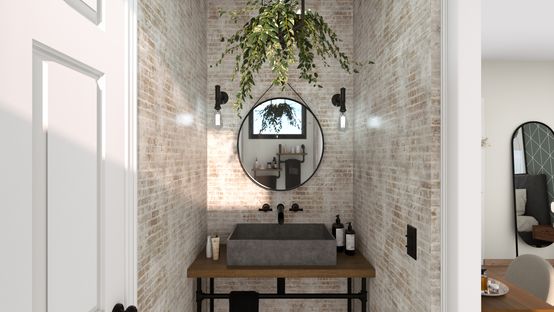 The average size of a half-bathroom or powder room is 20 square feet, but older homes have some as small as 11 square feet. Typical dimensions in new builds are three feet wide and eight feet long.

Quarter Bathroom
An uncommon addition to some homes is a quarter bathroom or utility toilet. These are often found in the basement of homes and consist of a small stall with a single toilet.

Most times these bathrooms can be a resource for construction professionals or handymen. They are as compact as possible — generally five to ten square feet.

Standard ADA Bathroom
The Americans With Disabilities Act has outlined requirements for washrooms intended for use by people with disabilities. These rules don't typically apply to residential construction, but commercial and industrial projects must adhere to the following requirements:
Bathrooms must not be less than 40 square feet
Bathrooms must make reasonable accommodations for wheelchair and mobility device traffic
Features should be installed at a lower height
Bathroom Features and Sizes
Once you've determined what type and size of bathroom you're designing, you can move on to features and fixtures. Here are some things you may want to include.

Standard Toilet Dimensions and Clearances
Almost all bathrooms have a toilet. Luckily most toilets have the same dimensions unless you order a specialty option. They are almost always between 27 to 30 inches deep and 21 to 31 inches tall.

There are two ways to mount a toilet: from the floor and from the wall. How you mount a toilet will make a minor impact on the clearances you need to consider. Wall-mounted toilets, for example, need to consider the space beneath the toilet whereas floor-mounted toilets need to take into consideration the space between the wall. It's a good idea in both cases to make sure all areas around the toilet are accessible for cleaning.

Another clearance recommendation is to have a minimum of 30 inches between the front of the toilet and any obstruction. This will allow the user space to sit comfortably.

Enclosed Shower Dimensions
Shower designs have become increasingly adventurous over the years. They provide a lot of opportunities to get creative with bathroom design.

At a minimum, bathrooms should be three feet by three feet with a showerhead clearance of six feet six inches. As long as you meet those minimum requirements, however, you're free to design a shower that is larger.

Countertop and Sink Dimensions
A countertop can be a feature of a bathroom. Unlike toilets, they are easily customizable. Clients can choose from a wide range of materials and finishings that will result in an aesthetic that is unique to their tastes.

Countertops should follow a few general dimensions. First, the height should be between 34 and 36 inches above the ground. And if the countertop has a sink, it should be 30 inches long (or five feet for a double sink) and between 22 and 24 inches deep.

Bathroom Door Sizes and Clearances
Bathroom doors don't allow much room for creativity. There are established standards that you should follow. For example, the minimum clearance for a bathroom door is between 30 and 33 inches. Never provide less than 28 inches of clearance for a bathroom door.

Create a Beautiful Bathroom Design in Cedreo
Once you've determined the basic size, dimensions, and features of your client's bathroom, it's time to start designing.

In the past, outsourcing this task to a professional designer or engineer would yield great results at a hefty time and resource cost. With advanced design software like Cedreo, you can complete accurate, project-ready floor plans from scratch in a matter of hours.

Plus, Cedreo allows building professionals to create 3D floorplans and photorealistic renderings that win clients and close sales.

Cedreo is the 3D design software that helps general contractors improve client relations, increase sales, and establish a professional reputation. Sign up to start using the free version of Cedreo today.