Finding the best architecture software can be tricky.

It's a broad, subjective category with a ton of variation.

On one end of the spectrum, you'll find web apps that feel like a design-themed video game.

And on the other, highly-technical, expensive CAD, BIM, and 3D modeling software that requires some serious training just to get started.

In this article, we'll go over some of the key things to consider before you start researching solutions, and then look at 11 of the best architecture software solutions.




6 Considerations When Choosing Architecture Software
Before you get started, you'll want to define some parameters that make it easy to find the "best" architecture software for your unique needs.

Here's a look at six things to nail down before beginning your search:

1. Use case
The first thing you'll need to define is what you'll be using this software for and why. While many platforms are designed with many use cases in mind, you'll want to find a solution that specifically speaks to your needs.

Ask yourself the following questions:
Is this for work or personal use? Are you a solo architect? A contractor, home builder, or remodeler? An individual homeowner? Whatever the case, the best architecture software is the one that helps you with the bulk of your work tasks.
Do you work independently or for a large firm? If you're buying for a large firm, you may need to invest in an enterprise plan that integrates with existing business tools. Individuals should look for tools that offer the most bang (in terms of features and functionality) for their buck.
What problem are you trying to solve? Where is your existing solution falling short? Is it too slow? Bloated? Outdated?
Is this for individual use or collaborative work? Do you need something that makes it easy to collaborate with your colleagues and clients? Or share ideas with a contractor/designer?
2. Features
You'll want to make a list of must-have and nice-to-have features to inform your search.

Consider which features deliver the most value in context with your job, target use case, experience, and goals.

Do you need to make 3D visualizations and/or photorealistic renders? Something you can use to quickly generate 2D floor plans? AR presentation tools and animations to wow your clients?

If you're already using architecture software, consider the gaps that exist in your current experience, and make sure you look for solutions that complement/integrate with your tech stack.

3. Learning curve
The best architecture design software solution is one that you can use. Do you have CAD training or is this new territory for you?

Keep in mind, "easy" or "user-friendly" doesn't necessarily mean "low-quality." There are plenty of user-friendly options (Cedreo being one of them) that enable you to create professional-looking designs with minimal effort.

4. Software vs. cloud-based
Installed software might be more feature-rich, but performance depends on your internet connection and computer/server capacity. And while it's often presented as a one-time purchase, you're on the hook for upgrades, equipment maintenance, security, and more.

Cloud-based software is more nimble. It's typically offered as a monthly subscription–allowing you to scale up or down with demand and change providers when needs change. While many SaaS tools cost money, there are fewer risks and little in the way of upfront investments.

Products are automatically updated by the provider at regular intervals, so you'll always have the latest features and big fixes. Plus, you don't have to worry about hosting or threat monitoring.

5. Cost
What kind of budget are you working with?

You'll want to nail this down as early as possible, as costs range from free to enterprise-level (like, thousands of dollars a month).

If a platform offers tiered pricing, make sure you look closely at the functionality offered at each level.

6. Support
Finally, you'll want to look at what level of support you'll get from your provider. Are there tutorials or knowledge bases you can use to learn on your own?

Do they offer 24/7 support? On what channels? Will you be able to connect with a human–or does support only consist of self-serve options and bot-based interactions.

If you're looking for a simple, low-cost solution, you may not need much support at all.

If you're opting for something more complex, support becomes much more important. You might even look for companies that offer personalized onboarding/training to help you get started.




11 Best Architecture Software to Consider
Below, we'll explore 11 of the best free architecture software on the market, paid enterprise solutions, and plenty of options that fall somewhere in the middle.
1. Cedreo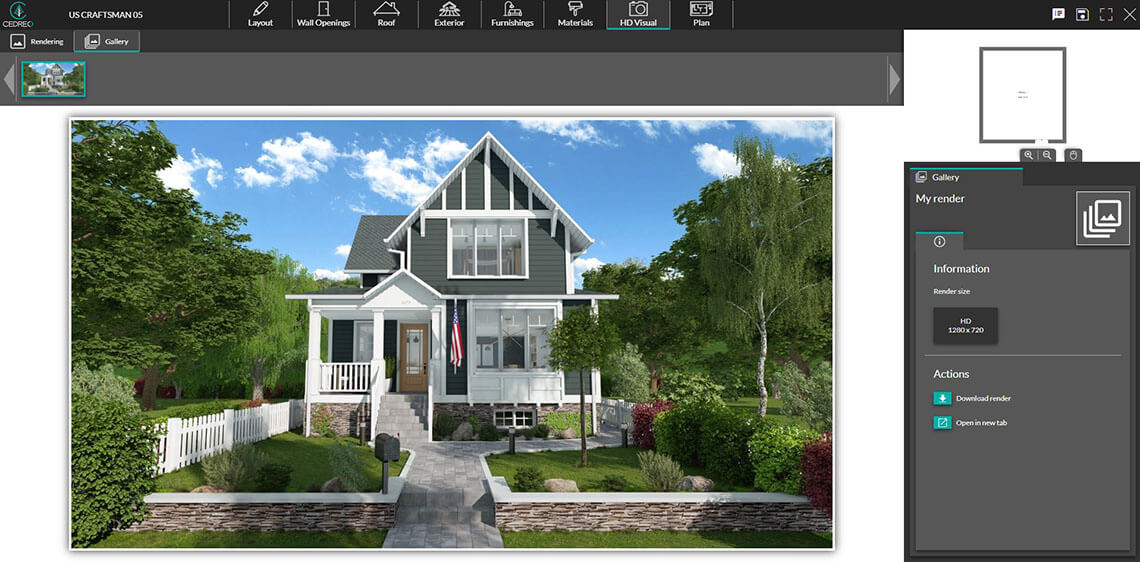 Best for: Architects, designers, builders, remodelers

Overview: Cedreo's 3D home design software allows architects, interior designers, builders, and other design pros to generate a complete home design from scratch in under two hours. Almost anyone can create professional-grade designs–whether they've used architecture software in the past or not.

Users can create, modify, and generate photorealistic renderings in a handful of clicks. Professional architects may already have the design skills to create floor plans and renderings by hand or via more complex software programs. However, Cedreo allows them to upload, reuse, and experiment with their designs to win more bids, advertise their business, and keep clients happy.

It's easy to modify designs in real-time–say, while meeting with a client. You can incorporate feedback, customize designs, and quickly agree on where the project is headed next.

Key features:
Create photorealistic renderings of interior and exterior designs
Gain access to Cedreo's comprehensive catalog with over 7000 furnishings, building materials, and decor
Customizable lighting, sunlight orientation, and camera angles
Ability to save and reuse designs as templates
Collaboration tools that make it easy to share designs with your team, clients, or social accounts
Pricing: There's a Cedreo plan to meet any budget. Check out our plans here.

Why wait? Give Cedreo a try for free today!
2. SketchUp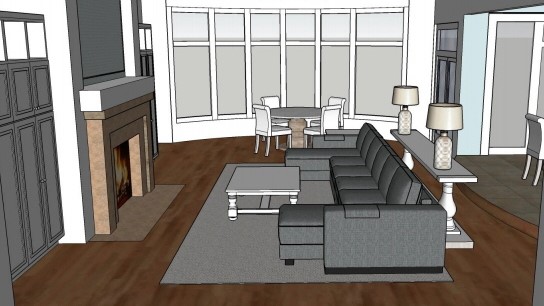 Best for: Architects, designers

Overview: SketchUp is a 3D modeling platform that has some overlapping features with Cedreo. The platform includes unlimited cloud storage and 3D modeling, as well as mixed reality presentation tools sure to impress clients.

While SketchUp is among the best 3D modeling software for architecture, the learning curve may be a bit steep for those with limited CAD and design experience.

Additionally, users will have to sign up for one of SketchUp's professional plans to access many of its best features, and on top of that, purchase extensions a la carte to generate 3D floor plans or share 2D floor plans with clients and collaborators.

Key features:
3D modeling
2D design & documentation
Quick insights for design research
AR mobile viewer & XR headset-compatible viewing
Unlimited access to pre-built 3D modeling templates
Pricing: Free version available. Paid plans range from $119 to $1199 per year.

Bonus resource: 9 Best Sketchup Alternatives (By Use Case)
3. AutoCAD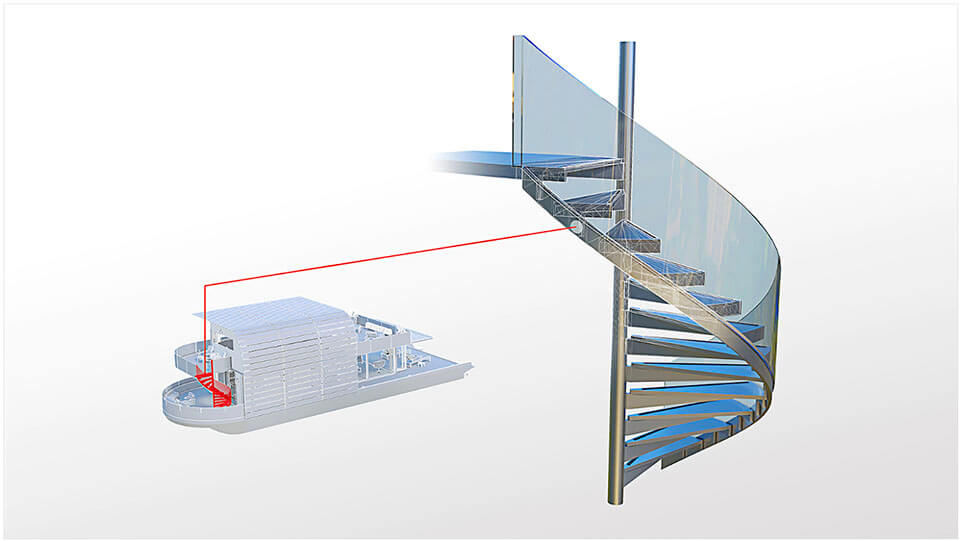 Best for: Architects, contractors, designers

Overview: AutoCAD is a professional architecture software program made by Autodesk.

Made for architects, designers, and contractors, AutoCAD is used for designing and drafting 2D and 3D drawings and includes a suite of specialized tool sets aimed at helping users boost productivity without sacrificing quality or precision.

AutoCAD's tool sets focus on specific roles–there's the architecture set, which includes design & documentation tools, a renovation mode, plus 8500+ intelligent objects. There are also mechanical, electrical, plant (for planning underground plumbing), and 3D map (for geographic mapping) kits–making this a good choice for large scale project-planning.

Key features:
Design, draft, and annotate 2D and 3D
Automated workflows
Ability to customize with APIs and integrations
Data linking
3D modeling, rendering, & navigation
Collaboration tools — share PDFs, DGNs, DWGs, model references, and geographic location
Pricing: $220 per month, $1775 per year, or $4795 per three years. Free trial available.
4. Chief Architect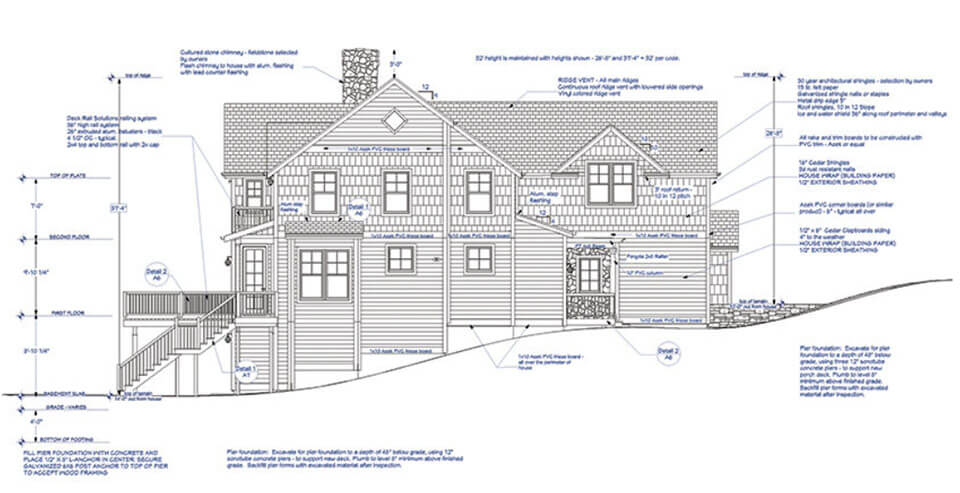 Best for: Architects, designers, and remodelers

Overview: Chief Architect offers one of the best home architecture software solutions around. The platform is an architectural CAD platform that boasts an impressive feature suite.

Use it to design homes or light commercial buildings from scratch. Or, focus on specific rooms like kitchens, bathrooms, and basements.

Chief Architect can automatically generate floor plans and 3D renderings in a variety of artistic styles. It also instantly generates materials lists and schedules based on your designs. That way you can estimate costs and milestones during the design process.

Chief Architect does not offer any type of web-based app. It's a robust solution with a ton of heavy duty features. So, you'll need to think about whether you have the space/computing power to support it. And, you'll also need to pay for updates every couple of years or so.

Finally, we should mention that while Chief Architect offers an intuitive user experience, it's not designed for beginners. You'll need some experience using BIM/CAD/3D modeling software to get the most out of your investment.

Key features:
3D design and modeling tools
Automatic building tools
Construction documents
Instant materials lists
3D rendering & virtual tours
Smart tool technology
Pricing: While there is no free version available, Chief Architect does offer a free trial. You can "rent" the software for $199 per month or purchase the software for $2995.

Upgrades start at $695, depending on your license.
5. Planner 5D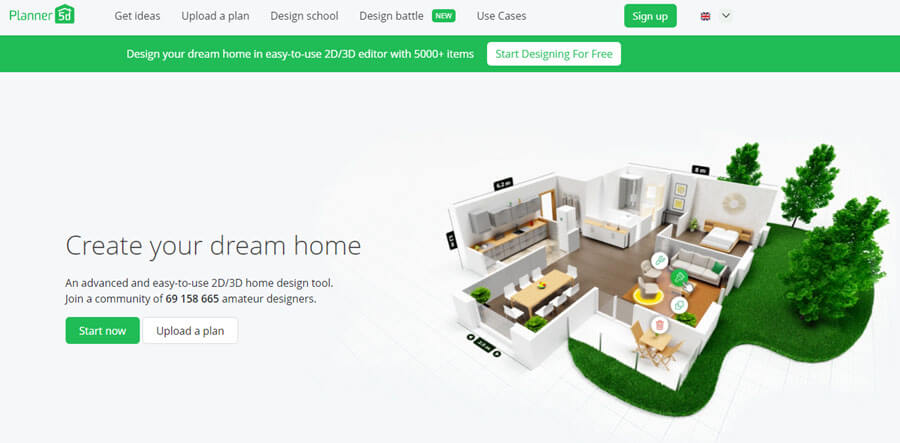 Best for: Interior design, real estate, DIY projects

Overview: Planner5D is a user-friendly 2D and 3D home design platform built for amateur designers. Users can upload existing 2D floor plans and the app will automatically turn them into a 3D rendering you can customize with its intuitive drag-and-drop editor and in-app catalog.

For an "amateur" app, Planner 5D includes some pretty sophisticated features. The platform can automatically turn 2D blueprints into 3D designs you can customize with furnishings, textures, and materials. "Snapshots" allows you to snap a picture with your phone and start designing–perfect for showing clients a range of possibilities during an initial visit.

Additionally, Planner 5D includes mixed reality presentation tools and HD visualizations that bring projects to life.

While there is a Pro plan available, the software seems like a better fit for interior designers and real estate professionals. Yes, you can design remodels and new builds but it's not a complete solution for professional architects.

Key features:
Free 2D rendering, 3D rendering available with premium plans
Floor plan recognition
HD visualizations, VR/AR presentation tools
Built-in room templates
Catalog with 5000+ customizable items
Pricing: Free version available, with in-app a la carte purchases.

Paid plans cost $6.99 for 30 days, $15.99 for one year, or $24.99 for a "forever" plan.

Professional pricing is available upon request.
6. Archicad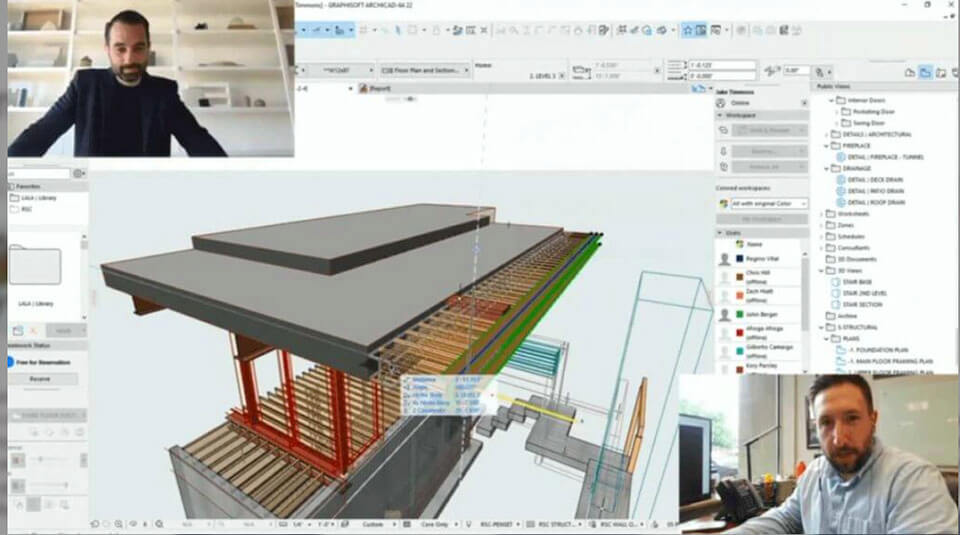 Overview: Archicad is one of the best architecture and design software options for professional use. It's a BIM tool, so there's definitely a learning curve.

However, based on customer reviews, it seems that Archicad does a nice job simplifying the design process. It's designed specifically for architects—rather than engineers and mechanical, electrical, and plumbing contractors.

Based on user comments, Archicad seems to be a great tool for turning conceptual ideas into something more tangible.

Users only have to create a 3D model once. When they're happy with their design, they simply press a button and automatically generate elevations, sections, and floor plans to go with it.

Key features:
Professional visualization tools—photorealistic renders, 3D documentation, 2D floor plans, and more
Freeform modeling
Algorithmic design
Documentation features + automated workflows reduce paperwork and save time
Collaboration features help teams share idea/work together from anywhere
BIMx solution allows users to design & present ideas on the go
Pricing: Archicad offers a 30-day trial license, a perpetual license, as well as various subscription and rental models. There's no pricing on the site, so you'll need to reach out for the full breakdown.
7. CAD Cabin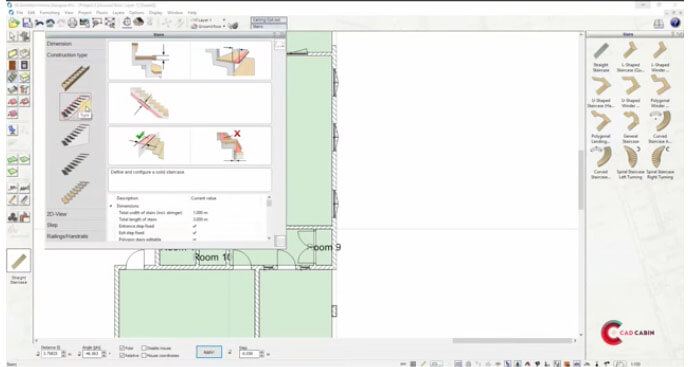 Best for: Architects, interior designers, remodelers, contractors, amateur DIY-ers

Overview: CAD Cabin is a 3D home design platform with solutions that cater to non-technical beginners, professional architects, and everyone in-between. According to the website, it's suitable for all skill levels and offers a range of features—including 2D and 3D design, collaboration tools, and more.

Key features:
Easy floor planning tool
Access to the CAD Cabin 2D/3D object library
Virtual tours/presentation tools
Elevation planner
Advanced drawing tools
Pricing: Software starts at an $80 flat rate. Free trial available.
8. Floorplanner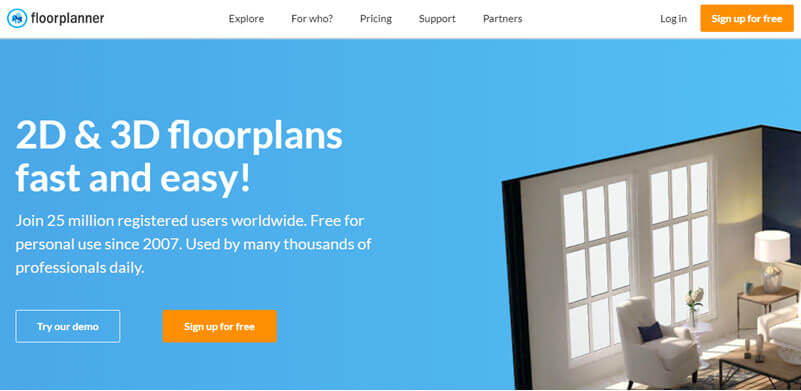 Best for: Real estate pros, interior designers, furniture retailers, individual homeowners

Overview: Floorplanner is one of the best free architecture software options around. It's a web-based app that works on multiple devices and allows users to upload existing blueprints, create custom designs with the in-app room wizard, and generate 2D and 3D images.

Note that Floorplanner isn't designed for professional architects. However, there are some tools they might find useful if they're looking for an easy, portable solution.

Key features:
2D floor plan editor with drag-and-drop functionality and automatic dimensions
3D item library with over 150k items
Explore plans in 3D, rotate designs, and save camera angles
Generate 2D and 3D renderings
Share designs directly from the app
Pricing: Signing up for a basic account is free, with the option to upgrade by purchasing bundles of credits or subscribing to one of the following paid plans:
Plus (individual): $5 per month + 4 credits
Pro (individual) $29 per month + 30 credits
Team: $59 per month + 60 credits
Business: $179 per month + 225 credits
9. RoomSketcher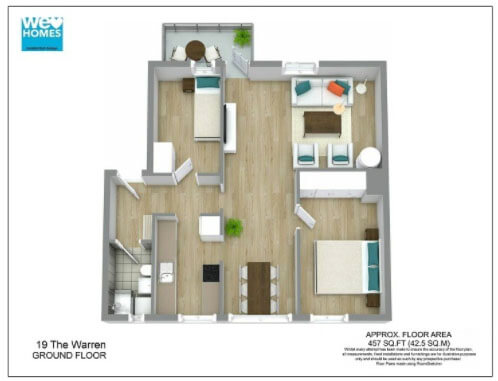 Best for: Architects, interior designers, real estate pros

Overview: RoomSketcher is an architecture platform for designing remodels, home builds, and office floor plans in 2D and 3D.

Capterra and TrustPilot reviewers agreed that while RoomSketcher was super easy to use, many felt the pricing was misleading.

Paid plans operate on a credit-based model. You can always refill your credits but it might not be the best option for high-volume users.

The free plan includes free access to the "snapshot" tool, which allows users to generate quick images of their ideas.

Key features:
Draw or order 2D & 3D floor plans
3D visualizations—floor plans, still photos, 360 views
Measurement Wizard and total area calculator
Ability to draw from existing blueprints
Access furniture and materials library
Pricing: It's free to create an account, upgrades available for access to more advanced features. Pricing tiers are determined by the number of floor plan credits you think you'll need.
VIP: $49 per year for 20 credits
Pro: $99 per year for 50 credits
High-volume: Pricing available upon request
Bonus resource: Rommsketcher vs Cedreo
10. Vectorworks Architect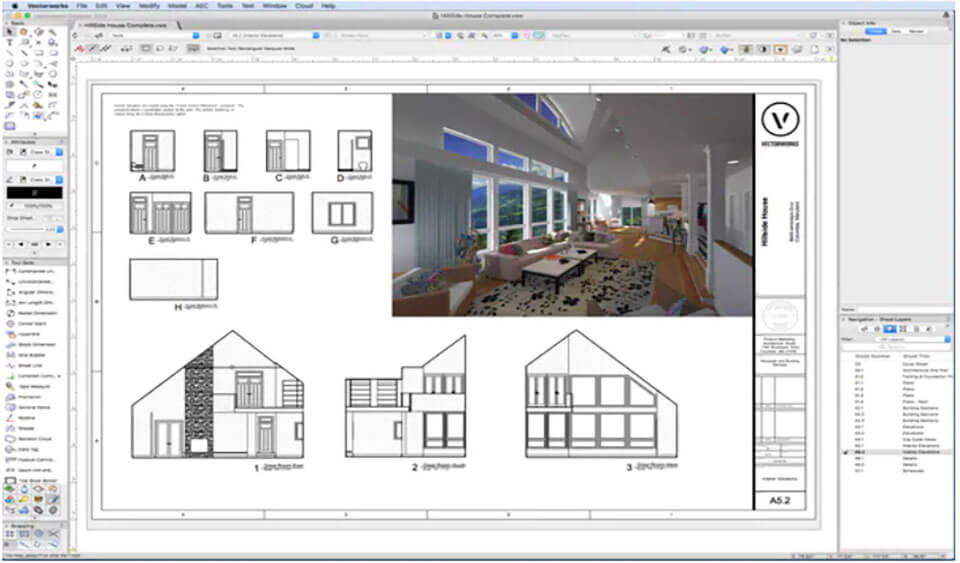 Overview: Vectorworks Architect is a comprehensive, on-premise solution marketed as "the architect's BIM tool." In that regard, it's similar to Archicad. Both tools offer a similar feature suite that includes algorithmic design, precision drawing, BIM, site modeling, creative modeling, and a whole host of presentation tools.

That said, some users (on Software Advice, G2Crowd, and Capterra) complained that the 20-year-old drafting platform is no longer on the cutting edge. Users reported frequent crashes/glitchy behavior and a few people mentioned that the abundance of customizations sometimes resulted in basic tasks taking too much time.

Key features:
2D & 3D design and modeling
Ability to incorporate construction data into designs with minimal effort
Create renderings in a variety of artistic styles–photorealistic, sketch, etc.
Collaboration tools
Support for Photoshop, Revit, SketchUp, Rhino, OpenBIM, IFC, and Cinema4D
Pricing: $3045 for the software. Annual updates are extra. Free trial not available.
11. SmartDraw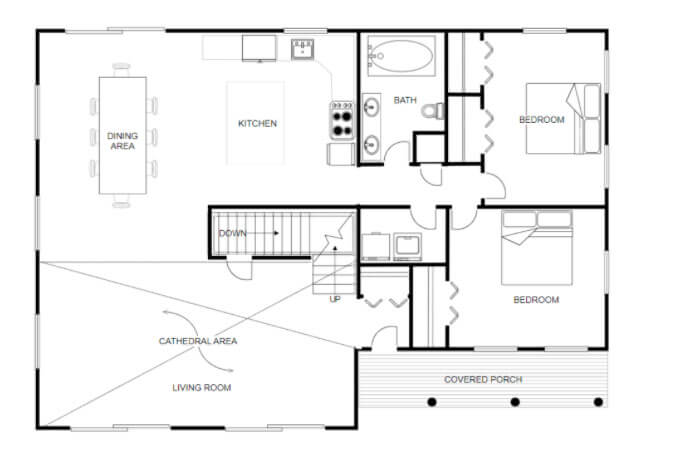 Best for: Project managers, architects, and engineers.

Overview: SmartDraw is a diagramming platform available as a cloud-based app as well as an on-premise solution.

SmartDraw is more of a productivity platform than an actual architecture or design app.

It does include a number of features and quick-start templates designed with architects in mind. However, it doesn't include any 3D modeling or rendering features.

Still, if you're looking for a solution to complement your existing tech stack, SmartDraw nails it on the 2D front.

The software includes CAD drawing and drafting tools and quick draw templates you can use to draw floor plans, landscape layouts, block diagrams, and more.

SmartDraw also enables users to create architectural and engineering designs to scale. You can set custom wall dimensions or resize objects by typing into the dimensions label. And, you can also select a common standard architectural scale, a metric scale, and more.

Key features:
2D drawing/drafting
Access to 4500+ templates & over 34k symbols
Smart CAD tools for drawing architectural & engineering diagrams to scale
Integrates with MS Office, Google Workspace, Atlassian tools, and more
Development platform for creating custom workflows/integrations
Free support
Pricing: Free plan available with limited features. Paid plans start at $5.95 per feature, per month. Free trial available for paid features.
Which Architecture Software is Right for You?
In the end, the best architecture software is the one that's best for you.

Whatever the case, make sure you start your search with a clear sense of what you're looking for–be it a supplemental tool to fill the gaps in your tech stack or an all-in-one solution that does it all.

Cedreo's cloud-based architecture and home design platform is intuitive, easy-to-use, and allows users to focus on bringing their ideas to life–and sharing them with others.

Sign up for a free account to start exploring right now. Or, get in touch with our sales team for enterprise pricing.