Believe it or not, bathrooms are some of the most valuable rooms in any home. But the value of a bathroom goes beyond the simple number of bathrooms in a given home. The quality of bathrooms impacts home value, and buyer or owner perception of how much a home is worth. The point is this: A beautiful, well-designed bathroom can add to, or detract from, a home's overall design.

With plumbing, fixtures, water lines, and a vast number of other factors to consider, bathroom design isn't easy. That's why professional home designers, builders, and remodelers are always looking for bathroom design software that can simplify the design process. The best bathroom design software can help you impress clients and finish designs quickly.

We're here to help creators find the right software to design bathrooms. In this post, we cover the best bathroom design platforms of 2021 and some key considerations that should factor into which software you use.




What to Consider When Choosing Bathroom Design Software
If you pick the first bathroom design software you find in Google search results, you might not be getting the best bathroom design software for your needs. Dozens of platforms can work for bathroom designs. But how do you choose the one that's best for you? First, consider the following factors:

Project scope

What is the scope of your bathroom design project? Is this a single, one-time project, or will you need to design more bathrooms in the future?

If you're working on a single project, you might be looking for a free 3D bathroom design software that you can use quickly with no strings attached. However, if you need a platform you can use again and again, paid options with more features and the ability to save more projects will likely be a better fit.

The other consideration for project scope is whether the platform you are considering can provide details that builders or contractors might need. Some free bathroom design software may not provide enough detail about measurements, material types, brand names, and other factors.

User profiles

Consider how many people will need to use the bathroom design software. Will you be the only user, or will you need your entire team to have access? Additionally, will you want to be able to manage users' roles and permissions within the platform?

Some platforms allow multiple users and role management, but many don't. This is a particularly important consideration if you're looking for enterprise-level software. Make sure the right people will have the right levels of access.

Features

What software features would be most helpful for you? For example, some bathroom design software can produce 3D design renderings, while other platforms are limited to 2D bathroom plans. Meanwhile, some platforms have catalogs of customizable design elements to use in your design, while others take a more DIY approach. Make note of the features you must have, then evaluate each bathroom design software platform accordingly.

Ease of use

Experienced architects may automatically think of CAD software as the best solution for designing any room, including a bathroom. But you may not need (or want) CAD software to design a bathroom.. Simpler options offer more modern features, such as drag-and-drop design, and are widely available.

Speed

Some bathroom design software can take a lot of space on your computer and be slow to load files. Cloud-based platforms tend to be faster because they store their files in the cloud and allow for editing on the fly. Is speed a concern for you? If so, a cloud-based option may be the right call.

Cost vs. benefit

Free 3D bathroom design software may be attractive to you if your budget for the project is small, but keep in mind that free options often come with limited functionality and a lack of support. On the other hand, paid bathroom design software platforms are updated regularly and often come with comprehensive user support.




15 Best Bathroom Design Software Platforms in 2021
Keeping the above considerations in mind, let's take a deep dive into the best bathroom design software platforms available in 2021. Each of these platforms has pros and cons, as well as different features and prices.
1. Cedreo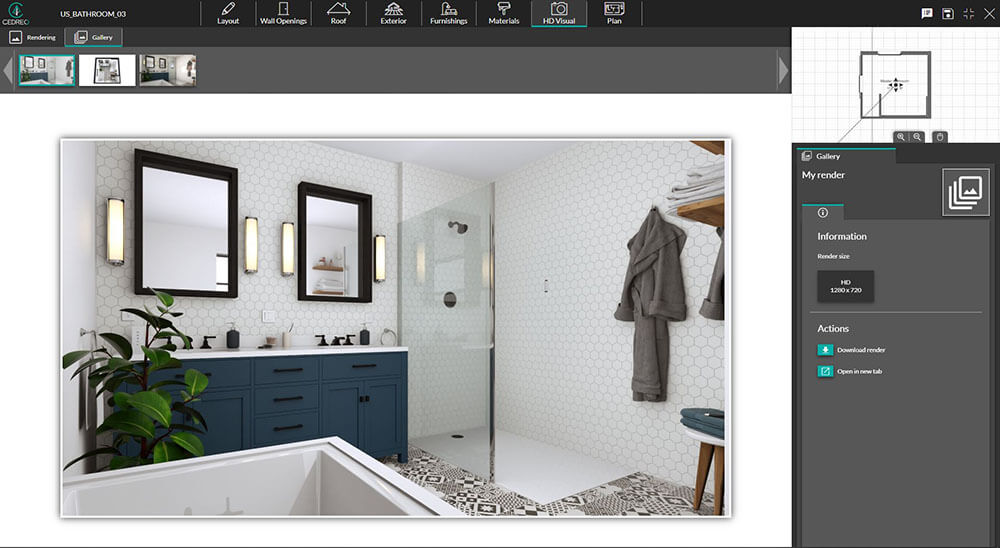 Best for: Cedreo is best for interior designers, remodelers, home builders, and even DIYers who want to quickly create a detailed bathroom design.

Cedreo is the bathroom design software of choice for professionals who want an intuitive user interface, personalized support, cutting-edge features, and a large catalog of furnishings and design items. It's at the top of this list not because it's our creation, but because we have seen Cedreo help so many professionals impress their clients and grow their businesses.

Key features:
Draw in 2D and watch your bathroom design come to life in 3D
Generate photorealistic renderings of any design
Choose from thousands of surface coverings and materials to make clients' dreams a reality
Keep style consistent with product collections and a searchable item database
Store projects and renderings in the cloud to allow quick and easy access
Generate PDFs or print designs to scale for design presentations
Pros: Cedreo is fast and easy enough to use for beginners but customizable and detailed enough for professional use.

Cons: Cedreo is a home design tool, so if you plan to use it for applications like product modeling, it may not be the best platform for your needs.

Pricing:

Pricing: There's a Cedreo plan to meet any budget. Check out our plans here.

Cedreo offers a free, no-obligation trial. Why wait? Sign up today.
2. Home Stratosphere Bathroom Design Tool

Best for: Home Stratosphere's basic functionality and partnerships with architects and builders make it best for DIYers and homeowners who need someone to make their design a reality.

The bathroom design tool from Home Stratosphere's interior design software provides 2D and 3D designs, tourable renderings, and a limited library of pre-designed objects to use in your design. The app is free to use but partners with and features various builders and design firms that may be angling for your business.

Key features:
2D and 3D bathroom designs
Cloud-based design storage
Premade room templates
Adjustable indoor lighting
Pros: Home Stratosphere is free to use if you enter your email address.

Cons: The bathroom design tool is somewhat limited, especially for professional designers and builders. And you may get sales emails after using the tool.

Pricing:

Home Stratosphere is free, but the website says that there are many paid upgrades you can access while using the software.
3. Floors & Kitchens Today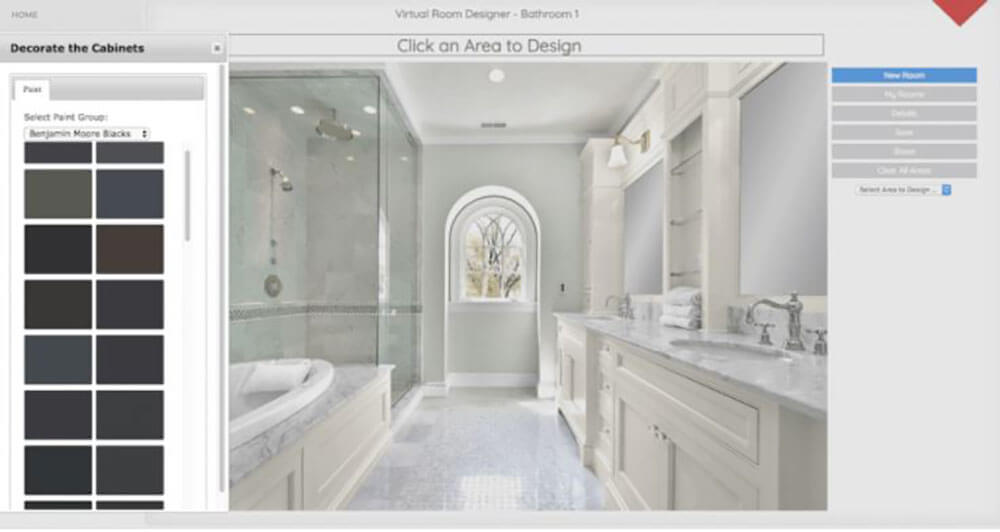 Best for: Because of its limited functionality and features, Floors & Kitchens Today's bathroom design software is best for homeowners who aren't looking to create a detailed design but would like to get rough ideas for bathroom redesigns.

Floors & Kitchens Today is a Massachusetts-based business that sells home improvement products and services. Its website features a basic bathroom design tool, but keep in mind that this tool is limited. You can choose from six photos of existing bathrooms and customize elements within those photos, but the functionality stops there.

Key features:
Simple and easy to use
Six templates for bathroom dimensions
Ability to customize products and surfaces
Pros: Floors & Kitchens Today is perhaps the easiest bathroom design platform to use because it offers so few features.

Cons: Floors & Kitchens Today offers only a fraction of the functionality of the best bathroom design software platforms.

Pricing:

Floors & Kitchens Today is completely free to use, but keep in mind that the business that owns this software sells the items, furnishings, and related services you see in its bathroom design templates.
4. RoomSketcher Bathroom Planner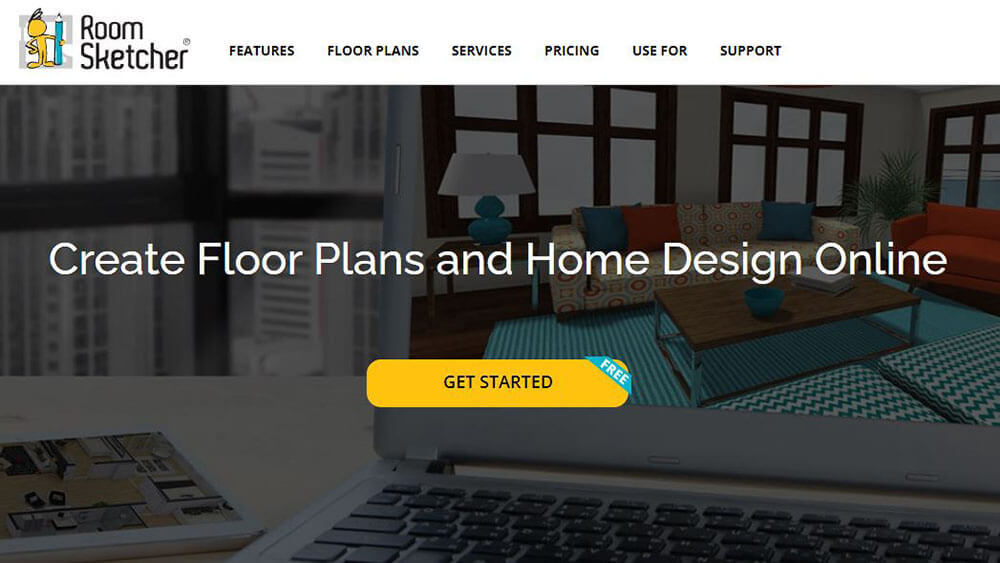 Best for: RoomSketcher is best for interior designers and remodelers with limited experience in detailed floor plan design.

RoomSketcher's Bathroom Planner is marketed as a platform that requires no CAD experience to use. That is true — the platform is relatively straightforward to use. You simply draw your bathroom floor plan in 2D and see it in 3D.

Key features:
Snapshots tool allows users to take "photos" of their 3D designs
360 Views tool
High-resolution floor plans in 2D and 3D
Detailed room dimensions in 2D floor plans
Pros: RoomSketcher's Bathroom Planner gives aspiring professional designers a relatively fast way to create a professional-looking bathroom design.

Cons: Many of the platform's most powerful features are not available in the free version.

Pricing:

RoomSketcher's Bathroom Planner is a part of its home design app. The company offers a limited free version of the app, which doesn't allow users to create 2D floor plans. The paid versions include more features. The VIP plan, which is $49 USD per year, is marketed as "ideal for personal use," while the Pro plan, which is $99 USD per year, is marked as the best option for businesses.
5. Tile 3D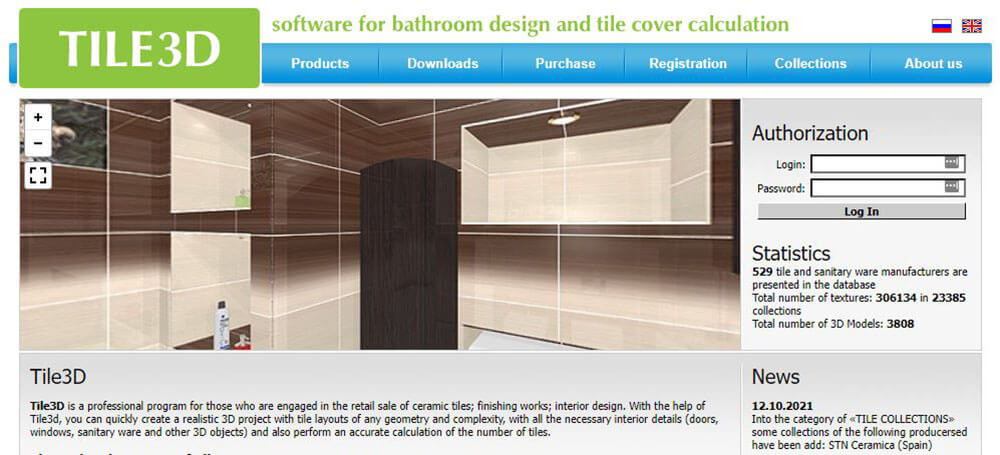 Best for: Because Tile 3D is focused on tiles used in bathrooms, it's best for remodelers and DIYers who want to make a simple change to their existing bathroom.

Tile 3D offers some of the features of a full-fledged bathroom design software, but the main purpose of this platform is to help users select bathroom tile and calculate how many tiles they will need to complete a project.

Key features:
Material use calculations
Third-party app compatibilty to support exporting and photorealistic renderings
Large selection of bathroom wall and floor coverings
Exportable materials lists
Pros: Large selection of tiles and highly functional area calculations to determine the number of tiles you need.

Cons: Functionality outside of bathroom tile is limited; works on Windows computers only.

Pricing:

A permanent workstation license to use the software is $558 USD, while a one-month workstation license is $49 USD. The company accepts PayPal payments only.
6. Live Home 3D Pro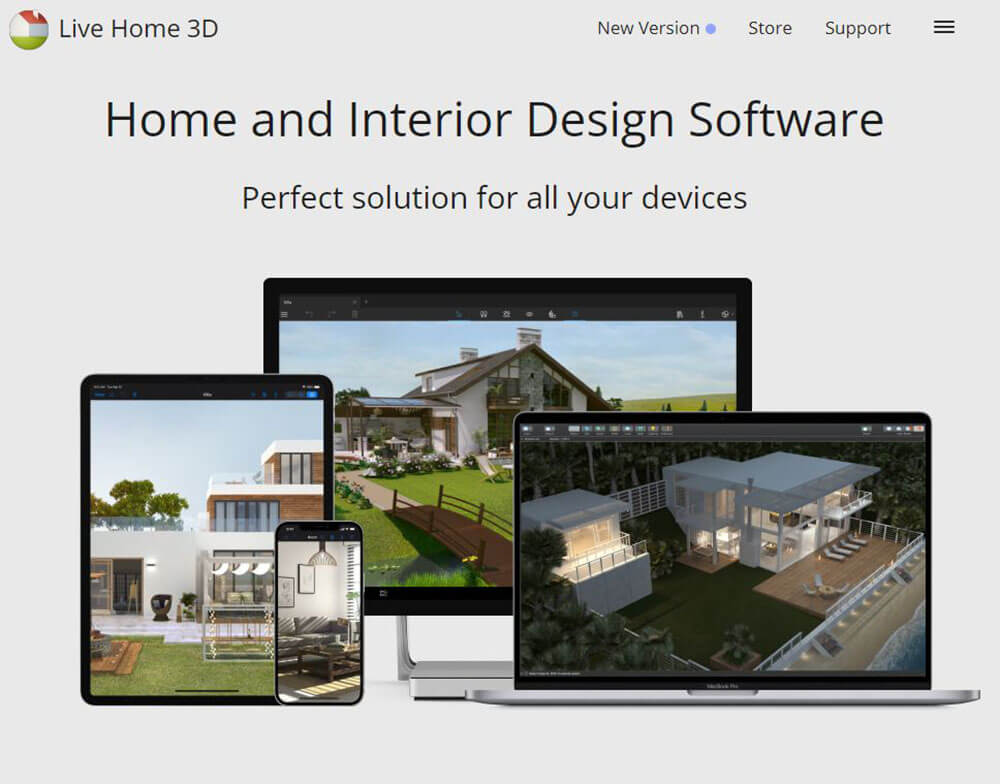 Best for: Because of its user-friendly app and strength in basic features, Live Home 3D Pro is best for beginning home designers and homeowners.

Live Home 3D Pro is a home and landscape design app available on iOS and Windows devices. While it offers an impressive deck of outdoor design features, its interior design features tend toward more basic abilities. However, the app does allow for bathroom design.

Key features:
Edit materials for surfaces like walls and counters
Split-screen mode allows for simultaneous 2D and 3D design work
Third-party integrations offer photorealistic renderings
RoomScanner feature scans an existing room to create a digital copy
Pros: The app is designed to be user-friendly and can be used on mobile devices.

Cons: Interior design functionality is somewhat more limited than other bathroom design software.

Pricing:

A lifetime license to use Live Home 3D Pro is $49.99 USD, but keep in mind that you will encounter in-app purchases for items like additional objects and plants. The free version of Live Home 3D does not allow users to export designs, so it may not be helpful in applications other than basic sketching.
7. MagicPlan
Best for: MagicPlan is best for contractors who need detailed interior floor-planning capabilities to create accurate project estimates.

MagicPlan is one of the best bathroom design software platforms for contractors. That's because it offers a host of features that simplify contractors' jobs and enable them to create 2D and 3D visualizations and estimates for projects.

Key features:
Automatic project estimate calculator
Available as an app for on-the-go use
Team collaboration
Ability to attach notes, markups, and photos to projects
Pros: MagicPlan allows users to attach photos and notes to projects to create detailed project estimates.

Cons: This platform focuses more on the construction and building aspect of bathroom design, meaning some of the more detailed interior features are lacking.

Pricing:

MagicPlan allows users to access all of its features for two projects free of charge. For $9.99 USD per user, per month, you can create unlimited projects in 2D and 3D. The two more expensive versions — at $29.99 USD and $89.99 USD per month — offer features that may be more attractive to professional contractors, such as estimate calculations, 360-degree images, and phone support.
8. SmartDraw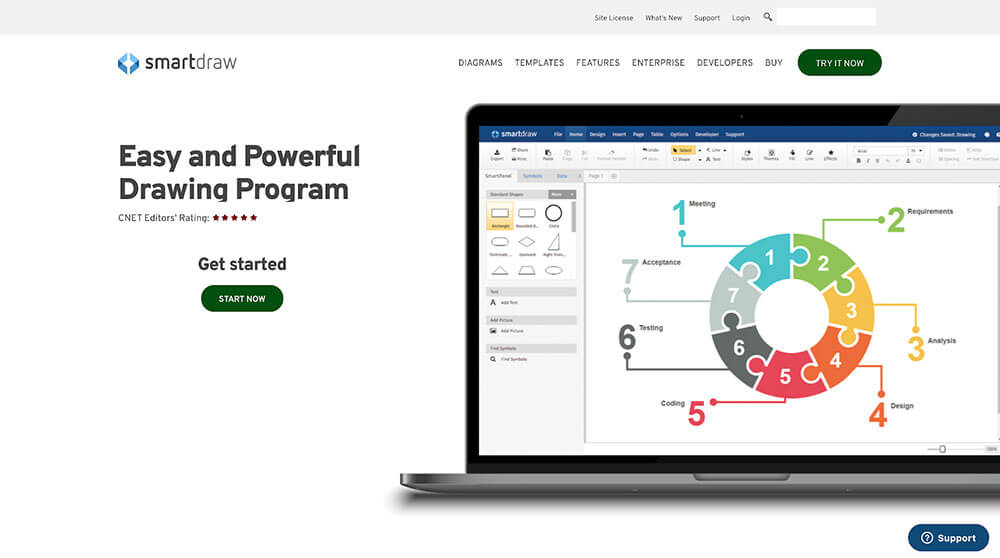 Best for: With advanced 2D design capabilities but lacking 3D rendering functionality, SmartDraw is best for beginners and DIY bathroom designers.

SmartDraw is a 2D design software that supports design work with a variety of features, including charts, diagrams, and floor plans. SmartDraw delivers an impressive 2D bathroom design experience but lacks a 3D option.

Key features:
Third-party apps to enable design exports
Advanced 2D design features
Large library of floor plan templates
Ability to collaborate on projects
Pros: Highly functional 2D design capabilities.

Cons: Lack of 3D design.

Pricing:

After the free trial of SmartDraw, you pay $5.95 USD for each feature of the software that you want to use. If you need all of the features, the costs can add up quickly, but if you need only limited functionality, this pricing model may be cost-effective for you.
9. SketchUp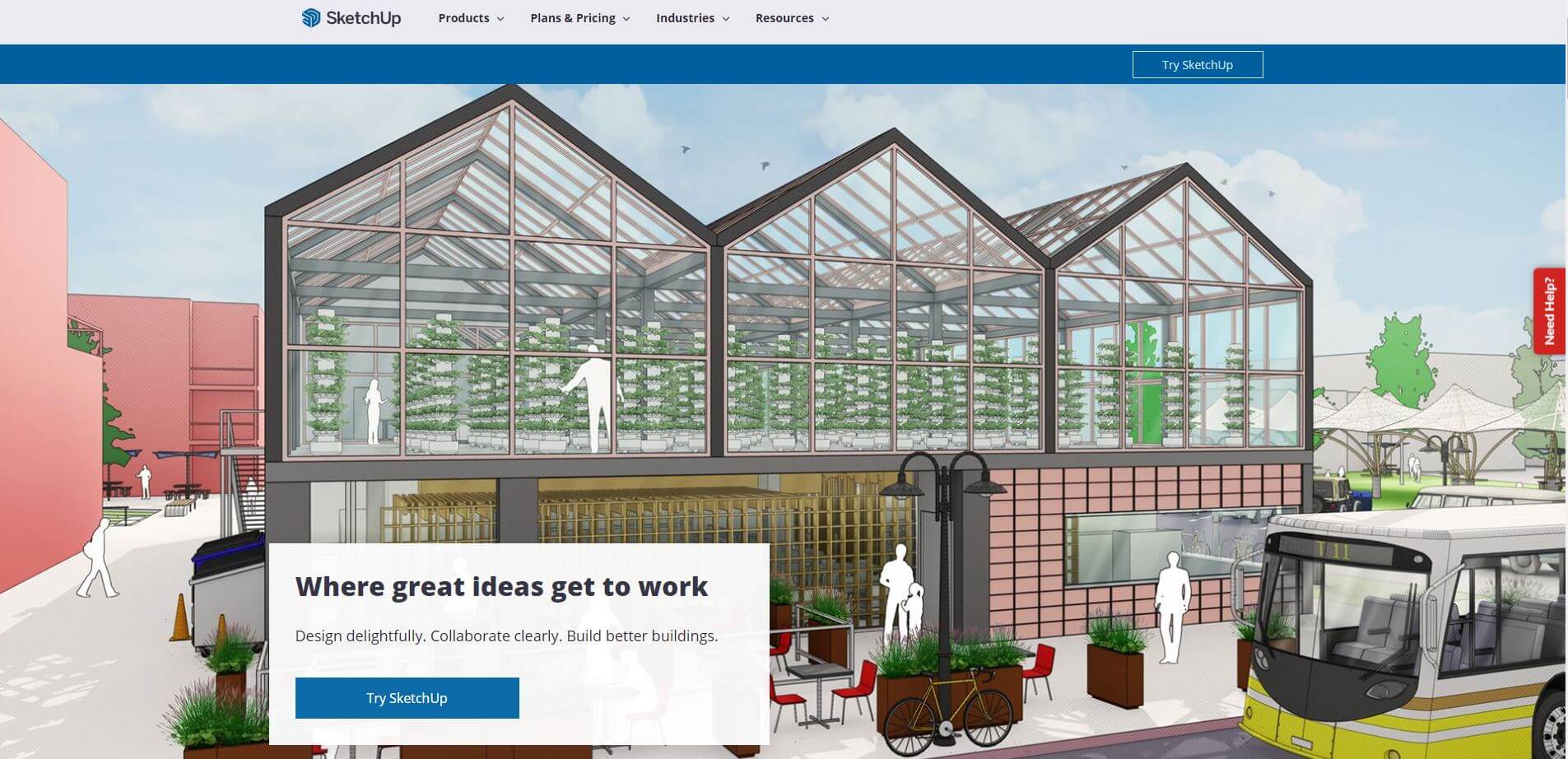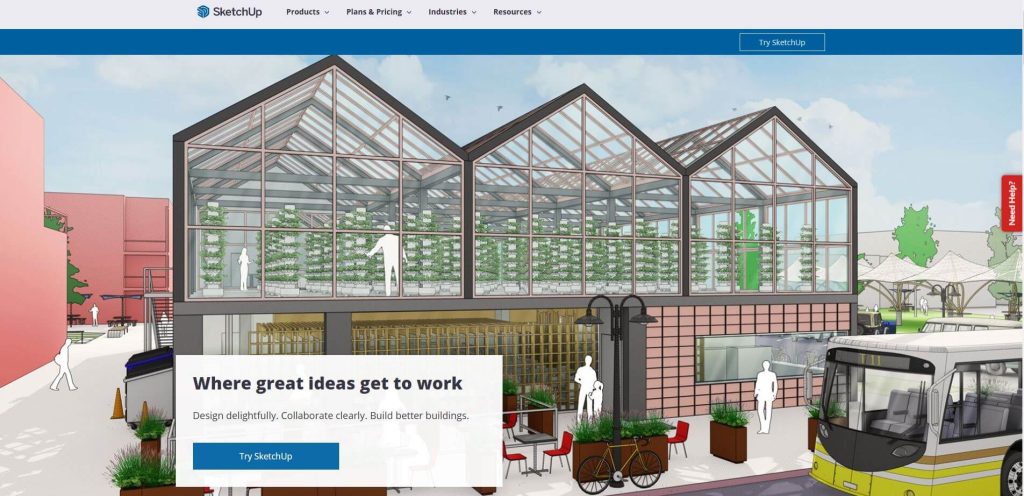 Best for: SketchUp is best for designers who take on a variety of projects outside of interior design and would like the ability to model 3D objects.

SketchUp is a tech-forward design software that has broad design applications, including video and film design. With third-party integrations, users can access virtual reality (VR) and augmented reality (AR) viewing of their designs. The platform's bathroom design capabilities rely heavily on a large library of pre-designed objects.

Key features:
VR and AR viewing
Applications in other types of design
Available online or for desktop use
Built-in 3D modeler
Pros: SketchUp offers broad design capabilities that transcend home and bathroom design.

Cons: Some features are available only through paid third-party extensions.

Pricing:

The full version of SketchUp is $699 USD per year. If you are willing to sacrifice several of the more impressive technologies of this platform, you can get the less expensive Pro plan for $299 USD per year or the plan for personal use for $119 USD per year. The free version of SketchUp offers limited features.
10. PlanningWiz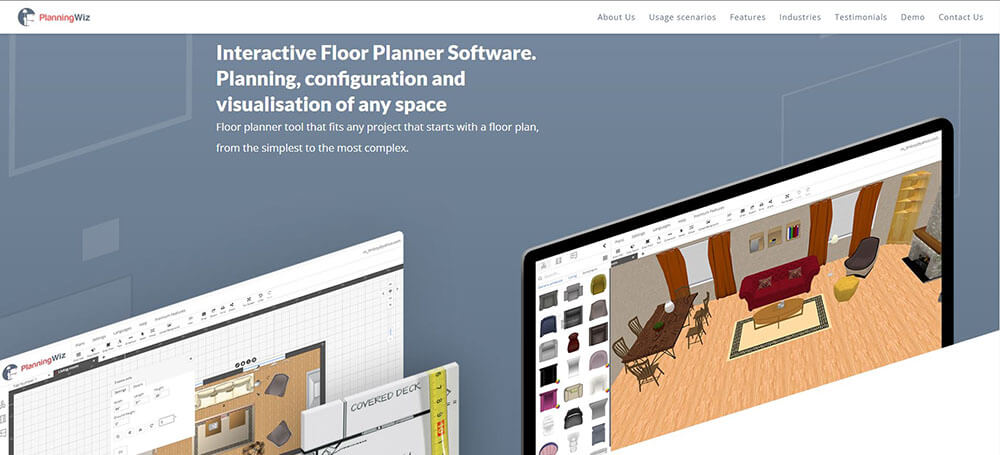 Best for: PlanningWiz is a customizable room design platform that is best suited for professionals who would like to allow their clients to design rooms themselves.

PlanningWiz offers 2D and 3D design of most kinds of rooms, including bathrooms. However, it is designed for use in retail scenarios in which a retailer allows a customer to sketch a room design and then sells the customer the objects included in that design.

Key features:
Customizable platform to suit retailers' needs
Shopping cart integration to allow for in-platform purchases
Website integration to host the planner on your site
White-label service to add your brand to the software
Pros: PlanningWiz can be customized to meet the needs of individual clients.

Cons: The platform is meant for retailers rather than designers, builders, or DIYers.

Pricing:

Because PlanningWiz is customized to fit the individual applications of each client, the pricing structure is not transparent. The software is free to try, however.
11. Planner 5D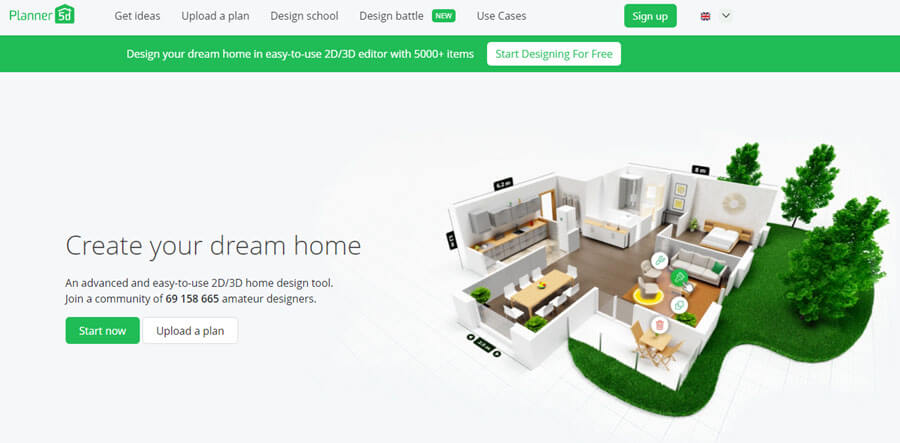 Best for: Planner 5D is best for amateur designers who do not need a wide range of bathroom design features.

Planner 5D may not be the best bathroom design software for professionals, but it offers a low barrier to entry for amateurs and homeowners who would like to experiment with bathroom design ideas.

Key features:
Furniture arrangement powered by AI
AR floor plan touring
Ability to upload existing floor plans and work on them
3D viewing of 2D designs in real time
Pros: Simple to use.

Cons: Limited features may be inadequate for professional designers.

Pricing:

Users can access a free trial of Planner 5D but should know that this version comes with limited features. To get the app with all of the features, you will have to pay $6.99 USD per month or $25.99 USD per year. Premium accounts are $24.99 per year, and prices for commercial use will likely be higher but are not publicly available.
12. FloorPlanner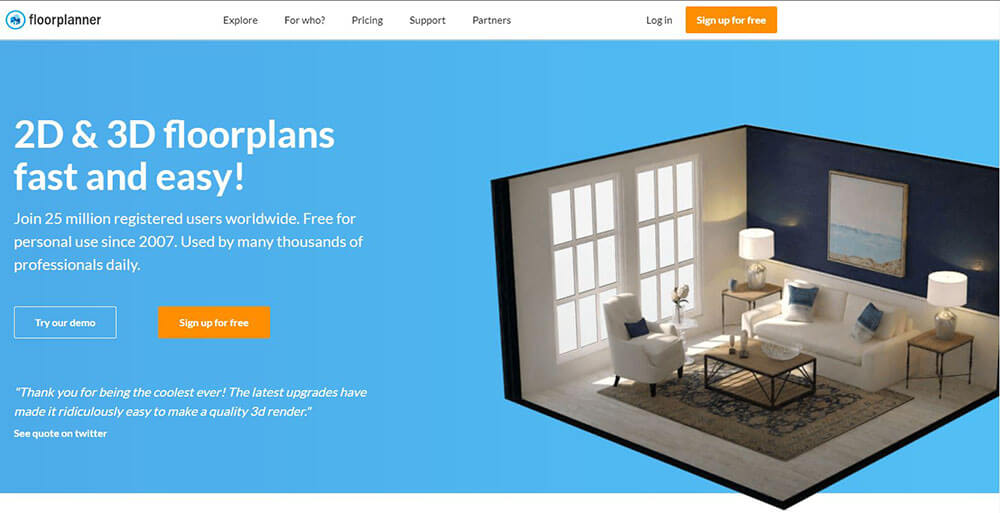 Best for: FloorPlanner is best for personal use and interior design because of its ease of use and ability to create quick designs.

FloorPlanner is an interior design and floor plan app that sells itself on speed and its ease of use. Simplified features and quick-draw tools do allow for fast designs, but some of these features can detract from the details that are important to many clients.

Key features:
Library of more than 150,000 decorations
Browser-based app
Ability to upload blueprints to work with real floor plans
Guides for completing specific types of room designs
Pros: For the money, FloorPlanner's free version offers a large number of handy features.

Cons: To unlock any of the features made for professionals, such as HD images and exporting, you have to pay.

Pricing:

FloorPlanner is free to use, but if you want to unlock export options, better images, and tourable renderings, you will need to pay additional fees. The paid plans operate on a credit system, with the plan meant for businesses giving you 60 credits per month for $225 USD. The larger enterprise plans and smaller team plans cost less, respectively, and there are various levels of pricing customization to keep in mind before you buy.
13. Chief Architect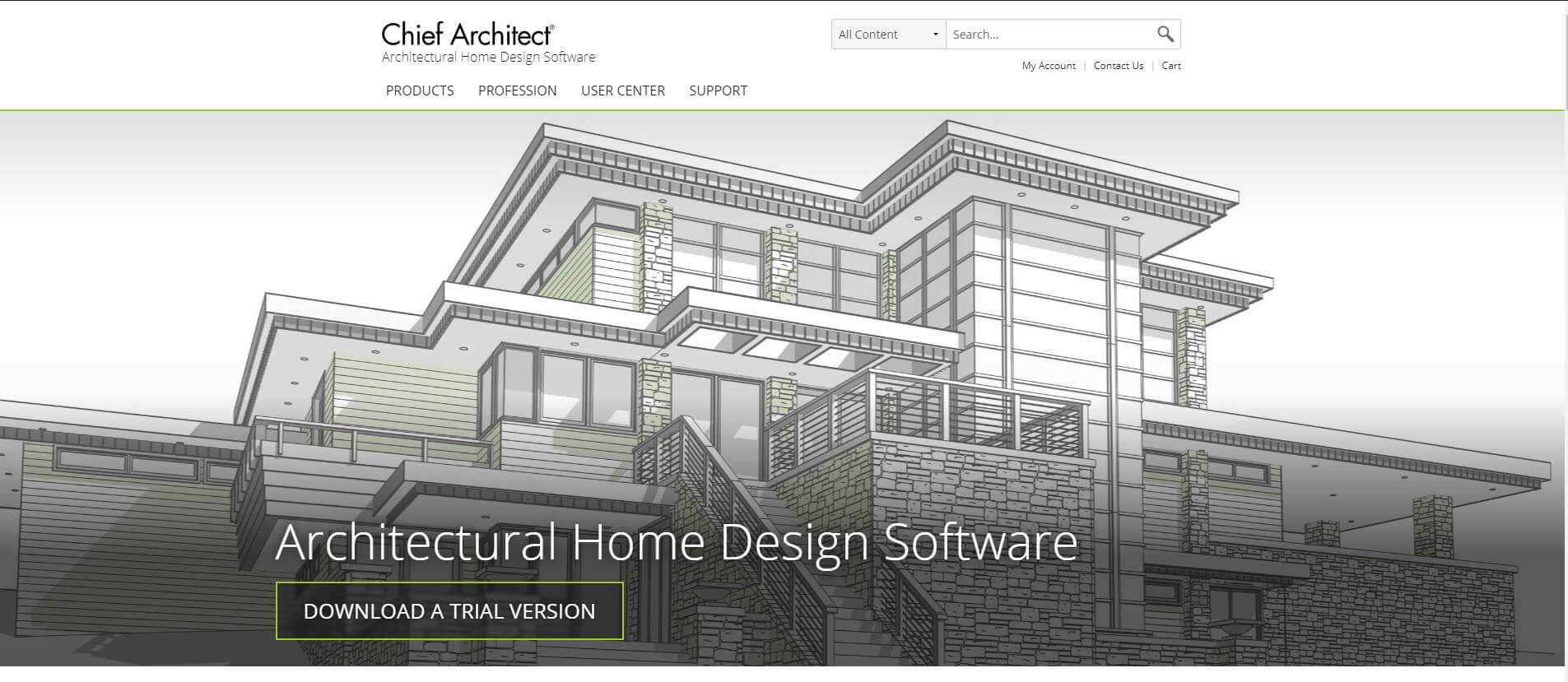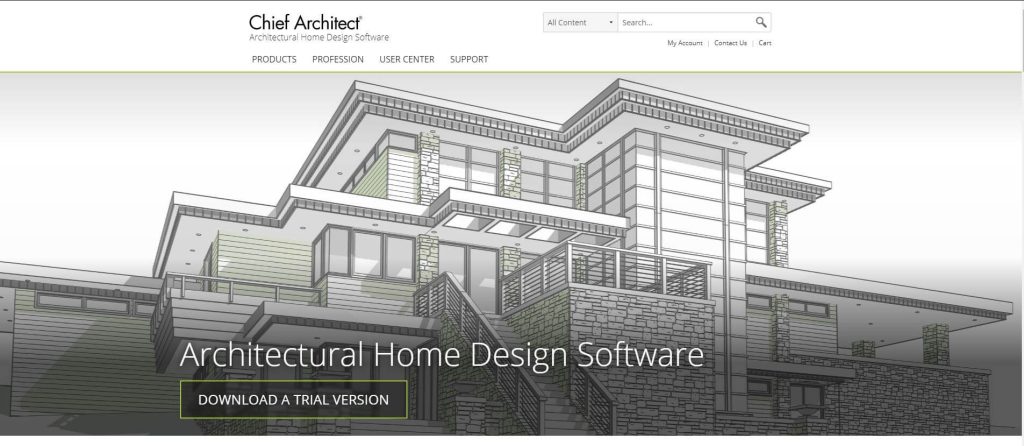 Best for: Because Chief Architect makes complex, on-premise home design software, it's best suited for professional architects who have high-powered computers.

Chief Architect's Home Designer software is well known in the architectural industry, and it offers a full suite of CAD-like features in its offline program. These features may be attractive to architects for full home design purposes, but they may be overkill for designers, remodelers, and builders who need a bathroom design software.

Key features:
A lower-cost, limited version for non-professionals
Photo backdrop capabilities
Large library of objects and decorations to use in designs
Powerful, CAD-like functionality
Pros: Chief Architect builds software for architects, so you get the full range of available features for architectural purposes.

Cons: Some of the architecture-focused features may lack the details needed for bathroom design.

Pricing:

Chief Architect's software meant for professional use is $59 USD per month or $485 USD per year.
14. The Blue Space 3D Bathroom Planner

Best for: The Blue Space 3D Bathroom Planner is best for homeowners who would like to design a simple bathroom plan to present to a professional.

The 3D Bathroom Planner from The Blue Space is meant specifically for bathroom design. That means you will have to look elsewhere for software that can handle other rooms, but you will find a wide range of bathroom-centric decorations and design features. However, The Blue Space sells the products included in the software and intends to convince users to buy those products.

Key features:
2D and 3D bathroom design functions
Team of experts to provide advice on layout, furnishings and fixtures
Ability to send the completed design to The Blue Space and purchase all of the products you used
Email, print, and save functionality
Pros: Because it is meant for homeowners, 3D Bathroom Planner is simple to use.

Cons: Professional designers will find the capabilities of this program limited.

Pricing:

3D Bathroom Planner is designed to generate sales for The Blue Space, so the company has made it free to use.
Which Bathroom Design Software Will You Choose?
There's no shortage of bathroom design apps, but which is the best bathroom design software for you? Hopefully, this guide has helped you make your decision.

At Cedreo, we believe we are the only bathroom design platform that can truly serve the needs of professional designers, remodelers, and home builders. We have spent years refining our platform to make every single aspect perfect.

Try Cedreo for free today and experience a better way to create stunning bathroom designs. Try it now.