Open floor plans can breathe life into otherwise cramped spaces.
While some peg this style as a modern trend, open floor plans, also known as open-concept plans, trace their roots back to the early 1900s and the classic bungalow-style home.
With flowing rooms and multipurpose spaces, this in-demand style remains a popular choice for homebuilders worldwide. But what does it take to create open floor plan designs that are elegant, effective, and practical?
Let's take a quick dive into open floor plans and discover some great ideas for your next project.
What is an Open Floor Plan?
So, what is an open floor plan, anyway?
The standard classification of an open floor plan has only one real rule. If two or more rooms that would otherwise be separate exist as one, many would consider it an open concept.
But, a lot of room for debate on classification exists. For instance, some minimal design changes would fit into this category:
Half walls separating rooms
Screen dividers
Door removal
While this is a broad definition, the style itself comes in many different variations.
In traditional home design, walls block the flow from one room to another. The idea behind an open floor plan is that it blends the purpose of each room to facilitate better social interaction, add natural light presence, and create multifunctional living spaces.
Open floor plan concepts foster a sense of greater space without adding additional square footage. These designs often omit privacy elements like walls and doors to give life to otherwise blocked-off areas.
Additionally, skilled designers will put an emphasis on design elements like sightlines and traffic patterns.
Without walls or hallways pointing out obvious routes around the home, it's up to the designer to intuitively separate areas in an open format. Even with these ideas at the core of open floor plan designs, it's still up to the designer to balance a sense of togetherness with privacy.
Considering all these design decisions, you can easily create efficient and livable open-concept homes packed with benefits.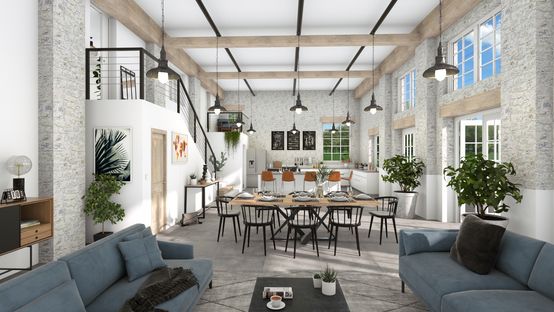 The Benefits of an Open Floor Plan
If you're thinking of adding an open floor plan design to your home renovation or remodel project, what can you expect in terms of benefits?
While it's true that open-concept home designs come in many different shapes and forms, you can usually expect a few similarities between them. Depending on which layout design you choose, you can look forward to a few key benefits.
Better Social Connections
Open floor plans get rid of the walls to help foster a greater sense of social connectivity. That's one of the main reasons why you see open designs in kitchen layouts.
Instead of blocking off sight lines with design elements, open layouts invite a feeling of better social activity to any space. If you are an avid party host, this might mean better conversations with your guests and the ability to comfortably host a larger group.
Natural Light Distribution
Everyone loves a room with a good source of natural light. Unfortunately, many floor plans, especially small house plans, sacrifice lighting for privacy.
Interior walls can easily block natural light sources and keep some areas in the dark.
Open designs allow light to pool and flow freely. Instead of drab rooms with little window access, you get flowing spaces optimized for natural light.
Flexibility
In more traditional home floor plan designs, every room seems to have a purpose:
Living room
Bedroom
Kitchen
Game room
Open concepts omit these classifications in some cases to provide greater flexibility for room use. While you won't find any hard and fast rules for how you use rooms in your own home, if you're a fan of changing things up, an open floor plan offers more creativity in how you live.
Better Flow and Traffic
One of the most significant downsides of traditional home design is cramped areas.
This happens quite a bit, especially in bedroom spaces and hallways.
Open floor plans help foster better interior flow in any area. Without walls or other barriers, you can not only see other rooms of the home, but you can feel connected to them.
Moreover, the lack of walls gives a space a greater sense of size—a great way to create the perception of more square footage.
Multifunctional Layouts
Open floor plans are also great for creating multifunctional spaces. Since no barriers exist between one space and another, you can use specific rooms for different purposes.
It's not as crazy as you might think. Take a kitchen, for example.
By combining a dining space with a cooking space, you can save room while creating flow between the two areas.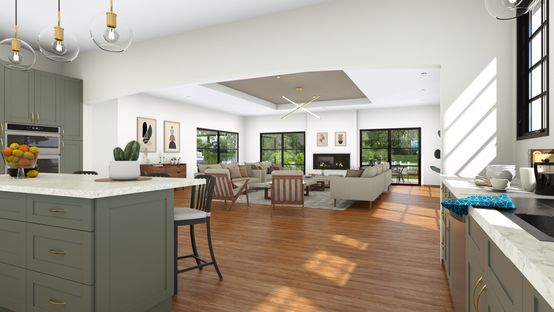 Best Open Floor Plan Ideas
If you want to add an open-concept design to your next project, here are some creative ideas to get you started.
Work with Invisible Walls
If an open floor plan seems chaotic, an easy design hack can help you make the most out of your space. Open concepts can quickly feel cluttered—the opposite of the open design ethos.
An excellent way to combat this reality is to use invisible walls to separate each zone of the home. These walls provide a way to navigate the design process with guides.
Imagine if walls were to exist; what would each zone look like? When everything is finally in place, the room will have a feeling of separation while still being open.
Bring the Outside In
An easy way to add an extra sense of space into an open layout is to bring natural elements into your design.
The natural world usually brings a feeling of vastness, so focus on opening up not only the walls but windows too. A big open skylight can add a considerable amount of natural light and can have a positive impact on mental health.
If your kitchen or living room opens up to the outside or a backyard, adding sliding glass doors can quickly bring other areas of the home into the space.
Sunken Floors
While not as common as they used to be, sunken floors can add depth to any room.
These sunken features draw the eye. They give an illusion of extra space without the need for additional square footage. Moreover, they can be a great way to separate an area from another without the need for walls.
Shelves as Room Dividers
Using your design elements to your advantage is a great way to add some flair to any open concept.
Shelves not only help with organization, but they also act as wonderful room dividers without breaking the sense of openness. This is especially the case for open-backed shelving where light can transfer through.
Try an L-Shaped Layout
If you have the opportunity, an L-shaped open layout can add some extra design benefits to your space.
The L-shape is a great way to keep certain areas of the home slightly out of sight without needing to use walls. They're perfect for kitchens and dining room spaces.
Add Sliding Doors
Sliding glass doors are an easy way to create the illusion of more space in your open concept.
Not only will they let in more light, but they can also connect the room to the outside and bring more of your home into nature. The best part is that they are often easy projects to handle that offer a lot in return.
Use Area Rugs to Create Spaces
Rugs are a staple in most homes. While these textile floor pieces add style and flair to a room, they can also do well to create space.
In an open concept, you want to foster a sense of togetherness as well as separation. Area rugs are a great way to accomplish this. Since they lay flat on the ground, they don't take up any actual room.
What they can do is give the illusion of separation without the need for any tools or construction plans.
Conclusion
If you're looking to create open floor plan designs, you now have the tools you need to master the planning. But getting your plans off paper and into reality is much more than benefits and ideas.
With Cedreo Home Design Software, you can easily create both 2D and 3D floor plan designs in under a few hours.
Get a realistic view of your next project with full 3D renders and photorealistic textures. Get started with your free trial today and connect with our team to learn more.