Many have heard the saying: "good things come in small packages" but how many believe those words should be said about houses?

The rising cost of housing in the U.S. has encouraged many American homebuyers to get creative about how they build their dream home. For building professionals, this means an increased demand for creative small house designs, layouts, and floorplans.

From tiny homes to micro cabins, small houses have been trending for the past few years. Keep reading to learn more about different kinds of small house plans clients will love.




6 Small House Plans for Any Home
Tiny House Plans
Tiny houses are among the most popular types of small homes. This is because of their affordability, accessibility, and compatibility with many millennial values such as minimalism and sustainability.

By 2026, the tiny house market is expected to grow by $3.57 billion, which means many American contractors will be receiving an increase in requests to complete this type of project.

When planning a tiny house plan, it's important to curate the design to the client's needs as much as possible. This is because—depending on how they are designed—tiny house layouts can either be extremely innovative and user-friendly, or they can be inconvenient and frustrating.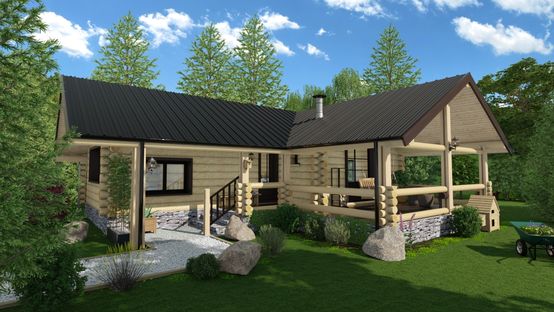 Barndominium Floor Plans
A barndominium—also known as a bardo—is a barn or other unconventional structure that has been converted into an open-concept living area.

Barndominiums are attractive options for clients because they are affordable, low maintenance, and energy-efficient. The cozy, rustic aesthetic appeal of a barndo is reminiscent of the popular shabby-chic home decor style.

Drafting a barndominium floor plan is different from many other small or tiny house drawing processes because it almost always involves an entirely open-concept design.

These homes often look like well-maintained barns on the outside and luxury studio lofts on the inside. They have plenty of potential for natural light, hosting layouts, and seamlessly integrated outdoor space.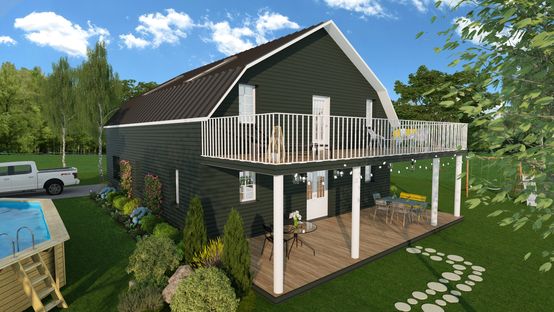 Container Home Plans
Container homes are a subset of tiny homes. They are homes designed within the structure of a shipping container.

This style of home is very affordable, even when compared to traditional tiny home designs. This is because the basic structure of the home is prebuilt inside a sturdy and long-lasting steel shipping container.

Some of the other benefits of container homes include:
Modular design
Mobility
Easy and quick construction
Planning and designing a container home is a unique process that requires creativity to maximize the efficiency of the available space. Being able to work within the confines of an existing structure is essential for delivering a high-quality container home design.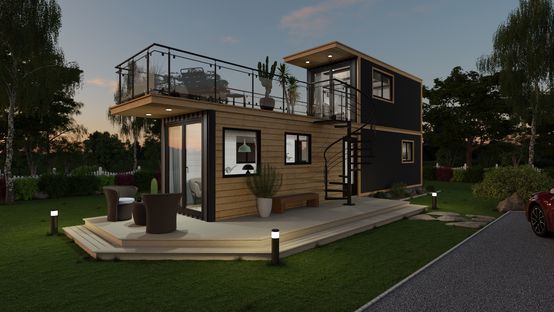 Small Cottage Plans
Small cottages are an ideal low-cost solution for clients looking for a rural, off-grid, or homesteading lifestyle. This is because they are long-lasting, easy to obtain a permit for, and fun to customize.

Small cottages can also double as second homes, lake houses, on income properties. The design of a small cottage will depend on the client's intended use, so it's important to gather information about their wishlist during a preliminary meeting.

Small cottages can fit a variety of styles. Popular varieties include vintage, coastal, A-Frame, and country.

These differ from tiny houses and shipping container homes because they are not built on trailers or mobile platforms. Once a small cottage is built on a property, it cannot be easily moved.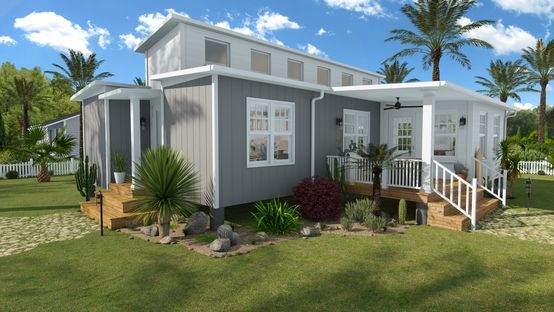 Tiny Cabin Plans
A tiny cabin is similar to a tiny house, however, tiny cabins are often built on a foundation instead of a trailer base.

This makes them less mobile, but it makes it easier to obtain zoning permits and other bylaw permissions while building.

Many homeowners looking to build tiny cabins are seeking a low-cost second dwelling for summer or a vacation rental income option.

Tiny cabins are an enticing option due to their affordability and design versatility. Unlike container homes or other affordable off-grid options like yurts, the basic structure of a tiny cabin can be modified to suit a client's specific tastes or preferences.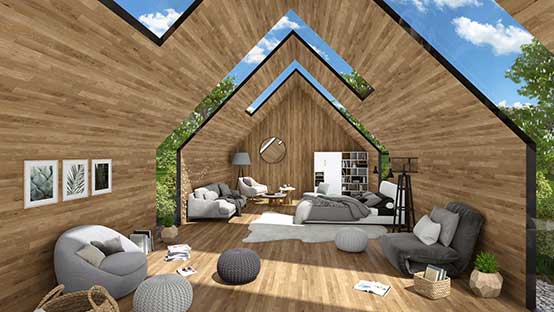 Small Home with Attic Floor Plan
One of the main complaints small homeowners have is the lack of storage space. While the layouts for tiny homes on wheels frequently don't allow for much storage space, small homes with attics are able to provide a great deal of it.

These homes are great for people in suburbs, small cities, or more densely populated areas where there is limited space for sheds and other storage alternatives.

When designing a small house with an attic, general contractors will have an easy time navigating the design process. This is because small houses with attics are not innovative or new—quite the opposite.

This style of home is trusted and beloved for its affordability and longevity, and people have been living in them for decades.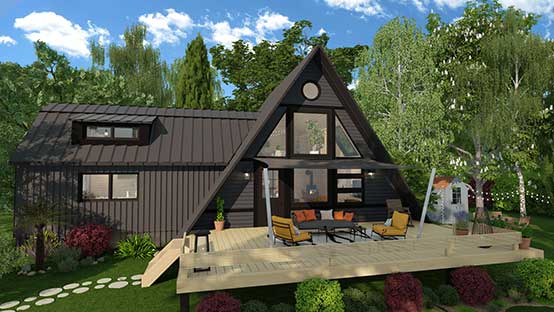 Tips for Getting the Most Out of a Small Space
Here are some things to consider when drafting small house layouts for clients.

Give Purpose to Every Space
When designing a small space, it's critical to maximize the usefulness of every square inch of the home.

In some tiny homes, stairs can also be a bookshelf. Some even place the toilet inside a standing shower. It's critical to ensure there is no wasted space in a small home.

If, upon completion of the design, there are areas of the home that seem empty, consider what purpose that space could serve. With a bit of creativity, headspace above the living room area can become storage space for larger items such as skis or a guitar, for example.

Add Storage in Unexpected Places
Creating storage opportunities should be a primary goal during the small house design process. Any opportunity to improve storage capabilities will make a huge difference in the livability of the space.

A common trick for tiny homes with loft beds is to make the staircase to the loft double as storage space.

Consider suggesting that customers do an audit of the belongings that will need to be stored in the home. This way, you can ensure there is space for everything while designing their dream small home.

Take Cabinets to the Ceiling
Maximize kitchen space by designing cabinets to extend all the way to the ceiling.

The areas above cabinets often serve little purpose but to gather dust, so this can maximize the potential of the available space in the client's kitchen.

Add Storage Furniture to Your Design
There are many ways to get creative with furniture in a small space. Storage inside the coffee table, under the bed, in the couch, or inside additional seating are all excellent ways to ensure a client has room for all their belongings.

As a general contractor, it's your job to ensure a client's small home plan is tailored to their needs and desires. If you're able to deliver innovative ideas for storage space, it won't go unnoticed.

Save Space with Sliding Doors
Traditional doors can cause a headache in a tiny space. This is because the design needs to accommodate the movement, meaning that space will need to be unobstructed.

Sliding doors are a fantastic way to save your clients a lot of frustration when move-in day comes.

Design a Small House Plan in Cedreo
Small house designs require a unique perspective and a bit of additional planning, but when done correctly, they have the potential to make a client's dream of homeownership come true.

General contractors who want to save time and money to design stunning, precise layouts for tiny homes, cabins, and other small home projects choose Cedreo.

Cedreo offers the functionality for creating construction-ready drawings while also providing the ability to conjure impressive 3D renderings that will impress clients and lead to more sales.

Cedreo is the 3D design software that helps building professionals improve client relations, increase sales, and establish a professional reputation. Sign up to start using the free version of Cedreo today.
Design beautiful, innovative small house plans in Cedreo.