Your front porch can be quite the real estate chameleon.
Some front porches are all about curating an intimate outdoor space built for taking it all in and relaxing. Others focus on adding shine to the public face of the home and wowing guests.
If you're looking to update your front porch, you'll undoubtedly find many imaginative ideas floating around online. But, when it comes to practical front porch remodel ideas, which ones fall flat and which ones shine?
Let's explore some dead simple updates and other creative projects that can add some flair to your front porch and make the space more usable.
Quick and Easy Front Porch Updates
Everyone is looking for quick and easy ways to improve their front porch space.
While you can find thousands of reasons to upgrade your porch, one goal stands out for almost every homeowner—curb appeal.
On average, a home with excellent curb appeal sells for 7% more compared to neighboring homes with lackluster appeal. Putting in a little work can pay off.
It's all about first impressions. If you're trying to sell your home, listing photos can make or break you. Focusing on your front porch is a great way to get some attention.
While you might have your eyes set on other valuable home renovations like a kitchen remodel, if you're hunting for quick results in home value, some simple additions to your front porch can have quite the impact.
Let's review a few painless projects to update your front porch.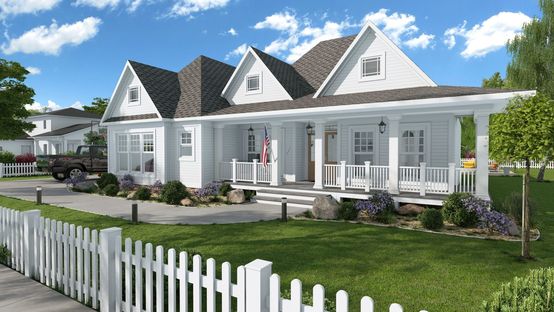 Paint the Front Door a Bright Color
Your home becomes a part of you, so why not express yourself with a fresh new front porch look?
Painting your front porch is a simple way to add a bit of personality to your home. The best part? It's one of the most cost-effective front porch updates.
When it comes to exterior home paint, some popular color schemes can help create timeless and trendy results:
Classic neutral colorways
Muted colors
Trendy colorways with accents
Update the House Numbers 
Adding a new set of house numbers may feel like a small project, but it can really affect your front porch look.
This is an often undervalued home renovation.
Not only can a fresh set of house numbers make it easier for guests to find your home, but they help your property stand out in the neighborhood.
Add practical additions like lighting and reflective numbering for extra visibility.
Upgrade the Lighting
Lighting isn't only about style; it's also a safety matter. An area with the proper lighting can ward away would-be criminals and other nefarious strangers.
Conversely, a well-lit porch feels more inviting for guests. Lighting can welcome people in and make a space feel much bigger.
You can use solar-powered lights or go with more classic choices. Lanterns or chandeliers add style and easily connect to your home's electrical system.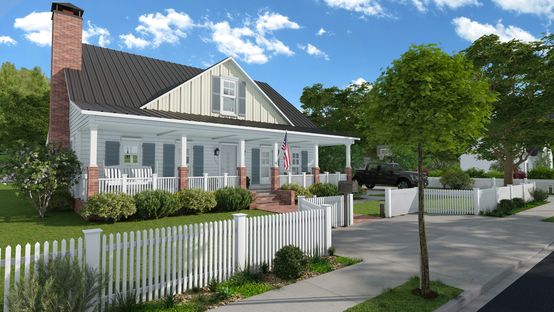 Get Creative with Porch Furniture
Adding new porch furniture to your space is a no-fuss way to add some extra elegance and freshness.
You can go with trendy furniture for a more modern approach or opt for classic furniture styles for timeless designs.
Get creative with your furniture placement too. With some simple designs and planning, you can create a sense of additional space, separate front porch areas or just create an inviting environment for entertaining guests.
Front Porch Remodel Ideas to Create a More Useable Space
If you want to update your front porch, you should also consider practical projects meant to improve livability.
After all, you want a livable space that does more than just look good.
Here are a few simple front porch renovation ideas that can add some extra usability to your outdoor space. 
Add a Roof to the Porch
Covered porch spaces can bring in a little extra protection from the elements. In areas that get plenty of precipitation, a porch with a roof is a must.
A roof can also change the entire look of your home. If you're unhappy with the front facade, utilize new design elements to reshape your home's public face:
Use different building materials
Use new roof designs
Change the siding choice
Add support for a screened-in porch
Update the Porch Railings
Another practical improvement that can reshape your front porch look is updating the porch railings.
Your porch railings have to stand up to daily damage from the elements and they often wear down faster than indoor design elements. Don't let worn railings affect your home's beauty and function.
Just be sure to pick new railings that compliment your home's overall style.
Turn It Into a Screened In Porch
While the summer means more outdoor living, the wonderful weather is also a boon for bugs.
Adding a screen to your porch keeps the biting insects at bay and adds a little extra protection to your outdoor space. Most screened-in porches feature a lock on the screen door itself, meaning you can keep everything secure without needing to bring items like porch furniture inside.
Replace or Update the Porch Steps
Some practical upgrades you can do yourself; others will need the help of an expert hand. Replacing your front porch steps is one of those projects.
But you get a lot in return. Front porch steps are an essential component in both design and structure. It should come as no surprise that your front porch is the focal point of your home, and step design is part of making a good first impression.
More importantly, though, some front porch steps play a critical role in keeping the front porch itself supported. If your steps are worn and cracking, it's time to upgrade.
Expand the Square Footage
It's easy to get all wrapped up looking for ways to add extra square footage into your interior design, but what about the exterior?
Expanding your front porch is a great way to create extra space without the need for tearing down walls. Of course, you'll still need the help of a professional for this kind of project, but it will be less of a burden on your time and wallet than an interior remodel project.
The best part? It's an excellent way to improve your home that speaks for itself. When guests or potential homebuyers see your property for the first time, all that extra outdoor space will be the first thing they notice.
Conclusion
Whether it's adding a fresh layer of paint or just upgrading some worn elements, a front porch remodel can add some flair and curb appeal to any home.
It's the first thing guests see when they enter the property, so why not make it shine?
If you're looking to update your front porch, leveraging power design software can help you make the most out of your next project.Cedreo home design software can help you create seamless 2D and 3D designs in under a few hours. Master your next front porch remodel with the right tools. Get started today with your free trial.