A long list of home improvement projects are a reality for almost every homeowner. Whether it's small renovations or a complete remodel, how changes affect your home's resale value is probably top of mind.

Home renovation can get costly. From materials to labor, it all adds up.

Ultimately, projects that eat up a good bit of capital don't always get the best return on investment (ROI). If you're looking at renovations to increase home value, it's all about planning and strategy.

Knowing which improvements will recoup project costs and which won't can help you when it comes time to put your home on the market.

Home renovation projects come in all shapes and sizes. Are you dreaming of a complete kitchen remodel or a simple garage door replacement? It's easy to get lost in balancing personal tastes with practical choices—especially when it comes to your home.

To help you along your journey, let's explore some remodeling projects that can offer the best value for your dollar.

Improve Property Value in 2023
Improvements that increase home value are often practical renovations and projects focusing on curb appeal. If you're looking to add value to your property with home renovations, you'll need to understand where to invest and what to leave alone.

The fact is, most home improvements will not always add value.

Take a look at Remodeling magazine's 2022 Cost vs. Value report. Here you can explore national remodeling data as well as compare regional differences.

Here are a few of the highest ROI renovation projects:
Garage door replacement (93% ROI)
Manufactured stone veneer (91% ROI)
Minor kitchen remodel (71% ROI)
Keep in mind, ROI does not equate to added home value. Instead, it can give you an idea of what return you might expect from overall project costs.

If a garage door replacement costs around $4,041 with a 93% ROI, it will add $3,769 to your home's resale value. It won't increase your home's overall value by 93%, though. If you plan to enter the housing market or want to refinance with a home equity loan, you need to understand the complete picture when it comes to the value of a renovation.

If you are intent on only adding to your home's value, having a firm grasp of ROI is essential to planning your projects.

It's easy to get lost in your dream renovations. But, you should keep in mind that what you think is an improvement might not resonate with a buyer. That's why simple renovations are the most valuable for resale. Adding new appliances, new paint and fixing rundown areas is often all you need to catch a buyer's eye. Of course, other more luxurious features can make an impact, but you need to understand current home-buying trends to make the most out of these kinds of improvements.

Luckily, if you're strategic with home improvement projects, you can easily add value to your home.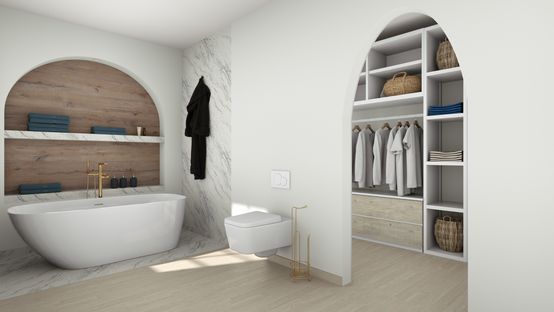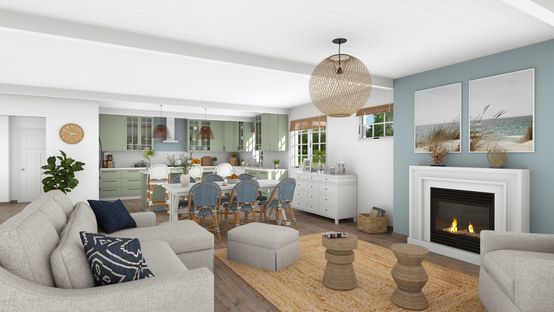 Home Improvements That Add the Most Value
If you're looking to increase your home's value, home improvements are probably at the top of your list. But where should you put your energy and effort? What projects are worth the investment?

We already know that not all home improvement projects add to resale value.

Renovations can serve many purposes, from practical to personal. To make the most out of your remodeling projects, here are a few ideas to add to your to-do list.

1. Functional Open Floor Plan
Is your floor plan practical?

Many potential buyers are looking at how your home's layout will affect the way they live. A functional home design will maximize livable square footage while optimizing for the modern homeowner's lifestyle.

Home designs go through trends. These days, buyers are on the lookout for all kinds of features:
Larger bathrooms
Open-layout kitchens
Sizable walk-in closets
Finished basements
Using a remodeling app can streamline the design process and help create efficient and long-lasting functional floor plan designs.

2. Bathroom Remodel
An up-to-date and modern bathroom will make an impact on a potential buyer. Whether it's a half-bath renovation or a master bathroom remodel, look for ways to optimize your remodel budget to increase project ROI and add home value.

Bathroom size is another factor. Buyers are looking for luxury and space.

If you have room in your budget, consider adding extra square footage to your renovation based on standard and master bathroom average sizes.

3. Upgraded Kitchen
When it comes to this important area of the home, a minor kitchen remodel offers the best ROI. Instead of adding personal flair and style, focus more on practical improvements and upgrades.

Think about how you can improve your kitchen layout without needing to move essential systems like gas lines or plumbing—which can become big ticket items in your budget.

4. Green Renovations
In most cases, adding modern appliances and other green features can be practical improvements that increase home value. Modern home buyers are wary of what impact inefficient systems and designs can have on the planet and their wallets.

Energy efficiency is the name of the game.

Here are a few items that can help add value:
Energy-efficient lighting
A solar energy installation
Energy-efficient appliances
Recycled or reclaimed materials like wood floors
Modern HVAC and plumbing
5. Expand Outdoor Living Space
Outdoor living space is becoming a popular feature for many buyers. Getting to spend some time outside is not only good for the body but also the mind.

Renovating your outdoor space can easily add to your home's resale value.

You can start simply by adding a garden or hardscaping elements like a fire pit or paved walkways. Other features, like an outdoor kitchen, can inject luxury into your backyard space but might not offer as stellar of a return in terms of your home value estimate.

6. Finish the Basement
Are you thinking about a basement remodel? Well, maybe you should.

An unfinished basement is a quick way to add a sour note to your open house. With some flooring, drywall and other touches, you can turn your drab basement into an inviting living space.

Buyers are increasingly on the hunt for specialty rooms like laundry rooms, great rooms and added living room space. A basement can be the perfect canvas for these features.

Home Renovation Software to Increase Home Value
Thinking about renovations to increase home value is a strategy that leans on the practical. You don't want buyers to walk right past your home improvements without even noticing.

It's an easy mistake to make if you don't have ROI as a priority. The truth is, most home renovations don't recoup project costs.

To get the most out of your investment, try to focus on renovations that can easily improve your existing space and offer the best ROI. This could be a bathroom remodel or a simple garage door replacement. Overall, though, focus on adding more usable space to your home.

Improvements that Increase home value can include upgrades to new green appliances to more complex projects like a full kitchen renovation.

Whatever your project demands, getting the design down first is essential to a smooth experience. Cedreo offers home renovation software that can help you create streamlined plans in under a few hours. From basement design to planning open floor layouts, Cedreo gives you the tools you need to create professional designs in full 3D.

Don't wait to get a grip on your home improvement plans. Get started with Cedreo design software today by connecting with our experienced sales team.
Start Planning Your Next Home Improvement Project