With so many remodeling apps available it's never been easier to plan a home renovation project for you or your clients.

Gone are the days of sketching ideas by hand or just relying on your imagination to visualize the finished remodel. With modern renovation apps, you can design and furnish detailed 3D plans that let you visualize a finished project and test out ideas faster than ever.

And best of all…you don't have to be a computer whiz to add some of these apps into your project workflow.

So let's have a quick look at 15 of the best remodeling apps you should consider using on your next project.




15 Remodeling Apps for your next Home Renovation
Some of these home renovation apps are designed for professionals tackling large renovations. Others work best for small projects or simple redecorations. Let's start with a program that works for just about any remodel project — large or small!
1. Cedreo
Overview:

No other home remodeling program lets you do so much, so fast. New home remodelers love how intuitive Cedreo is to use. Even without previous design experience, you can create professional plans and 3D images.

Professional remodeling contractors love the intelligent tools that help them streamline their workflow and improve client communication. And with realistic 3D renderings that impress clients, Cedreo helps professionals shorten the sales cycle and score more contracts.

*Cedreo doesn't have a mobile app but its cloud-based software works anywhere you have a laptop and wifi.
Key features:
Import existing floor plans
Create realistic 3D renderings with accurate textures and shadows
Choose from 1,000s of items in the extensive design catalog
Quickly update designs based on client feedback
Save loads of time with premade product packs and 1-click decorating
Easy-to-use toolset
Pricing: Check out all of our packages and pricing options on our pricing page.
2. Chairish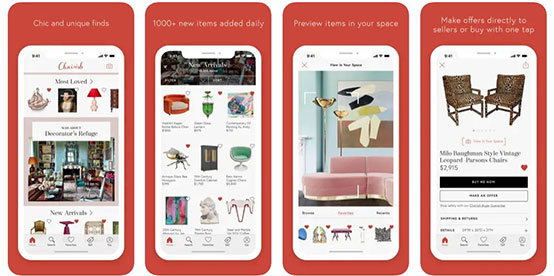 Overview:

Chairish is a chic decorating app that lets you virtually test new decorations. With access to Chairish products and the augmented reality portion of their app for testing out new pieces, you can finally answer the question "How will this look in my house?" before purchasing.
Key features:
Shop a curated selection of home furnishings and art
Use the app's "View In Your Space" feature to visualize items in your home
Tag products so you can easily find them again
Pricing:
Free (of course, it costs to purchase products on the app)
3. ColorSnap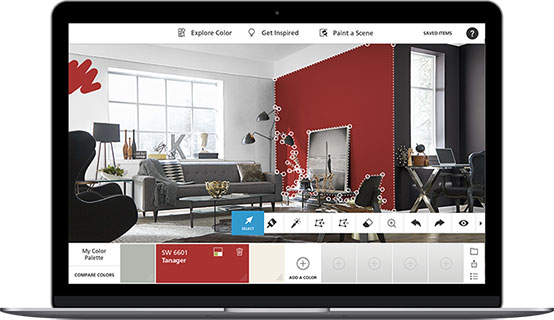 Overview:

Ever have trouble trying to find the right paint colors for a remodeling project? Even if you think you found the right color, it's still hard to imagine how it will look on the finished walls. That's where ColorSnap comes to the rescue!

This mobile app by Sherwin Williams has a host of cool features that help make the paint color selection process easier than ever. A favorite is the Instant Paint feature. Use AR (augmented reality) to visualize any of Sherwin Williams' colors on walls in real-time.
Key features:
Find paint colors that match your favorite photos
Instantly paint a wall with 1 touch in AR
Use Kaleidoscope to see a bunch of sample scenes at once and narrow down your favorite color
Get info on any of Sherwin Williams' paint colors
Pricing:
4. Handy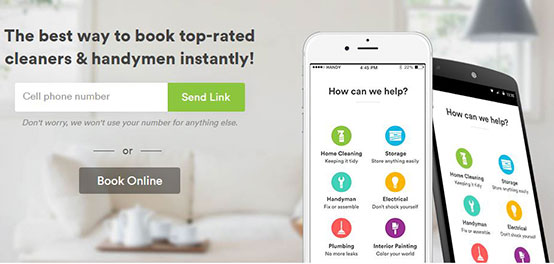 Overview:

Having trouble finding a handyman to help with a remodeling project? Handy helps connect handymen (and handywomen), home cleaners, and other housing professionals with clients on an easy-to-use platform.
Key features:
Get access to top-rated professionals
Pros have passed background checks and are insured
24/7 customer service
Provides services from house cleaning to light fixture installation to painting
Pricing:
Free to download and use. Costs for hiring pros depend on the type of job and location.
5. Havenly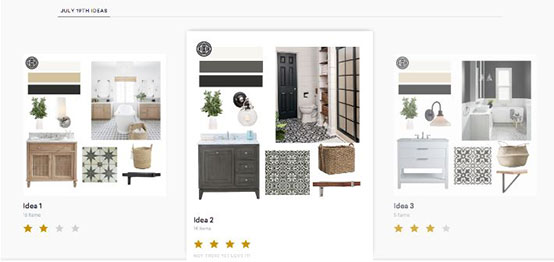 Overview:

With the Havenly app, it's finally easy for anyone to access their own personal interior designer. With the app, you can quickie find design inspiration and shop products from multiple websites all in one place.

Book a Mini or Full package and you'll get one-on-one access to a professional interior designer. They'll work with you to provide curated product packs and design ideas that fit your style and space.
Key features:
Chat with your designer through messages, online chat or over the phone
Get access to hundreds of brands from tons of different stores all in one place
Full plan includes 3D renderings of your designed space
Full plan also includes floor plans so you can be certain the furniture layout will work
Pricing:
Free version
Havenly Mini – $79/project
Havenly Full – $129/project
6. Home Design 3D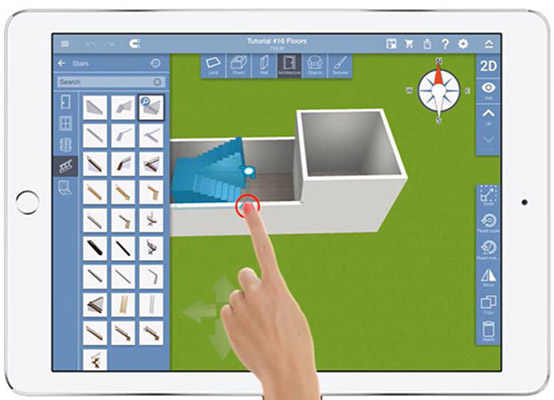 Overview:

Home Design 3D is a renovation app that gives novice remodelers a quick and easy way to make 2D and 3D home designs. Draw a floor plan and add customizable doors and windows. You can also furnish and decorate the space with over 1,000 different design elements. Then view it all in 3D with day and night scenes.
*Home Design 3D might be a good choice if you're just starting out but its 3D renderings leave a lot to be desired.
Key features:
Draw in 2D and 3D
Edit the size of furnishings
Test out different paint colors
Projects are easy to share
New versions let you add roofs and skylights
Pricing:
Free version to test features but there's no way to save your work
Classic – $6.99 plus in-app purchases
Gold – $19.99 plus in-app purchases
7. HomeAdvisor (Now Called Angi)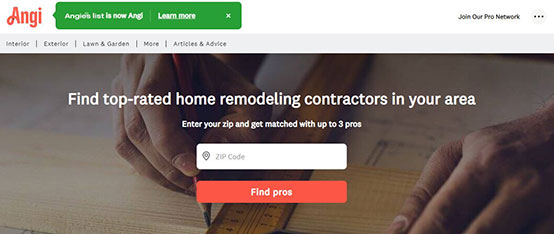 Overview:

HomeAdvisor and Angie's List combined and are now just Angi. Together, their app makes it easier than ever to hire home remodeling contractors for a project.

While the Handy app focuses on smaller home projects — like installing a light — with Angi you can hire contractors for just about any type of renovation project. Book and pay on the app or contact pros in your area to get an estimate.
Key features:
Choose from over 500 home improvement categories
Compare costs to get the best deal
Read verified ratings for professionals in your area
Video chat with pros in your area
Flexible payment options through the app
Pricing:
Free to start
Angi Key Membership – $29.99/year
8. HomeZada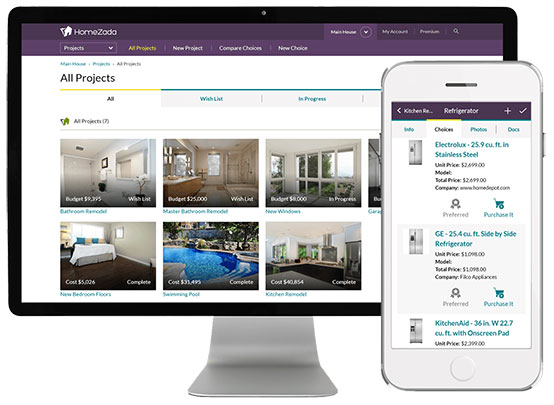 Overview:

HomeZada is an app that helps you manage more than just remodels. It helps you stay in complete financial control of your home. Use it to keep track of everything on your property for insurance and maintenance purposes.

Then, when it's time for a home remodel, use the app and its smart project templates to help create a budget, track costs and manage action lists of tasks to keep everything on schedule.
Key features:
Home inventory dashboard
Store warranties and manuals all in one place
Easily keep remodeling project records for tax planning or reselling your home
Stay on track with home maintenance schedules
Pricing:
Essentials – Free
Premium – $79/year
Deluxe – $149/year
9. Houzz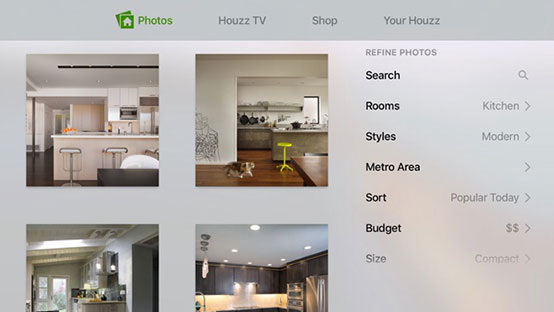 Overview:

With so many cool features, Houzz is one of the best apps for remodeling your home. It makes it really easy to keep all your design ideas in one easy-to-find place.

Browse 25 million+ photos to get inspiration for your project. Save and share photos with family or contractors. And with the new AR features, you can view products as they would look in your home.
Key features:
Sketch and annotate directly on photos
Identify and buy products directly from photos you like on Houzz
View 3D products in your home
Find verified and experienced remodeling contractors in your area
Pricing:
Free
Houzz Pro (for contractors) starts at $65/month
10. RoomSketcher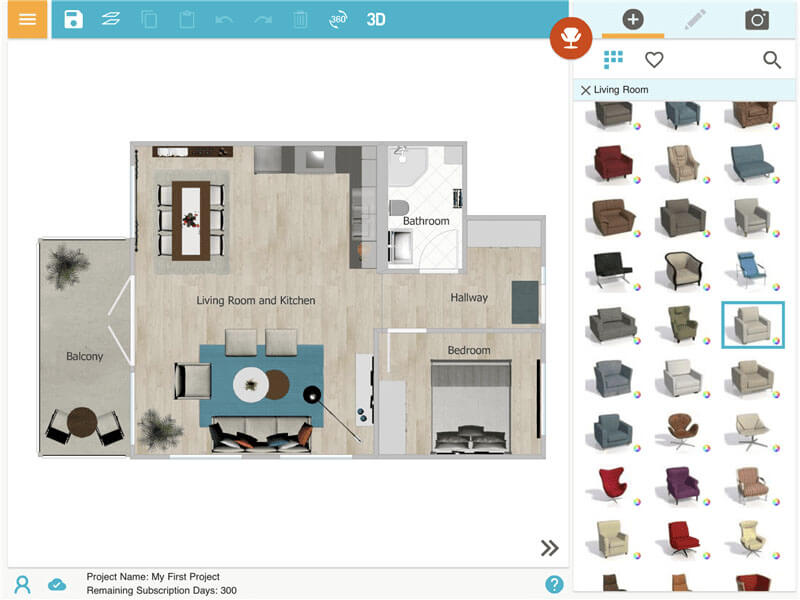 Overview:

For simple interior home remodels, RoomSketcher is a nice choice. With its simple tools, you can create your own blueprints and 3D views. Or if you need more professional results, just request blueprints from the RoomSketcher team.

Once you get your basic layout created you can drag and drop 3D objects into the space to see how it will look once it's fully furnished. However, if you need an app for more extensive remodels, exterior projects and professional-looking renderings, it's best to stick with a program like Cedreo.
Key features:
Create 360-degree room views
Order blueprints
Furniture and decoration library
Customize furniture with different materials
2D and 3D floor plans with measurements and annotations
Pricing:
VIP $49/year with 20 credits
PRO $99/year with 50 credits
You need to purchase more credits in order to create 3D images
11. Iscape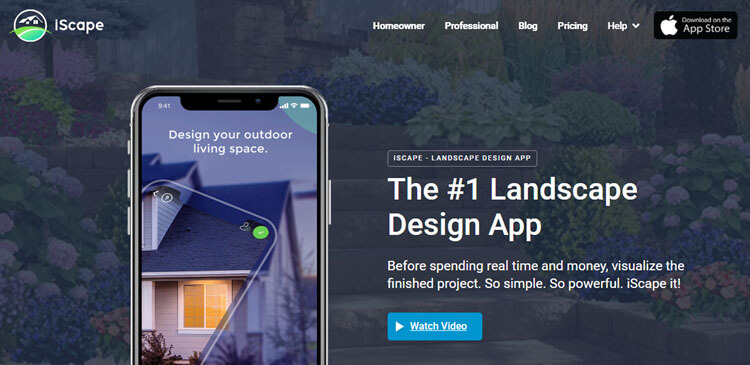 Overview:

Iscape is one of the top apps for landscape design and renovation. It's got a host of easy-to-use design tools that help homeowners and professionals create lifelike landscape designs in no time.

And in addition to all the design features, the app has tools to help you grow your landscape renovation business, like tools for creating professional-looking PDF proposals, a lead generator and a visualization tool you can use to communicate your ideas to clients.
Key features:
Easy enough for DIYers, powerful enough for pros
Tools for landscaping businesses
Create designs in 2D and 3D
Easily share your ideas with friends, family and contractors
Get detailed plant info and planting tips
Pricing:
Free
Pro – $29.99/month
Enterprise – Pricing available upon request
12. MagicPlan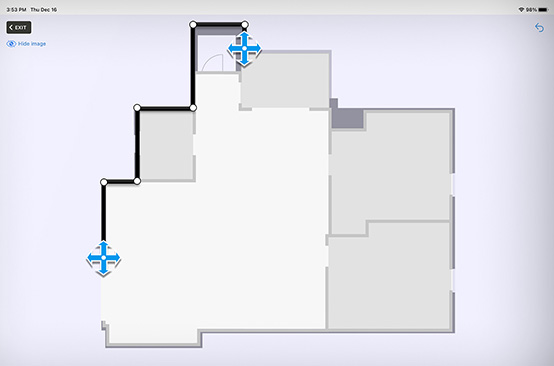 Overview:

MagicPlan helps construction and remodeling professionals stay organized on the go. It's a great tool to have when you're out looking at jobs and creating estimates on the fly.

Use it to quickly create floor plans, make 2D and 3D sketches, add markups and notes and a lot more!
Key features:
Add 1000+ objects to floor plans
Add detailed dimensions to sketches
Create 3D floor plan models
Add 360-degree photos to your reports
With the Estimate version, you can quickly calculate pricing
Pricing:
Free – Access all features on 2 projects
Sketch – $9.99/month
Report – $29.99/month
Estimate – $89.99/month
13. Porch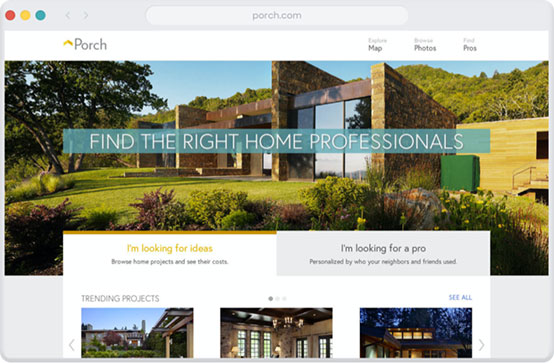 Overview:

Porch is an app that's similar to Handy and Angi, but with more of a focus on moving into a new home. Maybe you need some help moving, setting up the internet or fixing up certain parts of a new home. Porch helps connect you with the pros you need.
Key features:
Get free quotes from professional contractors
Compare costs for home insurance
Hire professionals for just about anything from TV installation to drywall repair and painting
Pricing:
14. Roomscan Pro
Overview:

Creating floor plans for a remodeling project can be a tedious project. You've got to measure, draw and repeat over and over again. Roomscan Pro uses the sensors on the latest iPhones and iPad Pros to scan a room and automatically create an accurate floorplan with measurements.

You can even combine 3D scans with images to automatically create 3D models of a space. Then make notes, add sketches and start brainstorming for your remodeling project.
Key features:
Several different ways to scan a room depending on the layout
Free export and saving of your plans as normal image files
Can also scan exteriors
Integrates with certain laser rulers to get even more accurate measurements
AR scanning
Pricing:
Free with in-app purchases to use certain features
15. HomeByMe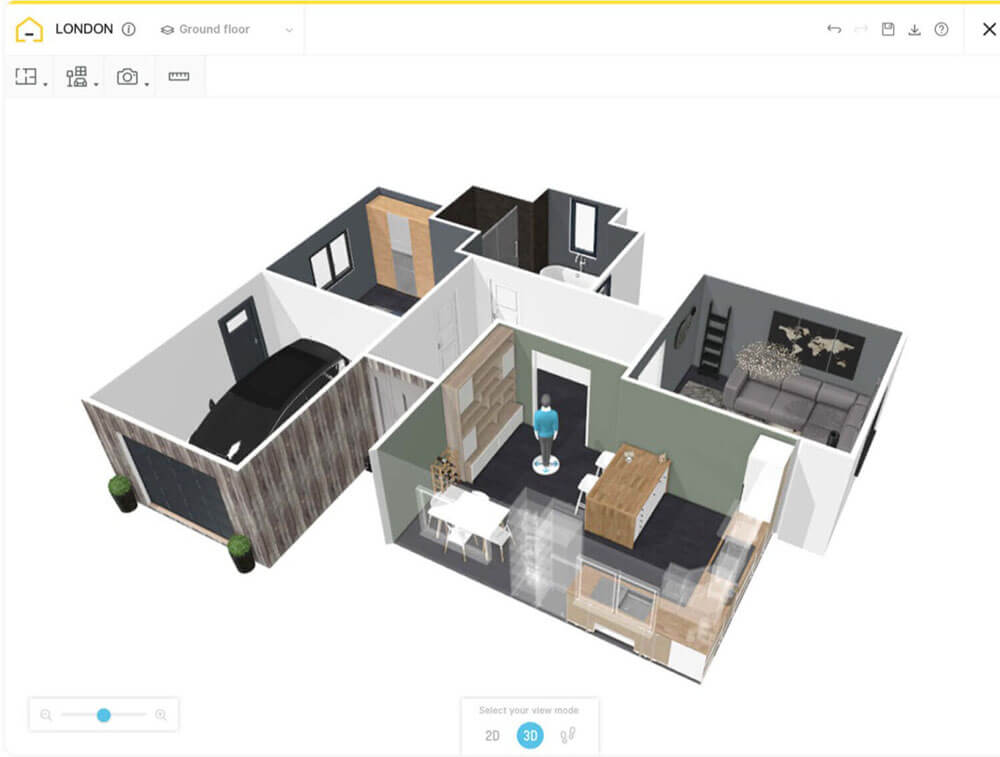 Overview:

The HomeByMe remodeling app does a nice job of combining some of the design inspiration features of apps like Chairish with a simple drawing tools of apps like RoomSketcher.

Create basic floor plans and then browse projects in the community for inspiration. Save products and place them in the 3D model of your room to see how they look. With over 20,000 products to choose from the possibilities are endless.
Key features:
Use it for DIY use or as part of your interior design and remodeling business
Access products from places like Wayfair, Westwing, La Redoute and more
Easily share your projects with friends or clients
Save time by reusing product packs from other users' projects
Pricing:
Starter – Free
Premium – $25/month
Unlimited+ – $53/month
Conclusion
So which home remodeling app sounds right for you? If you're looking for an all-in-one solution for designing, decorating and collaborating with family and/or clients, go with Cedreo.

No other program has such a great combination of powerful, yet easy-to-use features for both the DIYer and the professional remodeler.

With a FREE version you've got nothing to lose. Sign up for Cedreo today!