Basement design apps occupy a unique space — we're talking about niche software with room-specific features. But most of the top basement design programscan also be used for kitchens, bedrooms, and even exteriors. That means, there's no shortage of design apps, drafting tools, and floor plan software that can get the job done.

Below, we'll take a close look at the top basement design tools, and discuss their key features. Let's dive in.
Features to Look for in Basement Design Software
Whether you're a contractor, interior designer, or architect, it can be hard to find basement design software that's both easy to use and meets your unique set of needs.

We'll get to the recommendations in a moment, but here's a quick overview of the key features you'll want to look for in basement design software.
Sketch basement floor plans
The first thing you'll want to look at when comparing basement design tools is the floor plan design features.

Some platforms keep it simple, allowing users to quickly generate 2D designs using a drag-and-drop editor, while others include a whole suite of features that cater to the experienced professional.

You'll want to select a tool that matches your goals and skill level. Consider whether you'd like to draw plans by hand, if you'll need to include specific measurements, or if you need to include home decorations in your basement floor plans.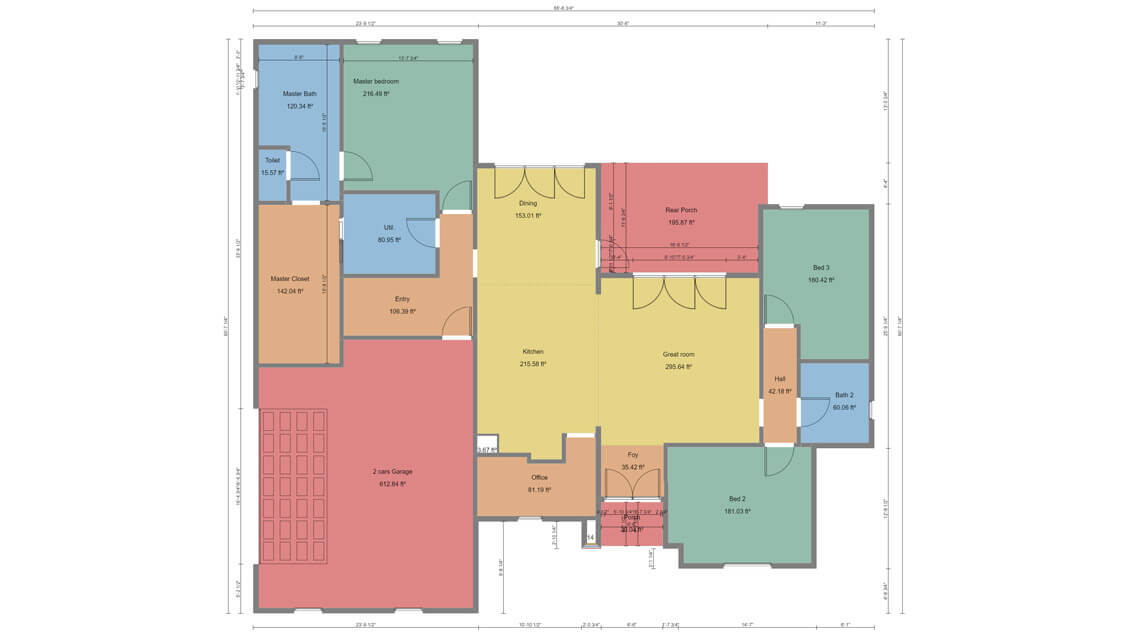 Image: 2D floor plan created in Cedreo.
Convert 2D plans into 3D designs
Robust design software will include both 2D floor plan functionality, as well as the ability to quickly convert a floor plan into a 3D design. The 3D design helps clients see the big picture and understand the project in context.

2D plans are more useful for designers and remodelers than for prospective clients. These plans also help designers show contractors where key architectural elements should be.

You'll want to look for a solution that allows you to quickly convert your 2D designs into 3D floor plans without needing a CAD design certification.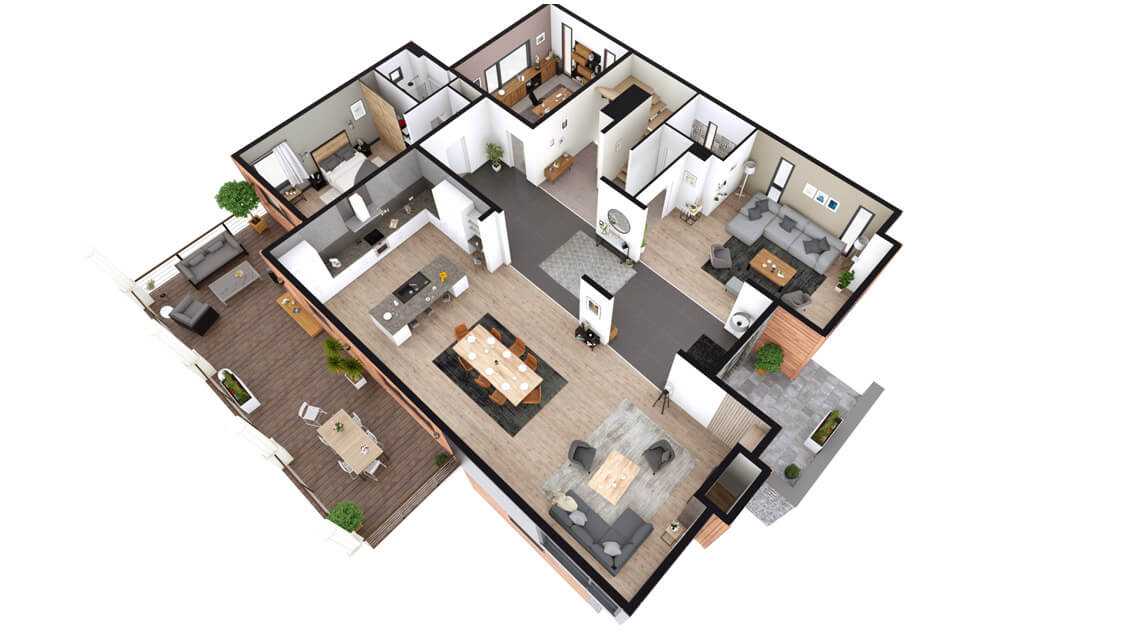 Image: 3D floor plan created in Cedreo.
Generate photorealistic basement designs
Clients connect with visuals, not blueprints.

Photorealistic 3D renderings are another critical feature you'll want to look for in a professional basement design tool. This makes it easy to connect with clients on an emotional level — which is critical for closing deals and signing contracts.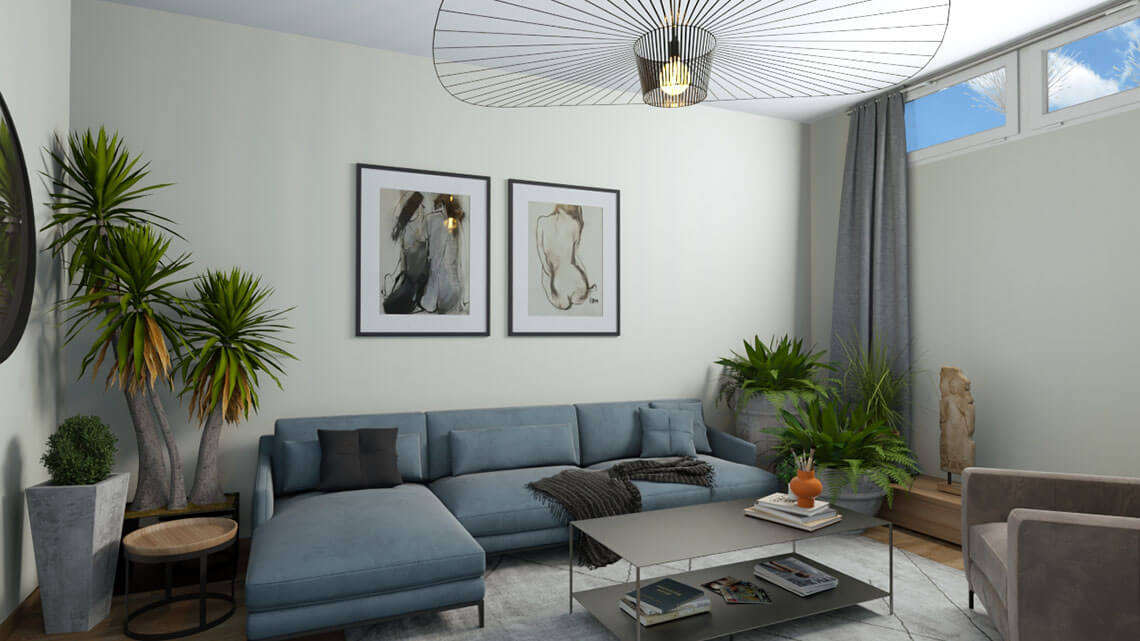 Image: Photorealistic design created in Cedreo.




Like 3D floor plans, basement renderings will help clients visualize the design and place themselves in the room, which is especially important when designing a finished basement. What's different here, though is, that rather than presenting the room from a bird's-eye view, you can virtually take clients inside the room. This helps them get a sense of how much natural light they'll get and where to place furniture. You can also use this view to demonstrate different options for wall colors, flooring, and decor.

Add fixtures and interior decorations
Access to a comprehensive library of furniture and decorations is a huge asset when it comes to creating client presentations and selling your services.

You'll want to look for basement design software that allows you to add personal details that enhance the mockup and tap into clients' imaginations. Whether that's adding a pool table, a new workspace, or turning concrete floors into something homier, home decor takes your pitch to the next level.

Cedreo's library of over 7,000 pieces of furniture, materials, and decorations helps you bring your basement designs to life. New items are added to the library each month to help ensure that you can always include the latest design trends in your client presentations.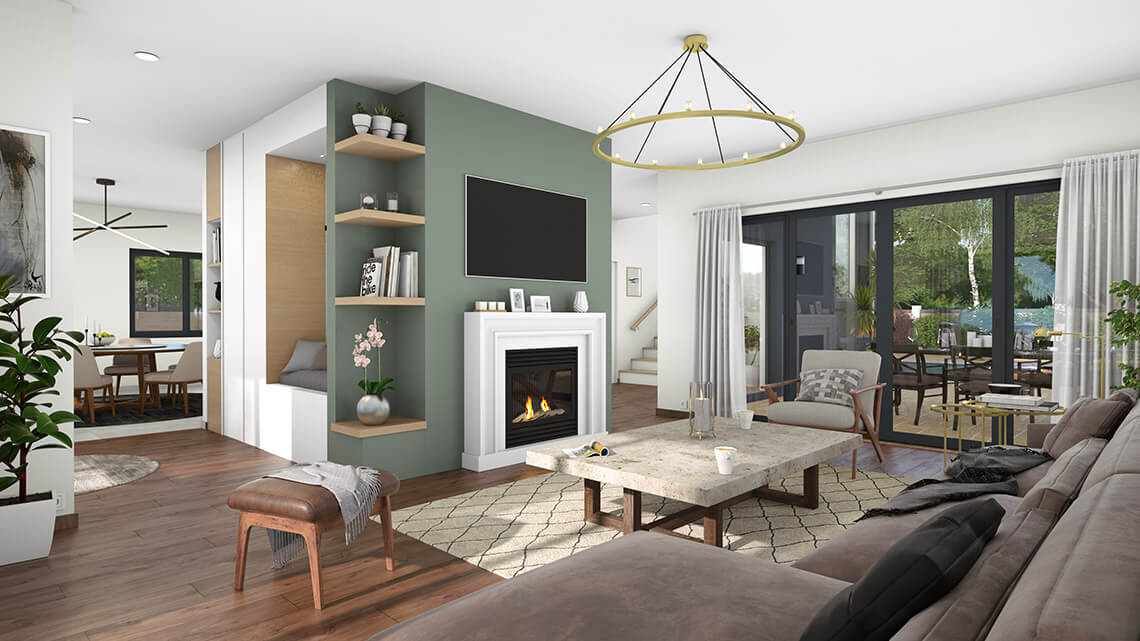 7 Best Basement Design Software Platforms for 2021
In this section, we'll take a look at the top basement design software and go over each of the key features so you can choose the right tool for your business.
1. Cedreo

Best for: Professional home builders, remodelers, and interior designers.

Overview: We might be a little biased, but Cedreo is the best basement design tool for professional builders, designers, and remodelers. Our 3D home design platform allows users to create detailed 2D and 3D floor plans that can be fully customized and converted to photorealistic renderings that make it easier for clients to visualize any design project.

Cedreo's photorealistic 3D rendering feature is easy to use and sure to help you impress clients. You can create 3D renderings of basement designs within a matter of minutes — with accurate lighting, surface shading, and distinct characteristics that personalize the space and foster an emotional connection with clients.

What's more, Cedreo isn't just for basements. You can design every room in the house, as well as the exterior — within just a couple of hours.

Top design software features:
Instantly generate photorealistic 3D renderings and visualizations
Home decor library filled with over 7,000 customizable pieces of 3D furniture, decorations, and building materials
Save past basement designs as reusable templates that make it easy to get going on new projects
Share basement designs with teams and clients
Get access to 1:1 onboarding, training, and phone support
Pricing:

We have a plan for every budget; check them out here.
2. SketchUp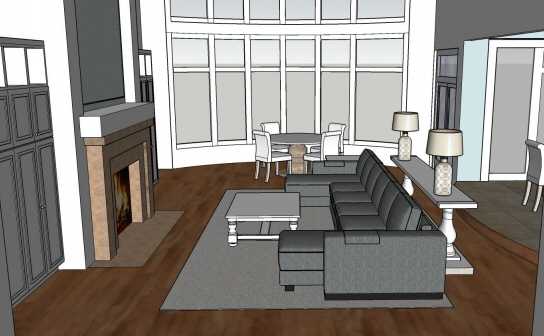 Best for: Architects and commercial contractors.

Overview: SketchUp's 3D CAD design software has been a mainstay in the industry for over two decades.

The platform's key features focus on helping designers show off ideas with interactive walkthroughs and flyovers — features that may not be all that relevant to those focused on designing basement remodels.

While SketchUp offers a number of useful tools, its features are not tailor-made for housing professionals, and the platform comes with a steep learning curve that prevents a lot of would-be users from adopting the technology. It's not as complex at Chief Architect, but it does take time to learn.

This complexity is one of the major reasons users have switched from SketchUp to Cedreo. That, in addition to the fact that Cedreo offers far superior 3D rendering capabilities.

SketchUp is available on desktop and has a mobile viewer to help users and prospective clients visualize pre-made designs.

Top basement design features:
2D construction documents
3D modeling
Mixed reality presentation tools
Inferencing
Reporting tools
Pricing:
Shop: Web-only app with limited features: $119 per year.
Pro: Web and desktop app. Includes 3D modeler, XR viewer, 2D design documentation, and in-app insights. $299 per year.
Studio: Web and desktop app. Includes all Pro features plus energy-efficiency features: $1,199 per year.
3. Planner 5D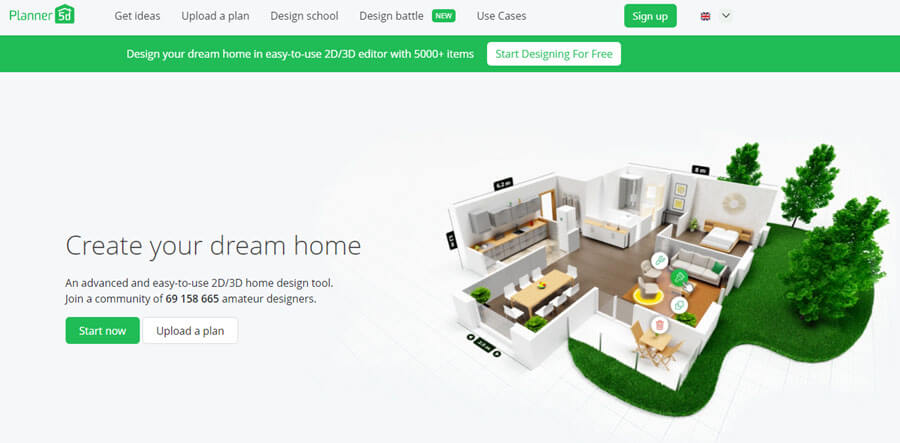 Best for: Homeowners.

Overview: Planner 5D is interior design platform specifically designed for amateurs. The software allows users to generate and customize floor plans in 2D mode, add furniture and other items, and switch to 3D to view basement designs from any angle.

Planner 5D also includes a "Snapshots" feature that allows you to transform your design into a photorealistic 3D rendering, complete with shadows and lighting.

Top basement design features:
HD Visualizations
2D and 3D modes
Item editing
User-generated design library and item catalog of over 5,000 decor items
Pricing:
Free plan: Includes basic features and limited access to the in-app catalog.
Full version: $6.99 for 30 days, $15.99 for a year, or $24.99 for a premium account.
4. SmartDraw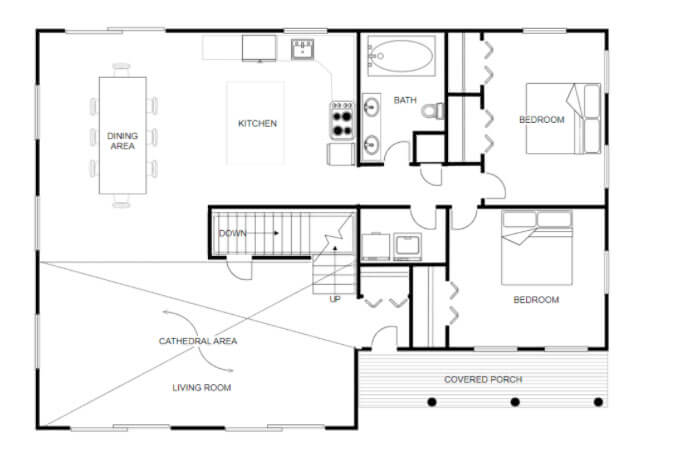 Best for: Contractors, architects, and designers.

Overview: SmartDraw is a web-based app that can create detailed 2D floor plans from any device. The app makes it easy for users to generate blueprints with the exact measurements they need and includes thousands of ready-made symbols for everything from light fixtures and HVAC to furniture and house plants.

Unlike the other entries on this list, SmartDraw is more about diagramming than designing a finished basement — think flow charts and org charts, as well as floor plans. And while it offers a robust set of features that can level up any 2D basement design, it doesn't include the 3D rendering, modeling, or virtual tour features that really sell designs to clients.

Top basement design features:
Create detailed 2D floor plans
Intelligent formatting that automatically adjusts your design when you add, edit, or delete individual elements
Over 70 diagram types and 34,000 symbols to choose from
Integrates with tools like Jira, Microsoft Office, and the entire Google Suite
Pricing:
Single user plan: $119.40 per year
Teams: Plans are designed for teams with five or more users and start at $71.40 per user, per year
5. RoomToDo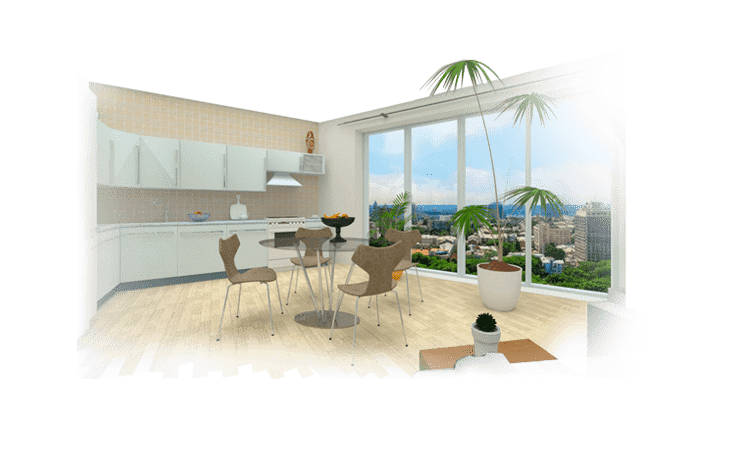 Best for: Homeowners.

Overview: RoomToDo is free basement design software that allows individual users to plan, design, and decorate the basement of their dreams without any existing design skills or experience.

Users can design in 2D or 3D, switch between different view modes, select finishing materials, and add or customize decorative objects.

According to the RoomToDo website, the platform can be used for commercial purposes, though a home designer professional is probably better off with one of the more robust basement remodeling tools on this list.

Top basement design features:
Support for 2D and 3D floor plan design
Ability to save and share projects
Access a library containing hundreds of pieces of furniture and home decor
Different view modes
Mobile support
Pricing:
6. Roomstyler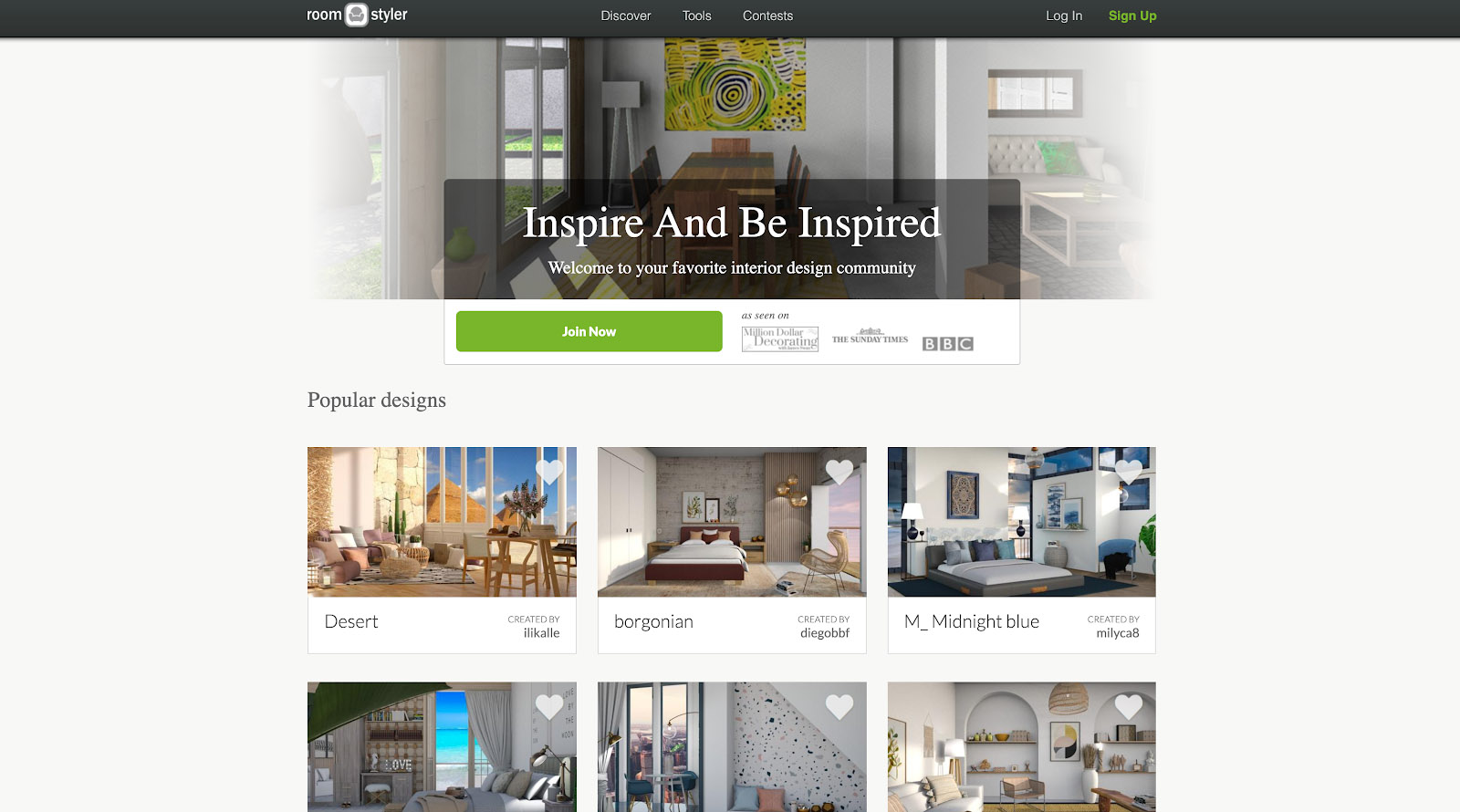 Best for: Homeowners and remodeling/design professionals.

Overview: Roomstyler is a web app that allows you to design floor plans, share designs with an online community, and browse creations uploaded by community members. Unlike the other entries on this list, the platform feels like a hybrid between a social website (similar to Pinterest or Houzz) and an interior design tool.

Users can start with one of the platform's in-app templates or design their own layout using the simple drag-and-drop editor. Any changes you make will be updated in real-time and viewable in 2D or 3D–from any angle.

Roomstyler allows you to furnish your basement designs with products from real brands like IKEA, Design Within Reach, and John Lewis, and customize the wall colors, flooring, and decor.

The app is relatively easy to learn, but it's hard to know exactly what to do upon arrival. Roomstyler does provide several tutorials to bring you up to speed and the life-like designs from community members serve up some serious inspiration.

Roomstyler certainly has plenty of features that remodelers and designers can use to dazzle clients, though the app feels a bit lightweight for professional use. We can see this being a better fit for homeowners looking to get a sense of what they'd like to do with their basement before contacting a professional.

Top basement design features:
Create 2D floor plans and 3D renderings
Access the in-app furniture and decor library featuring designs from real-world brands
Watch user-led tutorials to learn your way around the app
Pricing: It's free to sign up for an account and access the drag-and-drop floor plan editor. However, you'll need to contact the company for a custom quote to access commercial features.
7. Sweet Home 3D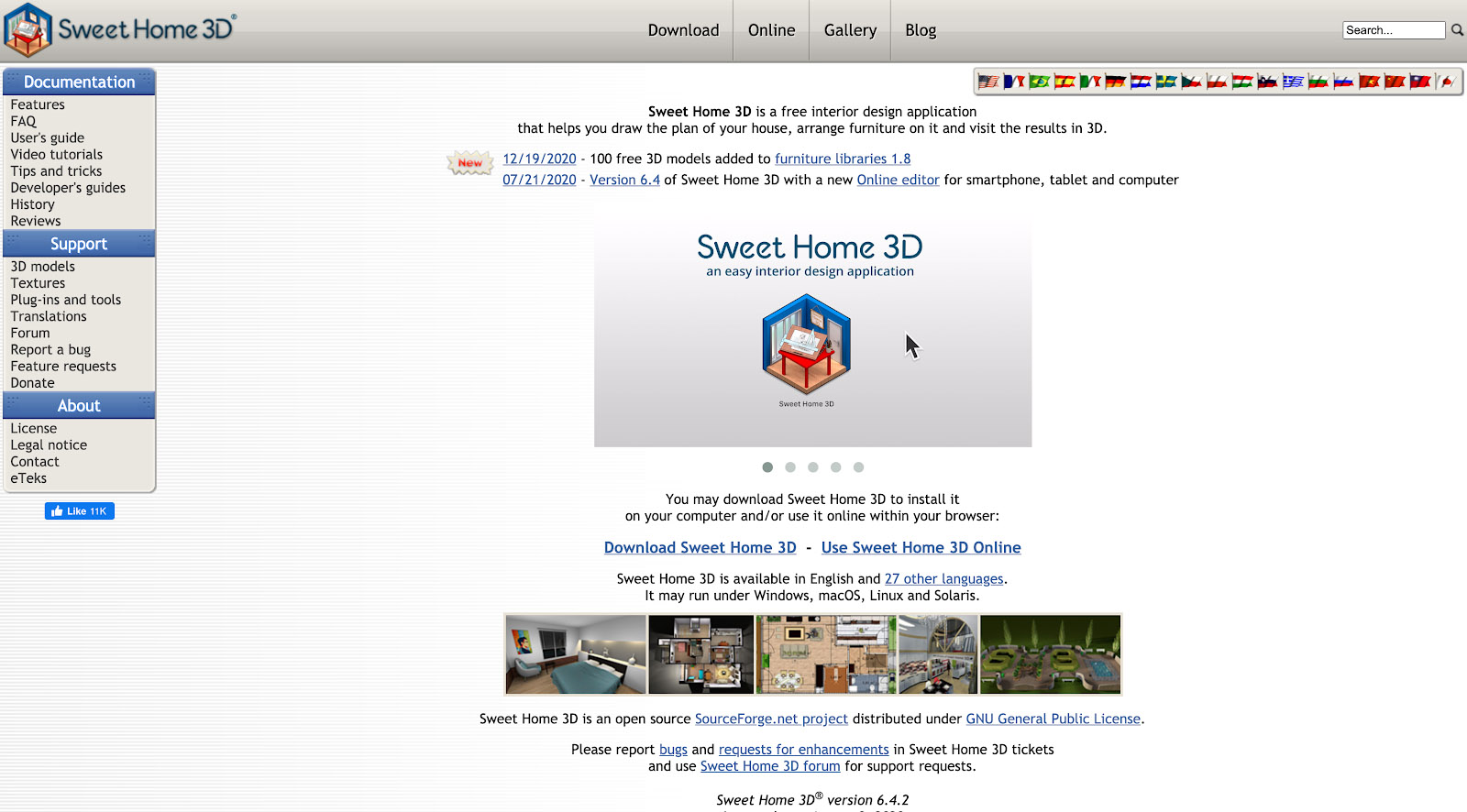 Best for: Contractors, remodelers, builders

Overview: Sweet Home 3D is an interior design platform similar to some of the other entries on this list. You'll find 2D floor plans, a drag-and-drop editing tool, and you can create 3D virtual tours to help clients visualize themselves in their new home office, master bedroom, family room, or bar.

Sweet Home 3D allows users to draw irregular wall shapes—perfect for accommodating the odd crawl spaces and staircases that make basement design so tricky.

Top basement design features:
Create 2D and 3D renderings
Virtual 3D tours
3D models, furniture, and textures libraries
Draw irregular wall shapes
Pricing:
Pricing available upon request.
Start Creating Professional Basement Designs Today
Selecting the best basement design tool depends on a few key factors.

You'll want to find a platform that aligns with your role, business goals, and workflow and includes features that allow you to create more value for clients.

We encourage you to check out the design tools we've listed above. Many offer free trials so you can take them for a spin before making any big commitments.

To learn more about how Cedreo helps you create professional basement designs, boost sales, and optimize how you work, contact our sales team or jump right in and get started for free.