Kitchens are at the heart of any home. Whether you're dreaming of custom cabinetry or looking to scope out a complete remodel, budget is a critical component of any kitchen renovation project.

So, how can you make sense of a budget if you want to save money on your kitchen remodel cost?

Everything adds up. From labor to light fixtures, you can quickly rack up a hefty bill if you're not careful. The last thing you want is an out-of-control project draining your budget.

Luckily, you can accomplish a lot with a bit of planning. Understanding your goals and expectations is as important as hiring the right general contractor. For example, the goals of a remodel with the intent to sell are much different from those of a dream kitchen renovation.

Whether it's understanding the average budget for a kitchen remodel or learning about some simple tips to keep costs down, we'll walk you through what you need to know.




How To Build a Kitchen Renovation Budget
A kitchen remodel is quite the undertaking.

It's not as easy to renovate as other areas of the home. You need to factor in quite a few features, appliances, and goals. While painting walls might be all you need to spice up a hallway, a full kitchen remodel includes many different cost areas.

This makes budgeting difficult. In most kitchen renovation projects, you'll want to create cost categories to balance the price for materials, labor, and the inevitable unexpected costs you won't see coming.

You can use this general budgeting template to help get a sense of your overall remodel cost:
Cabinets
Labor/installation costs
Countertop
Electrical (including lighting)
All appliances
Plumbing
Backsplash installation
Flooring
Other miscellaneous costs
You'll also find that certain features end up affecting your budget more. For instance, anything that requires the movement of plumbing or gas lines can easily take over your budget. This goes for moving walls and anything else that will require extra labor.

Speaking of labor, you'll also want to understand your level of involvement. Are you a resourceful DIY-er or hoping to hire professional help? This will weigh heavily on your total cost.

You'll find plenty of ways to get the most value out of your kitchen renovation, but it might mean tempering your expectations to help soften the strain on your wallet. A minor kitchen remodel can do a lot for your home without becoming a costly endeavor — and it's often the best return on investment.

But, regardless of project scope, the average cost for a kitchen remodel can still help you understand your own budget.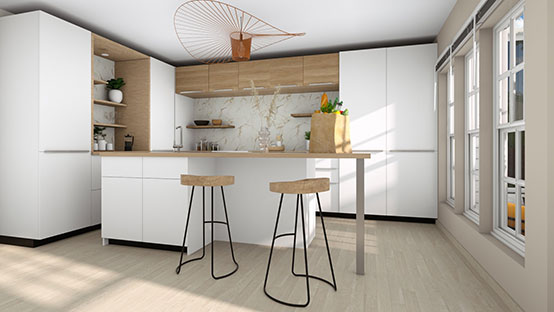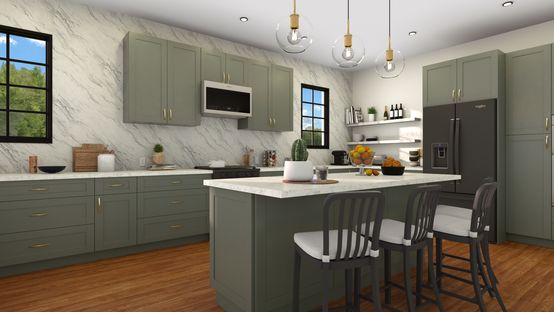 What Does an Average Kitchen Remodel Cost?
Nobody likes surprises in their budget. So, what can you expect when it comes to the average kitchen remodel costs?

Your average kitchen renovation can set you back anywhere from $5,000-$60,000. As you can see, a huge gap exists between a low-cost remodel compared to a high-end one. That's why understanding your project goals is critical to estimating costs.

Assuming you're planning on something between a high-end remodel and a small renovation, expect to spend around $25,000 or $150 per square foot.

If you have your heart set on a kitchen remodel worthy of Pinterest boards and dreamy Instagram posts, plan to sit at the higher end of the pricing spectrum. If painting the existing cabinets a different shade and installing energy-efficient appliances is all that's on your to-do list, you can count on a smaller budget.

Kitchen size also will affect your budget. Adding ceramic tile to a 190-square-foot kitchen will cost less than refreshing your tiny home's cooking space with the same material.

These cost estimates tend to reflect the average home size of around 2,5000 square feet. If your home sits on either side of that average, you can assume it will weigh into the cost of your kitchen remodeling project.

When estimating costs, return on investment (ROI) is usually part of the conversation. After all, you are putting a lot of money into your home. What kind of return can you expect?




Is a Kitchen Remodel a Good Investment?
This is a fairly common question for homeowners looking at high renovation costs. Even a minor kitchen remodel can set you back thousands. In the end, though, what are you getting for your investment?

Unfortunately, your typical kitchen remodel won't provide stellar returns. According to Skylar Olsen, Chief Economist for Zillow, every dollar put into your kitchen renovation nets back around $.81 in home value. National data gathered by Zonda in their Cost vs. Value report from 2022 paints a similar picture. The report shows that a minor kitchen remodel only recoups 71% of the overall project cost — in line with Zillow's estimate.

It appears as if kitchen remodeling projects rarely produce a positive return. If they do, smaller or minor kitchen remodels tend to be a better investment. So, if you're planning on selling, a minor renovation is your best bet to maximize ROI.

Of course, that's not the only reason you'd want to remodel. Many homeowners want to create customized kitchen layouts to fit their personal tastes. Others want to upgrade to energy-efficient appliances to temper their carbon footprint and save on energy bills.

Your kitchen plays an essential role in your home. For most of us, we cook every day. As you're reading this, you can probably think of several ways to improve your current layout. This could mean:
Adding a walk-in pantry
Installing a kitchen island
Fixing broken appliances
Installing a natural stone countertop
These features will impact your total project cost in different ways. If you're dead set on reducing total cost and maximizing return, you'll most likely sacrifice your dream plan in place of a more practical renovation.

Balance your budget with your overall goals, but don't regret omitting big changes to save a few dollars.




Tips & Tricks to Cut Remodeling Costs
If you feel a bit overwhelmed planning your remodeling budget, a few tips and tricks can help you navigate the process with confidence. At the end of the day, a kitchen remodel is a very personal experience. You want to be sure you're focusing on your needs and desires as a homeowner.

What works for one home won't fit perfectly in another. Keeping this in mind, you can separate out cost categories that may not mean as much to you and trim the fat in your project's total cost. Here are a few other tips.
Consider your kitchen layout—some kitchen designs are better suited for specific layouts. For instance, an L-shaped kitchen leverages a "work triangle" that can help cut costs and save space.
Save on shopping—material selection has a huge impact on overall cost. Shop around discount retailers, similar manufacturers and in-stock products to save.
Don't change certain components—changing your kitchen layout, adding walls or moving plumbing and gas lines are big ticket items. Limit these design choices in your remodel as often as possible.
Do it yourself—as much as you can accomplish with your own two hands, the less you spend on labor. Professional assistance can certainly help with peace of mind but will significantly affect your budget.
Basic over custom—things like custom cabinetry are great, but basic material and design choices can keep costs down. They can also help create a future-proof design with neutral colorways that won't go out of style.
Using design software— streamlined kitchen design software can help you create 3D kitchen layouts in under a few hours. This saves you time and on possible design-associated labor costs.
These are just a few ways to cut your budget with smart decision-making.




Start Renovating Kitchens with Ease
If you're not careful, a kitchen remodel cost can quickly get out of control. From appliances to materials, every little thing adds up.

Fortunately, with some planning and frugal design choices, you can have the kitchen of your dreams without making too many sacrifices. While your average complete kitchen remodel costs around $30,000, understanding your overall project goals and budget can help you tame that intimidating price.

From tile floors to lighting fixtures, having a comprehensive view of your project is critical to controlling costs. That's why kitchen design software like Cedreo is your best bet in creating a cost-effective renovation plan.

With Cedreo, general contractors and project managers have easy-to-use 3D tools to control every aspect of the design process. To get going, connect with our team and start for free.
Plan Your Kitchen Remodel in under a Few Hours