Selecting the right kitchen layout is one of the first major design choices to be made when planning a kitchen remodeling project. General contractors and homeowners should work together to determine the most compatible layout for a space, keeping in mind both aesthetic value and functionality.

The L-shaped kitchen design is one of the most popular layouts due to its versatility and compatibility with the available space in most homes. L-shaped layouts consist of two adjacent walls with cabinets and appliances that form the basic structure of the kitchen. The versatility of these designs comes from the fact that the length of each wall can vary based on the size and shape of the room in which the kitchen is being built.

If your client requests an L-shaped layout, here are a few ways to ensure your design allows them to get the most out of their kitchen.




The Pros and Cons of L-Shaped Kitchens
L-shaped kitchen designs have a number of benefits and potential disadvantages.
Some of the benefits include:
An open concept layout: Open concept kitchen designs have been trending upward for decades due to their compatibility with families and suitability for hosting guests. Because L-shaped kitchens are limited to two walls, it leaves more open space, allowing for an open-concept design.
Maximizes space: By only focusing cabinets on two walls, an L-shaped kitchen design avoids creating a narrow and closed-in atmosphere.
Alternative cabinetry: This design style allows contractors to maximize storage availability by using cabinets below and above the countertop.
Improved traffic flow: L-shaped kitchens have multiple points of entry, which means the flow of traffic is ideal for larger families or homes that may have multiple people using the kitchen at a single time.
Potential for an island: Kitchen islands are a wildly popular addition to any kitchen design, and L-shaped layouts provide the perfect opportunity to include one without disrupting the traffic flow or causing the atmosphere to become too crowded.
Some of the disadvantages include:
Navigating corner space: Because of the nature of L-shaped kitchen designs, making use of the corner space will require skillful maneuvering and complex cabinet designs. These complicated cabinet features could add expenses to a client's estimate that may steer them away from this design type.
Plumbing configuration: In L-shaped kitchens that feature a sink on the island, it can be complicated and expensive to reconfigure plumbing in order to complete the project correctly.
Ultimately, L-shaped kitchens are popular because they are terrific, versatile layouts that are ideal for entertaining guests and encouraging social interactions with family members.




How to Improve an L-Shaped Kitchen Design
Whether you're building a new kitchen from scratch or remodeling a customer's existing kitchen, the L-shaped design is exceptionally easy to work with. Here are a few ways to improve an L-shaped kitchen design.
Plan ahead
As a general contractor, you know that every beautiful finished construction project began as a solid, accurate and comprehensive plan. No matter the scope of the project, it's always a good idea to gather a variety of plans and drawings to support the construction process.

These days, completing the design and planning phase in-house has never been easier or more cost-effective with 3D home design software such as Cedreo. Cedreo is a 100% cloud-based and user-friendly tool that allows home building professionals to design an entire home in as little as two hours.

Create precise blueprints, construction-ready drawings, and stunning 3D visualizations of your project. Cedreo allows contractors to demonstrate to clients that they are the best builder for the job, all while saving money for the clients and themselves. Sign up now to begin using the free version of Cedreo today.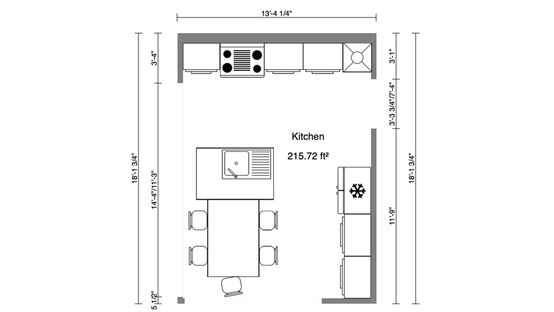 Re-Work the Triangle
The working triangle is a theory about the formula for creating a functional kitchen layout. This theory suggests that the most important elements of a kitchen include the sink, stove and refrigerator, and that each of these elements should be one point in a triangle.

It is not complicated to include a working triangle in an L-shaped kitchen. Since cabinets are set against two walls, the design accommodates a working triangle organically.

When implementing a working triangle into a kitchen design, it's important to follow the basic design principles as laid out by the National Kitchen and Bath Association. The size of the triangle can vary slightly depending on the size of the kitchen, but some general guidelines include:
The length of each side of the triangle should be 3.9 feet to 8.8 feet.
The combined length should be 13 feet to 26 feet
No major element such as appliances or cabinets should interfere
Major traffic should be directed away from the working triangle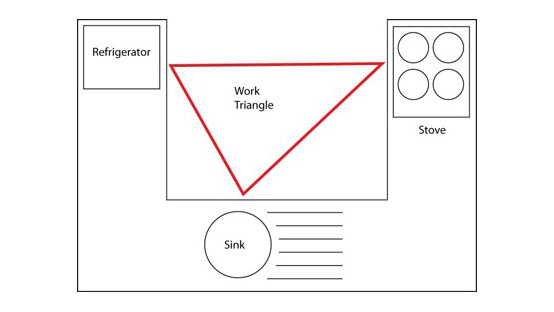 Implement an Island
Including an island in an L-shaped kitchen layout is relatively simple. Since the design is centered around two adjacent walls, it is well-suited to accommodate a rectangular island. If the kitchen space is smaller, it may be better to select a square-shaped island.

One way to maximize the value of the island in a smaller space is to include a sink in the island. This not only increases counter space but also improves the functionality of the working triangle.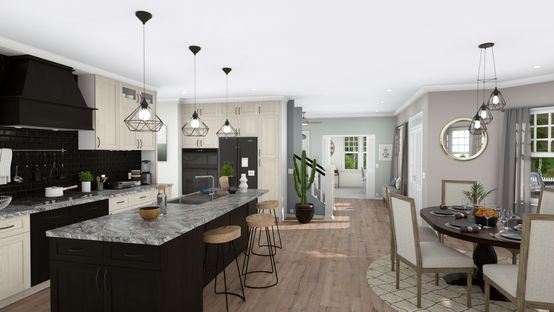 Revamp Cabinetry
Updating cabinetry is a shortcut to a brand new-looking kitchen. It creates a large impact with a relatively simple change. The expense of revamping a client's cabinets will depend on the condition of their existing cabinetry and the level of difference they're hoping to achieve.

Restaining or painting existing cabinets is a cost-effective solution for budget-savvy clients, but may not resolve other concerns such as availability of space or functionality of cabinet layout.

In an L-shaped kitchen design, clients have the opportunity to include a much more efficient cabinetry solution if their budget allows for it. This is because they are able to include a wide variety of cabinet shapes, sizes and styles to accommodate everything they need to store.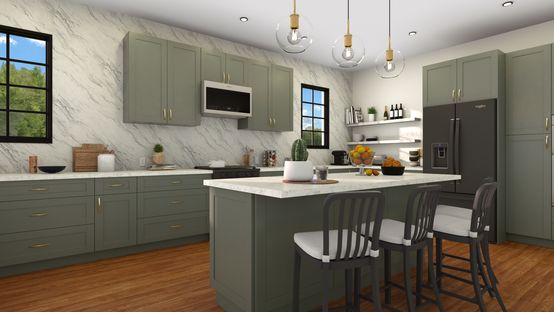 Add Shelving
In addition to cabinetry, shelving can provide storage solutions that create a more open atmosphere. Especially when cabinets display aesthetically-pleasing objects such as fine china or glass jars filled with dry goods, shelving can drastically improve the aesthetic value of a kitchen without increasing the budget too much.

Shelving is an ideal solution for the problem posed by corners in L-shaped kitchens. They are a cost-effective way to maximize space in that area.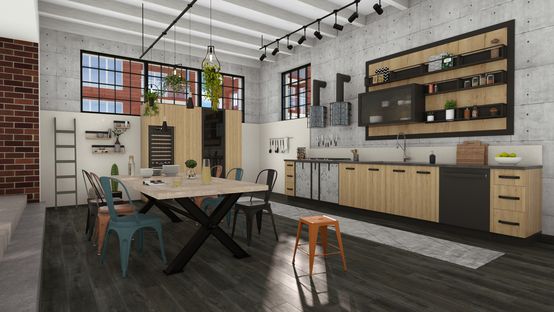 Update Countertops
If a client complains that their kitchen feels outdated, a great solution to suggest is a new countertop.

Countertops can significantly improve the overall appearance of a kitchen because, in an L-shaped design, they are one of the central features in any design. The wide range of choices available for modern countertops means clients will have access to a selection that suits their unique tastes.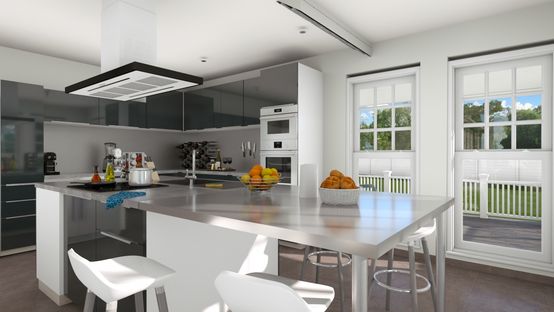 New Appliances
Switching out and upgrading old appliances is an incredibly simple way to increase both the functionality and aesthetic value of a kitchen. New appliances can increase cost savings in energy and add a luxurious appeal, even if little else is done to improve the kitchen space.

Ideally, clients will opt to replace all appliances in order to achieve a harmonious appearance that matches the finishes in the rest of their kitchen.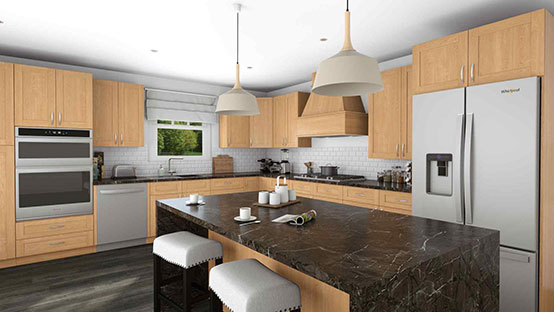 For home building professionals, kitchen redesign projects are among the most common requests from customers. Every project is unique, so it's important to begin by developing a comprehensive plan that considers both the aesthetic appeal and functionality of a design.

With Cedreo, general contractors and project managers are able to complete the design process effectively and efficiently in-house and for a fraction of the cost. Design an entire home in as little as two hours and convert your design into precise and beautiful drawings, designs and 3D visualizations. Get started using the free version today.
Kitchen Design Software… and So Much More