Open kitchen ideas and layout designs are becoming increasingly popular in modern home design. With an open concept, the kitchen area is no longer confined to one room or corner of a house but instead is part of a much larger integrated space. This type of design creates a more flexible environment that can accommodate multiple uses and activities taking place at any given time. Open kitchen ideas provide both practical and aesthetic benefits, allowing homeowners to maximize the use of their space while also creating an inviting atmosphere.
10 Open Kitchen Layout Ideas and Tips
As we all know, a kitchen can make or break the look and feel of a home. Whether someone is looking to update an old kitchen or planning a dream kitchen, there are plenty of ways to create a unique and functional space. Here are some tips to design an open kitchen layout that will make someone's home look great and feel even better.
1. Add an Extra Large Island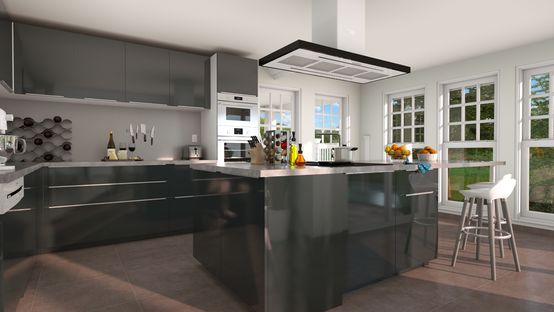 Adding an extra large island to an open kitchen layout is a great way to gain additional storage and countertop space as well as create a central gathering place for friends and family. An oversized island can act as the focal point of a kitchen, creating a natural flow from one area to the next. With its expansive surface area, an extra-large island can accommodate multiple cooktops, sinks, and other kitchen appliances.
2. Open the Kitchen to the Outside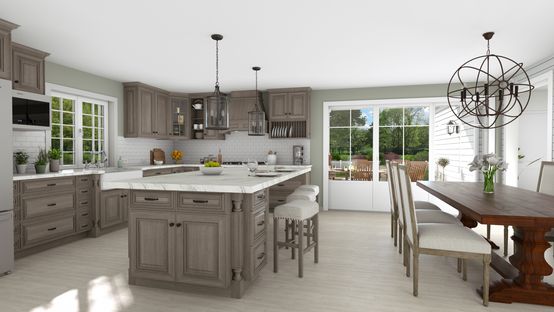 One great open kitchen layout idea is to make a kitchen accessible from the outside. This means having doors and windows that can be opened up to allow in natural light and fresh air. You may want to design a kitchen that fully opens up to the outside. This could be achieved with folding doors, or by removing a section of wall and installing a large glass sliding door. Having an outdoor kitchen provides homeowners with a great space to entertain guests, as well as an extra place for grilling or barbecuing.
3. Create Zones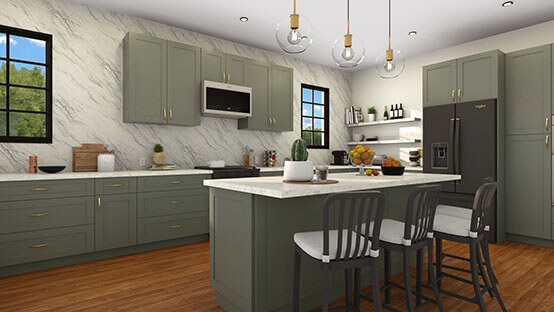 The open kitchen layout provides separate work areas for prepping, cooking, baking, and serving. When creating zones, it's important to consider how someone could use each area of a kitchen. By understanding a homeowner's cooking needs and habits, you can customize the layout to make it easier for them work. Think about where common items like spices or knives should go, as well as where cookbooks, dishes, and other cooking materials could be stored.
4. Dark Elements Add Contrast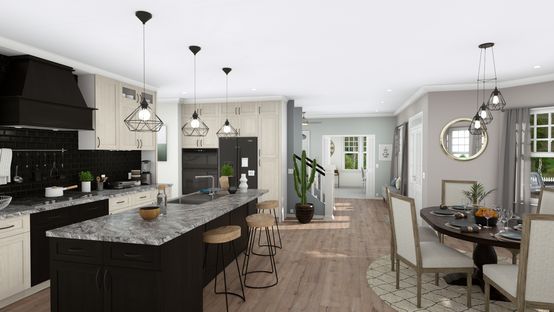 Adding dark elements to an open kitchen layout is a great way to create contrast and style in a home. Dark elements used in cabinetry, tile backsplashes, and countertops can make a room look more modern and sophisticated. In addition to being stylish, dark elements also reduce the amount of light reflecting off the walls. This creates a low light atmosphere which can be very calming and relaxing.
5. Open Kitchen-Dining Room Combo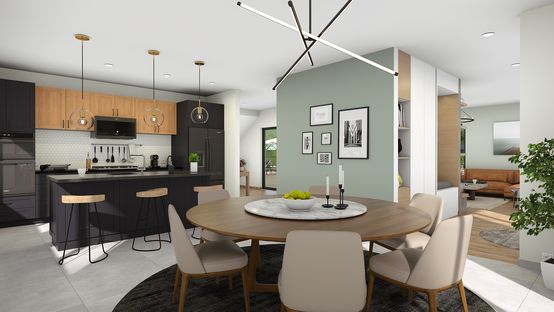 Many homeowners are opting for this option due to its flexibility and potential for customization. This type of layout can also be used as a great entertaining area or as an additional living space. There are many open kitchen-dining room layouts available that will work existing furniture. For a more traditional look, you may design an island or peninsula countertop with bench seating around it. For a modern feel, consider an L-shaped design with an open wall dividing the two spaces.
6. Consider a Statement-Making Backsplash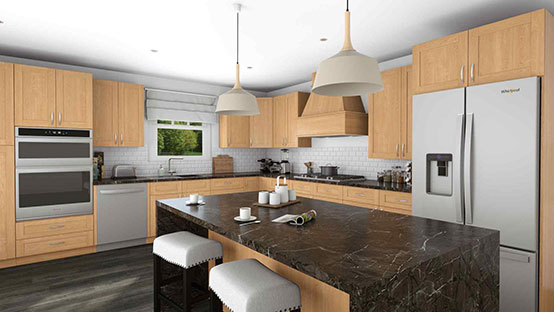 A statement-making backsplash is an excellent way to add a splash of personality and pizzazz to an open kitchen layout. Whether you choose a subdued, modern look with simple yet classic subway tile or go for something more dramatic like French-inspired encaustic cement tiles, there are so many options available that add dimension to the decor.
7. Go All White or for a Full Beige Palette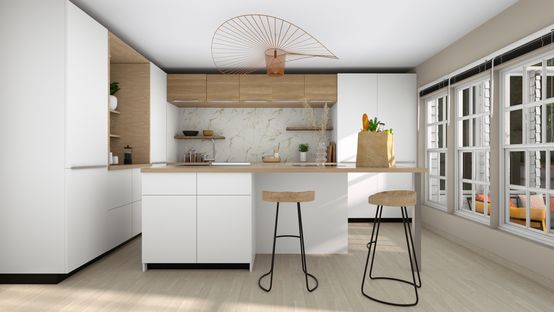 When it comes to decorating an open kitchen, neutrals are key. You may present a design that is all white or go for a full beige palette. The all-white look is very popular and provides a timeless elegance that is perfect for creating bright and airy vibes. On the other hand, opting for a full beige palette creates a cozy atmosphere and allows more flexibility to add different textures and fabrics to the decor.
8. Keep Clutter to a Minimum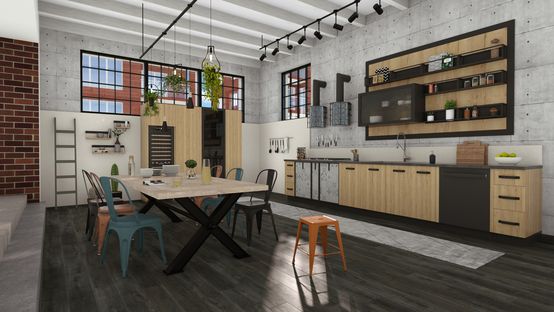 A well-designed open kitchen layout is one that minimizes clutter and allows easy access to all of the items and tools someone needs to prep food. To support organization, make the design storage-friendly, which will ensure that everything has a designated place where it belongs. Utilizing cabinetry, shelving, and hanging racks support an orderly space with plenty of storage for cookware, utensils, dishes, and more.
9. Carry a Color Palette or Theme Throughout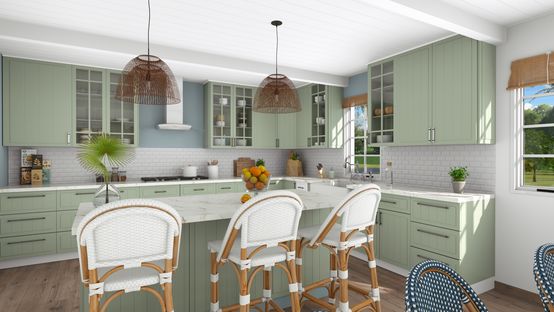 An effective way to create a consistent design throughout your open kitchen is to carry a color palette or theme. This can be done by using a single paint color for the walls, cabinetry, and furniture; employing patterns in one hue for fabrics, pillows and throws; or even repeating a series of artwork pieces. For example, shades of blue and white, with accents of navy or pale aqua. Carrying a color palette or theme can make a kitchen seem larger than it is by unifying the different elements in the room.
10. Create Extra Seating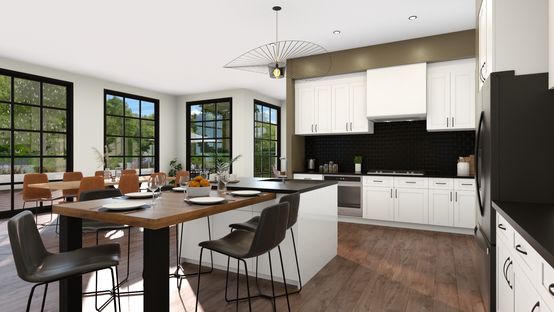 Creating extra seating can be a great way to leverage the available space in a kitchen. One way to create extra seating in an open kitchen layout is to incorporate fixed or movable counter-height seats, such as bar stools or a counter bench. An island or peninsula provides added counter space as well as seating in an open kitchen layout.
If you have the space available, consider adding a banquette seating area in the kitchen design. A banquette is a comfortable seating arrangement with cushioned benches that are usually placed against a wall. It not only provides additional seating, but also helps to define the space.
How Do You Design An Open Kitchen?
To ensure that your open kitchen design is a success, there are a few tips to consider.
The first step in designing an open kitchen is zoning the space. This means separating different areas based on their function — wet and dry zones, prep zones, washing areas, and cooking zones.
Integrated cabinets are also essential for open kitchens. Not only do they foster a sense of cohesion in the room, but they also offer concealed storage space.
Good ventilation is paramount when designing an open kitchen. Without proper ventilation, steam and smoke can build up in the space quickly, leading to unpleasant smells. Invest in a range hood or overhead fan that has the correct CFM (Cubic Feet per Minute) rating to keep a kitchen smelling fresh at all times.
When it comes to décor, keep the colors light and airy. Whites, tans, creams, grays, and blues are all good choices as they can make a small space feel larger. You could also recommend furniture pieces that have open legs or armless chairs so that the space feels more open.
Make sure to plan the kitchen island wisely. Islands are a great way to add extra seating and storage space to any kitchen. Consider planning drawers, shelves, or even wine refrigerators on the island to make the most out of this area.
Finally, use continuous flooring throughout the kitchen to create a standard look from one space to another. Use tiles, stone, or hardwood in the same color or pattern. This will creates a unified look and feel for the kitchen, no matter how open it is.
Using these tips, you can successfully design an open kitchen that is both inviting and functional.