The kitchen is the heart of every home: a place for families to come together and share a meal. For home builders and remodelers, it's one of the most important rooms in any home.

The past few decades have seen kitchen designs change significantly. Today's kitchens would be unrecognizable fifty years ago. But it isn't just the designs that have changed: the size of kitchens has also evolved as the kitchen continues to play a more important role in our everyday lives.

Different types of homes have different sizes of kitchens. And while there's no doubt that the kitchen is an important room, if you're designing a home on behalf of a client, it's helpful to know what the average kitchen size is for your space.

Read on to learn more about the evolution of kitchens, the average kitchen size for different homes, and the most popular kitchen designs used in modern homes around the country.




The Evolution of Kitchens
The size and design of kitchens have changed a lot in the past century or so. Over the years, innovations in cabinet design and appliances, coupled with new family habits, have influenced the average kitchen size.

Pre-1900s
In the pre-1900s era, kitchens were much smaller than they are today and were typically hidden away from the rest of the house.

Large appliances took up much of the space in the kitchen itself and many homes had separate pantry areas where food was stored and prepared.

The early 1900s
The early 1900s saw the average home size increase, although kitchens typically still remained small.

Designs improved with the invention of smaller, more efficient appliances and new cabinetry. Some kitchens had small dining areas, although this wasn't common at the time.

1950 – 1980
In the post-war period, kitchens began to evolve to become much more like the kitchens we know today. Appliances continued to shrink in size and increasing numbers of families began to eat informal meals at small tables and nooks.

1980 – 2020
In the past forty years, kitchens have continued to grow in size, with more and more homes including space in the kitchen for families to share meals together.

Open-plan kitchens gained popularity, blending the lines between entertainment spaces and more functional cooking spaces.

2022
As the average new home continues to grow larger, so too does the average kitchen. Many kitchens now feature design choices including kitchen islands, colorful cabinets, and walk-in pantries.


A Standard Home Kitchen Size
Today, the average size of a U.S. home is around 2,500 square feet. Many newly-constructed homes are much larger. There are also geographical differences; one study found that the average home in Utah is almost twice the size of the average home in New York.

Of course, the size of a kitchen will depend on the size of the home. Here are a few examples from the National Kitchen and Bathroom Association (NKBA):
A single-story family home has an average kitchen size of 151 square feet
A multi-story family home has an average kitchen size of 174 square feet
Homes between 3,000 – 3,999 square feet have an average kitchen size of 191 square feet
But square footage isn't the only thing that matters when it comes to the size of a kitchen – the type of home you're building is important too.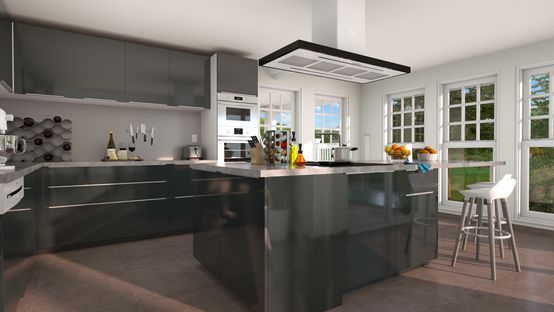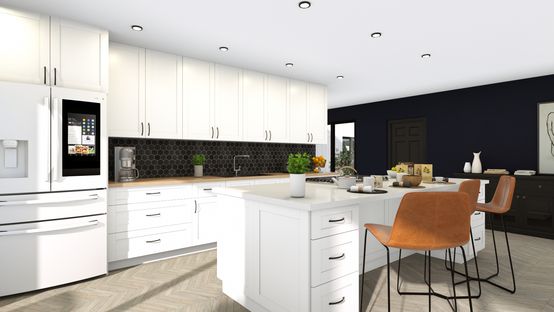 Kitchen Sizes & Tips Based on the Home
As you'd expect, different types of homes have different sizes of kitchens. Let's take a look at the average kitchen size for some common types of homes.

Tiny Home Kitchen Size
Tiny homes are homes that are less than 600 square feet and can be as small as 100 square feet. Unsurprisingly, kitchens in these homes are very small and might just include a fridge, a small stovetop, and a sink.

Container Home Kitchen Size
Container homes tend to be built from long, narrow shipping containers, and the kitchen design will often reflect that. These kitchens are often eat-in kitchens, since there isn't sufficient space for a separate formal dining area, although open-plan designs are popular too.

Container home kitchens typically range from 80 square feet to 150 square feet depending on the size of the container.

Apartment Kitchen Size
Apartment kitchens tend to be smaller than the kitchen in an average house and often feature open-plan designs that blend the kitchen, dining, and living room spaces.

Many apartment kitchens are less than 100 square feet in size, although this varies depending on the kitchen design used.

Bungalow Kitchen Size
In single-story homes like bungalows, the average kitchen size is 161 square feet: smaller than the average kitchen size in larger, multi-story homes.

Mansion Kitchen Size
Mansions are homes that are at least 5,000 square feet, although some realtors define mansions as being over 8,000 square feet.

Needless to say, these homes often have large kitchens designed for entertaining, with large dining spaces and plenty of room for cooking. These kitchens can be several hundred square feet in size. Kitchen sizes will vary depending on the size of the mansion itself.

Some large mansions might even have two kitchens: a formal kitchen used for entertaining and a smaller kitchen designed to be used by private chefs.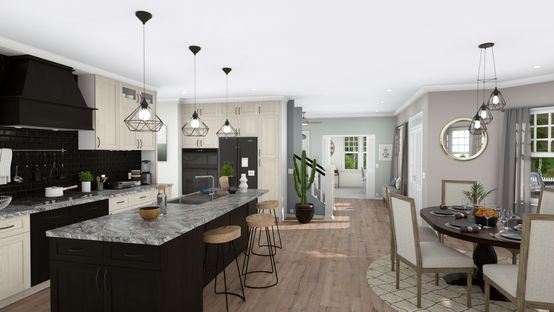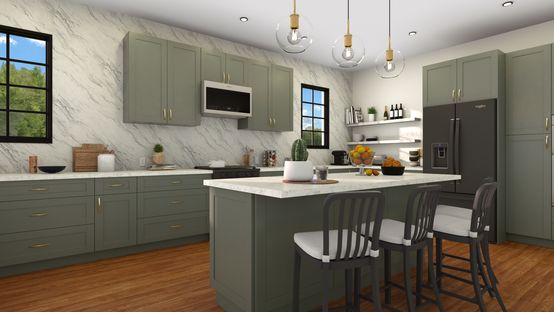 Types of Kitchen Designs
Once you've figured out what size kitchen makes sense for your house, your next step is to choose the right design for your kitchen. Let's take a look at some of the most popular kitchen floor plans being used today.

Galley Kitchen Design
Galley kitchens work well for small, narrow spaces. These kitchens have two walls of cabinets and appliances which face each other, with a walkway several feet wide running down the middle of the space.

These types of kitchens are popular in apartments and smaller homes, representing an efficient use of space without compromising on cabinet space or appliances.

U-Shaped Kitchen Design
U-Shaped kitchens are a good fit for square rooms, with cabinets and countertops on three walls in a horseshoe shape.

These kitchens allow designers to incorporate the kitchen triangle rule. This design arranges the refrigerator, stove, and sink on different walls of the kitchen, making for easy accessibility and great cooking space.

L-Shaped Kitchen Design
L-Shaped kitchens are becoming extremely popular due to their versatility and compatibility with many homes. These kitchens are arranged on perpendicular walls, which can vary in length depending on the existing layout of the home.

These types of kitchens often include islands, a popular kitchen design trend, and maximize the space available with an open-plan layout that's popular with families.

Peninsula Kitchen Design
Peninsula kitchens are often similar in design to U-Shaped kitchens but feature a kitchen island that can be used for dining and storage.

These designs allow homeowners to benefit from the kitchen triangle while also adding informal dining space to their kitchen.

Island Kitchen Design
Island kitchens can be arranged in various configurations but always feature a stand-alone kitchen island, often in the middle of the room.

The island itself can include various design elements, ranging from a stove top to a kitchen sink. Alternatively, many people choose to use their island as a dining space or for food storage.




Cedreo: Intelligent Kitchen Design Software
If you're a home building professional or remodeler, you know how important kitchen designs are to your customers. But no matter what size or design of kitchen you need to create for your client, using a 3D home remodeling software like Cedreo helps you bring their dreams to life before construction even starts.

Get your free Cedreo trial today and start designing dream kitchens the easy way.