With soaring construction costs and a housing shortage, it's no wonder that shipping container homes are a growing trend. In fact, the global container house market is projected to grow to over $64 billion dollars in 2025, up from $47 billion in 2020.

So if you're a container home builder, you can expect to see a rising demand for your homes. And with modern homeowners wanting the ability to customize their container home designs, you're going to need quality 3D design software.

What can the right software do for you? In this 5-minute read, see how container home builders are using modern design programs to save loads of time and money.

Find out how you can too!
What Does a 3D Home Design Software Do?
3D design software is essential for container home builders throughout the sales, planning, and construction parts of a project.

A lot of builders use traditional 2D CAD software combined with complicated 3D modeling programs, but those can be expensive and time-consuming. And a lot of those programs require specialized training to use. Plus, it can take hours (or even days) to edit the drawings based on client feedback.

Fortunately, modern all-in-one 3D design programs lets you tackle every part of container home design — 2D blueprints, 3D floor plans, space planning, and decorating. Plus, you can create 3D renderings so clients can get a better feel for the overall flow of the layout.

This combination of tools makes it easier for you as a container home builder to create custom container home floor plans that impress your clients!

Let's see some more specific ways you can use home design software to improve your business.
How Container Home Builders Are Using Home Design Software
Check out 5 specific ways container home builders can use home design software like Cedreo to streamline their projects.
Planning the Space
Complete Customization
Better Client Communication
3D Rendering Visualizations
Site Plan Creation
Space Planning
With small shipping container homes, every square inch is precious, so you need an efficient floor plan that makes excellent use of space. That's where 3D home design software like Cedreo comes in.

With just 4 clicks you can draw the exterior walls of the shipping container. Then add walls and furnishings to the interior. As you draw in Cedreo, you see up-to-date measurements and surface area calculations that make space planning a breeze.

Plus, as you work, you can see 2D and 3D views of the space simultaneously. This gives you instant design feedback and ensures the floor plan maximizes the use of space without feeling too cramped.

Then, when you show clients the 3D floor plans, they get to visualize themselves inside their new container home. That makes it easy for clients to understand how you've laid out the space so they can give valuable feedback.
Full-Customization
Standard-sized furnishings don't usually work in a tiny shipping container home floor plan. That's why builders love having a program like Cedreo filled with materials and furnishings for shipping container homes. Plus, you can customize virtually every aspect of their design.

In Cedreo, as you place the furnishings, it's easy to adjust the dimensions to fit a container home floor plan. You can also swap out furniture materials for a truly unique look.

And as you finish the interior layout, Cedreo lets you switch out surface materials with 1,000s of options from its design library — wood, tile, cabinet materials, flooring, paint, and more.
Customer Communication
A lot of new container home buyers purchase made-to-order homes, sometimes from container home builders that are halfway across the country. For that to be a success, you need to have clear communication with your clients so clients know exactly what they're getting.

The best way to do that is with high-quality visuals. That's why a lot of builders use 3D design software to create virtual models of their different container house floor plans.

A lot use Cedreo to create 3D floor plans and renderings that are perfect for adding to websites and other sales materials. These are a nice way to give potential customers a first look at what you offer.

But what if a client wants to customize certain aspects of the design?

With Cedreo, you can reuse previous floor plan templates for new projects so you don't have to start from scratch. Just make the changes according to the feedback and in a few minutes you've got a new design to present to your clients.

Streamlined communication like this helps build trust with clients while shortening your sales cycle.
Visualize with 3D Renderings
3D renderings really help your container home designs to come alive. It's hard for a lot of clients to get a feel for the overall flow of the layout with just a simple 2D floor plan. It's one thing to see the blueprints, it's another to actually be standing in the home.

So instead of using a 2D floor plan layout with measurements and furniture symbols, more container home companies are relying on 3D renderings to showcase their designs.

And more and more are switching to Cedreo for their renderings. Cedreo is easy to use and they don't have to pay big bucks to outsource their 3D design work. How does it work?

Once you finish your container home design, go to the rendering tab, adjust the viewpoint and lighting, and submit the image for rendering. In 5 minutes, it's ready to share with clients.

But Cedreo's renderings aren't just fast, they're professional quality too. With accurate lighting effects and realistic textures, these renderings don't leave anything to the imagination. Their realistic details create an emotional connection with potential clients that helps you close deals faster.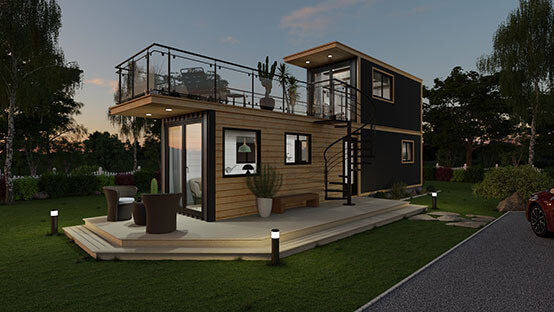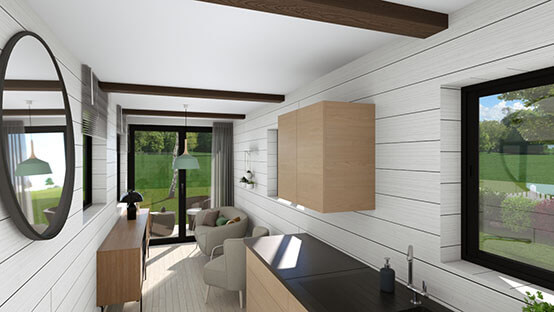 Site Plans
As container homes grow in popularity, more and more builders are needing to create site plans for their clients as well. A site plan shows the container home and the surrounding property and can feature a bird's eye or eye-level point of view.

Builders use site plans like these for single-family homes as well as when planning container home communities. They're important for the construction teams, the clients, and even local code offices.

In the past, builders used simple, black and white 2D site plans. However, just like 2D floor plan blueprints, these are difficult for a lot of clients to understand.

That's why more builders are using Cedreo to create 3D site plan renderings to showcase the site with realistic details that clients can easily understand.

In Cedreo, it's easy to set the property's boundaries and add landscaping, driveways, lawns, patios, decks, and hardscapes. You can also show how the site will look at different times of the day with photorealistic lighting effects. All of this helps visually enhance the property for potential clients.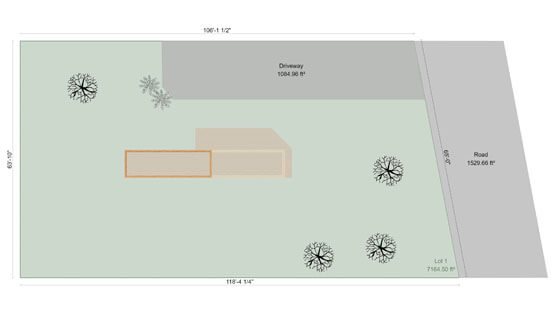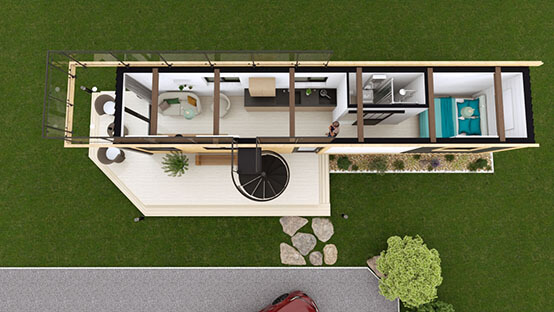 Conclusion
Ready to use 3D design software to grow your container home business? Why not start with Cedreo? More and more housing professionals are making the switch.

Its unique set of features is perfect for container home builders.
Create an entire container home design in under 2 hours
Streamline the design process with intuitive software
Get 3D photorealistic renderings — no CAD or 3D experience required
Customize virtually every aspect of the design
Reuse existing floor plans to save time
Shorten the sales cycle and close more deals
With a FREE version, you've got nothing to lose. Sign up for Cedreo container home design software today!