Shipping container homes continue to skyrocket in popularity. Ready to jump on this latest trend and start building container homes?

Then you're going to need the right container home design software.

Creating container home designs can be challenging. You've got to find a way to fit everything your client wants inside the container without it feeling too cramped.

Fortunately, the right software can help you create functional container home floor plans that your clients will fall in love with.

Wondering which software you should use? We've made it easy to choose with this list of the top 10 picks for paid and free container home design software.




What to Look for When Choosing Container Home Design Software
Before we get to the list of software, here are 4 things you should consider when choosing the right one for your business.

Functionality
Container home floor plans are unique. That's why you should look for versatile software with plenty of customization options.

For example, a tool that lets you drag and drop furnishings and fixtures is important. But most normal furnishings take up too much space inside a tiny container home. That's why you need software that lets you customize the size of each piece of furniture.

User Friendly
How much design experience do you have? And how much time are you willing to dedicate to the design process?

If you have extensive CAD or 3D modeling experience then you can opt for a more powerful (and more complicated) design program. But if you're not a CAD whiz and want to save as much time as possible during the design stages, then it's best to go with a user-friendly program.

Fortunately, there's a nice selection of modern design programs — like Cedreo — with powerful tools that are also user-friendly.

Quality
Clients aren't impressed with 3D images that look like they're from a 20-year-old video game. That's why your container home design software should be able to create high-quality 3D visuals. Those photorealistic images create an emotional connection with clients that help container home builders like you close more deals.

Support
Time is money. That's why your business can't afford to wait days for an answer to a simple question. So be sure to check into what support options each program offers.

Check to see if there's easy-to-access, personalized support with a real human being. Or do you have to rely on automated replies and user forums for help? A support team that wants you to succeed can make a world of difference.




10 Best Container Home Design Software Solutions
Now that you know what you're looking for, let's take a quick look at 10 of the best programs for container home builders.
1. Cedreo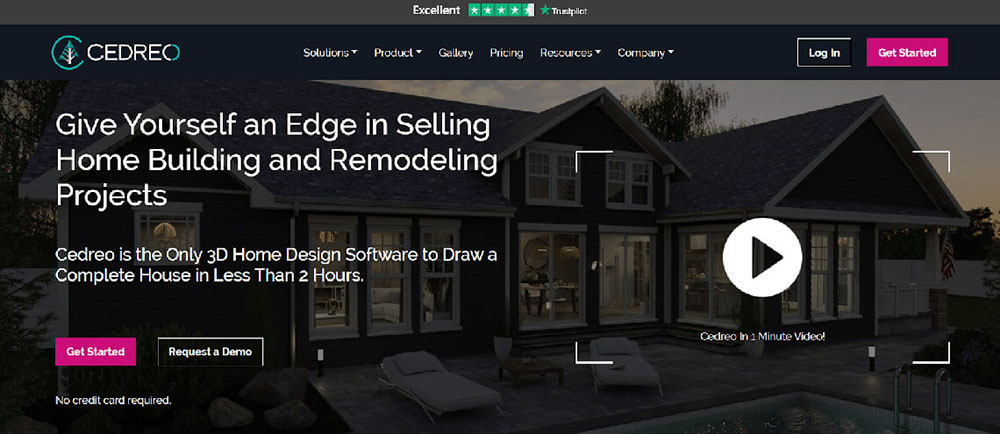 Cedreo is quickly becoming one of the most popular residential home design programs. It's hard to beat its combination of 2D and 3D design tools that are surprisingly easy to use.

Whether you're tackling a container home's interior floor plan or the entire site, Cedreo's intuitive tools help you create an entire set of plans in as little as 2 hours! Plus, you get access to an extensive design library with 7,000+ customizable options for furnishings, materials, and decorations.

When your container home design is finished, getting HD photorealistic renderings is painless. All it takes are just a few clicks to adjust the lighting and select the view. Once you submit it for rendering, Cedreo's servers take care of the heavy lifting so you don't have to wait for your images — they're ready in just 5 minutes!

Another reason more are switching to Cedreo is the world-class support team. In addition to video tutorials and a written knowledge base, all professional clients get a free 1-on-1 training session. Plus, they'll also have a dedicated success manager they can contact by phone, chat, or email anytime they have a question or concern.

Key features
View plans in 2D and 3D simultaneously
Re-use floor plans on future projects to save time
Customize virtually every aspect of the design
Simple, straightforward pricing
Cloud-based software so you can access your designs anywhere you have a computer and internet
Easy-to-share documents with clients and team members
Pricing
Free with limited features
Personal – $119/project
Professional – $119/month
Enterprise – $149/user/month with team collaboration tools
2. Live Home 3D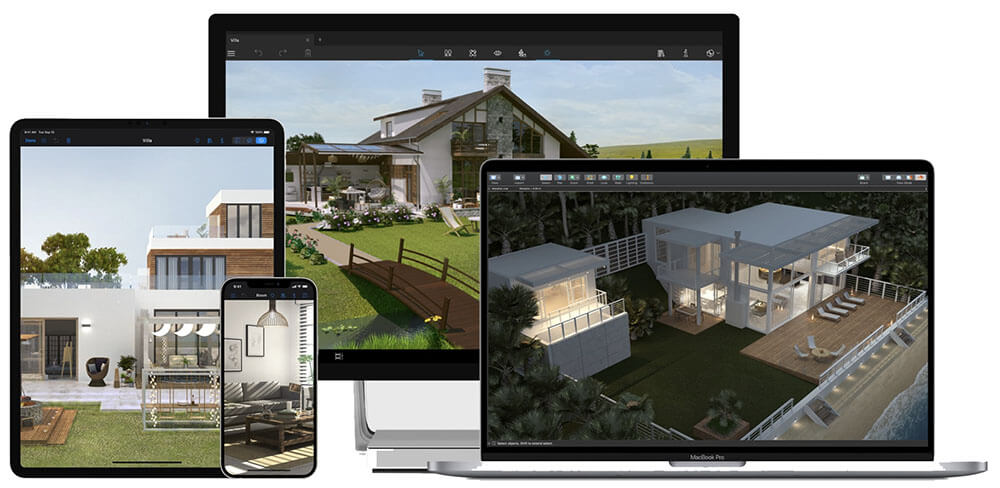 Live Home 3D is another program that combines powerful 3D design tools with an easy-to-use interface. Its selection of tools gives you a surprising amount of control to fine-tune the details.

If you can't find a product or material that you need in their library, you can purchase additional product packs. Choose from items like Scandinavian furniture or outdoor objects.

There's a nice selection of tutorials and articles to learn how to use it. However, once you sign up, personalized support is limited to a simple contact form.

Key features
Create video walkthroughs
Import your own 3D models
Export in a variety of formats like 3DS, FBX, and Collada
Over 2,000 products in the library
Create custom roofs and terrain (need to purchase additional tools)
Pricing
FREE with limited functions and in-app purchases
PRO – $49.99/month + In-app purchases for additional materials, plants, decorations, etc.
3. 3D ISBU Shipping Container Home Design Software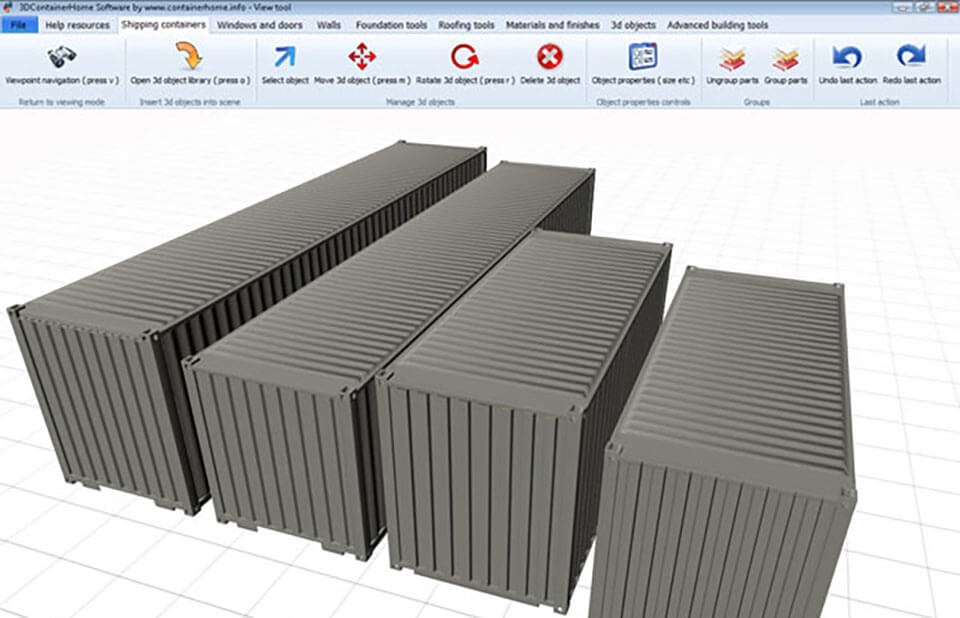 Looking for an easy-to-use software for designing container home exteriors? Then this software might be for you.

There's a free version that lets you position 3D container models. Then, with a paid membership to the site, you get access to more tools for creating exterior visualizations of the containers. Add doors, windows, greenery, and other realistic details to see what the home will look like from the outside.

Key features
Only works on Windows
Get a realistic view of the shipping containers from the outside
Import images to add to your designs
Easy to navigate
Pricing
Free with very limited functions
$47 for Personal Membership and expanded functions
4. Floorplanner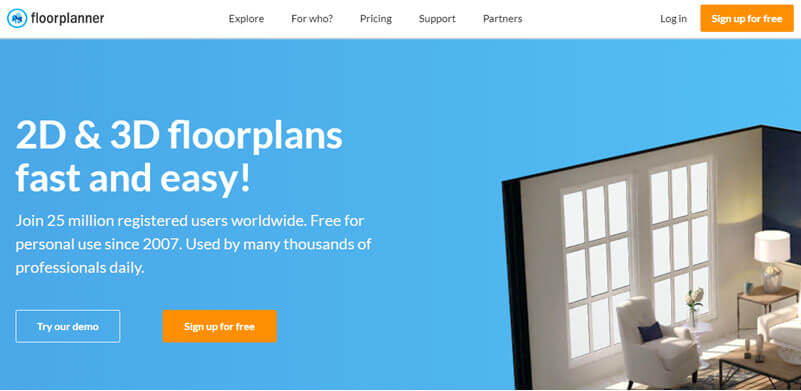 If you're only concerned about the interior layout, Floorplanner might be a good choice. It lets you create floor plans and add furniture and decorations.

For personal use, Floorplanner might be sufficient. But most housing professionals find it's missing some important tools and wish its 3D renderings were more realistic.

Key features
Cloud-based software
Mobile apps
Large library of 3D objects
Layout tools are easy to use
Pricing
Paid plans for individuals:
Plus – $5/month
Pro – $29/month
Team- $59/month (Up to 10 users)
Business- $179/month (Up to 100 users)
Enterprise- $599/month (Unlimited)
5. Sweet Home 3D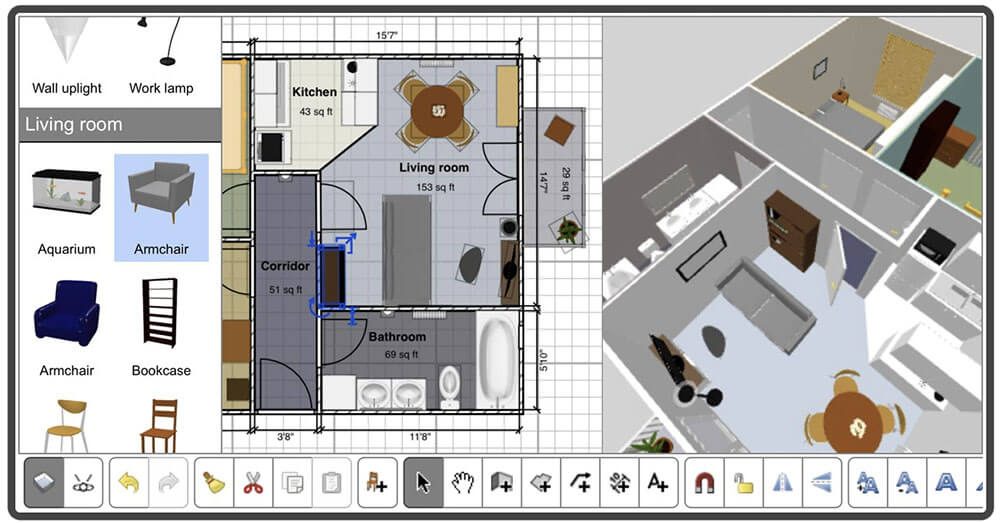 If you're on a super-tight budget, you might consider Sweet Home 3D. It is an open-source, free container home design software that anyone can download and use. And although it's free, it's got a surprising variety of design tools that you can use for all types of homes.

However, the 3D renderings it produces aren't the best and support options are limited. So if you have a problem, you're going to have to search for the answer on your own.

Key features
Switch between 2D and 3D floor views
Import existing floor plans
A few 3D tools for creating custom shapes
Expand the functionality by purchasing additional product packs
Pricing
Free, open-source software
Purchase add-ons and product packs to expand its functionality
6. SketchUp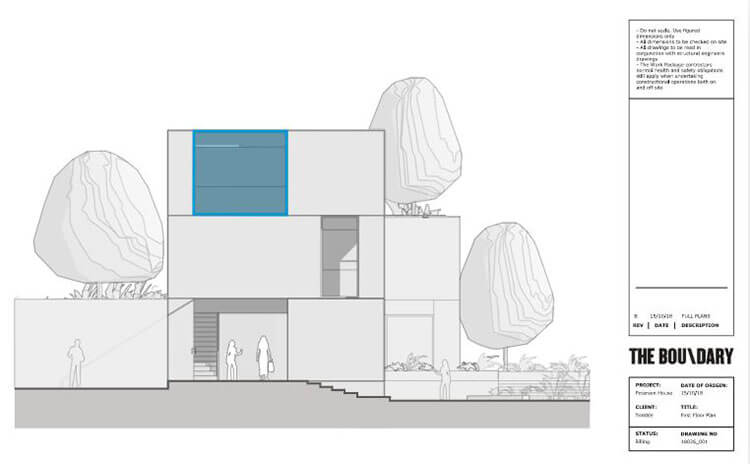 SketchUp is one of the most popular 3D modeling programs. Although it wasn't created specifically for home design, with the Pro version and a few add-ons, you can create detailed plans and realistic renderings. However, it does have a steep learning curve and can get expensive with all the extensions you have to purchase.

Key features
Advanced 3D modeling tools
Create pro-level renderings (need to purchase extensions)
Catalog with thousands of 3D objects
Add ons for interactive presentations
Pricing
Sketchup Free with limited features
Shop – $119/year/user
Pro – $299/year/user
Studio – $699/year/user
7. SmartDraw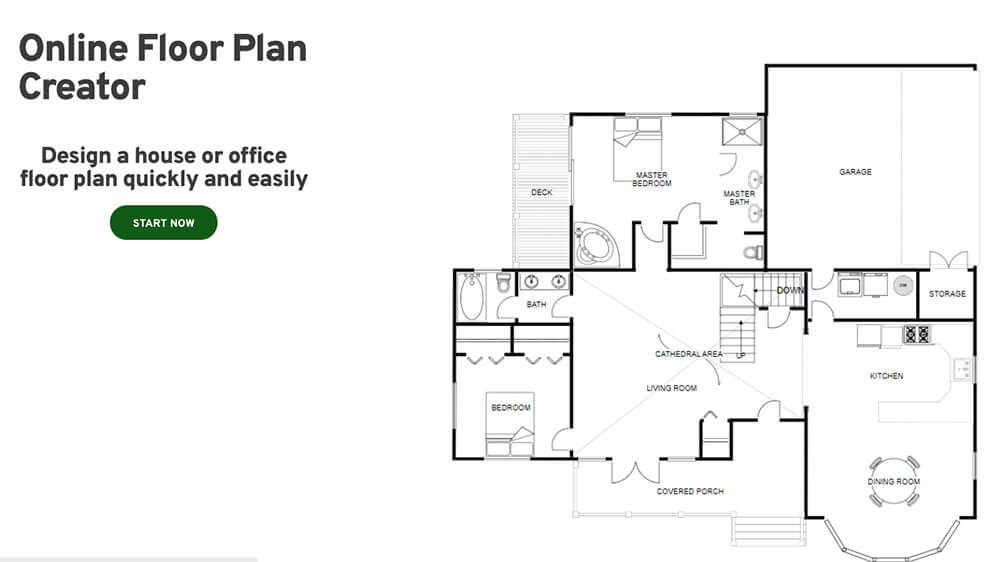 Smartdraw is a good choice if you need software to do more than just container home floor plans. It's got a wide range of drawing, graphing, and charting tools that you can use to help organize your business.

The layout tools work great for creating 2D floor plans. Its drawing tools are easy to use and it comes with a nice library of common architectural symbols.

However, one big drawback is that Smartdraw lacks 3D floor plans and renderings. So if you're relying on those as part of your project presentations, Smartdraw may not be for you.

Key features
Layout tools for adding technical plumbing and electrical symbols
Use it on the go with mobile apps
Integrates with popular cloud storage software
Pricing
Individual – $9.95/month
Team – Starts at $5.95/user/month (5 user minimum)
Enterprise – Starts at $2,995 per year
8. Planner 5D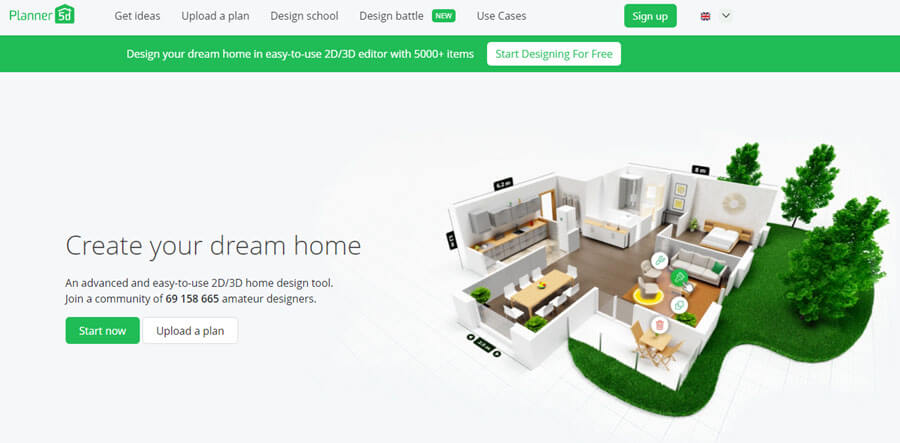 Looking for a simple, inexpensive program for personal use? Planner 5D was created for amateur designers. Despite that, it does have some decent 2D and 3D design tools for creating container home layouts.

However, most housing professionals will need extra functionality for customizing design elements and printing plans to scale.

Key features
5,000+ products in their catalog
Design in 2D or 3D modes
Get 3D renderings
Use it for interior or exterior design
Pricing
Free for Basic
$6.99/month
$15.99/year
$24.99/premium forever account
9. Room Sketcher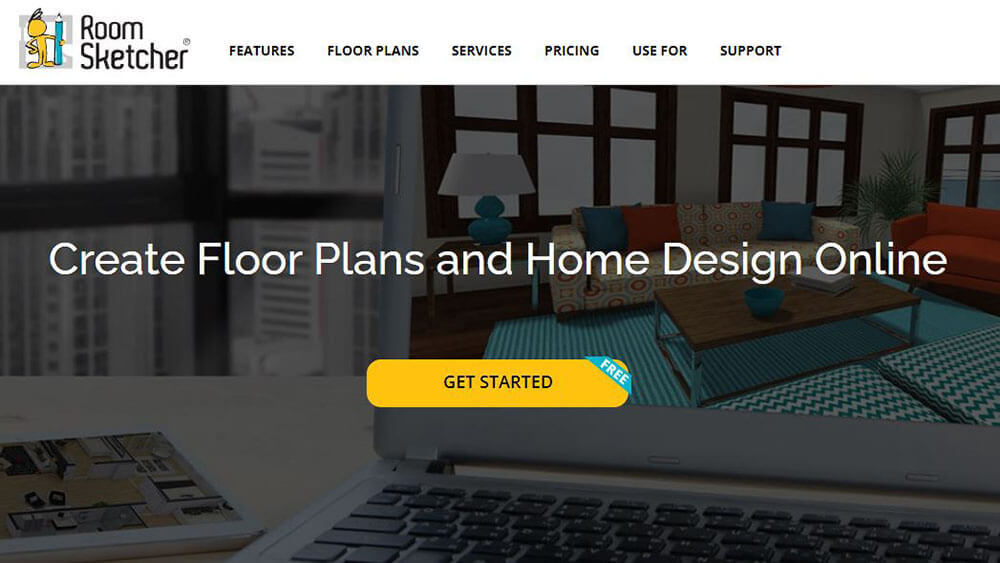 RoomSketcher is another top choice for designing interior layouts. Create high-quality 2D and 3D floor plans with furnishings, measurements, and room names. Although their renderings aren't the most realistic, you can create 360 views for showing off the space.

Key features
Available on PC, Mac, and mobile
Order blueprints based on your ideas
Change surface materials for a customized finish
Pricing
VIP $49/year
PRO $99/year
10. AutoCAD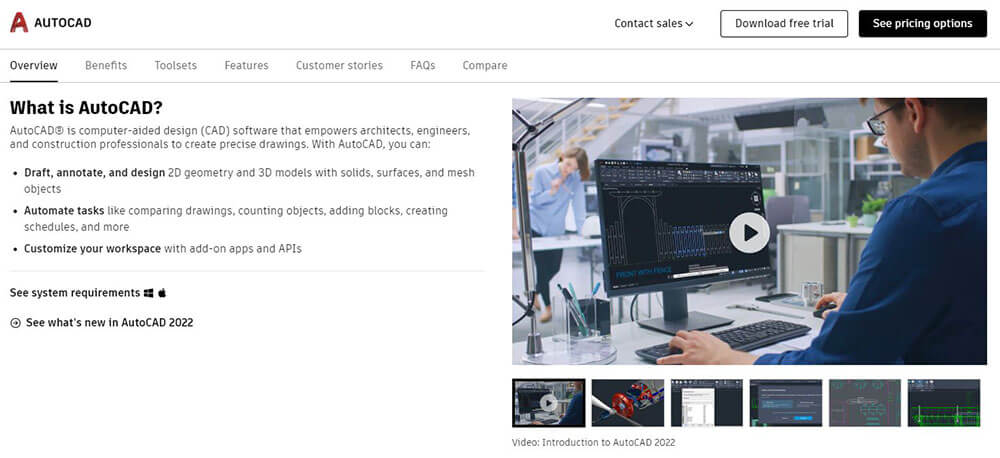 If you're already an experienced designer with knowledge of CAD programs, AutoCAD will give you the freedom to design just about anything. It's a good choice if you need to create highly detailed technical drawings like structural prints for container home foundations.

However, just like with most CAD programs, there is a steep learning curve. And to create 3D views or renderings, you'll need to purchase other programs or extensions.

Key features
Draw anything
Lots of user-generated tutorials and videos
Create technical drawings for mechanical, plumbing, and electrical trades
Mobile apps
Pricing
$220/month
$1,509/year
$4,301/3 years
Which Container Home Design Software is Right For You?
So which is the right container home design software for you? Make the right choice and you'll save your business loads of time, money, and hassle.

More and more housing professionals are finding the right choice is Cedreo. With its intuitive toolset, powerful customization options, and pro-level renderings, no other program lets you do so much so fast.

So why not start using Cedreo today! With a FREE version, you've got nothing to lose. Sign up now to see firsthand why Cedreo is the right choice for container home builders like you.