Home builder marketing must be powerful. The entire system needs to be strong enough to convince buyers to make what is usually the biggest purchase of their lifetime. It's why marketing must permeate everything your brand does. The efforts pay off in the form of a better company reputation, improved sales conversions, and consistent growth in client leads.

It's easy to understand why home builder advertising is so important to master — but just how does one do it? It's common for builders to wonder,"How much should I spend on marketing?" or, "How do I develop a marketing campaign?". We've got some tips for you. Read on to learn about 11 of the most effective custom home builder marketing strategies every contractor should know.




11 Home Builder Marketing Strategies
These 11 strategies outline the basics that any building brand can use, as well as a few tricks that will give you a competitive edge. These methods and techniques are the foundation for effective marketing that helps your business grow.
1. Launch a professional website
First and foremost, every professional builder should have a well-designed website. This is essential for establishing credibility with your clients and for new leads that want to learn about your services.

Websites are the cornerstone of your internet marketing. They are what will pop up in search results for buyers in your locale, making them what is often the first point of discovery for would-be customers.

This means that your website shouldn't just be engineered for SEO, it should also serve as a tool for nurturing customer interest.

When customers land on your website, it should instill confidence that you're the right builder to take on their project. Your website should include a portfolio of past projects, a page that describes your team and your qualifications, and your contact information.

Once you have these fundamentals in place, you can decide whether you want to expand your site by adding sections about your design process, custom home models, and more.
3. Use photorealistic renderings to shorten the sales cycle
One of the biggest barriers to converting a prospective client or even completing an existing project is the client's inability to visualize the end result. If the customer doesn't have a clear picture in their mind of how their custom home will look , they will be much more hesitant to sign off on the design.

This is why no modern home builder marketing plan should ignore the power of using photorealistic renderings of their designs. Providing lifelike imagery of a home exactly as it will look once built will make it far easier to communicate your design to clients, secure the sale, and make any design changes go much more smoothly.

Generating your own photorealistic renderings doesn't have to be expensive or time-consuming. Using an all-in-one program like Cedreo makes it simple and affordable to craft incredibly detailed visualizations of all your home projects.

All Cedreo 3D renderings are generated in the cloud, saving you the expense of upgrading to high-powered computing equipment. And since you can also use Cedreo to build floor plans and site layouts, you'll be able to use a single program to cover all of your visualization needs.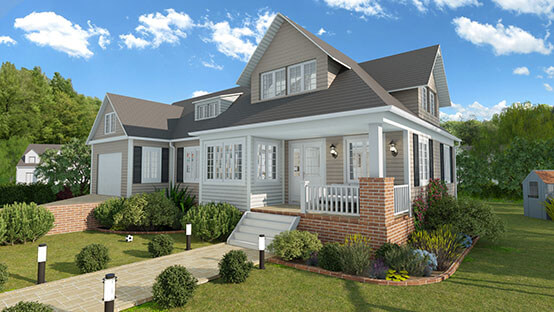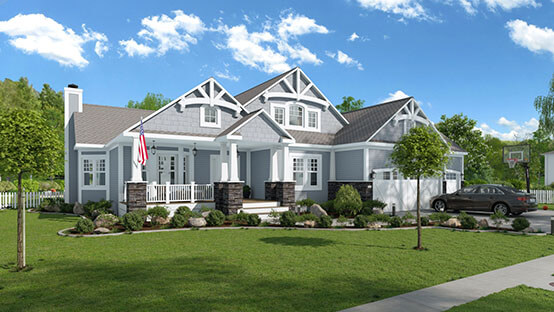 3. List your business on industry lead-gen sites
Even if your website content is optimized for search engines, relying on organic search traffic isn't a reliable way to generate leads. This is why it's important to distribute your custom home builder marketing over many different channels.

Zillow, HomeAdvisor, Houzz, Porch, Thumbtack, and Angi (formerly Angie's List) are all sites that people might use to find professional home builders. Make sure you have listings on these channels so you can potentially connect with new clients.

Reviews are also important for lead generation, so ask your satisfied customers to write a testimonial for your website or on your business listings.
4. Publish customer case studies and photo galleries
Home building is a visual business, so the more imagery you have in your marketing, the better. This is especially true when it comes to projects that you have successfully completed. Publishing photo galleries and case studies is one of the best ways to demonstrate that your team can create beautiful custom builds.

Remember that images, while important, are merely one component of a good case study. The written content is what really drives home your crew's expertise. A case study should tell the story of what the client wanted and what challenges you needed to overcome. It can elaborate on how your team managed to get results and explain how the final build perfectly met the owner's requirements.

Success stories are helpful for nurturing the interest of serious customers — they can learn more about your work and see how you've met other customers' expectations.

Case study content can also help build on-page SEO. Specify the project's location — including the region, neighborhood, and even the street — to enrich the case study page with location-based keywords. Don't forget to add captions and metadata for the project images that include location keywords as well.

Make your best case studies visible on popular design forums where would-be-clients may look for inspiration. Publishing your projects on websites like ArchDaily is a great way to get more eyes on your work, grow your brand's recognition, and potentially land more clients.
5. Provide pre-construction virtual tours
Completed projects aren't the only ones valuable for marketing. You can also gain a lot of traction by promoting projects that are currently underway.

This is where producing photorealistic renderings of projects can become even more useful. These visuals promote the work you're currently doing and build excitement around it.

Sharing these work-in-progress images allows you to generate new leads from the project as soon as possible, rather than waiting until it's complete to include it in your marketing. You can start generating new leads from the buzz as soon as you create 3D renderings.

When you use Cedreo, you can create renderings from any location, and show your project from any angle. This gives you the power to create a slideshow of images that showcases the entire house. Start by showing your clients the home's facade and landscaping, then make your way inside, showing photorealistic renderings of each room as they visualize living in their new home . These renderings can double for both a client presentation and a marketing promo.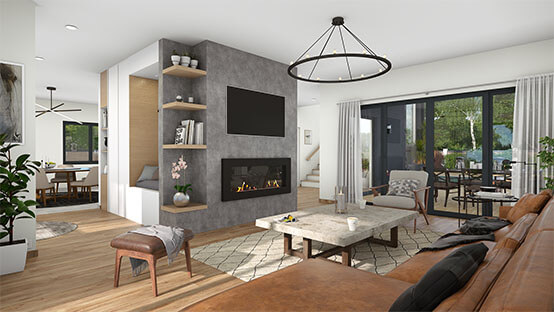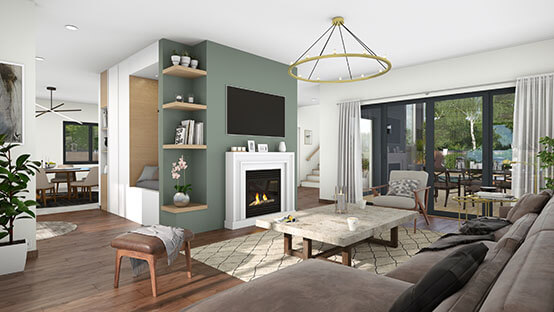 6. Focus on your local search presence
Don't forget to list your business on online maps as well, such as Google Maps and Apple Maps. This will allow your business to show up when people are searching on the map for builders in their specific area.

Keep in mind that when people Google phrases like "Home builders in Miami," the top three search results (after any paid Google Ads) will be the three top businesses found on Google Maps. This trio is what is known as the Google Map pack, and ranking among them is a major source of new traffic.

Getting into the Google Map packs for your area's search results requires localized SEO on your website, as well as some specific actions, such as claiming your social media profiles and listing your contact info and operating hours. It's also important to correctly categorize your business and upload images to your map listing.

Reviews account for 13% of Google's evaluation of whether a business listing should be among the map pack trio. Positive reviews will help boost your overall rating and signal to Google that you are a high quality business that searchers would want recommended.

Whenever you wrap up a new project, be sure to ask your customer to leave a review on your company's Google map listing. This will go a long way toward increasing your search engine visibility.
7. Run Google Ads
Running paid advertisements is an important part of custom home builder marketing. You just have to make sure that you're placing ads in locations where they're most likely to yield high returns.

Google is one of the best places to run ads. Your ad will show up before any of the Google Maps pack listings, and before any of the organic results. Your website will literally be the first thing that searchers see when they type your targeted terms into Google.

Running Google Ads can help increase your visibility while you're working on your organic SEO. It can take many months, and sometimes years to earn a top slot in organic search results (depending on your market), but employing this strategy is a surefire way to get immediate exposure.

Google Ads also make it easy to nurture leads that have yet to convert. Once someone has visited your company's website, Google can use cookies to log that visit and remind them of it by showing them ads for your website again in the future. These ads will appear when users browse the web on any websites that allow Google Ads. It's an advertising method known as "remarketing," and it can be highly effective at keeping your company from being forgotten.

Remarketing is particularly useful for custom home builder advertising, since leads usually need a long time for consideration before they finally decide to start a project. The lower cost-per-click for remarketed ads also helps to keep your individual lead costs low, given that the same lead may click your ads multiple times throughout the course of their decision cycle.
8. Advertise on Facebook
Facebook is another excellent venue for running targeted ads. Its immense popularity has made it a powerhouse for advertising, and the site's Ads Manager multiplies that effectiveness via highly-specific targeting options.

It's possible to create ads that target each individual buyer persona you've identified. Target by age, gender, location, and even interests and behaviors. You can keep your ads limited to people who've already liked your company's Facebook page to nurture existing leads, or cast a wider net to attract new customers.
9. Set up a referral program
Referrals are one of the strongest lead generators, as they provide incentives for your satisfied customers to refer people they know, and consumers have a lot of faith in referrals.

Referred leads feel more at ease working with a company that has already produced great results for someone they know. In many cases, these leads may also have seen your work in person when they visited the finished home of a past customer.

Getting these referrals is another matter, however. You can increase the likelihood by offering incentives to customers. These incentives can include gift cards, or even discounts if the customer's project is still under construction.
10. Launch a review strategy
We've already touched upon the importance of reviews a few times in this guide. Unfortunately, they can be extremely hard to source. Customers can be forgetful when it comes to reviewing their building experience, they may not understand how to do it, or they feel that it will take too much time.

You can remove all three of these barriers by creating a system that automates review collection. This can typically be done by creating an email campaign using services like Arrivala.

You'll be able to collect all of your customer information in a single place, then let automated emails collect reviews for you and distribute them to your other profiles on the web. Automating this process helps customers remember to leave a review and requires no manual follow-up from your team.
11. Form strategic partnerships with Realtors
Realtors can be some of the best lead generation partners for home builders. It's not often that a Realtor will encounter a buyer who just can't seem to find what they're looking for on the market. If a Realtor is familiar with your business, they'll be able to recommend that the buyer hire your team for a custom build.

Of course, these partnerships normally have incentives in place for the real estate agents. Referral incentives in these cases usually take the form of commissions amounting to a certain percentage of the base project price. Given the value of gaining a new custom home client, these referral percentages are often well worth it.




Which Marketing Strategies Are You Going to Try?
As a builder in the custom home industry, your marketing plan will benefit from using any of the strategies listed above. If you're interested in leveraging photorealistic renderings and other stunning visualizations for your marketing efforts, we invite you to get started with Cedreo. It's absolutely free to create your first design and create up to 20 beautiful 3D renderings.