Starting an e-design business can feel challenging.
But, with all the opportunities available by operating online, it's an easy way to showcase your design skills and work with clients remotely.
So, if you're wondering how to start an e-design business, what do you need to know?
From discovering what services you want to offer to understanding the importance of marketing, we'll walk you through everything you need to get started; just read on!
What is E-Design?
First, let's get started by defining exactly what an e-design business is and how it might differ from traditional approaches to building a business.
An e-design business is an interior design service that takes place over the internet. This allows for better communication and collaboration between the designer and client through digital channels like e-mail, video calls, voice calls and much more.
Usually, the e-design process follows similar steps to a brick-and-mortar design business. This includes:
Initial consultation
Concept development
Revisions and feedback
Final design delivery
You'll find there are plenty of benefits of approaching the business-building process through purely digital channels. For one, upfront costs and overhead are much lower.
Since most e-design businesses can operate either completely online or at the very least in low-cost office space, it means designers can get started with less.
Instead of shelling out money for rent, utilities and other building costs, designers can offer clients a more comprehensive service without needing to spend tons of upfront capital.
Another key benefit of an e-design business is flexibility.
Not only can designers work from anywhere, but the client pool can also come from any location. This helps designers work with a more diverse client list and take advantage of more opportunities.
The Three Main Types of E-Design Services
As you might imagine, there are a few different ways to approach your e-design services. You'll find that there is no one right answer. So, you should weigh several factors when trying to determine which type of e-design service is right for you.
Let's explore a few different types of e-design businesses.
1. Virtual Design Project
A virtual design project is a comprehensive approach that tackles many different aspects of home design.
Designers and clients will meet virtually and work through everything needed to create a full design plan. This includes furniture layouts, color schemes, material selection and much more.
This approach is perfect for a complete remodel and new construction projects.
2. Virtual Consultation
When it comes to virtual consultation, it's all about offering advice.
In this situation, a designer is meeting with a client and offering suggestions to their own design dilemmas. It's not as comprehensive as a full design project and is best for clients looking for quick and immediate feedback.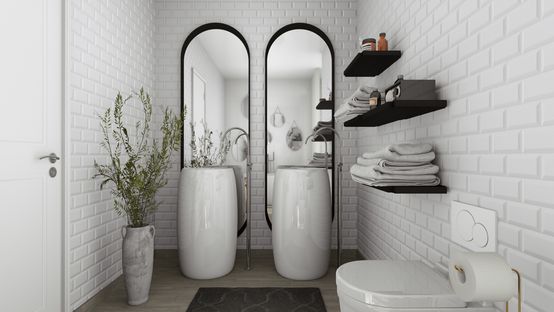 3. "Room in a Box"
A room-in-a-box approach to an e-design business focuses on creating design packages that allow a client to execute room design.
This might include using things like mood boards, floor plans, shopping lists and instructions for setup.
If clients have a limited budget or prefer a more DIY approach, a room-in-the-box design plan is a good choice.
How To Launch an E-Design Business
When it comes to how to start your e-design business, there are a few aspects you should really hone in on. Let's explore those now.
1. Services
No one business will be the same as another. You should carefully consider what types of services you want to offer clients.
Always play to your strengths and offer services that align with your expertise. You should also think about current market trends and adjust your services accordingly.
It's important to set clear definitions for what you intend to offer. This can help set client expectations and help avoid possible confusion or dissatisfaction.
2. Pricing
Setting prices is one of the hardest aspects of starting a business. You don't want to overshoot, but you certainly don't want to underprice your services either.
Always focus on offering transparent and fair pricing models that take into account time spent, project complexity and other factors that determine proper pricing.
To help you get to a fair price, do some market research to see how similar businesses set their prices.
3. Marketing
Marketing can make or break an e-design business.
Good marketing efforts can help your business reach potential clients and build brand recognition.
Consider what platform you want to target and try to gain an understanding of your audience to craft messaging that sticks. Also, consider collaborative marketing efforts with other brands to help reach new eyes and build successful partnerships.
4. Business Operations
While marketing efforts and pricing are important, don't forget about the day-to-day operations.
Things like invoicing, client communication or scheduling are just as important as setting the right prices or making a killer marketing plan.
When you can, create systems that can help streamline these processes. This could mean using digital tools like a customer relationship management (CRM) platform.
Key Resources & Tools for Your E-Design Business
While you might be planning on letting your creative juice flow and helping clients with their dream designs, don't forget you're running a business. Here are some resources and tools to help you along your journey.
1. Invoicing
The last thing you want is to not get paid.
That's exactly why you need to create efficient and reliable invoice systems. This will help you stay cash flow positive and professional.
Popular platforms like Quickbooks offer easy-to-use invoicing tools for small businesses like yours.
2. Communication
Effective communication is the bedrock of a good e-design business.Great communication not only helps build client relationships, but it can also ensure that a project goes smoothly. There's plenty of ways to stay organized when it comes to communication, but using digital tools like email management software can give you a leg up.
3. Project Management
Once you've got your client and the design plan is in place, you need to execute.
To keep things on task and on time, you need proper project management. You can always opt for digital tools for this task.
Project management tools come in many shapes and forms, so experiment around and see which one works best for you. In any case, the right tool will help you with task assignments, progress tracking and deadline management.
4. Interior Design Software
You don't have to do all your design alone. Interior design software is a great way to streamline the planning process and create elegant 2D and 3D plans in under a few hours — and they come with tons of business benefits.
Of course, the right tools matter, so always do your research to discover which design software works best for your needs.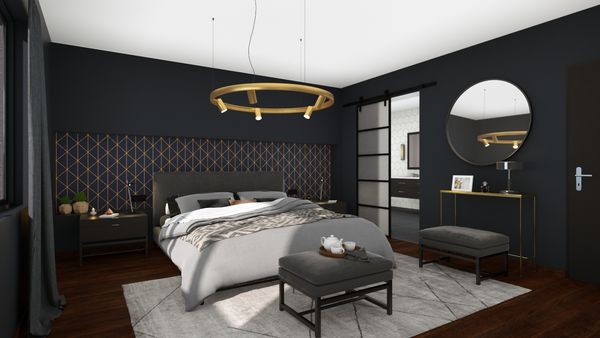 5. Affiliate Program Platform
Affiliate programs are a great way to highlight products or services you like while making a little extra money.
When you suggest a product that a client ends up buying, you usually get a commission.
You'll find dozens of affiliate programs out there. If you can, focus on ones you personally vouch for like partnerships with home decor suppliers or furniture retailers.
Use Cedreo Interior Design Software to Launch Your e-Design Business Today!
If you're looking at how to start an e-design business, hopefully, you now have the knowledge to get going with confidence.
From understanding what services you're going to offer, to more business-related operations like invoicing and marketing, it all adds up in the end to help you build a successful online business.
If you're looking for a software partner that can help your business grow, look no further than Cedreo.
This all-in-one design platform combines powerful tools for planning alongside other features to help you operate your business like cost estimating software.
With Cedreo, you can present your clients stunning 2D and 3D plans and keep tabs on your progress all on the same platform.