Whether your client is looking to give their kitchen a complete makeover or just wishes to update a tired look, it's important to consider the different kitchen styles available. From contemporary to traditional and everything in between, there are many design choices that can help create the perfect space for cooking, dining, and entertaining. With so much variety, it can be overwhelming to figure out which is best.. 
That's where this kitchen-style guide comes in. We'll help you explore the various styles available so that you can choose the best look for the space. Whether you're going for a modern, industrial feel or something more rustic and traditional, this guide will provide you with all the information needed to get the perfect style.
A Brief History of Kitchen Styles
Before the kitchen was an open-concept, modern marvel of appliances and convenience, it was once a humble but essential space for food preparation.
Over the century, trends have changed, from early utilitarian designs meant for functionality to mid-century mod vibes and now to contemporary kitchen designs that embrace technology as much as style. 
The earliest kitchens were designed with the most basic features, a way to prepare meals for hungry mouths. In wealthier homes during the Victorian era, elaborate wood cabinetry and decorative tile work were added for an extra touch of luxury. Later in the 20s and 30s, more modern conveniences were added, such as sink cabinets, chrome fixtures, and gas stoves.
The 1950s and 60s marked the dawn of the mid-century modern era, with kitchen designs that featured bold colors, sleek lines, and quirky shapes. And in the 70s, new technologies like microwave ovens entered our homes – allowing us to make meals even faster.
Today, kitchens continue to evolve in both form and function. Open-concept living has become the norm, with islands or snack bars providing extra seating for entertaining guests. The latest appliances boast smart capabilities that make cooking easier than ever before.
15 Top Kitchen Styles & How to Achieve Them
As a home designer, you probably know there are so many different kitchen styles – from modern to traditional to rustic and everything in between. With each style having its own unique characteristics, it can be hard to choose the right one.
Below we will outline 15 top kitchen styles and provide advice on achieving each look.
1. Traditional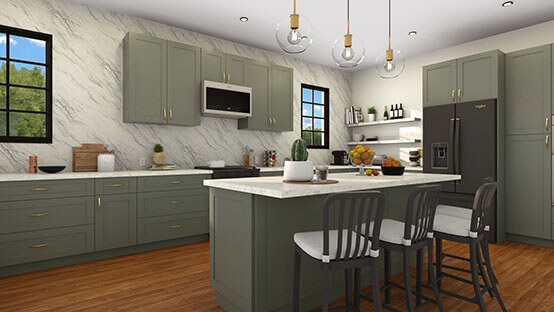 Traditional-style kitchens are timeless. Whether you're working with a historic home or new construction, traditional design elements can help give the kitchen a classic feel that never goes out of fashion. From painted cabinets with glass front doors to hardwood floors and simple countertops, there are many ways to bring traditional style into the kitchen.
2. Contemporary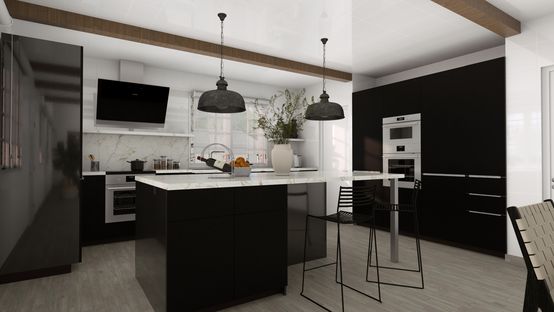 Contemporary-style kitchens are a combination of modernity and luxury. From a design perspective, they often feature fresh white countertops, dark wood or black cabinetry, and smooth stainless steel appliances. This combination creates a clean yet sophisticated look that makes any kitchen stand out while still feeling inviting.
3. Transitional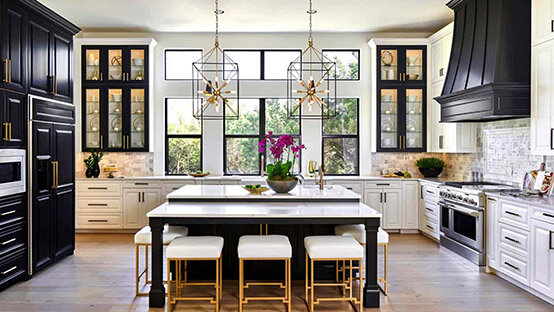 Transitional style kitchens are ideal for clients who want to combine the classic, timeless elements of traditional designs with modern accents.
The foundation of the transitional style is its clean lines, which create an airy feel combined with the warmth of natural materials like wood and stone. This makes it easy to incorporate bold colors and textures into the space without making it feel too overwhelming. Transitional style also emphasizes symmetry, which can add an elegant touch while still allowing you to make a statement with your decor.
4. Coastal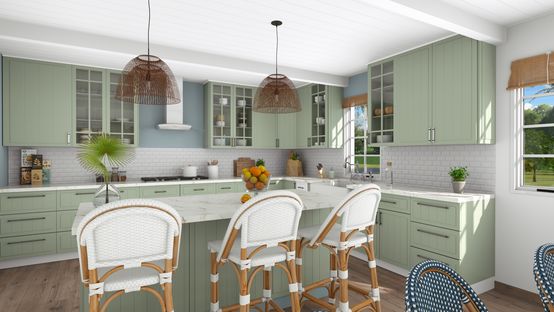 Coastal-style kitchens are all about creating a relaxed, inviting atmosphere that exudes the laid-back, carefree feel associated with beach living. To achieve this look, incorporate design elements like white cabinets and natural wood accents to give the room an airy quality. Additionally, adding blue accent walls will help bring out a sense of the seaside in the kitchen.
5. Eclectic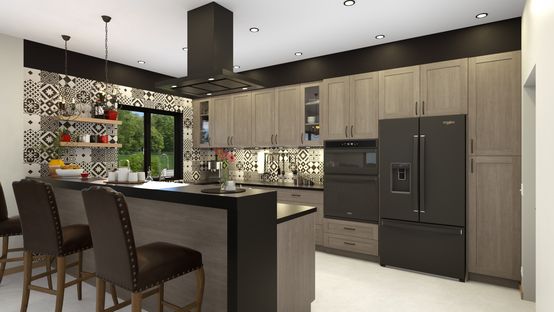 Eclectic-style kitchens are a great way to create a unique and inviting space that reflects your clients tastes. To achieve an eclectic-style kitchen, start by selecting interesting and unexpected materials for countertops, backsplashes, flooring, and cabinetry. Consider mixing different textures like wood and tile or adding unique elements like vintage trinkets or global accents.
6. Modern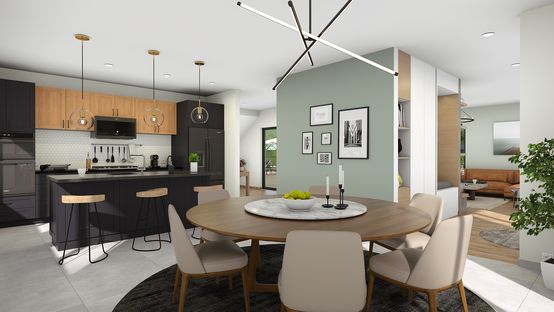 Modern-style kitchens are the epitome of simple sophistication. By using clean lines, natural materials, and neutral hues, these modern kitchens embody a minimalist style that focuses on function and form. An open floor plan allows for easy navigation and the perfect backdrop for your favorite decor pieces. It's an uncluttered space with timeless fixtures that never go out of date.
7. Craftsman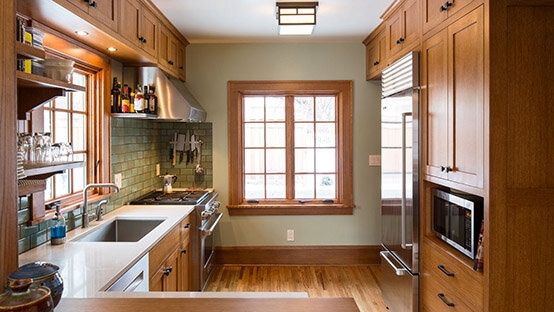 Craftsman-style kitchens are a timeless classic that can instantly add plenty of character and charm to any home. This style originated in the early 20th century and is known for its clean lines, warm hues, natural materials, and intricate details. Craftsman-style kitchens often feature rich wood finishes, such as cherry or mahogany, and paneling for a timeless look that is sure to last the test of time.
8. Farmhouse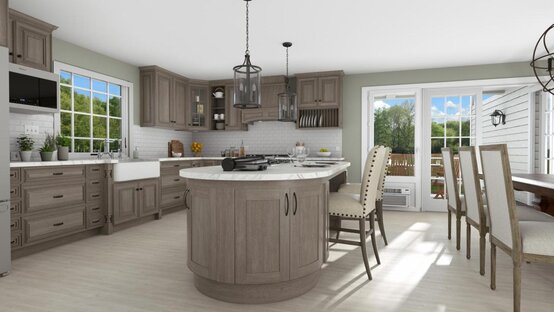 This style of kitchen embraces the rustic charm of rural life and brings an inviting, homely feel to any space. The beauty of farmhouse-style kitchens lies in their mix of vintage-inspired features and modern amenities. An apron-front sink is the defining feature of a farmhouse-style kitchen. Other defining features include floating shelves, exposed wood beams, and butcher block countertops.
9. Rustic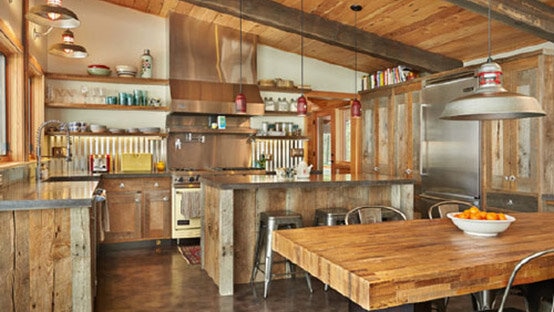 Rustic-style kitchens incorporate materials with a patina, such as copper, stone, and rough-hewn wood, making them a classic choice that will stand the test of time. Features like an apron-front sink or open shelving bring this timeless look into today's homes. The earthy color palette will create an inviting atmosphere for family and friends to gather in. Hefty, solid furniture brings the design a sense of stability and permanence.
10. Mediterranean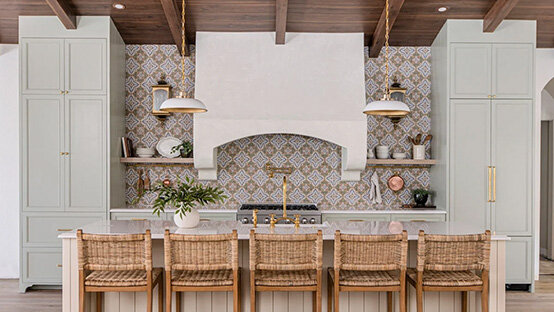 Mediterranean-style kitchens are characterized by their use of natural elements in design, such as exposed wood beams, rustic tile backsplashes, and hand-crafted cabinetry. These features evoke a sense of antiquity and rustic charm, creating an atmosphere of timelessness. The colors used in Mediterranean-style kitchens are warm and inviting, often featuring shades of blues and yellows that blend with natural woods to create an inviting environment for cooking.
11. Asian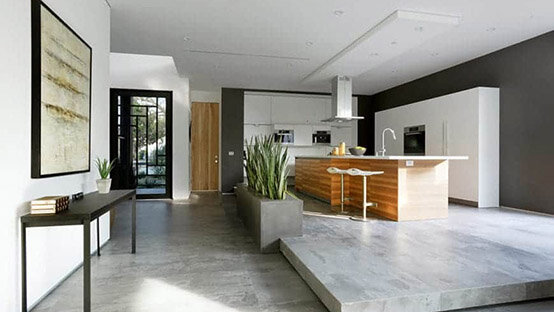 Asian-style kitchens are a combination of elegance, tradition, and sophistication. These kitchen designs often feature natural elements such as wood, stone, or pebbles to help create a peaceful and calming atmosphere. One of the most common elements seen in an Asian-style kitchen is light stone tiles. Using these tiles helps create a warm and inviting atmosphere that is perfect for entertaining friends or family.
12. Industrial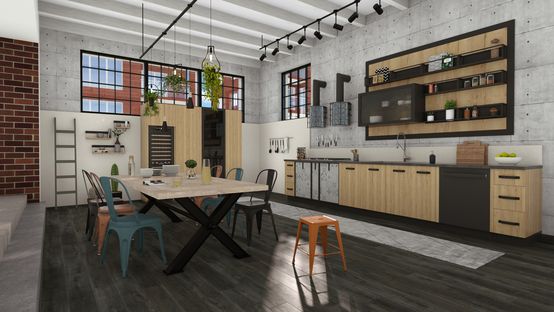 With their exposed elements, open spaces, and deceptively simple decor, industrial-style kitchens have become increasingly popular in the past few years due to their unique blend of form and function. One of the most recognizable features of an industrial kitchen is the use of stainless steel. This material creates a sleek and modern look that is perfect for those who want their kitchen to stand out from the crowd.
13. Scandinavian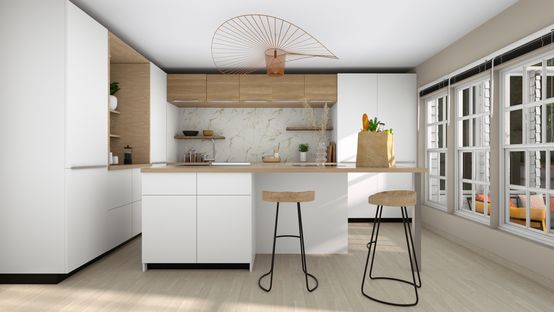 Scandinavian-style kitchens are characterized by their simplicity and functionality. They focus on natural materials such as wood, stone, and glass that bring the outdoors in. The furniture has a clean, minimalist look emphasizing form over function. There is often a predominance of white or light colors to create a feeling of spaciousness and airiness. Wood floors, exposed beams, and natural light help to create an inviting, cozy atmosphere. These elements combine to create a warm, inviting kitchen space that is both modern and timeless.
14. Mid-Century Modern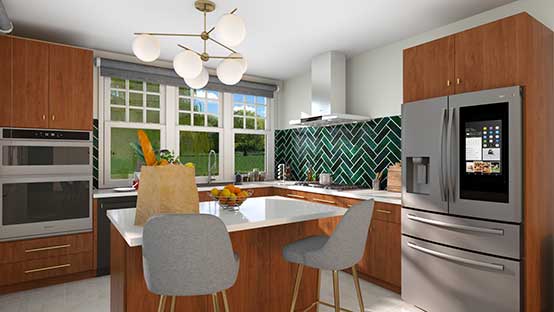 Mid-century modern-style kitchens are a great choice for those who want to bring classic elegance into their home. With clean lines, functional layouts, and an emphasis on natural materials, these designs provide a timeless look that will never go out of style. The color palette often consists of neutral tones such as beige, cream, or gray, with splashes of wood and bright colors to add interest.
15. Shabby Chic
Shabby chic style kitchens are characterized by soft, elegant lines combined with muted, soothing colors and a vintage flair. The key to achieving this look is to balance the muted tones of the walls and flooring with more vibrant accent pieces. Muted or pale colors like shades of cream, soft white, pale gray, or stone work well as a background color and can be complemented with darker tones such as smoky blue, charcoal, or deep raspberry.
How Home Design Software Can Help Design Any Kitchen Style
From farmhouse to mid-century modern, designing a kitchen style can be complicated. With the help of home design software, it doesn't have to be. Home design software is the perfect tool for those who are looking to upgrade and customize kitchen spaces..
The software allows users to create detailed 3D models of their kitchen and visualize its appearance before investing time or money. You can generate exact measurements of countertops, cabinets, islands, and other features and visualize the end product without spending money on expensive materials.
Using the 3D models, you can plan out the kitchen space and consider different configurations expertly. This will help you avoid costly mistakes such as cabinets being too close together or insufficient counter space for prep work.