Building Floor Plans
No matter what your project entails, it all starts with the building floor plans.
Create full building floor plans online with ease in hours, not days
Add furniture and customized design in 3D
Generate lifelike 3D renderings to wow clients
6 Things to Consider When Designing a Building Floor Plan
Creating a building floor plan is the foundational step that the entirety of a project builds from, so it's essential to get a handle on this aspect of construction. Below you'll find some common considerations to help you make the most out of the planning process.
Lifestyle
Your home reflects the way you live. Think hard about how you'll use your home. Do you need a big kitchen for entertaining or an open floor plan for better sightlines?
Space Needs
When you create a building floor plan, always consider your space needs. Do you need plenty of room for a family or space for a young couple?
Location of Rooms
Think hard about the location of certain rooms. For example, you wouldn't want a bathroom right next to the kitchen.
Cost
While all these additional features are nice, don't forget about your budget. Changes to a floor plan can get pricey fast.
Flexibility
What works for your floor plan now might not in the near future. If you can, try and work with some flexibility so your home can evolve with your lifestyle.
Learn all about drawing floor plans
Accessibility
Accessibility is incredibly important, especially if you are building a floor plan for someone who is elderly or needs special assistance.
Building Floor Plan Examples
By using floor plan design software, you can easily create 2D and 3D plans to help visualize your project without needing to understand complicated CAD software.
You'll find that every project, from a simple remodel to a complete renovation, requires several types of building plans throughout the project timeline. Below you'll find some examples of floor plans created with the latest floor plan design apps.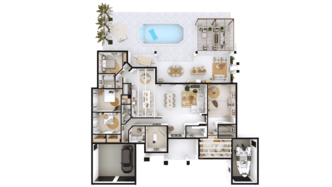 Open floor plans add a modern flair while maximizing openness and clear sightlines.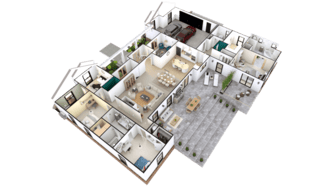 Single-story floor plans help create space on a single level.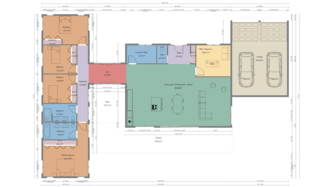 Conventional ranch floor plans place all the bedrooms on one wing of the home.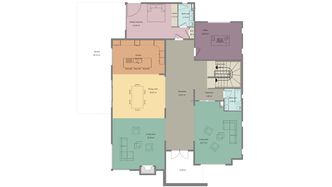 Farm-style building floor plans feature a master suite on the first floor with other bedrooms upstairs.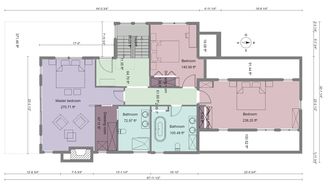 Two-story style building plans put the master bedroom upstairs.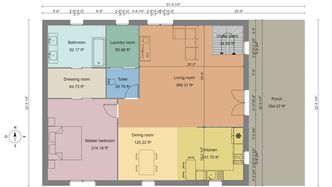 Barn-style floor plans, also known as bardominiums, are a modern take on an American classic.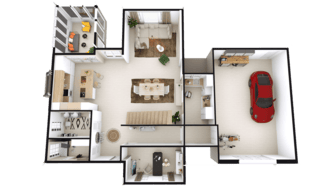 Charleston building floor plans take all the charm of Southern architecture and add some modern touches.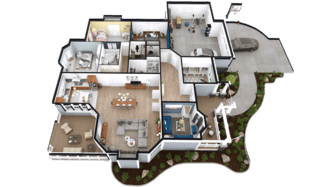 Mid-century modern floor plans are the perfect choice for those looking to wow with style and design.
Building Floor Plan FAQs
Drafting building floor plans can feel like an intimidating process. After all, these designs are the bedrock for any good construction project. With new home construction averaging around $150 per square foot, it's imperative that you tackle the planning and design process with the right tools. Here are a few frequently asked questions about the planning process.
How can you estimate total project costs?
While there are many ways to figure out the cost of a project, some are more efficient than others. If you're already planning out your floor plan with software like Cedreo, you can easily use the cost estimator feature to get a full picture of a project's budget.
What types of building floor plans do you need?
During the course of a project, you'll need quite a few types of building floor plans. While 2D plans can offer quite a lot, 3D plans and photorealistic plans can help you gain a fuller perspective on your project.
Should you use floor planning software?
Using powerful floor planning software, like Cedreo, is a great way to streamline the planning and design process. In most cases, you can shave off hours of work spent during these initial project stages.
Can anyone use floor plan software?
Yes. Most floor plan software features easy-to-use and navigate design modules. While platforms design these tools for professionals like contractors and interior designers, they are still usable for amateur decorators and even DIYers.