3D residential rendering is quickly becoming a crucial part of every builder and designer's workflow. And it's easy to see why — it's one of the best ways to showcase your projects and even get more clients!

Don't get left behind. It's time to start adding residential 3D rendering to your toolbox too!

In this 5-minute read, let's look at:
Different types of residential rendering
Benefits of adding them to your workflow
And how you can start creating renderings today (no design experience necessary)
Let's get started!




What is Residential Rendering?
A residential rendering is a computer-generated 3D image that showcases a project's finished appearance.

You can use residential renderings to show a home's exterior, landscape design, and interior layout. That's why they're popular with residential home builders, remodeling contractors, interior designers, and even real estate agents.

In the past, you needed complicated 3D modeling software and CAD expertise in order to create realistic 3D renderings. And those renderings took a painfully long time to create — sometimes several days just for a single view.

But fortunately, with modern software like Cedreo, builders and designers can create photorealistic 3D renderings for their residential projects in just a few hours.




Types of Residential Renderings
Here are 5 different types of residential renderings. Depending on the project you're working on, you might use just one of these or maybe a combination of them to fully present your ideas.
Exterior Renderings
Exterior renderings show the home from the outside. This type of residential rendering is perfect for showing your clients how the home will look from different angles — from the street, the backyard, the driveway, or even from the neighbor's house.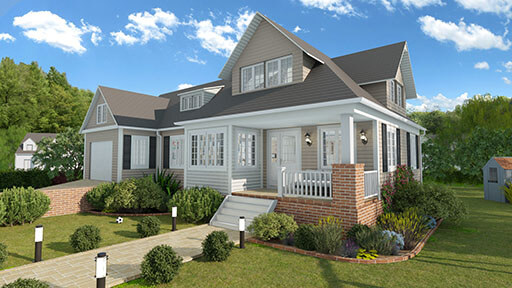 Interior Renderings
Interior residential renderings are really important because they help your clients understand the overall flow of the space. They're perfect for showcasing different furniture layouts and color schemes.

And with software like Cedreo that lets you control natural lighting, your clients can get a realistic view of how the space will look at different times of the day.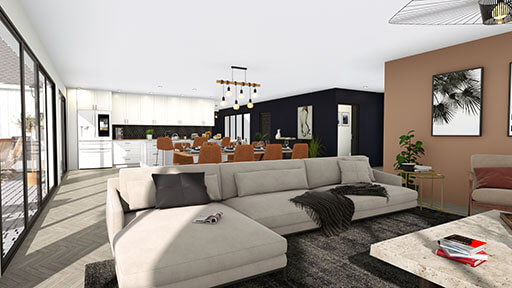 Aerial Renderings
This type of rendering shows the home from above. The aerial view helps your clients understand how their home fits into the surrounding area. 3D aerial floor plans are also nice for showing the home's overall layout with more details than just a 2D blueprint.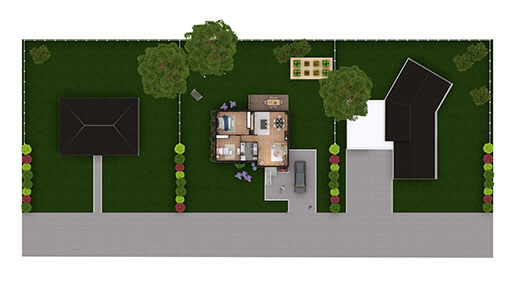 Landscape Renderings
Landscape renderings present the area around the home and should include elements like greenery, hardscapes, pools, and decks. Renderings like these are also useful for residential builders and remodelers. For example, builders can use landscape renderings to show how a new addition will affect the overall landscape design.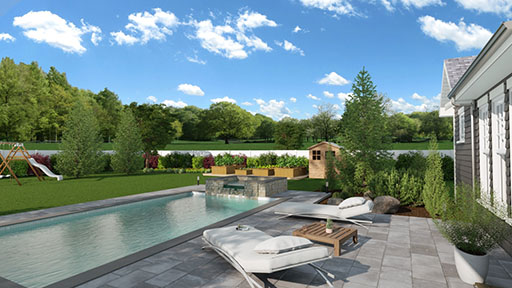 Real Estate Renderings
Real estate renderings are a powerful sales tool for agents. A 3D floor plan rendering has a much more powerful impact on potential buyers than just a 2D blueprint. Even an agent hoping to sell an empty lot can add a 3D home rendering to it so potential buyers can imagine the possibilities.
5 Benefits of Residential Renderings
If you're still relying on 2D blueprints, hand-drawn sketches, and your clients' imagination, you're missing out. Check out 5 powerful benefits of adding residential renderings to your project workflow.
1. Residential renderings help clients visualize the finished project
It can be easy for you to envision your big ideas for your next residential project. But how can you help your clients visualize your ideas?

If you're just using 2D plans, sketches, and verbal explanations, it's going to be next to impossible for most clients to get a clear picture of what you're proposing. And that can lead to misunderstandings, disappointed clients, and lost contracts.

But 3D residential renderings remove the guesswork and effectively give your clients a "preview" of the finished project.

Sure, a 2D plan shows how big the living room is and could even include furniture symbols. But a 3D rendering will show how the living room looks at different times of the day with accurate lighting, realistic colors, and lifelike furniture.
2. Residential renderings enable collaboration and feedback
An accurate visualization of what you're proposing clears the way for productive feedback and collaboration. That's because your clients can only express their opinions about something they fully understand.

With the old way — 2D plans and hand-drawn sketches — builders and designers would often start to get a lot of feedback and change requests once the project was nearing completion. That's because the final project ended up being different than what the client was expecting.

So why not save yourself a lot of time and money by showing your clients a 3D rendering of the finished project so you can get their feedback and collaborate on requested changes before you ever get started?
3. Residential renderings improve marketing materials and presentations
Add renderings to your marketing materials and you stand out as a professional who invests in their business and their clients (you don't have to share your secret…that you made the renderings in just 2 hours with Cedreo).

Also, visuals create a powerful emotional connection. So when you add photorealistic 3D renderings to your residential project presentations, you're much more likely to win new contracts.
4. Residential renderings elevate sales prices
When a client doesn't fully understand what you're proposing, it can be hard for them to justify paying for the project.

But when you show them, with a rendering, all the details, the materials, and the beauty of how it all comes together, they'll be much more likely to understand why you're charging what you are. This also makes it easier to work for high-end residential projects with larger profit margins.
5. Residential renderings improve close rates
Combine some of the previous benefits and what do you have? Higher conversion rates!

Builders and designers can spend a lot of time working up bids and pitching clients. All of that takes a lot of time and effort.

But when you add residential renderings to your proposals, you can expect your close rates to skyrocket and your sales cycle to speed up.

Cedreo users often start closing sales 2X as fast as they used to!




Create Professional Residential Renderings With Cedreo
So are you ready to add 3D residential renderings to your next project? The best way for builders and designers to do that is with Cedreo residential rendering software.

Design an entire home from scratch and generate interior, exterior, and landscape renderings in as little as 2 hours — no CAD experience or complicated 3D modeling software required!

Once you create your basic floor plan in Cedreo, here's how to create stunning 3D residential renderings.
Choose an interior and exterior atmosphere:
Select an atmosphere that will serve as your general theme or style. Every object within each atmosphere is designed to work together.
Choose furnishings from Cedreo's extensive design library. Drag, drop, and customize each piece to fit your client's tastes.
Customize surface materials:
Cedreo lets you customize virtually every surface inside and out. Select from thousands of different flooring, color, tile, and other material options.
Create realistic landscape designs with decks, patios, outdoor furniture, pools, and more.
Choose sun orientation and lighting:
Get realistic lighting effects by manually adjusting the sun's orientation. You can also select the sunset option and then turn on the lights for an intimate setting.
Save viewpoints so you can swap out different design elements and create additional renderings from the same exact location.
Generate HD rendering with a single click:
Select "ask for a rendering" and in just 5 minutes your new residential rendering will be ready.
Share renderings with your team and clients:
Download and share the renderings in PDF or JPG formats for easy sharing with your clients and team.