Landscape Plans — Made Simple
Quickly create 2D and 3D landscape plans with Cedreo.
What Is a Landscape Plan?
A landscape plan is a visual representation of an outdoor space, much like a home floor plan. It may include gardens, rocks, water features, trees, and other yard elements. With Cedreo, you can quickly create a landscape design in 2D and 3D that shows every aspect of a planned outdoor space.
Learn more about Landscape Planning
Who Uses Landscape Plans?
Home builders, landscape architects, and landscapers use landscape plans to design outdoor spaces. They may also use them to communicate their vision to contractors, enhance proposals, and get plan approval from neighborhood associations or other organizations.
Learn more about Garden Design Software
Types of Landscaping Plans
Let's take a look at three types of landscape design plans that can help illustrate project details and key design elements.
2D Landscape Plan
The 2D version of your landscaping plan drawing is a flat schematic of the landscape, including the property's boundaries, its relationship to the nearest street, and the amount of space between landscape elements.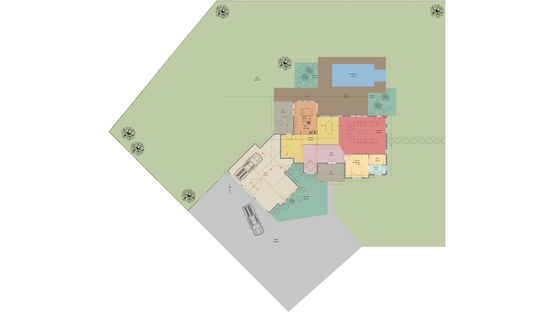 3D Landscape Plan
3D landscape plans are rich in details and are more vivid than 2D visualizations. 3D landscape layouts bring the project into focus for clients and help them understand how the plan's elements work together.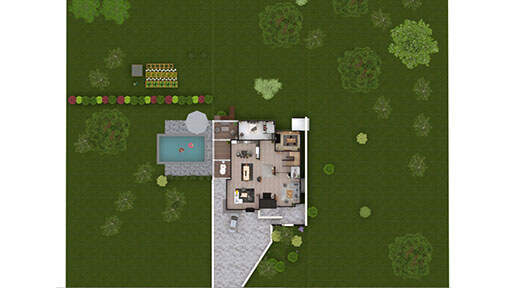 3D Landscaping Renderings
3D landscape renderings help landscape architects show clients how the finished project will look. With 360-degree views of the design, clients can picture themselves in the space. 3D renderings also illustrate how the landscape plan complements the look of the home.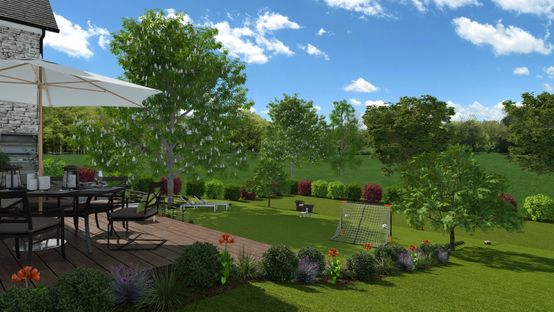 Benefits of Landscape Plan Software
You could create landscape plans from scratch, but here are some of the reasons you might want to create your landscaping plans with cloud-based landscaping software:
No CAD Skills Required
With Cedreo, you don't have to know how to draw landscape plans in 3D. You simply design your landscape layouts in 2D and Cedreo will generate a 3D view for you.
Fast Rendering
Cedreo's cloud-based servers can generate 3D renderings in just 5 minutes. As an added benefit, you can work on other landscaping projects while Cedreo produces your rendering.
Countless Customizations
Cedreo's product library lets you customize plans with hardscaping finishes, decks, plants and trees, and decor. And you can swap out items with just a few clicks.
Secure Storage
As you draw landscape plans, Cedreo syncs changes to the cloud, so you'll never have to worry about losing your work. You can access your plans from anywhere with an internet connection.
Multiple Viewing Angles
3D landscape designs aren't static images, so you can rotate them, view them from ground level or eye level, and from above.
Reusable Plans
Save your landscape and garden plans and reuse them. It's easy to change elements of any plan, which means you don't need to start with a blank slate every time.
Landscape Plan Examples
Cedreo helps you exceed the expectations of every client. Create landscape design plans and photorealistic renderings that delight your clients. The rendering is fully tourable and displays outdoor lighting and sunlight to add unmatched realism. With expertly configured features — such as pools, gardens, and patios — Cedreo offers ultimate functionality inside a fully online software that cuts drafting time from days to hours.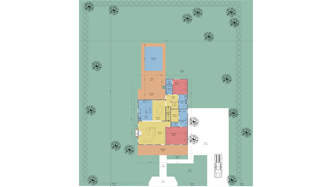 2D landscape plan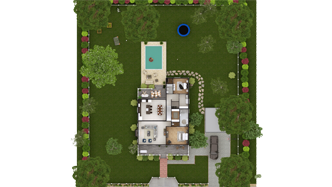 3D landscape plan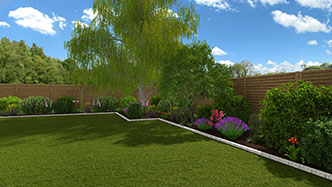 Rendered landscape plan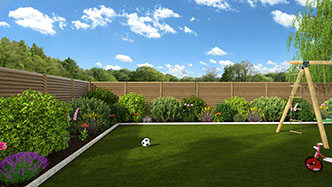 Landscape plan with gardens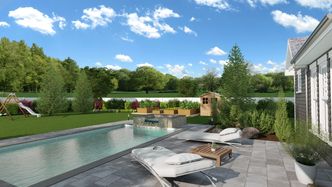 Landscape plan with pool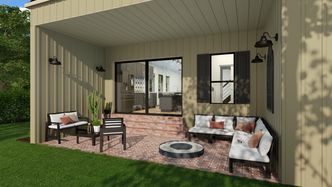 Landscape plan with patio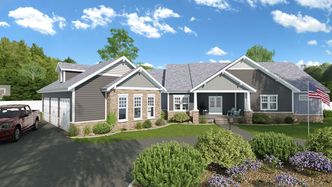 Landscape plan for front yard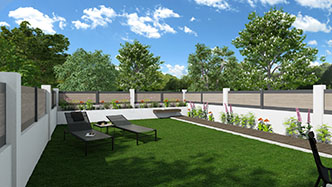 Landscape plan for backyard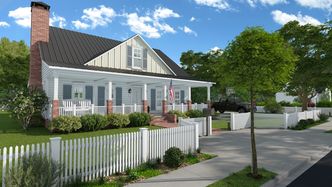 Landscape plan with fence
Ways to Customize Your Landscape Plan
Create unique front yard or backyard landscape designs with Cedreo.
Plan Gardens
Add plants, ground cover, and create pathways.

Sculpt Terrain
Cedreo's terrain layer feature lets you create hills and slopes.

Build Hedges
Construct a natural hedge fence with Cedreo.

Add People
Put people into your plan to demonstrate scale.

Adjust Lighting
Add landscape lighting to show how the space will look at night.


Refine Details
Easily switch out design elements and materials.
How to Design a Landscape Plan Online
With Cedreo, simply follow these steps and take a look at the landscape design examples below.
1. Outline Property Boundaries
Begin your landscape plan by outlining the boundaries of the property around the building design. You can draw continuously by simply clicking in the 2D window and extending the lines, starting a new one with each click. To get your landscape plans faster, import the terrain as a layer and easily rotate it to make sure the property structure is correctly situated.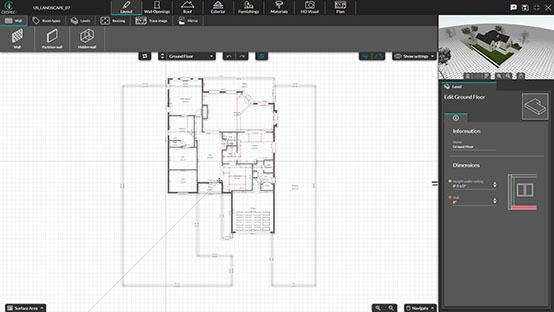 2. Map Out Terrain
Surround the property with hedges or low walls through continuous drawing and a few clicks. Add a lawn to cover the base level of the property by dragging the lawn tool across the desired area of the property. Next, draw the driveway length and angle.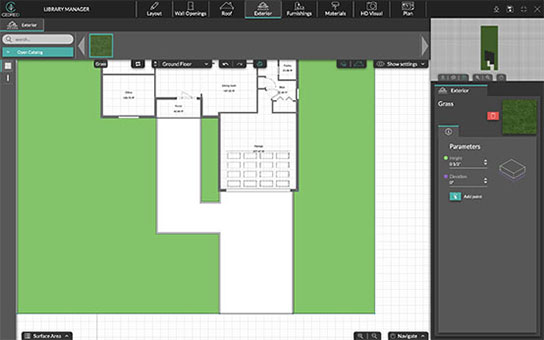 3. Confirm Dimensions
When the basics of the outdoor area are set, you can confirm the dimensions of both the grounds and property boundaries. When you add elements, such as driveways, patios, and swimming pools, dimensions can be added for those as well. This helps viewers understand the scale of the 2D landscape design, and you can choose which measurements and dimensions will be displayed.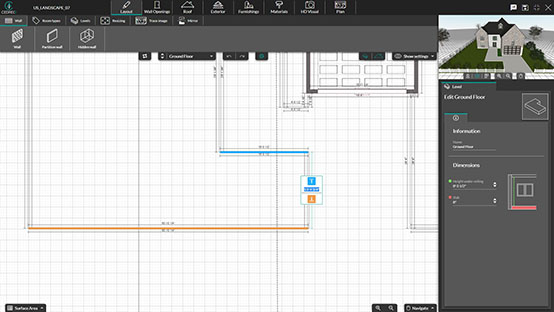 4. Add Exterior Objects
Now you're ready to add exterior objects to your landscape design. You'll find objects you might want to add to your yard design in the object and furniture library of more than 3,000 items. These fully customizable objects include trees, plants, fountains, and more. You can draw driveways, outdoor walls, and pools in the same way you draw interior walls — by clicking to create a new angle in the design and continuously drawing.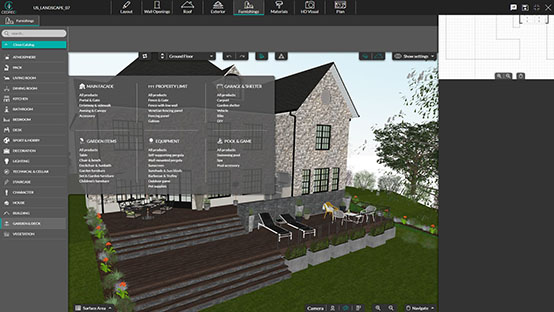 5. Customize Surface Materials
It's time to customize all of the exterior elements you just placed in your landscape design. Specify different types of surfaces and the look and feel of the garden, including whether the driveway is asphalt, concrete, or stone. There are multiple customization options — you can even specify which type of grass you want to use in your landscape design. Save time by dragging and dropping customizations for each object or choosing from pre-set color and style collections.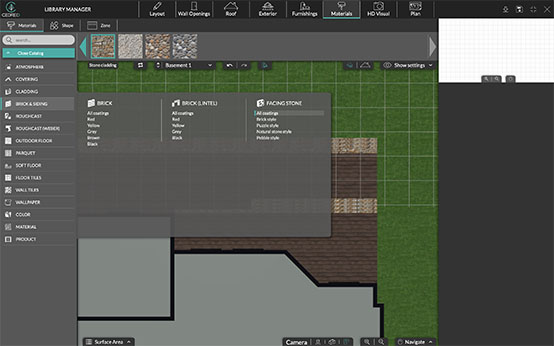 6. Add Furnishings
Complete your design with outdoor furnishings and decor that will make it feel like home. Patio furniture, outdoor play sets, and hundreds of other items can add another layer of detail to your landscape design that draws viewers in and helps them imagine the completed space.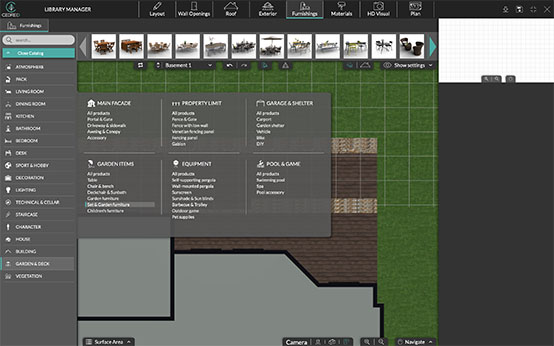 7. Generate and Share a Rendering
Once your photorealistic landscape design rendering is complete, you can easily download the 2D floor plan to scale as well as the 3D floor plans and renderings and email them to others. Subscribe to the Enterprise plan to share your landscaping projects with team members directly from the app.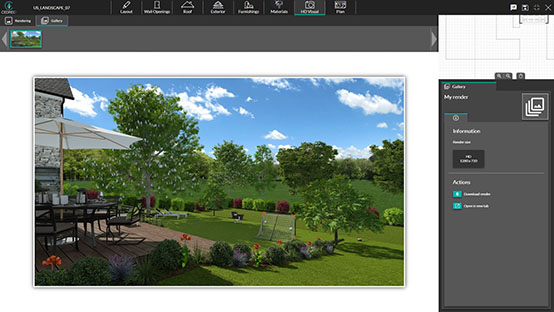 FAQs
Where can I learn more about Cedreo?
To Cedreo in action, take a look at our video library, or request a free demo, and we'll walk you through it.
Is Cedreo only for professional use?
Cedreo offers plans for personal and professional users.
How is Cedreo different from Planner 5D?
Cedreo is an intuitive platform you can begin using right away, whereas Planner 5D takes some time to learn. See our post on this topic.
How do I install Cedreo on my computer?
Good news: With Cedreo, there's no installation required! Our platform is cloud-based. All you need to do is log in from your computer to start using it.