A residential site plan is a critical first step before diving head first into a new build or remodeling project.

These plans bridge the gap between what already exists and what you're planning for the future. They're essential for getting the go-ahead from state and local building authorities and winning new business.

And — they play a role in making sure clients are happy with the final outcome — reducing the chances of a miscommunication derailing a project.

In this article, we'll explain why residential site plans matter, what to include in your design, and how to put one together using Cedreo. We'll also share residential site plan examples throughout to paint a clearer picture.




What Is a Residential Site Plan?
A residential site plan is a scale drawing that maps out all of the major components that exist within a property's boundaries. This includes residence itself, utility hookups, site topography, plus any pools, patios, or pathways.

Residential site plans also communicate proposed changes to a property.

If you're improving an existing residence, the site plan can serve as a step-by-step improvement plan. This could, for example, include a building addition on a specific property, such as a garage.




What's the Difference Between a Site Plan and a Floor Plan?
A residential site plan is an architectural plan that serves as a detailed map of a building site — from the outside. In it, you'll see all existing and proposed structures, landscape features, utility lines, plus details about planned changes and the impact on the property.

Like site plans, floor plans are scale drawings that break down the details of a proposed design. The main difference is, floor plans focus exclusively on interior components.

A floor plan might depict individual rooms or an entire floor; either way, they aim to give designers, builders, and clients an idea of what the interior space will look like.

Floor plans offer a framework for communicating the layout and flow of a proposed design. And like site plans, they help viewers understand significant changes that will be made inside the home before the project gets underway.

Here's an example: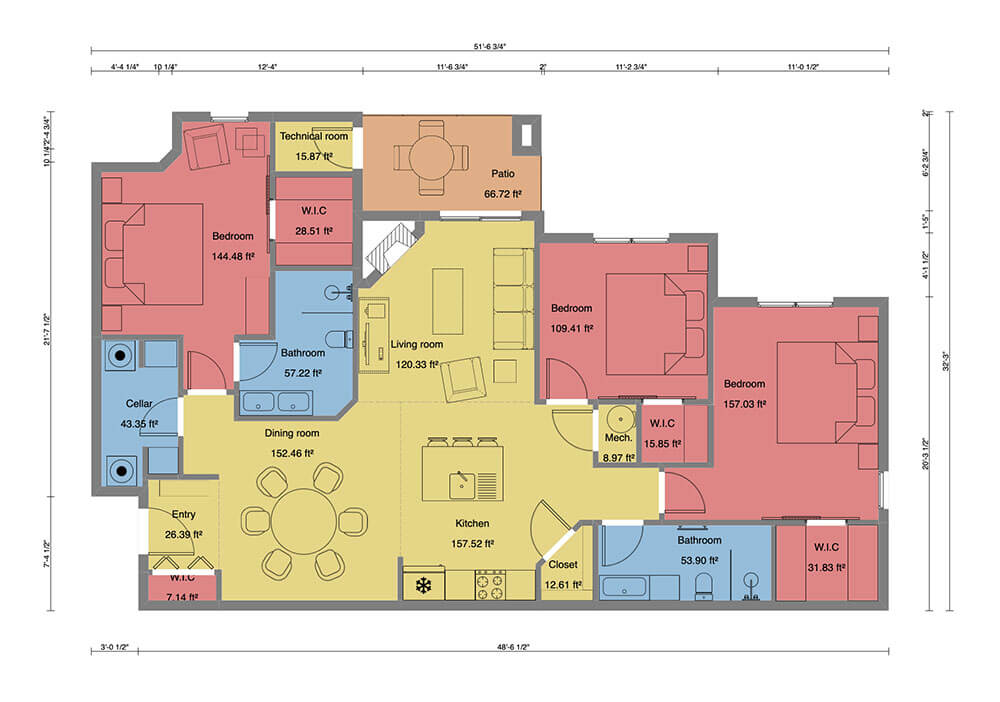 Types of Residential Site Plans
There are two main types of residential site plans — 2D and 3D. While the visual differences between 2D and 3D plans are pretty self-explanatory, each type of plan serves a slightly different set of goals.
2D
A 2D residential site plan is a simple sketch that outlines the layout of a property from above. 2D plans include all buildings, structures, and boundaries — as well as landscaping, pathways, patios, and pools — with scale measurements

They're often color-coded to distinguish different areas from one another (as you can see in the example below (green = landscaping; orange = back deck; yellow = common areas).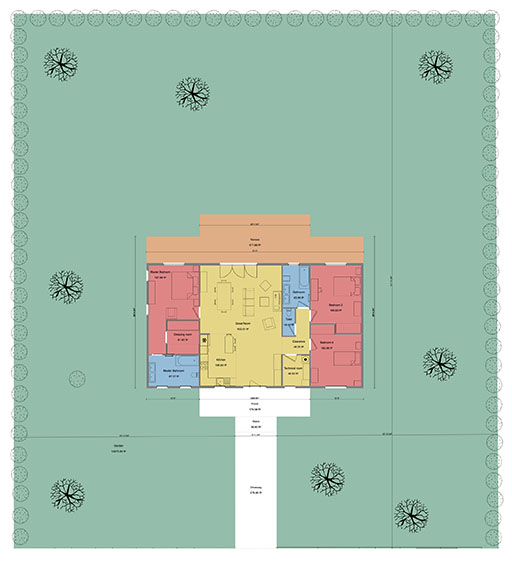 3D
3D property site plans provide more information about a proposed design than their 2D counterparts — with realistic textures, building materials, landscaping elements, and more.

If you're using Cedreo, you can define the position and orientation of the house on the land, taking into consideration the sun position, to get a realistic view of the available space around the house once built.

3D plans are ideal for communicating designs to clients and colleagues who aren't used to reading 2D site plans. The 3D visual communicates what a planned design will look like in real life.

For designers, architects, and home builders, 3D site plans are a powerful tool for convincing potential clients to invest in a project. They're more effective for communicating the big-picture vision than 2D plans and building an emotional connection with clients.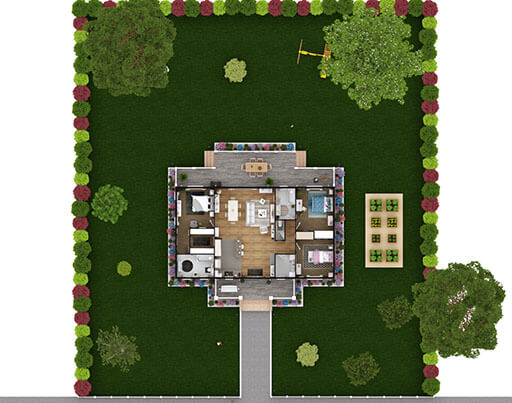 Why Are Residential Site Plans Important?
Understanding the layout and existing components of a property and how your plans will alter the landscape is crucial to a project's success — starting with getting the permits you need.

Residential site plans are important for a few key reasons. Here are some of the big ones:
Securing permits for new construction or improvement projects. When you apply for home building permits, you'll need to provide local authorities with a detailed site plan.

Local governments often use residential site plans to determine whether your proposed design meets zoning and building code requirements before signing off on the permits you need to get started.

Communicating ideas to clients. Home builders, remodelers, architects, and home designers use residential site plans to communicate design concepts to their clients.

Maintaining a historical record of a property. Site plans might also be used as a historical record for a piece of property. Because homeowners often make significant changes to their property, the government keeps them on record, ensuring that all changes were compliant with state and local building codes.
What Factors Impact Residential Site Plan Drawings?
Before you start designing, you'll want to gain an understanding of anything that might influence the design — building regulations, weather conditions, placement of utilities and access roads, and so on.

This allows you to design with these conditions in mind, increasing the chances your project gets approved the first time you apply for permits and that future residents will be satisfied with the final outcome.

Residential site plans are informed by a combination of functional requirements and aesthetics. And while regulations vary by location, designers will typically consider the following elements as they begin putting together the design:
Zoning laws
Building codes
Navigation
Existing structures & landscaping
Where utilities are located on the property
Access roads
Views
Natural light
Topography
Wind conditions
Vegetation
Soil
Drainage
Once you've accounted for any elements that might impact your design, you can put together a scale drawing documenting the home's position on the property, along with any existing structures or landscaping.




What Should Be Included in a Residential Site Plan?
A property site plan should clearly communicate your vision to the reviewer — allowing them to understand how the property will be used by its eventual inhabitants.
Property boundaries
Property boundaries outline the perimeter of the lot and often, structural elements in the immediate vicinity — streets, buildings, homes, etc.

A good site plan clearly defines property lines, with precise measurements that indicate how the proposed design relates to the surrounding environment.

This plays an important role in helping local authorities evaluate your project in context with zoning requirements, fire hazards, building height, proximity to neighboring properties, and so on.
Basic topography
Topography is a catchall term used to describe all major components within the property site plan. This includes:
The actual home
Decks & patios
Garages
Pathways & driveways
Pools
Walls & fences
Trees, hedges, & large bushes
Building structures
Residential site plans should include all existing and proposed structures.

You'll also need to provide specific details about the changes you plan on making — whether you're tearing down an old building, taking on a remodel, or building a new home from scratch.
Landscaping features
You'll want to also make sure your plan accounts for any existing landscaping features and proposed changes.

Keep in mind, this goes beyond trees and shrubs. You'll need to provide exact measurements for existing and planned landscaping features and details regarding runoff controls, terrain, and erosion.
Exterior objects
Exterior objects include all outside design elements that aren't pathways, walls, or plants. This might include pools, mailboxes, fences, and fire pits.
Pathways
Your site plan should also include the exact dimensions for paved areas — driveways, paths, trails, parking lots, and in some cases, surrounding streets.

Note that you'll need to provide specific dimensions for curbs and parking spaces, as there are many code requirements for accessing the property.
Utility lines
Utility lines are another critical element for getting plans approved by the proper authorities. You'll want to account for water sources, drainage, plumbing, electric lines, sewage removal, and any other underground utilities present on the property.
Measurements, dimensions, and scale
Scale measurements and dimensions show where structures will be placed on the property, how much space they'll occupy, and how the proposed changes will impact the surrounding landscape.
Easements
Easements are property features that are shared by others in the community for a specific purpose. This includes utility lines, parking lots, or pathways that cut through your property.