Most design projects include floor plans as a part of their drawings and planning materials. However, these layouts are typically presented in a traditional 2D black and white format. While this standard look can get the job done, it isn't the optimal way to communicate your site plan.

Colored floor plans are actually a superior, more modern option for defining interior spaces and providing accurate dimensions. And these effects are only magnified once the visualization is converted into a 3D floor plan. This can make all the difference when it comes to marketing to clients and giving them the confidence they need to move forward with your design.
Who Uses Colored Floor Plans?
Using colored floor plans can boost the success of projects throughout the design and real estate industries. People working on building, improving, or selling homes use colored layouts to give their clients a clearer understanding of how rooms are arranged and what functional space is available. These specialized drawings thus serve as effective marketing materials that improve sales rates and minimize client conflicts.

Interior designers
Interior designers need their customers to understand how much space there is to style and decorate. These pros use drawings to plan furniture placement and provide an example of room composition, and adding color to these floor plans can clarify what zones are designated for certain activities.

Home remodelers
Remodeling contractors who are restructuring a home's interior and adding new spaces can use colored floor plans to define how areas will be reorganized and how new additions will integrate. These plans help clients understand how the completed project will look.

Home builders
Home builders have to create entire layout designs from scratch, making it particularly challenging to ensure their clients have a solid understanding of what to expect. Builders that use colored sectioning on their floor plans are better able to manage customer expectations and avoid disputes about dimensions or layouts.

Real estate professionals
Incorporating colored zones into floor plans can help real estate agents quickly convey how a property's interior is organized. This allows buyers to determine whether a listing has the space they need in key areas of the home. With colored floor plans, real estate pros can streamline the sales process by filtering out prospects that have different layout requirements.
3 Ways to Use Colored Floor Plans
Colorizing floor plans gives you the power to accomplish all sorts of design and project management goals. Below, we take a look at three unique uses for colored floor plans and how you can execute them in Cedreo.

Differentiate room types
Traditional floor plans don't always clearly convey what room types comprise an interior. Adding color to your floor plan can distinguish different room types at a glance, making it easy for customers to see how every part of their home will function.
How to do it in Cedreo:
In the "Plan" tab, click on the "Room Paint" icon. This will pull up several different color options. Select the one you want and click the room you want to color. This will automatically apply the color throughout the space.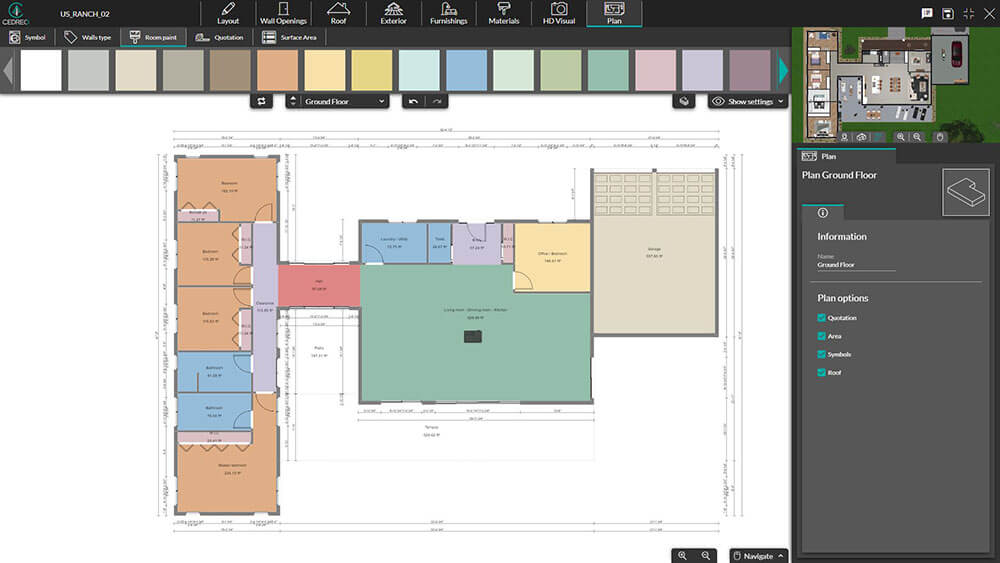 Showcase flooring options
Converting a colored layout to 3D gives you the ability to present each room with its own flooring materials. You can create multiple versions to showcase the different options available to choose from. This method makes it easier to speed up decision making on these project details.
How to do it in Cedreo:
You can instantly switch to a 3D model of your floor plan by clicking the "Materials" tab. Then select the "Floors" option from the vertical menu on the left side of the screen. This will pull up Cedreo's catalog of flooring materials, which you can click to apply to the individual rooms.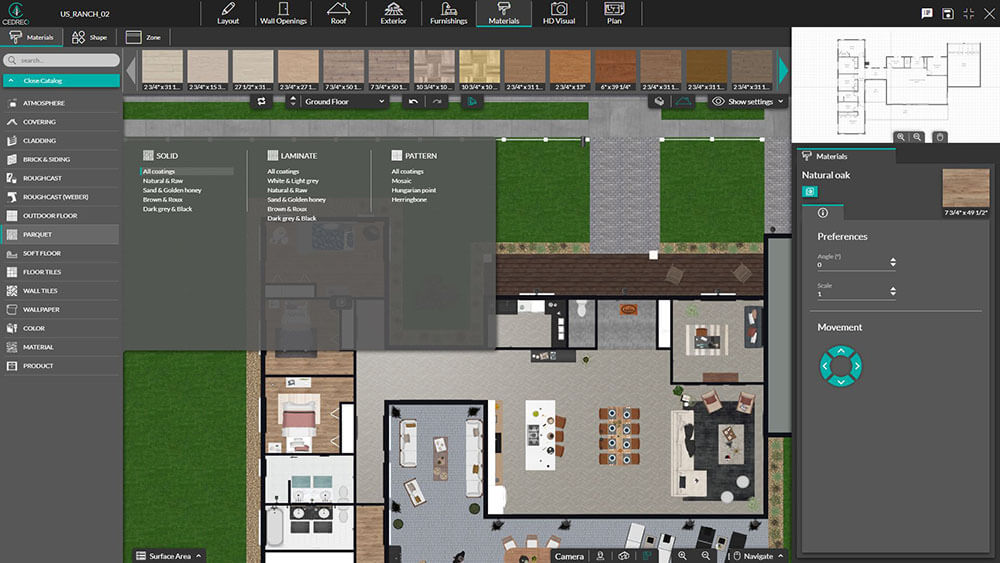 Capture property layout
Color-coding a site plan can create a perfect visualization of how an entire property is organized into zones. Assigning colors to features like landscaping, walking paths, driveways, decks, and other details delineates exactly how a lot's space is broken up, so that there are no surprises when the project is finished.
How to do it in Cedreo:
In the "Exterior" tab, select "Ground" from the left menu bar. This will bring up the option to select different ground types, including "Driveway," "Lawn," "Swimming Pool," and "Deck." Once you select an option, further sub-choices appear in the top bar. Make your final selection, then click and drag on your site plan to color specific areas. These zones will now be distinct in both the 3D and top-down 2D views of your site plan.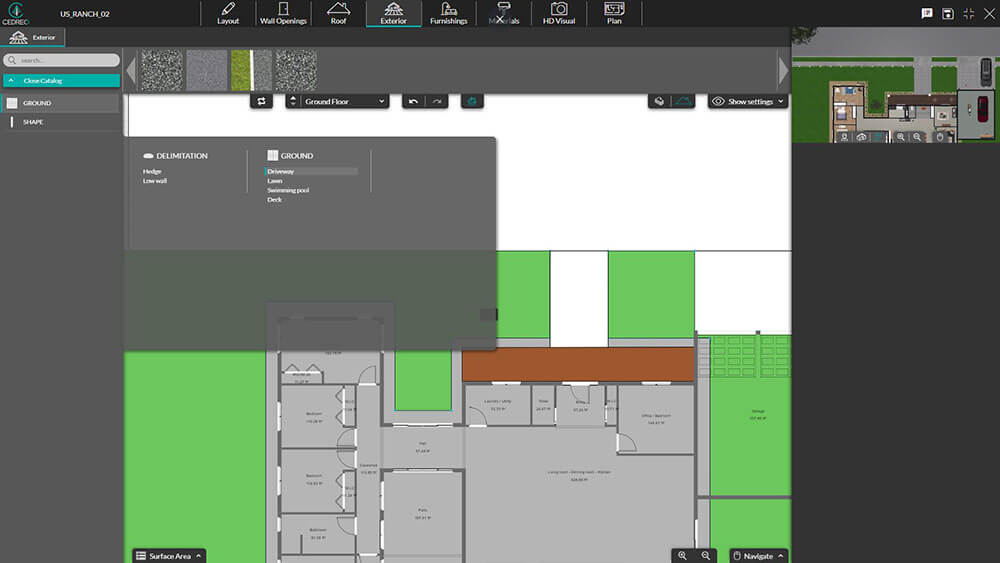 Bring Colored Floor Plans to Life
Colored floor plans can go a long way toward building a realistic depiction of how a property's spaces flow and relate to each other. And Cedreo makes it possible to accompany these floor plan drawings with lifelike visualizations that provide just as much clarity as in-person photos of the finished product.

Once you've completed your 3D model in Cedreo, you can produce high resolution renderings from any perspective. Capture the exterior at different times of day, and take snapshots of the interior with realistic lighting conditions and detailed furnishings and decor. Seeing these images can inspire clients, get them excited about your designs, and even aid in the communication process as you work to meet their exact specifications.

Get Started Today
Ready to enhance your projects with perfectly organized colored floor plans? You can get started with Cedreo immediately. There's no installation or training necessary. You can work directly online, saving your designs and even generating your renderings in the cloud. The simple, intuitive interface makes it easy to jump right into building your floor plan, adding color, and crafting a full 3D model ready for presentation.