Trying to find the right home design software for your business? With so many options, it can be tough to decide.

So let's compare three popular home design programs — Roomsketcher vs Homestyler vs Cedreo. Compared to traditional CAD software, all three are easy to use and have a variety of 2D and 3D tools.
But which has the best toolset for building, remodeling, and interior design professionals?
Which is the best at helping you save money and time?
And which has customer support you can rely on?
We'll take an in-depth look at all three — Roomsketcher vs Homestyler vs Cedreo — so you can make the right choice!
Roomsketcher, Homestyler, and Cedreo: Overview and Use Cases
We're comparing Roomsketcher, Homestyler, and Cedreo because they share some similar features. They're all programs that are designed to be easy to use, even with limited professional drafting experience. However, there are some differences that make each of them better suited for certain types of housing professionals and projects.

So let's take a look and find out which is likely the best fit for your business.
Homestyler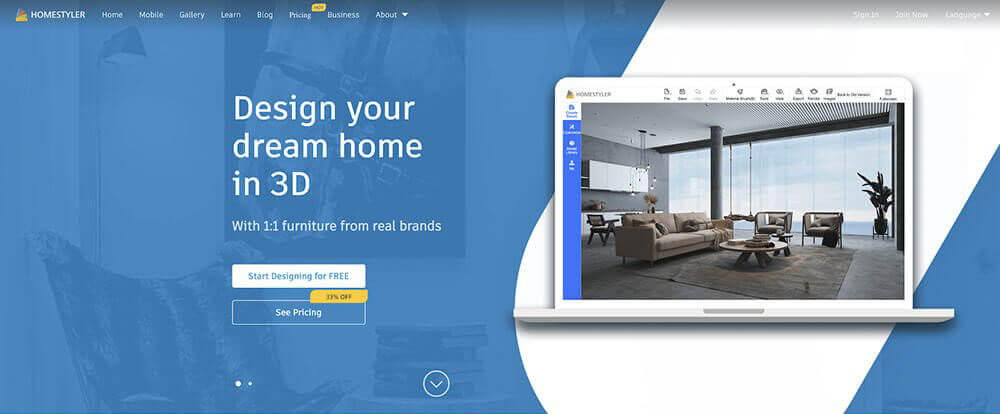 Homestyler is a web-based home design software with a strong focus on interior design. One highlight of this software is the ability to use furniture from real brands.

In addition to making basic 2D floor plans, Homestyler also has some basic 3D modeling tools that let you create custom interior shapes. This is nice for 3D design pros who want a little extra functionality. However, it can also be really confusing if you don't have any previous 3D modeling experience.
Interior 3D modeling
HD views and panoramas
Web-based software
Best for: Interior designers with some previous 3D modeling experience who need to create custom shapes for feature walls, recessed ceilings, and custom interior features.
Roomsketcher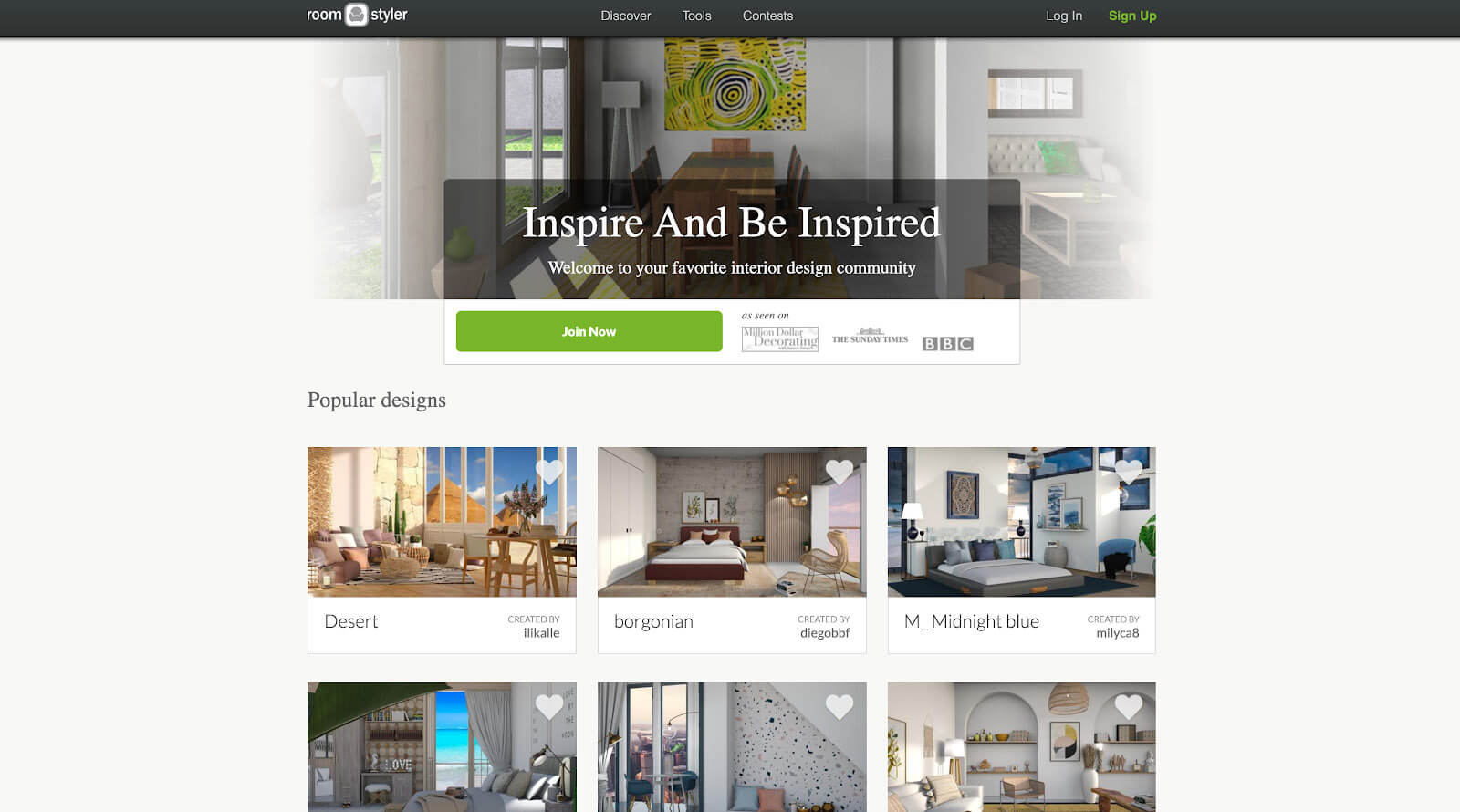 Roomsketcher is an easy-to-use floor plan designer that can be a good choice if you don't have any previous design experience. It's got a variety of 3D and 2D floor plan tools that make it easy to layout and furnish a virtual space.

However, if you're doing more than just basic interior floor plans, you'll probably end up wishing you had additional features. And while Roomsketcher does offer 3D renderings, they're not as realistic as others especially when it comes to lighting and textures.
2D and 3D floor plans
Use the Roomsketcher app on mobile devices
Variety of 3D images and walkthroughs
Best for: Real estate agents and remodelers who need to quickly create basic interior floor plans for clients.
Cedreo
Cedreo really stands out with its unique combination of professional design features that are actually easy to use.

With Cedreo, you can design almost every aspect of residential homes — 2D blueprints, custom roofs, professional landscapes, and photorealistic renderings.

It's also got one of the shortest learning curves of any professional home design software. Even with no previous design experience, most new users can finish an entire home design in just a few hours.

And since Cedreo is cloud-based software, it only takes 5 minutes to get professional-quality HD renderings with realistic textures and accurate lighting effects.
Draw 2D and 3D floor plans simultaneously
Get photorealistic interior and exterior renderings
Create a full set of designs in under 2 hours
Can be used as an individual or as part of a team
Best for: Professional residential home builders, remodelers, and interior designers who need an easy-to-use all-in-one design program that helps them grow their business.
Roomsketcher vs Homestyler vs Cedreo: Pricing Comparison
3D design and rendering programs can get really expensive, really fast. So what pricing options do you have with each of these three programs?

Homestyler
Free plan: Yes

Pricing model: Subscription price per user. You can also purchase additional model packs and credits for more renderings.

Paid plans:

Pro – $25.90/month

Master – $45.90/month

Roomsketcher
Free plan: Yes (Just for the Roomsketcher App)

Pricing model: Yearly subscription per user. Comes with a few credits but you need to purchase more to keep getting renderings and floor plans.

Paid plans:

VIP – $49/year and comes with 20 credits

Pro – $99/year and comes with 50 credits

Credit usage example – A 3D floor plan uses 1 credit. A 360-degree view uses 5 credits.

Additional credits range from $99 for 50 to $999 for 670.

Cedreo
Free plan: Yes

Pricing model: Either per project or per month (for unlimited projects)

Paid plans:

Personal – $119/project

Professional – $119/month

Enterprise – $149/user/month with team collaboration tools
Roomsketcher vs Homestyler vs Cedreo: Feature Comparison
Each of these programs has a host of useful features. Homestyler does have some more advanced 3D modeling tools. But as you'll see in the feature comparison below, Cedreo definitely edges out Homestyler and Roomsketcher when it comes to its combination of 2D and 3D tools.
| Features | Homestyler | Roomsketcher | Cedreo |
| --- | --- | --- | --- |
| 2D Floor Plans | ✔ | ✔ | ✔ |
| 3D Floor Plans | ✔ | ✔ | ✔ |
| 3D Rendering | ✔ | ✔ | ✔ |
| 3D Printing | ❌ | ❌ | ❌ |
| 2D Site Plans | ❌ | ✔ | ✔ |
| 3D Site Plans | ❌ | ✔ | ✔ |
| 3D Sculpting | ❌ | ❌ | ❌ |
| Import Blueprints | ✔ | ✔ | ✔ |
| Surface Area Calculations | ✔ | ✔ | ✔ |
| 3D Library | ✔ | ✔ | ✔ |
| Interior Design | ✔ | ✔ | ✔ |
| Lighting | ❌ | ✔ | ✔ |
| Sunlight | ✔ | ❌ | ✔ |
| Design Collaboration | ❌ | ✔ | ✔ |
| Draw to Scale | ✔ | ✔ | ✔ |
| Custom Camera Viewpoints | ✔ | ✔ | ✔ |
| Reusable Project Templates | ✔ | ✔ | ✔ |
| Total Area Calculations | ❌ | ✔ | ✔ |
| | | | |
Roomsketcher vs Homestyler vs Cedreo: Customer Support Comparison
The last thing you need is to miss a project deadline because you were waiting on the support team to get back to you. That's why whatever software you choose needs to be backed by a solid support team. Let's see how Roomsketcher, Homestyler, and Cedreo compare.
Homestyler
Homestyler does offer a nice variety of learning tutorials on their blog and in their video library. There's also a forum where users can post projects, questions, and concerns. However, there doesn't seem to be a lot of personalized support apart from that. So if you have a problem, you're limited to filling out a contact form or posting on the forum.
Roomsketcher
Like Homestyler, Roomsketcher also has a blog and online video tutorials that help with learning to use the program. Plus, Roomsketcher offers a customer support team that you can contact during business hours for help with any issues you might have.
Cedreo
Cedreo customer support definitely stands out. You can tell that the Cedreo team wants you to succeed.

In addition to video tutorials and an extensive knowledge base, you'll also have access to Cedreo support via phone, email, live chat, or the support forum. Plus, if you're a Pro or Enterprise user, you get a free 1-on-1 training session and a dedicated account manager you can contact anytime you need help.
Roomsketcher vs Homestyler vs Cedreo: Home Design Deep Dive
As we compare Roomsketcher vs Homestyler vs Cedreo, it's important to consider how they each perform when tackling key home design tasks like the following.
Floor Planning
Each of the programs has easy-to-use tools for drawing basic layouts. RoomSketcher also gives you the option of ordering floor plans from the RoomSketcher team.

But one big disadvantage with RoomSketcher is that some of the tools are only available with the most expensive version — Pro. And some of those tools are probably ones you'll regularly need like measurements, drawing from a blueprint, or customizing floor plans.

Homestyler has your normal 2D drawing toolset. However, Homestyler does lack some construction-specific functionality, like the ability to change the type of wall (which is important when producing drawings for construction).

Cedreo has one of the most intuitive floor planning tool sets available. With its continuous drawing mode, each click is an angle. That means you can draw a simple room in just 4 clicks.

Plus, Cedreo saves you time by letting you create floor plans from existing blueprints. Just import a JPEG or PNG of the existing layout, set the scale, and trace over it in Cedreo. And once you have an existing floor plan, it's easy to save and repurpose it for future projects.
Site Planning
Cedreo instantly stands out when it's time to plan the entire site. Roomsketcher and Homestyler are both targeted more towards interior designers, so their features for creating site plans and landscape designs are limited.

But with Cedreo you can create a full set of plans and renderings for more than just interior spaces. Show the home's exterior complete with custom roof designs, realistic greenery, hardscapes, lawns, and more.
Interior Design
Roomsketcher is a nice choice for budding interior designers who need simple tools for showcasing basic decorating ideas.

Homestyler has some of the most powerful 3D interior modeling tools of the programs we're comparing. If you've got experience with 3D modeling, it'll be easy for you to create custom shapes, models, and furnishings. But drawing pieces from scratch takes a lot of time.

Cedreo, on the other hand, saves you time during the interior design process. Drag and drop thousands of different pieces of furniture or decorations and then customize their size and materials to fit your clients' tastes. You can even choose pre-made product packs for 1-click decorating.
3D Rendering
Roomsketcher does offer 3D renderings but sadly they lack realistic lighting effects. So while it's ok for basic 3D floor plans and views, if you want renderings that WOW your clients, you should look elsewhere.

Homestyler offers a bunch of customization options for lighting. That can lead to some realistic renderings however, setting all that up takes a lot of time and can be overwhelming for new users.

Cedreo seems to strike the right balance between photorealistic renderings and easy-to-use customization tools. You can quickly adjust the sun's angle and orientation for realistic natural lighting effects.

And Cedreo takes care of the heavy lifting when it comes to artificial lighting. You can even show your clients how the interior and exterior of their dream home will look at different times of the day.
Roomsketcher vs Homestyler vs Cedreo: Which Tool is Right For Your Business?
So which is the right home design tool for you — Roomsketcher, Homestyler, or Cedreo? A lot will depend on how you'll use it.

If decorating is your hobby or you're an interior designer who only needs to create basic 3D floor plans, Roomsketcher might be the right program for you. For experienced 3D modelers or new interior designers who don't mind a steep learning curve, Homestyler could be a good choice.

But for most housing professionals, Cedreo is the best pick. You just can't beat its world-class support team, powerful yet easy-to-use tools, and professional-quality 3D renderings.
With a FREE version, why not sign-up today and see what Cedreo can do for your business!