2022 is well underway and we're already seeing some definitive trends forming in the architecture space. Some of these have been trending for several years while others are just now growing in popularity.

So from quaint tiny homes to Scandanavian designs, here are the top 10 architecture trends for 2022. Look for ways to implement these in your housing business so you don't get left behind.




1. Tiny Homes
The tiny home revolution isn't slowing down any time soon. In fact, if anything, it's only gaining momentum fueled by rising housing costs and the need for flexible and sustainable homes.

In the past, building and living in a tiny home was sort of a grey area in many places. But now, more municipalities are adopting regulations to support tiny house communities. That makes it easier for housing professionals like yourself to know what types of tiny homes are permitted in your area.

*Planning on designing some tiny homes? Don't miss our article 8 Best Tiny House Design Software Platforms for Professional Builders.

Even if you're not planning on building tiny homes on wheels, look for ways to implement tiny home principles into your regular home designs — like creating compact floor plans that make efficient use of space.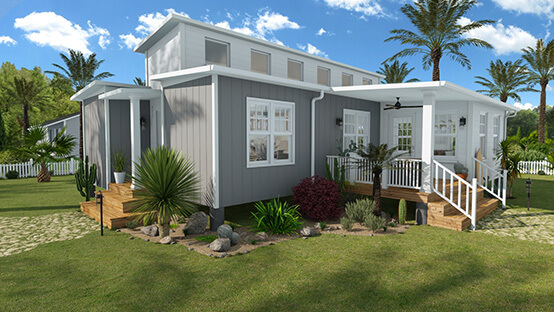 2. Prefabricated Architecture
Prefabricated (or simply "prefab") architecture is another old trend that's gaining momentum in 2022. With the skyrocketing costs of building materials, homeowners and builders are turning to prefab architecture as a way to lower costs and speed up construction.

When you think of prefab homes, you might think of traditional modular homes that are anything but trendy. Fortunately, as prefab architecture gains popularity, more modular home companies offer customizable and stylish prefab homes that allow clients to express their personalities.




3. Sustainable Architecture
The combination of the recent pandemic and the ever more noticeable effects of climate change are fueling the growth of sustainable architecture. More than ever we want buildings that have a lower carbon footprint, are made from sustainable materials and help us live a cleaner life.

Here are a few ways home builders like yourself are doing that. You can probably start to implement a few of these in your next projects.
Use more sustainable materials in your design
Purchase locally sourced materials where possible
Use energy efficient fixtures and building systems
Add green building systems like solar panels, rainwater harvesting, green roofs, and gardens
Use your designs to help homeowners feel close to nature whether they're inside the home or out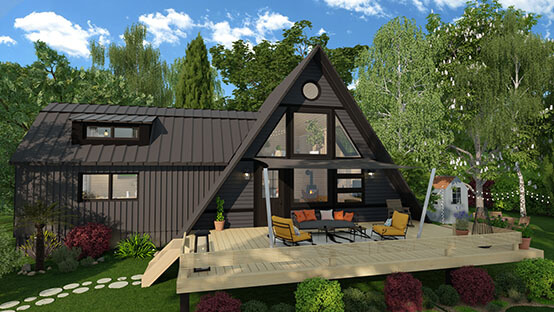 4. 3D Printed Architecture
3D printed buildings have been around for several years. But now in 2022, the trend is gaining momentum since the technology is becoming cheaper and more accessible. Large 3D printers that use a special blend of concrete are now available in several sizes for printing anything from a shed or studio to a small family home.

It's no wonder this 3D home printing technology is growing in popularity. It is simple, efficient, quick to build, and cost-effective — a winning combination in today's housing market.




5. Solar Powered Architecture
Solar panels have been around for a long time. But in recent years to combat climate change, governments have been increasing incentives for companies to rely more on solar power.

That's been helping bring the price down and make it more accessible for residential homeowners. There's also a greater variety of solar products available for use in residential homes like solar panel roofs and battery packs, among others.

So look for ways to jump on the solar trend.
Research solar products available in your area along with any incentives or tax breaks you can get for using them.
Offer solar energy options in your home plans.
At the very least, design your homes with the necessary connections for the homeowner to install a solar energy system in the future.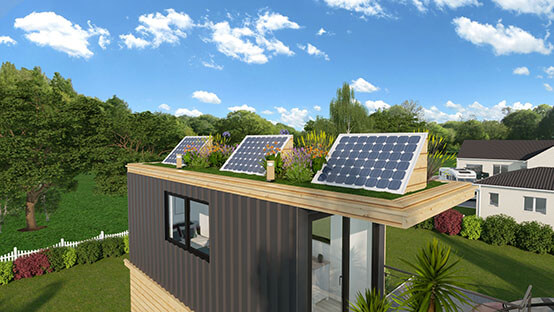 6. Cabins
As more people are moving to urban areas, more are looking for a way to "get away" and reconnect with nature. That's why cabins are a growing architecture trend in 2022.

People with large pieces of land in rural areas are putting small cabins on their property. Some use them for themselves as a place to get away from the hustle and bustle of city life. And others use the cabins as a source of revenue by renting them on sites like Airbnb.




7. Container Homes
Container homes are growing in popularity for the same reason tiny homes and sustainable buildings are also trending — in 2022 people want efficient and budget-friendly homes built from recycled materials.

In 2022, there's an epic housing shortage in North America. But there are millions of out-of-service containers in the world, so there's no shortage there. Plus, by using them as the building blocks for a home, you're helping reduce waste.

*Thinking of jumping on the trend and designing a container home? Check out the article 10 Best Container Home Design Software (Free & Paid).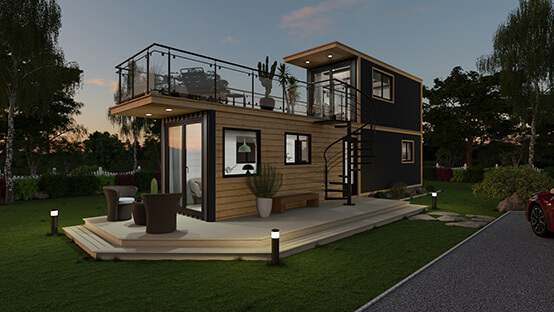 8. Scandinavian Architecture
Scandinavian design isn't just limited to your local Ikea store. We're seeing more and more of it in residential architecture as well. Clean lines, neutral colors, lots of natural light, and the use of wood and natural materials are all hallmarks of Scandinavian architecture that we're seeing a lot in 2022 homes.




9. Minimal Architecture
Throughout these top architecture trends in 2022, we're seeing a common theme — minimalism. We've got the minimalism of the tiny, container, and 3D homes as well as the simple look of Scandinavian architecture.

It's obvious that in 2022 people are getting away from the complicated, ostentatious, and flashy and opting for the conservative, modest, and understated. So look for ways to work those minimalist concepts into your next projects.




10. Floating Architecture
Global sea levels are on the rise and the floating architecture trend is on the rise with it. In the coming decades, low-lying coastal cities may be forced to use floating architecture in order to create usable building infrastructure that's not affected by rising water levels.

While this trend is in its early stages, if you're in a housing market that's likely to be affected by more coastal flooding in the coming years, it's worth jumping on the trend early to get ahead of the curve.




Conclusion
As we continue moving through 2022, it's worth analyzing these top architecture trends to see which you can take advantage of with your business.
Will you add tiny homes to the list of house plans you offer clients?
Maybe you could look for more sustainable ways to build your homes?
Or you could jump on the 3D trend early and invest in 3D home printing equipment?
Whichever you choose, at Cedreo we'd love to be part of your journey. Thousands of housing professionals are already using and loving Cedreo home design software!
Create an entire home design in as little as 2 hours.
Create custom designs for tiny homes, container homes, and even sustainable homes with green roofs.
Easily create 3D renderings that impress clients.
Streamline your cost estimating with the CostCertified integration.
With a FREE version, you've got nothing to lose. Sign up for Cedreo today!