Tiny houses have been a mainstay among the HGTV crowd for years. They tap into a certain sense of whimsy — but represent something bigger.

Tiny houses lower the barrier of entry to home ownership and appeal to people looking to simplify their lives and reduce their overall cost of living. They're also relatively portable, allowing owners to travel with their home in tow.

Increasingly, tiny houses are also being touted as part of the housing crisis solution.

Los Angeles and other cities across the US are launching pilot projects that focus on building tiny houses for the unhoused community.

Regardless of why you're getting into the tiny house game, it's worth noting that these pint-sized builds have a unique set of needs and challenges that might not be addressed with traditional home design software.

In this article, we'll take a look at the best tiny house design software for generating floor plans, renderings, and more. Read on to see which tools made the cut.
8 Best Tiny House Design Software Platforms for 2022
You won't find many software applications that are exclusively for building miniature homes. That said, here's a look at the best tools you can use to design a tiny home online.
1. Cedreo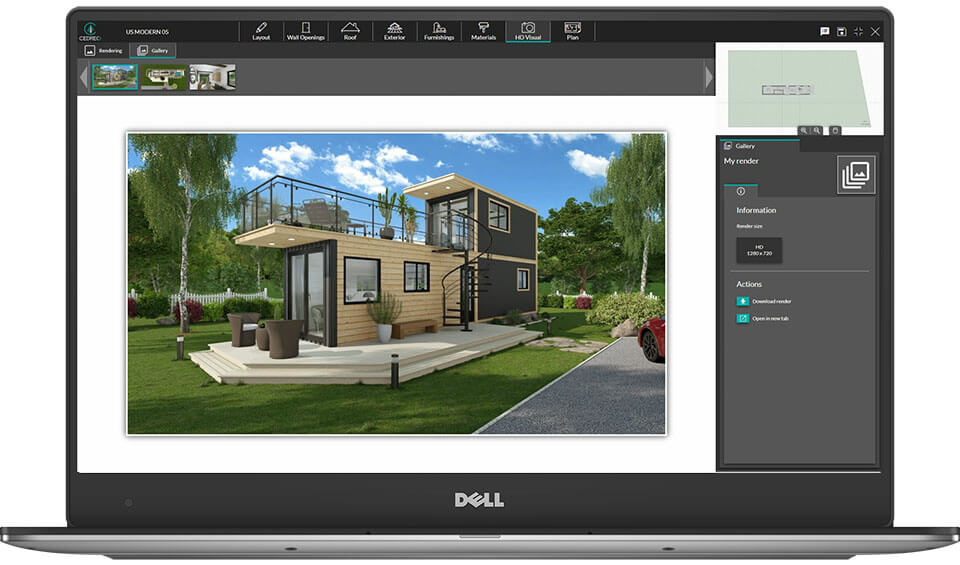 Best for: Home builders, designers, remodelers, real estate pros, architects

Overview: Cedreo is a 3D home design platform that has a wide range of use cases — tiny houses, yes, but also "regular" houses, apartments, and landscape designs. And unless you have a firm that specializes in designing or building tiny houses, you'll probably want something you can use for all kinds of projects.

The platform can be used as a tiny house floor plan maker. You can design 2D floor plans from scratch or start from an existing file or saved template. Then from there, you can customize building materials and furnish the space.

You can also generate photorealistic 3D renderings that show the interior and exterior from every angle, including aerial views that show the design in context with its environment. You can also add characters and surrounding buildings to give clients a sense of place

Unlike some of the other tools on the market, Cedreo isn't a DIY app for amateur designers. It's easy to use, but built for professionals. Cedreo is the best option for professional home builders, remodelers, and architects — whether they're trying to design a tiny home online or working on a diverse range of projects.

Key features:
Create floor plans in 2D and 3D
3D library with 3,000+ objects & furnishings, 3,500+ building materials, and product packs to quickly ensure the entire home has a cohesive look and feel
Architectural symbol library
Save and reuse templates for future projects
Create presentations and proposals
Share design projects with clients and team members
2. Sweet Home 3D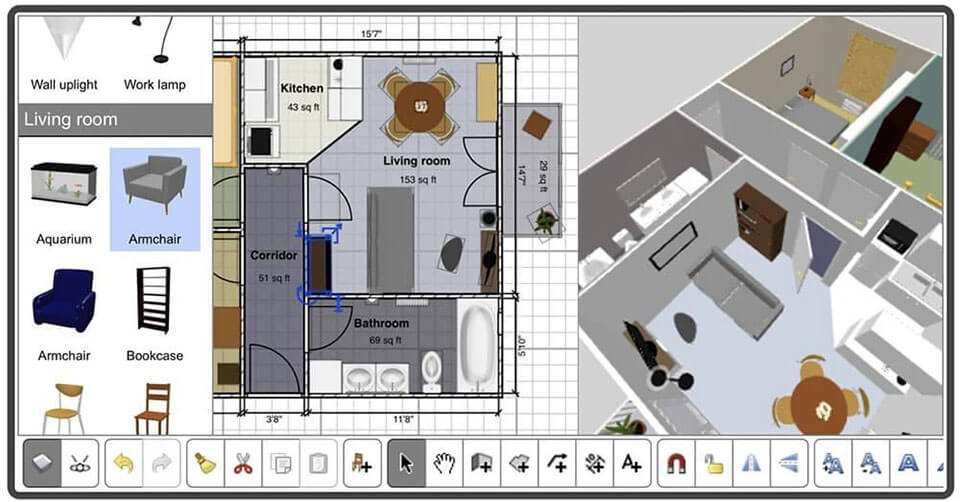 Best for: Home builders & remodelers

Overview: Sweet Home 3D is a home design tool that allows builders to design tiny houses for their clients. The main benefit of this app is it allows you to create designs with accurate dimensions, even if you have no prior design experience.

While you'll find some useful features inside, it's important to understand that it might not provide the full range of features and functionality you're looking for.

Sweet Home 3D isn't available in the cloud. You'll have to order a physical copy of the software or download it from the Sweet Home website. While this might not seem like a problem, it can limit your ability to collaborate with clients and colleagues remotely.

It's also important to mention that Sweet Home 3D isn't especially intuitive.

Some users say the navigation is confusing. While it's not as complicated as learning how to use CAD software, you may need to budget some extra time for learning your way around the platform.

Additionally, the platform's graphics are outdated and aren't ideal for client presentations or promotional use (i.e. social media posts or on your website).

Key features:
Design in 2D & 3D from multiple viewpoints
Add annotations and dimensions
Catalog with customizable furniture, materials, textures, & other 3D objects
Generate images & videos with custom lighting
Import blueprints, textures, & 3D models from external sources
3. SketchUp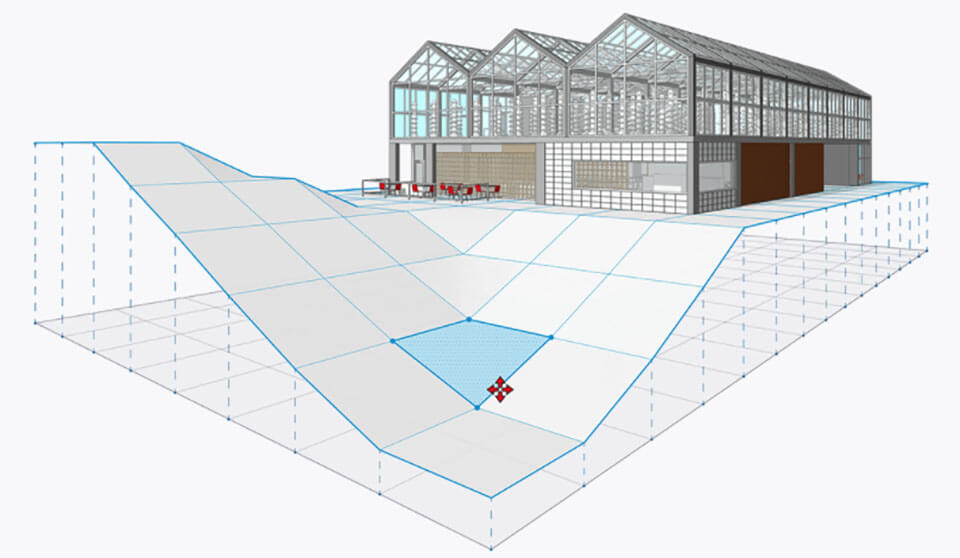 Best for: Designers that need to create 2D plans

Overview: SketchUp is a 3D-modeling platform that allows you to build tiny houses (among other structures and environments) from scratch. Users can draw their plans with the pencil tool, then "push" and "pull" each element to their specifications.

Now, we've mentioned this before, but SketchUp comes with a few distinct disadvantages, despite the many benefits it brings to the table.

Firstly, many users find the platform to be overly complex. You don't necessarily need a CAD background to master its features, but there's a sizable learning curve for those who haven't worked with 3D models before.

Another drawback is that users will need to purchase add-ons or plugins to generate 3D renderings directly from the SketchUp app (a feature that comes standard with Cedreo, as well as with many of the other entries on this list).

The good news is, SketchUp is designed to integrate with a wide array of third-party apps and tools, essentially allowing you to put together a custom stack.

Key features:
Design and iterate in 3D
Access to the largest catalog of accurate 3D models
"Extension Warehouse" and third-party integrations expand the functionality
Reporting tools
Mixed reality presentation tools
4. HomeByMe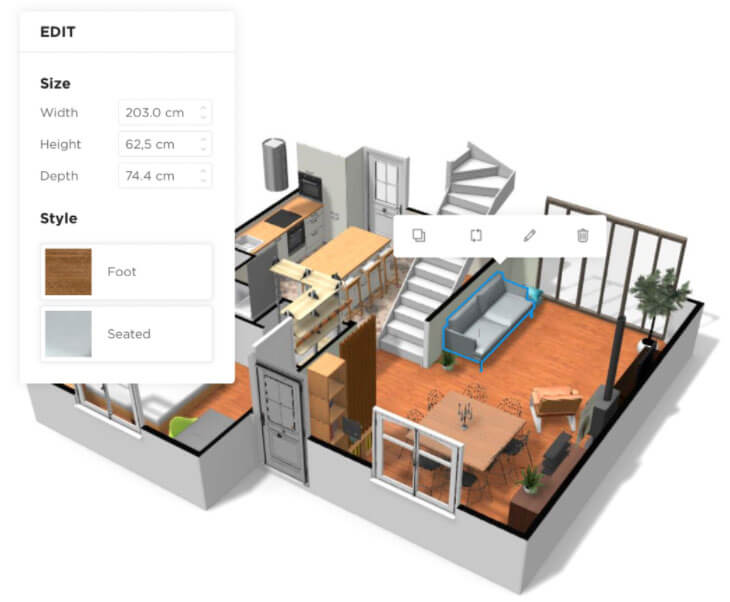 Best for: Interior designers, real estate professionals, architects

Overview: HomeByMe is a user-friendly home design tool with advanced features that help DIY-ers and pros quickly put together design plans, virtual tours, and more.

Users can scan and import existing 2D floor plans or create new designs from scratch. They'll also have the option to use the platform's pre-existing shapes to speed up the design process.

The platform also enables designers to generate realistic 3D renderings and share them with clients via email or social media.

If you're considering using HomeByMe on the job, make sure you sign up for the Pro plan. The standard plan was designed for DIY-ers and won't come with critical features that you'll need to create client-ready presentations. It's also worth noting that this tool is best suited for interior design presentations. It does come with a floor plan generator/editor, and you can create scale drawings of a proposed space, but the emphasis is on customizing the interior space. As such, architects and home builders/remodelers will likely need additional tools to cover all their bases.

Key features:
2D & 3D design tools
Customizable product catalog with brand-name products (Pottery Barn, Crate & Barrel, Wayfair, etc.)
Mobile app for designing on-the-go
3D renderings/immersive presentation tools
5. Planner 5D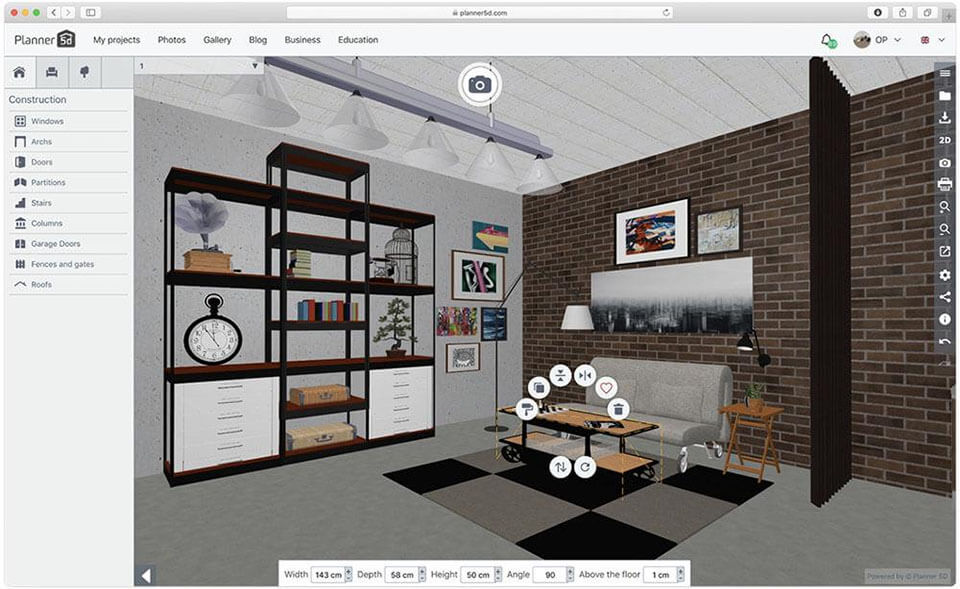 Best for: Interior designers, decorators, DIY-ers

Overview: Planner 5D is an architecture tool that helps designers and decorators create custom floor plans, furnish and decorate designs, and create 3D presentations. The platform makes it easy to create room designs with its library of customizable, pre-made templates, and furniture and decor library.

It has some interesting features like AI plan recognition and automated furniture arrangement, but many reviewers on sites like Capterra and G2 Crowd felt that the platform was clunky and lacking in customization options.

In a previous post, we broke down the key differences between Cedreo and Planner 5D. In it, we explained that Planner 5D is built mainly for designing interior environments, whereas Cedreo allows users to design both interior and exterior environments.

Additionally, Planner 5D's graphics look slightly outdated. They're better than many other programs on the market, but the visuals aren't on the same level as top apps in this space. If you're using Planner 5D to present ideas to customers, it may not make the right impression.

Key features:
Floor plan tool
3D room visualizations
Snapshot feature
Drag-and-drop editor
VR presentation tool
6. DreamPlan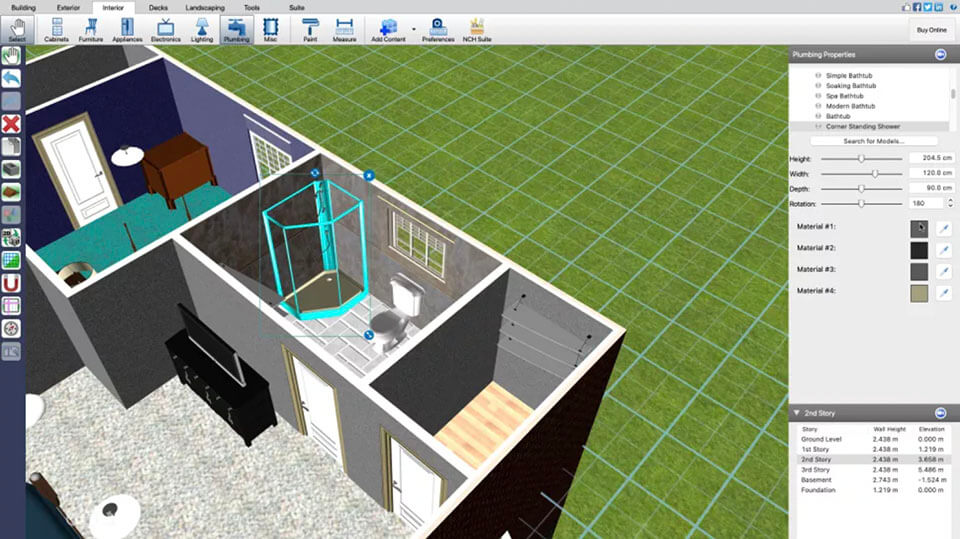 Best for: Architects, builders, designers, landscapers, or anyone looking for intuitive, comprehensive tiny house design software

Overview: DreamPlan's home design software is available as a download for both Mac and PC. It's a solid choice for anyone looking for tiny home design software, as it allows users to create custom designs without bumping up against the parameters you might find in other tools. It also covers the entire build — interior, exterior, and the entire surrounding landscape.

DreamPlan's main benefit is that it's extremely user-friendly. Users can import existing design plans and 3D models to get started on their tiny house designs, use one of the app's sample projects, or build from scratch.

If you're starting from scratch, you can add walls manually and resize and position them using the in-app drag-and-drop editor. Or, you can use DreamPlan's pre-built room templates to speed up the process.

There's also a tip bar that offers helpful suggestions to guide you through the design process. But you might not need it. DreamPlan's features are organized intuitively into tabs where you can easily find what you need at each stage.

DreamPlan's 3D catalog goes above and beyond many of the other examples on this list. You'll find everything from appliances and plumbing to plants, furniture, and flooring. You'll also have the option to import 3D models from external sources if you can't find the exact item you're looking for.

The only real drawbacks are the graphics — they're not exactly realistic — and the fact that DreamPlan isn't a cloud-based tiny house app. Bottom line: DreamPlan is a great tool for tiny home builds (and a lot more). But you'll need to stay on top of software updates and data syncing to make the most of the platform, especially if you're running a larger operation.

Key features:
Design in 2D and 3D and switch between three different modes
Convert floor plans to 3D models
Built-in 3D library
Modules for kitchen, deck, landscape, bathroom, pool, garden, and more
7. SmartDraw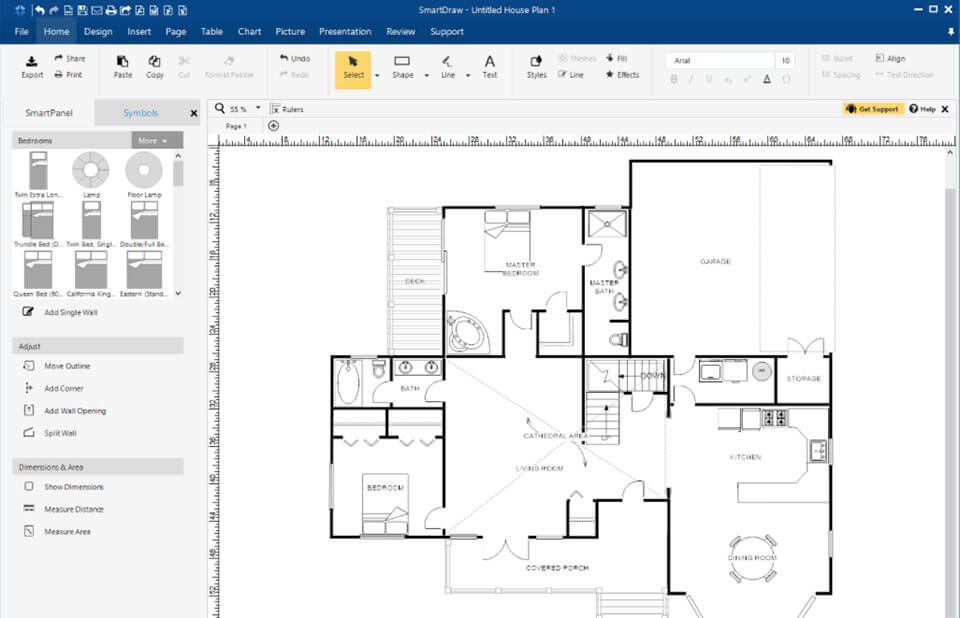 Best for: Contractors, remodelers, architects, designers

Overview: SmartDraw is something of an outlier among home design apps. It's a planning and productivity tool that includes some floor plan design templates and features. Inside, you'll find templates for traditional houses, individual rooms, and cubicles, all of which could potentially be modified and saved as tiny house templates.

In a previous post comparing SmartDraw with Cedreo, we covered some of the platform's "cons." Most notably, SmartDraw does not allow you to create 3D designs or renderings — it's mainly for 2D floor plans, flowcharts, and diagrams. That said, SmartDraw does include an annotation layer, similar to AutoCAD, that automatically resizes diagrams to scale.

As tiny house design software, SmartDraw falls short. This is mostly because it's not a traditional architectural tool. If you look at review sites like G2 Crowd, Software Advice, or Capterra, you'll notice that most reviewers use SmartDraw for tasks like designing org charts or project planning.

The bottom line is that SmartDraw is great for visual planning but doesn't address the same set of needs as traditional home design software.

Key features:
Thousands of symbols and customizable templates for 70+ diagram types
Intelligent formatting
Integration with existing tools (Microsoft Office, Google Workspace, Jira, Trello, Confluence, etc.)
Automatic resizing
Built-in extensions allow users to create diagrams from connected data sources
8. Floorplanner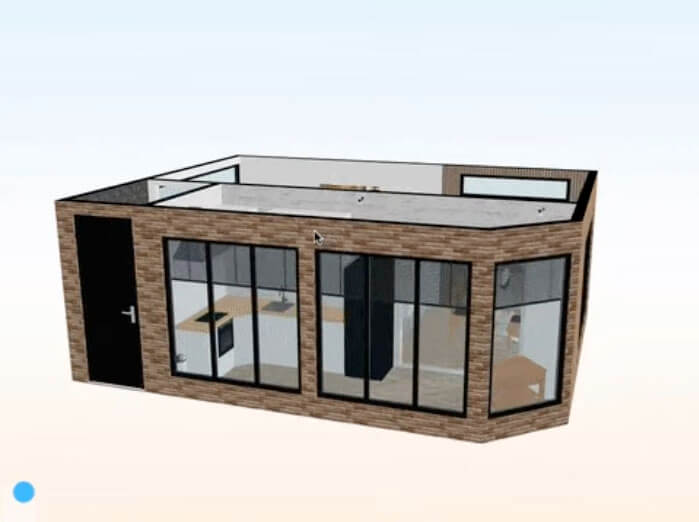 Best for: Interior designers, furniture sellers, real estate professionals, individual homeowners, educators

Overview: Floorplanner is an intuitive home design app made for generating accurate floor plans in 2D and 3D. Users can toggle between 2D and 3D modes to explore plans from multiple angles and save camera positions for client presentations.

The platform includes an easy-to-use floor plan generator that allows you to set dimensions by dragging various elements (walls, windows, doors) to the correct size, or you can enter them manually. Any time you make a change, Floorplanner automatically adjusts existing items, so they're always at scale.

According to the company website, Floorplanner also boasts the world's largest digital library of furniture and 3D objects. (It's worth noting, we've seen plenty of others make the same claim). In any case, you'll find numerous options for customizing the decor to each client. The problem is, you can't customize the dimensions of those elements, which makes it difficult to add furniture and other elements to a tiny house plan.

Floorplanner focuses primarily on interior design. You can incorporate some exterior elements — siding, windows, etc. — but it's not ideal for creating detailed outdoor environments.

Key features:
2D floor plan generator
3D catalog with 150k+ items
Toggle between 2D and 3D with a single click
Generate and share 3D images and virtual tours
Which Tiny House Design Software Is Right for You?
Ultimately, designing a tiny house is a lot like designing "regular-sized" houses. You can generally use the same tools for these smaller builds, but you'll want to make sure you're able to communicate your ideas in a way that makes sense to stakeholders — whether you're working with city officials or private clients.

Cedreo offers a range of tools that make it easy to generate floor plans, 3D renderings, and personalized details that can help you win bids and get on the same page with clients. And, it also provides real-time collaboration tools for sharing ideas and capturing feedback, ensuring that projects are done right the first time.

Sign up for a free account to try out the features for yourself.