Bathroom remodels are one of the best projects for adding value to your home. Plus, it can be a great way to inject a sense of luxury and space into your home's layout without too much work.
Whether you're hoping for the bathroom remodel of your dreams, or just looking at some practical upgrades, leveraging the power of a bathroom design app can help you create streamlined plans for your project in just a few hours. Contractors and designers utilize these tools to draft efficient and useful designs working with today's latest 3D and other technologies.
But, with so many bathroom design software options on the market, it can be a challenge to pick the best one. You'll need to weigh your project demands against software features and price.
To help you along your journey, we've outlined the ten best design apps. In this guide, we'll focus on both free and paid options for bathroom planning software in 2023.
What You Can Do With Bathroom Design Software
Bathroom design software comes in many different forms. With so many choices on the market, understanding the main features of most design app options can be a great way to source the software you need.
Design bathrooms with powerful CAD software—most software options leverage computer-aided design (CAD), the industry standard for modern architectural and engineering programs.
2D designs with drawing tools—every project starts with 2D drawings. A great feature of bathroom design software is easy-to-use drawing tools to make drafting plans simple.
Full 3D capabilities—don't get stuck on paper. Some software options will provide vibrant 3D renders to give you a better perspective on designs.
Photorealistic Imaging—see your designs as close to real life as possible. With photorealistic images, you can virtually stand in the middle of your newly remodeled bathroom.
While this list represents a few standout ways to use design software, you'll want to remember that every bathroom remodeling app will come with different features. The right software will need to meet your expertise level and project demands.
Let's dive into the ten best bathroom design software platforms so you can make the most informed buying choice.
Best Bathroom Design Software and Apps
1. Cedreo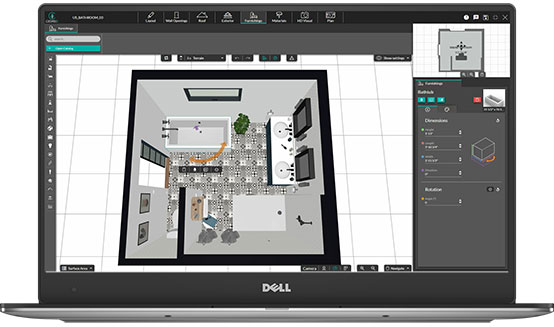 Best For: Professional designers, contractors, remodelers and even DIY-ers looking for effective and intuitive software options.
Available On: Web-based (available on any computer with WiFi access)
Rating: 5/5
App Overview: Cedreo offers powerful yet intuitive bathroom remodeling software built for professionals. Leveraging powerful 3D and photorealistic rendering capabilities, Cedreo makes it easy to transform ideas into elegant designs in under a few hours.
The platform itself features simple yet effective tools for 2D sketches and an entire 3D object library. With Cedreo, you can quickly sketch out your existing layout, expand layout dimensions, customize materials and much more:
Create PDFs or print designs for presentations and in-person viewing
Keep track of projects and renderings with cloud storage options
Search thousands of design features in the rich and diverse item database
Pricing/Trial: Cedreo offers plans and packages to meet any project budget. Review plan pricing here and be sure to sign up for Cedreo's free, no-obligation trial to learn more.
2. RoomStyler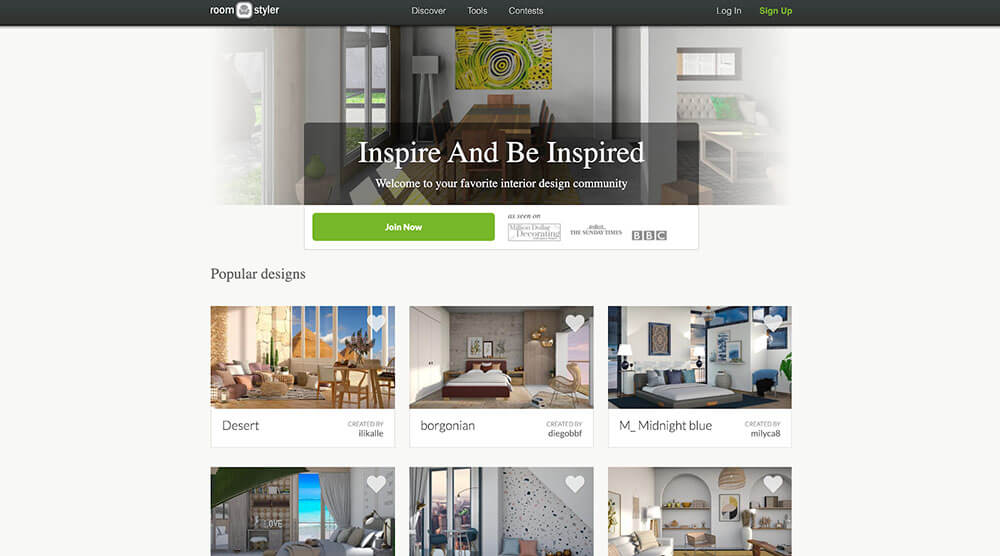 Best For: Non-professionals looking for easy-to-use tools to create designs in a few clicks
Available On: Web-based
Rating: 3/5
App Overview: If you're looking for dead simple tools for bathroom design, Room Styler is a great option.
This web-based platform provides users with simplified 3D rendering software to create designs and store them all online.
The software itself is a fairly powerful 3D room planning tool paired with an expansive mood-boarding feature. Users can create beautiful 3D plans with a full object library. Moreover, the website features designs from other users to spark ideas for custom layouts.
Room Styler can produce several types of bathroom design plans:
3D renders
Panoramas
Photorealistic
While this tool provides a lot of features in an easy-to-use form factor, it lacks the expansive list of tools required for professional-level design.
Pricing/Trial: Free to use
3. RoomSketcher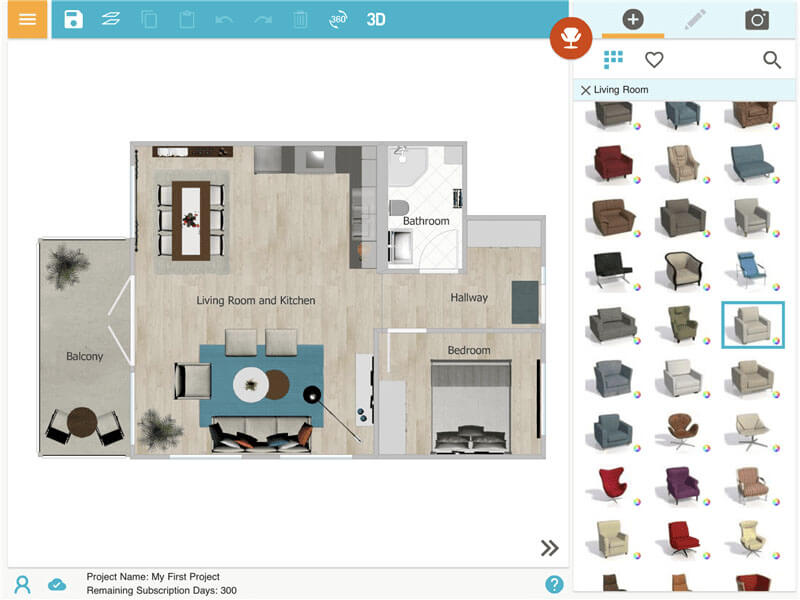 Best For: Remodelers and interior designers that may lack the experience to navigate more complicated floor plan design software
Available On: Mac and iPad
Rating: 4/5
App Overview: RoomSketcher is a robust all-in-one home design software option. Included in its home design package is bathroom design software.
Within the bathroom remodeling software is a suite of features:
2D floor plan drawing capabilities
Tools for both 2D and 3D design
Snapshot capabilities with custom camera placement
3D photos and 360-degree views
Mobile solutions
When it comes to mobile solutions, RoomSketcher offers users a fully functioning iOS app perfect for the iPad. The tablet app allows users to intuitively build plans, draw layouts and work in sync across devices.
Pricing/Trial: RoomSketcher offers three pricing tiers. A free trial with limited features, a VIP plan for $49/year with most features or the Pro package for $99/year and all available features.
4. Homestyler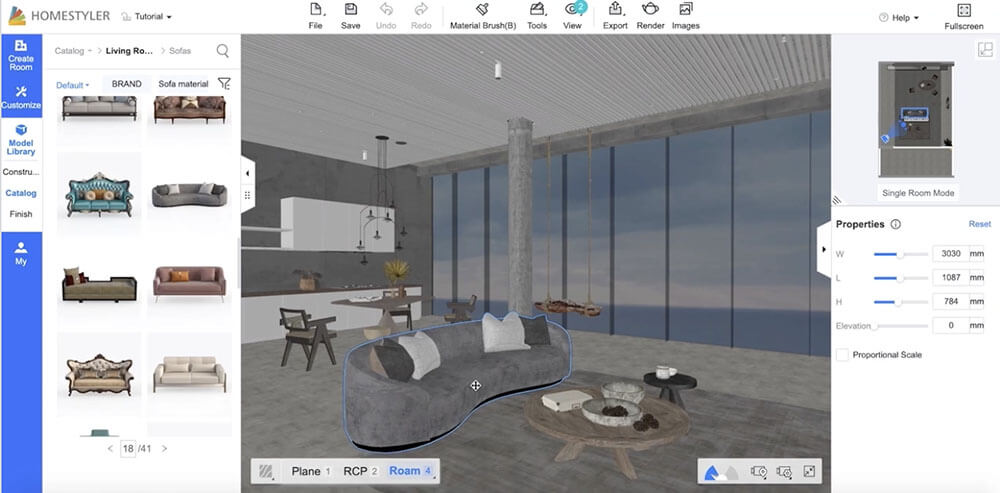 Best For: Less experienced home remodelers looking for online browser-based software with expansive AI features
Available On: Web-based and mobile
Rating: 3/5
App Overview: Homestyler is an all-in-one design platform that leverages AI to create useful and intuitive design layouts.
When it comes to bathroom design, Homestyler allows users to create AI-assisted proprietary CAD drawings using their in-house design algorithm. This feature provides an alternative to drafting plans by hand. With simple-to-use tools and a drag-and-drop interface, this software helps bridge the gap between amateur and professional designs with technology.
More than just an AI-assisted bathroom design platform, Homestyler also brings together the best in 3D design:
Full 3D model library
Powerful rendering capabilities
All-in-one interior design tools
Pricing/Trial: Homestyler offers packages through a subscription-based monthly model. The basic package is free to use and offers limited features. Individual plans start at $4.90/month for Pro and $9.90/month for Master.
Team pricing starts at $19.60/per seat per month. Enterprise packages come with a custom pricing structure based on individual needs.
5. SmartDraw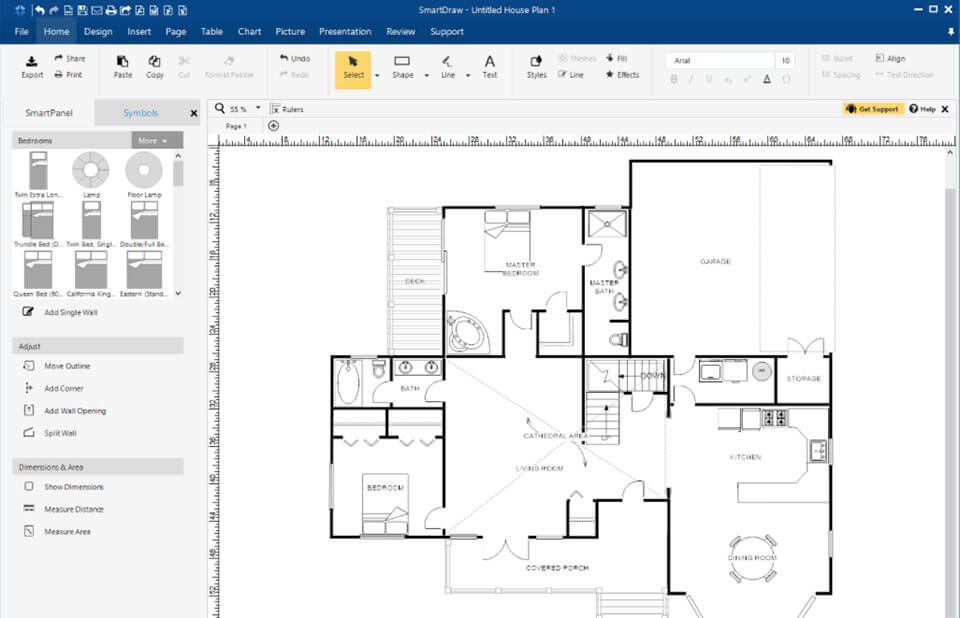 Best For: Beginner users looking for advanced 2D drawing tools.
Available On: Web-based
Rating: 3/5
App Overview: SmartDraw is most well-known for its expansive and detailed web-based diagramming tool. Within that online offering is home design software you can utilize to create 2D bathroom floor plans and designs.
The software itself is simple to use and provides users with plenty of tools to build out their designs:
Layout planners
Pre-designed layouts and starting points
2D model library
Easy-to-use drag-and-drop features
What SmartDraw lacks is full 3D capabilities. If that's something you are looking for in a design platform, you may have better luck with other design-dedicated software options.
Pricing/Trial: The bathroom/home design portion of SmartDraw is free, but packages for the more expansive diagramming software are $9.99/month.
6. Planner 5D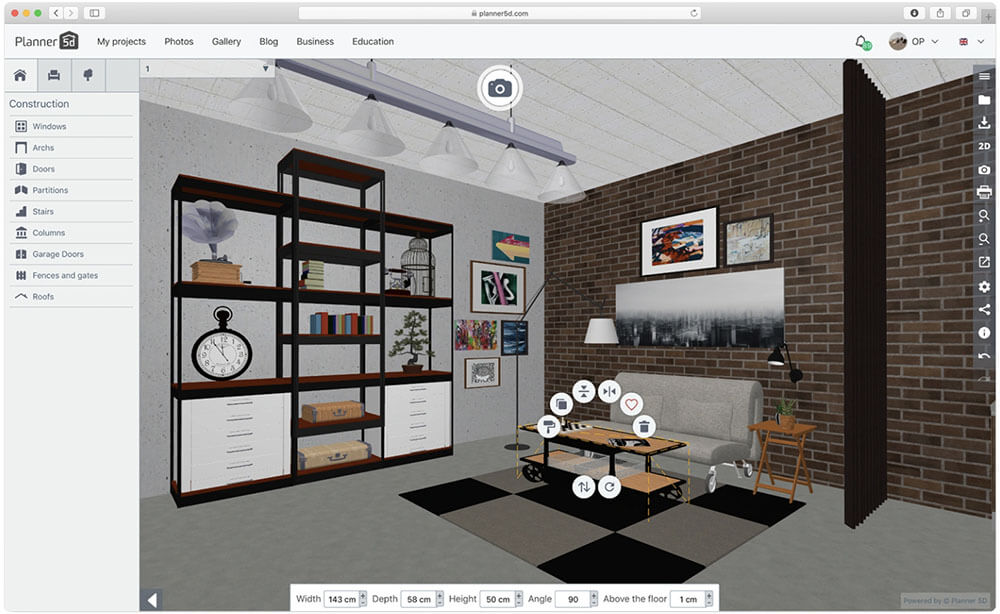 Best For: Amateur remodelers and designers looking for both 2D and 3D tools.
Available On: Mac, PC and mobile
Rating: 4/5
App Overview: Planner 5D is a great platform that puts an emphasis on amateur designers and remodelers.
Available on several popular devices, this software gives non-professionals the tools they need to create exceptional bathroom design plans. Planner 5D incorporates many different features in its platform:
Full HD visualizations
2D and 3D models
An expansive object library
Simple and easy-to-use interface
Item editing
Where Planner 5D shines is its simplicity. Users won't need to struggle to understand the software to create stunning 3D designs and photorealistic renders.
What it sacrifices is the full suite of tools used by professionals to approach design and planning.
Pricing/Trial: Free to try and use.
7. Space Designer 3D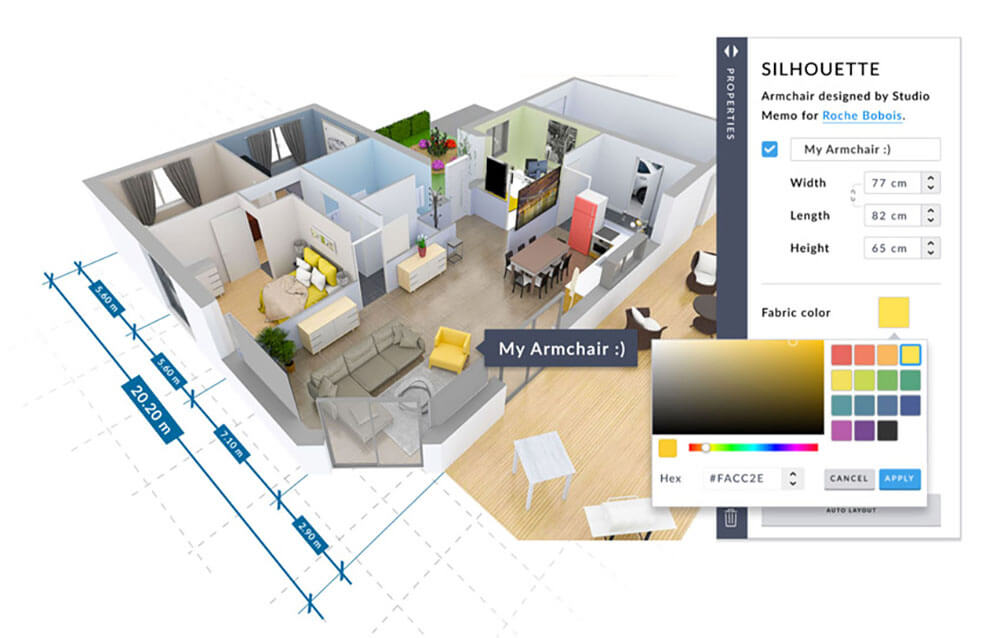 Best For: All levels of designers and remodelers with packages for both casual users and professionals
Available On: Web-based
Rating: 4/5
App Overview: Much like other web-based bathroom design offerings, Space Designer 3D puts simple tools for 2D floor plans and 3D renders at your fingertips.
What Space Designer 3D offers is a full suite of tools built for everyone from professional designers to DIY remodelers. Creating stunning 3D models with CAD precision is easy with manual drawing tools that transform layouts into full 3D renders. This lets casual/amateur designers create elegant plans without too much setup time.
Space Designer 3D allows users to accomplish quite a few bathroom design tasks:
Quickly create remodel designs
Plan out fixtures with an expansive object library
Match materials to real-life examples
Visualize and modify 3D objects in real-time
Pricing/Trial: Space Designer 3D features three pricing packages. These include Casual at $9.99/month, Regular at $59.99/month and Business with custom pricing options.
8. Foyr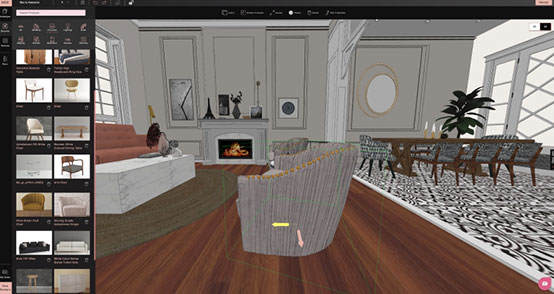 Best For: Designers and remodelers looking for AI-assisted design
Available On: Mac and PC
Rating: 4/5
App Overview: Foyr helps users convert ideas from 2D plans to 3D designs in just a few minutes. The bathroom design software leverages AI, and a suite of professional design presets, to guide the design workflow and increase efficiency.
The AI-assisted planning process helps reduce design inefficiencies and optimize for speed. While this can be a great choice for designers looking to create plans in just a few moments, for more customized approaches, the software may not be the best choice.
Foyr is great for many reasons:
Saves on design time
Little to no learning curve
Fast and professional designs
Pricing/Trial: Foyr offers three tiers for interior design. These include Basic at $44/month, Standard at $55/month and Premium at $99/month.
9. Tile 3D Bathroom Design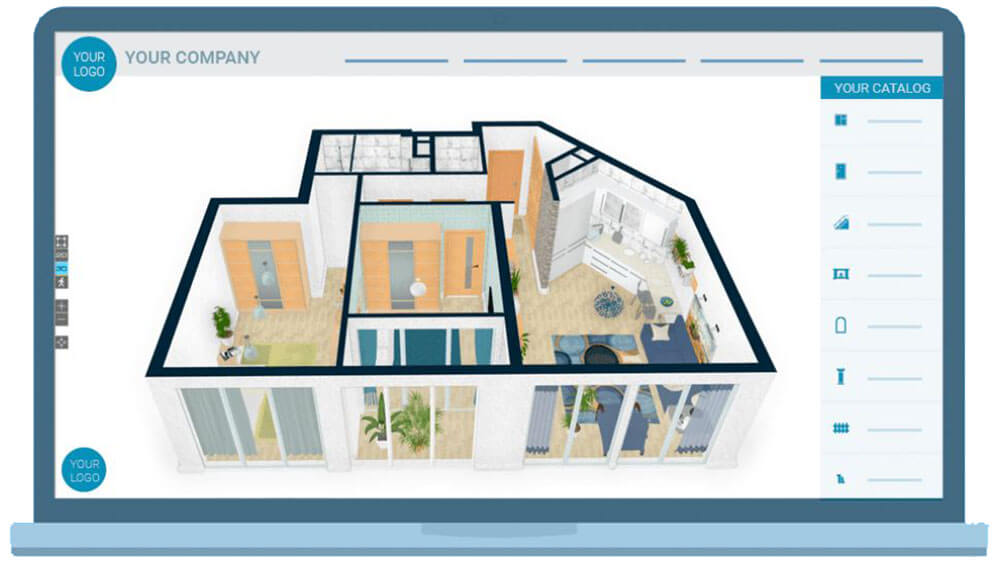 Best For: Users looking for complete tile design software
Available On: PC and web-based
Rating: 2/5
App Overview: Tile 3D Bathroom Design software is the perfect tool for understanding the tiling needs of your bathroom layout.
Mostly used in ceramic tile stores, Tile 3D also supports 3D design elements that make it useful for other applications like general bathroom interior design.
The software itself is fairly easy to use, giving users the ability to create 3D models of bathrooms, lay tile and even place 3D objects. It also supports the export of photorealistic renders, depending on which tier of Tile 3D you own.
Other features include:
A "Collections" section for inspiration.
The ability to create improved visualizations like curvilinear surfaces and openings
Custom tile import features for exact project renders
Tile 3D is best suited for tiling demands and visualization. While it supports other 3D design features, its main strength is in tiling design.
Pricing/Trial: Several Tile 3D products exist at differing price points. Tile 3D online runs a yearly license at $700. A yearly workstation license costs $589.
10. Houzz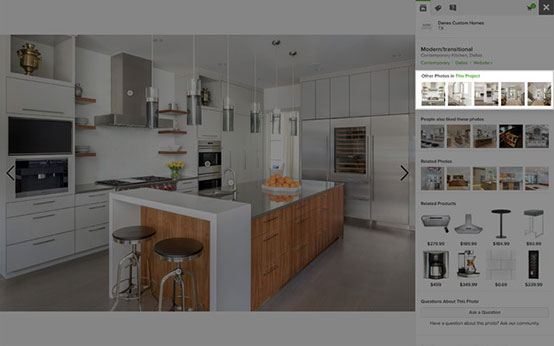 Best For: Professional designers and remodelers looking for all-in-one software
Available On: Web-based
Rating: 4/5
App Overview: Much more than bathroom design software, Houzz is a business management platform that incorporates modules for 3D floor plan designs and layouts.
Additionally, Houzz offers users everything from customer relationship management software to invoicing tools. Inside this full suite of tools is 3D and 2D design software. These programs design 3D models and create 2D plans, all within the same platform you use to present and showcase to clients.
For professionals, Houzz can provide additional features and integrations to help streamline business operations.
Other design features of Houzz include:
Integration with real brands like Benjamin Moore
Drag-and-drop design simplicity
Integration with presentation software for streamlined client walkthroughs
While Houzz comes jam-packed with features, it may be too much for some professionals. But, if you're on the hunt for business management software to handle everything from 3D designs to invoices, it can be a great partner for a growing design firm.
Pricing/Trial: Houzz comes in three tiers with Starter at $65/month, Essential at $99/month and Ultimate at $399/month—each with different features. You can also try Houzz Starter or Essential for 30 days for free.
Conclusion
You'll find dozens of home design software choices on the market. While most offer a full suite of tools for bathroom planning, not all support the kind of features you might expect out of a bathroom design app.
Depending on your level of expertise, you may opt for complete 3D rendering platforms or simple web-based 2D sketching programs.
Other software companies try to create platforms to tackle all aspects of a design business.
Hopefully, by now, you have a firm understanding of what bathroom design software options you have at your disposal. Knowing which features you need to create your designs is key to sourcing the right app.
No matter what features you're looking for, Cedreo comes jam-packed with everything you need to create streamlined 3D designs in under a few hours. With easy-to-use tools and full photorealistic renders, you can spend less time on design and more time in your new bathroom space.
To learn more about Cedreo, get in touch with our team and get started with your free trial.