Macs are powerful tools for professional home builders and designers. These reliable computers power some of the most interesting and effective home designs today. But there's a problem: Some home design software isn't made for Macs.

You can find home design software for Macintosh computers, but you do have to vet each program before you decide to use it for your business. We're here to help. In this post, we will walk you through the best home design software for Mac.

Whether you're looking for professional software or are more interested in DIY use, read on to learn everything you need to know.




How to Choose the Best Home Design Design for Mac
Home design software for Macintosh computers isn't rare. In fact, you have dozens of options to choose from. So, how do you figure out which one is best for you? By looking at the following factors:

Ease of use

Your turnaround time for home designs has a direct impact on your bottom line. The faster you can create beautiful designs, the more deals you can close. If you're struggling with your chosen house design software for Mac, you're wasting time — and money.

Some platforms have a much steeper learning curve than others. Many programs are intended for those with a professional background in CAD or 3D modeling. That may be perfect for you, but it might also be overkill if all you need to do is quick, simple, and effective floor planning and rendering.

Cedreo, for example, provides a wide range of powerful home design features, but the program is optimized for speed. Users can complete the 3D design of an entire home in under two hours.

Floor planning

To get a real picture of your proposed home design, your clients need to be able to see the floor plan from multiple perspectives. The best floor plan software for Mac will allow you to design in both 2D and 3D. Here's how Cedreo does it:
2D: Quickly create floor plans in 2D with smart drawing features and a large library of furnishings, windows, and doors.
3D: As you draw in 2D, the floor plan displays in 3D in real time.
Interior design

Interior design is an essential component of many home designs. This is the part of your design that your clients will have the easiest time picturing — they'll imagine themselves actually living in the space you've created. With that said, it's not hard to understand why it's essential to choose a home design software for Macintosh that allows you to create gorgeous interior designs.

The program you choose should have a large library of furniture, materials and decorations to choose from, and you should be able to customize everything.

Exterior design

Exterior design is all about curb appeal, both for those who drive by the home and those who pull into the driveway every day. This is the first impression any home gives, and it should be a great first impression.

The home design software you select should allow for easy customization of every aspect of the exterior of the building, landscaping, driveway, decks, and more. Cedreo allows you to create stunning outdoor views of home designs and customize even the smallest details, such as the surface materials you use outside the home.

Home decoration

A flat design with no decoration may not be boring to a professional, but to some clients, it's impossible to imagine living in a home without some decorations to make the design feel more welcoming. The best free home design software for Mac needs to give you the ability to decorate your 3D home designs. Otherwise, you could lose potential sales.

Cloud-based

No one should be saving design files to hard drives and hoping nothing happens to them. Your Mac-capable home design software needs to be compatible with the cloud. That way, you can access your designs from anywhere and never have to worry about losing them to hard drive damage and similar problems.

Sharing capabilities

Who has time to schedule an in-person meeting for every design review? Almost no one. And if your home design software is forcing you to present designs to clients in your office or at their homes, you're wasting time. You could save time and boost your revenue by sharing designs with clients remotely to get their feedback and comments. The right software will allow you to do that.

Support options

What do you do when you can't figure out how to do something in your home design program? You should be able to call or email a support professional and resolve your issue quickly. The best floor plan software for Mac should also offer short tutorial videos that show you how to complete specific tasks.

Cedreo provides dedicated, efficient support to users, as well as a library of support and FAQ resources, including video tutorials.




9 Best Home Design Software Platforms (Free and Paid) for Mac Users
The Cedreo team has reviewed home design software for Macintosh users and found the nine best options. Below, we will look at free and paid options, target users, key features, and pricing for each program.
1. Cedreo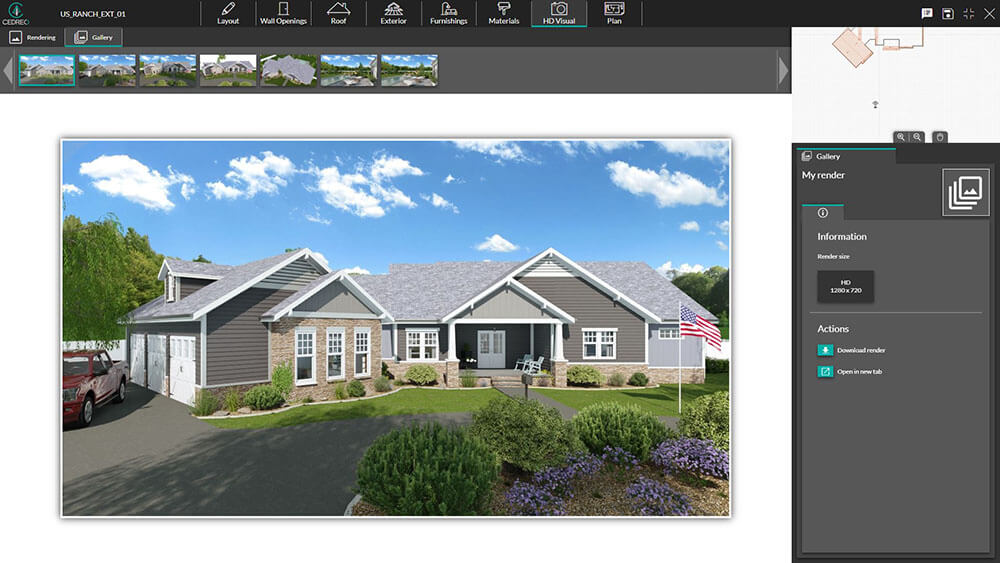 Best for: Professional home builders, designers, and remodelers

In under two hours, home builders and designers can create a detailed 2D floor plan and 3D rendering with Cedreo. Combining all of the key features of home design software, Cedreo is optimized for speed and efficiency. Quick, beautiful, photorealistic designs from Cedreo spark an emotional response in clients that leads to more closed sales and higher revenue for professionals.

Cedreo is 100% online and cloud-based, which means it is an ideal home design software for Macintosh or any other type of computer with internet access.

Key Features:
Wide range of customization options for furnishings and surfaces
Personalized onboarding and phone support to get you up and running fast
Furnishing and decor library with more than 7,000 items
2D and 3D floor plan designs with photorealistic renderings
Easy sharing options to get feedback from clients and colleagues
Ability to customize lighting and shadows to set the perfect mood
Option to save and reuse templates
Pricing: There's a Cedreo plan to meet any budget. Check out our plans here.

Cedreo offers a free, no-obligation trial. Why wait? Sign up today.
2. SketchUp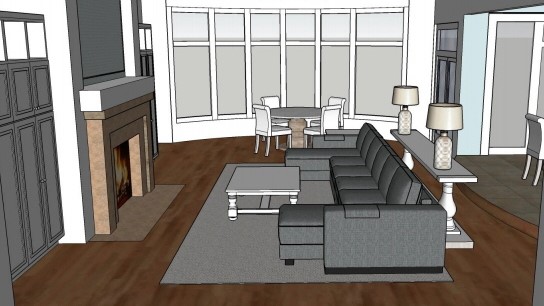 Best for: Experienced architects and commercial contractors

If you have years of experience with CAD and technical 3D design, you may be able to make use of SketchUp's relatively wide variety of features somewhat quickly. However, you should be aware that while this software can do a lot of things, it is not specifically built to be a house design software for Mac.

You'll get plenty of features or capabilities with SketchUp, but you may lack the knowledge necessary to use them correctly. With the right level of training, you can use SketchUp to create home designs and display them to clients through animations, virtual tours, and flyovers. Keep in mind that you have to download add-on software to generate 3D renderings in SketchUp.

Key Features:
Large catalog of premade 3D models
2D and 3D floor plan design
Ability to create 3D models
Smart reporting tools
Augmented reality (AR) design viewing
Pricing: SketchUp is available via three plans:
Shop. Pay $119 per year for the online version with limited access to SketchUp's features.
Pro. For an annual fee of $299, you get access to features like project insights, an XR viewer, a 3D modeler, and in-design documentation via the desktop application or web-based version.
3. Live Home 3D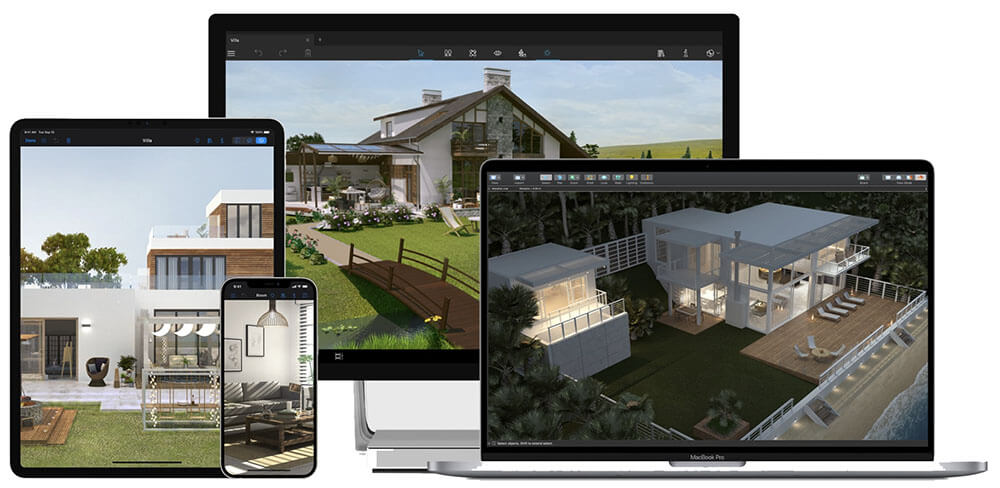 Best for: Interior designers, landscape designers and architects

Live Home 3D is a tech-forward home design software for Mac that is available on desktops, laptops, smartphones, and tablets. With touch-screen controls on portable devices and several AR-capable features, Live Home 3D provides ease of use and an impressively smooth design experience.

This software offers a relatively rare feature with its AR room scanner. The scanner can make a digital copy of a real room and allow you to design over it in the app, making it a solid option for interior designers.

The app itself is free, but to make it truly functional for a professional home builder or designer, in-app purchases are necessary. Depending on what you need the software to do, these purchases can become expensive.

Key Features:
Autosave while you work
3D object library of 2,000 items
Video walkthroughs
Terrain editing (Pro version only)
Ability to create custom materials
Pricing: Live Home 3D breaks down its pricing by feature.
App store version is free with highly limited features.
A lifetime license for professional use with all features is $49.99.
A one-year subscription to use standard features is $9.99.
A one-year subscription to use pro features is $19.99.
4. Planner 5D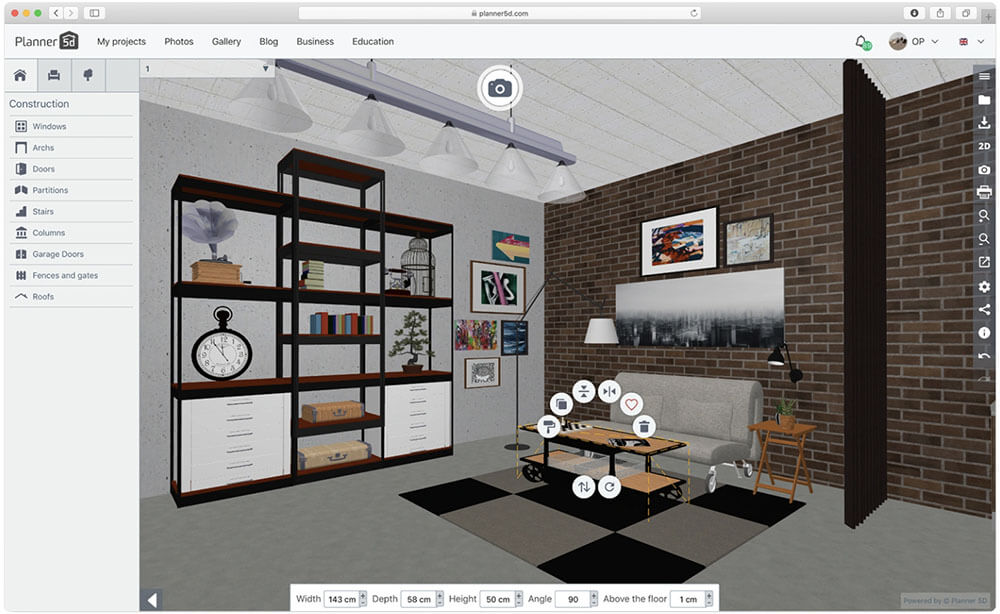 Best for: Real estate agents, DIYers, and homeowners

If you're looking for easy-to-use home design software for Macintosh, it's difficult to beat Planner 5D. But this ease of use can come at the expense of some of the more advanced features that professional home builders and designers need to create designs that will please their clients.

The ability to quickly create a rough design, furnish it, and share it with a client can be useful for real estate agents and similar professionals, but this software is designed largely for amateur use. The software has versions designed for use on Apple phones and tablets, as well as Mac computers.

Key Features:
2D and 3D design
Image capture with photo editing tools
User-created furnishing catalog
Automated arrangement of furniture
Access to Planner 5D design community
Pricing: A free version is available, but it is limited. Paid subscriptions come in the following price tiers:
$6.99 per month
$15.99 per year
$24.99 for a lifetime subscription
5. Homestyler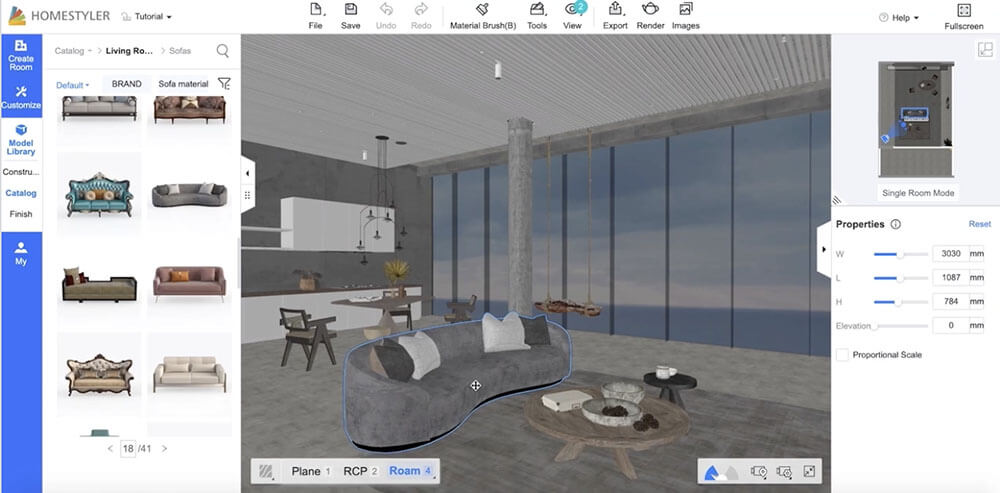 Best for: DIY and personal use for homeowners

Homestyler is an app for iOS devices that allows you to create simple and photo-worthy home designs and fill them with real furnishings from well-known brands. This software is an excellent choice for homeowners who want to experiment with a new decorating scheme for their living space.

Real estate professionals may also find Homestyler useful when they need to help clients picture their living quarters inside an existing home. However, the app is not meant for creating a new home design from scratch. Instead, its primary offering is that you can upload a photo of an existing space and design on top of it.

Key Features:
Design sharing with other Homestyler users
Real furnishings from popular brands
2D and 3D designs
Panoramic views of completed designs
Photo uploading
Pricing: Homestyler offers a 100% free plan, as well as a few paid options.
Free version limits features and creates designs with a Homestyler watermark.
The Pro plan is $19.99 per month. It offers access to all features with limited renderings.
The Master plan is $39.99 per month and unlocks all features and a larger number of renderings.
6. SmartDraw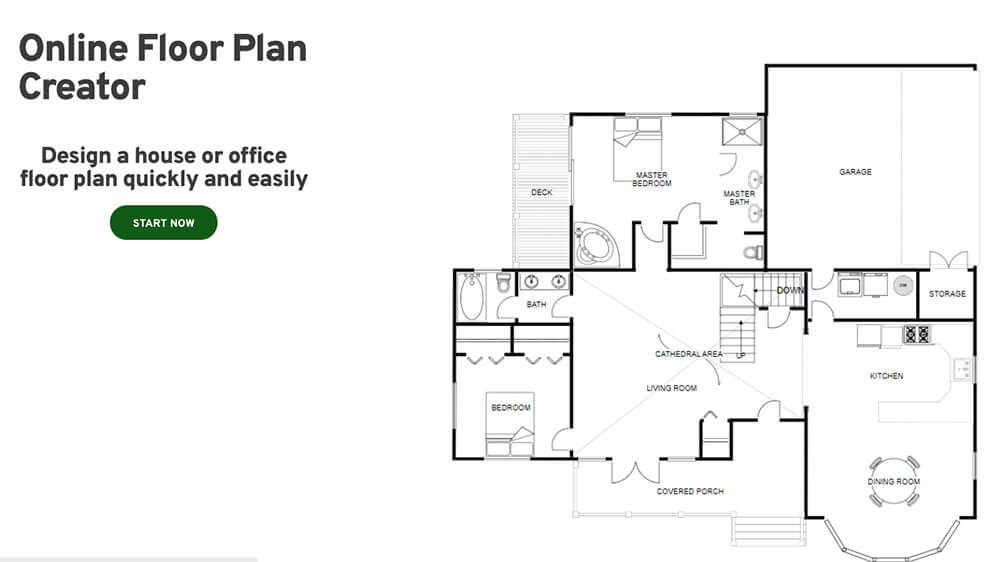 Best for: Architects and home contractors

SmartDraw is a comprehensive 2D design tool that boasts a wide variety of features — even some that transcend traditional design and get into project management and productivity. While this software's offerings are broad, its main limitation is in the 3D design department. To do 3D designs with SmartDraw, you will have to find a program that integrates with the software.

Still, the program is meant for use by professionals and offers impressive functionality along with an intuitive user interface. Easy to integrate with file-sharing applications, SmartDraw is especially ideal for professionals who would like to collaborate on 2D design projects.

Key Features:
Integrations with file-sharing and productivity apps
Floor plan templates
Comprehensive symbol library
Ability to create scaled CAD drawings
Free support
Pricing: After a seven-day free trial, you can choose from three paid plans.
$9.95 per month for individuals
$5.95 per user/month for teams
$2,295 per year for enterprises
7. Sweet Home 3D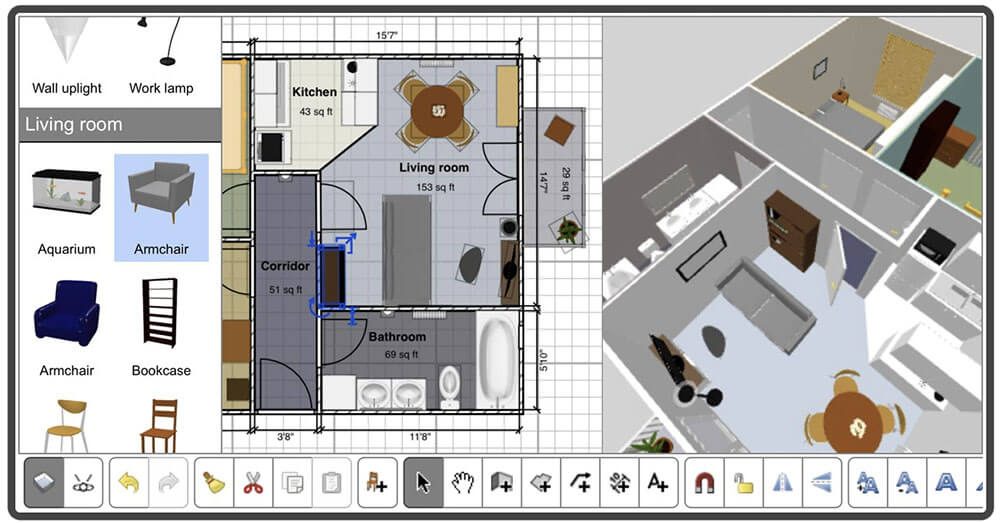 Best for: Remodelers, home builders, and homeowners

When you download Sweet Home 3D, you get a drag-and-drop 2D and 3D design editor and many of the standard features you expect in home design software. This may not be the best free home design software for Mac, but it is completely free.

The lower-quality graphics in this program can leave something to be desired for professionals who need to present designs to clients. However, the simpler graphics contribute to the overall high speed of this software.

While Sweet Home 3D can accommodate some complex design needs, such as irregular wall shapes, it doesn't offer the full suite of features that many other Mac home design programs offer, such as standard CAD symbols.

Key Features:
Blueprint import
2D and 3D views of designs
Customizable 3D models
Integration with various plugins for added features
Pricing: Sweet Home 3D is free to use.
All features are available in the free version.
Additional textures and objects can require a small fee.
8. Chief Architect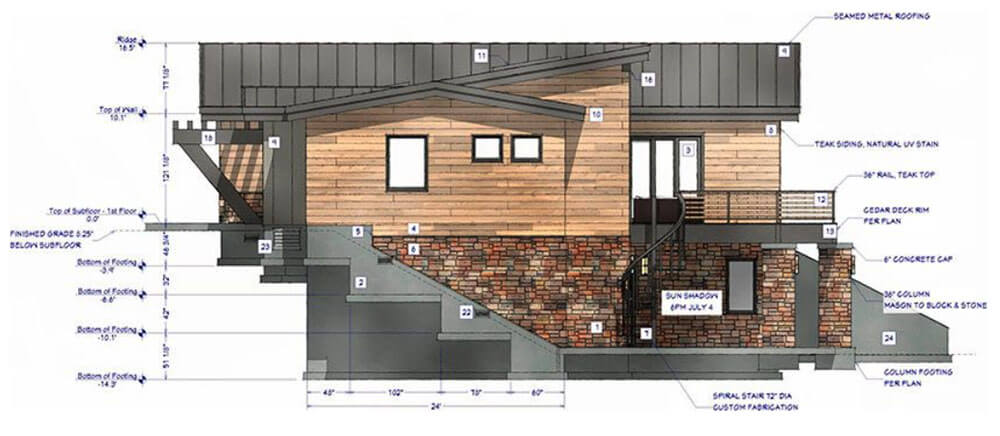 Best for: Architects and home builders

Available for both Macs and PCs, Chief Architect is a well-known home design software that packs a large number of modern features and all the functionality of a traditional CAD program. With these benefits comes a potential drawback for smaller-scale home design operations: price. Chief Architect is one of the most expensive pieces of home design software for Macintosh users.

Key Features:
Virtual tours and photorealistic renderings
Comprehensive landscape design capabilities
CAD tools
Custom design backdrops
Floor plan templates
Pricing: You can pay for Chief Architect on a monthly basis or purchase a lifetime license.
$195 per month
$2,965.50 for lifetime license
9. Space Designer 3D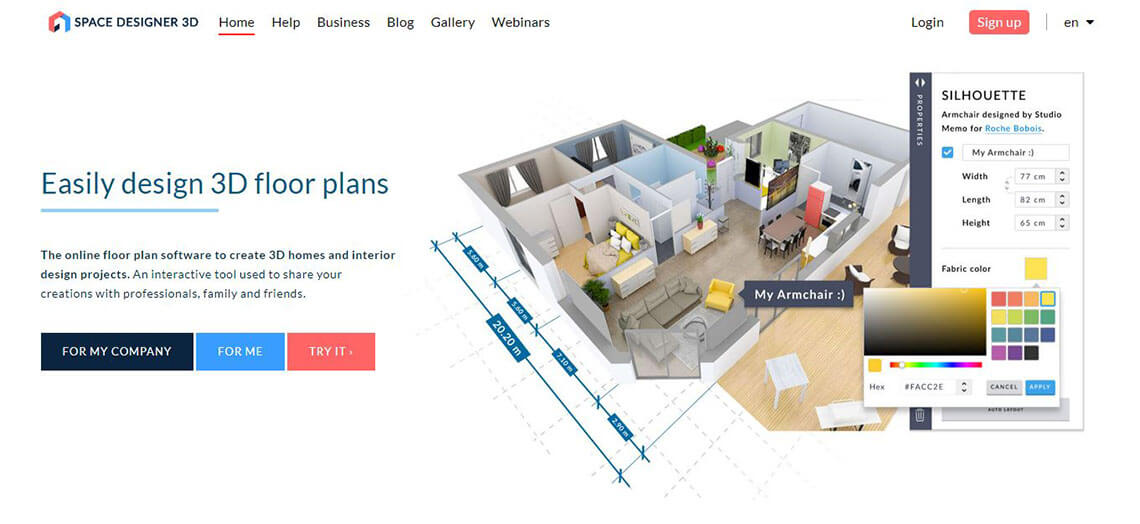 Best for: Home designers and casual users

A gorgeous interface is the first benefit of Space Designer 3D that you will notice. The experience is both intuitive and precise. With a library of 10,000 furnishings and materials, this software offers a broad range of interior design options.

The 3D walkthrough features can be useful during presentations, but keep in mind that the graphics remain boxy and fall short of the "photorealistic" standard. However, for ease of use and customization, Space Designer 3D is a leading home design software for Mac.

Key Features:
PDF and DXF project export
3D furniture modeling
Ability to import existing designs
Dimension tool to calculate object and room measurements
Tourable 3D renderings
Pricing: Space Designer 3D offers four pricing options.
Casual. This plan is $9.99 per project. Features are limited.
Regular. At $24.99 per month, the Regular plan offers five projects per month and a wider range of features.
Team. For $99.99 per month, the Team plan allows you to have up to five users and 25 projects each month, as well as full access to features.
Business. Space Designer 3D does not specify the price of the Business plan, but it indicates that this plan is highly customizable and may offer on-demand features to suit your needs.
Which Home Design Software is Right for You?
Finding the best home design software for Macintosh isn't easy, but we hope this list will help. Begin your search by thinking about which features you need, your budget, and your level of technical expertise. Then, try out the options to see which one works best for you.

Cedreo offers a free version for exactly this purpose. We want you to see what Cedreo can do before you make your purchase. We believe that once you try us, you will see what we see — that Cedreo is the best floor plan software for Mac.

To get started, reach out to our sales team or sign up for free.