When it comes to luxurious rooms in a house, nothing beats a home theater.
For many homeowners, having a private room dedicated to watching movies and shows is the ultimate dream renovation.
But what do you need to know about this kind of project?
From planning out where the screen will go to understanding the best way to place seating, you'll find plenty of factors that all come into play when designing a home theater.
Moreover, many homeowners see a home theater or gaming room as the best place to show a little personality. Whether it's decorating the walls with your favorite superheroes to adding additional features like a kitchenette for in-theater snacking, you can make it all happen in a well-designed home theater.
To get you started, we'll explore some key considerations you should have on your mind before you start your next home theater project.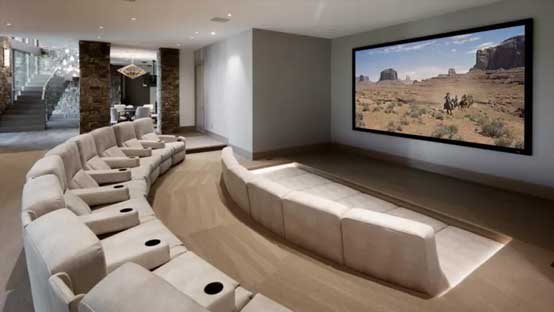 What To Keep In Mind When Designing A Home Theater
When it comes to building a home theater, you'll find a few key considerations that can help you make the most out of your project.
1. Budget
With a project like this, budget is probably top of mind.
Of course, you don't want to overspend. But you don't want to cut corners, either.
Setting up a realistic budget is a critical step in a project like this. Moreover, you want to explore your budget and find what cost areas are most important for you and your family.
For example, if high-quality sound is a top priority, you want to weigh your budget accordingly. Cost estimating software can help quite a lot in managing your home theater project budget.
2. Seating
What's a good home theater without comfortable seating?
Depending on your budget, you may choose from a selection of seating choices:
Sectional sofas
Massage chairs
Love seats
Individual recliners
Home theater-specific seating
Think about how many people can fit into your new home theater. If you're only looking to accommodate a few guests, it can mean you have a bit more space for luxury seating.
3. Sound System & Sound-proofing
Part of the home theater experience is high-quality and often surround sound speaker systems.
This cost area can easily take over your budget.
You not only need to understand the types of home sound systems but also where to place the speakers around the room. Interior home design software can help you manage this task.
But, if you can, hire a professional with experience installing this kind of equipment.
Additionally, you'll want to source a subwoofer to really capture the low-end of movies for the full theatrical experience.
4. Lighting
While lighting might seem like an afterthought, you should pay close attention to what types of lighting you use in your project. Placement is another critical element of good lighting.
It's true that you want to limit light during viewing, so variable lighting is key.
Make sure that you still have accent lighting so people can find their way in the dark too. Red lighting is a great way to add some visibility without sacrificing screen brightness since the light itself isn't as jarring as other color choices.
5. Amenities
When you're in the middle of a great movie, the last thing you want is to leave your home theater to get a snack.
Adding extra amenities to your home theater is a great way to up the luxury and make the space unique to your family's needs. A home theater is just one room in your home, but it can be much more than just a place to watch TV.For example, you can add a small kitchenette and fridge for in-theater snacking or additional controls for your heating and cooling system so you don't have to go far to change the temperature. But be careful. An addition like a kitchenette can add around $5,000 to your budget.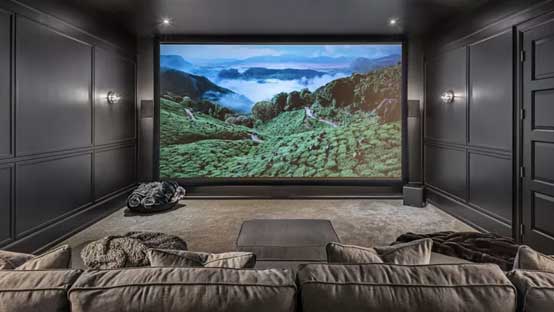 How Home Design Software Can Help Design Home Theaters
When it comes to designing luxury rooms in a house like a home theater, hopefully, you now have some idea of what the project entails.
From sourcing the perfect lighting to finding the right place to put all your speakers, there's a lot that goes into building a home theater. But, if you can control your budget and think about your needs, the final product will shine and be a focal point of your home for years to come.
Whether you're a professional designer or just a DIYer, getting your plans right the first time can save you time and money on your next project. That's why you should always consider using home design software.
Platforms like Cedreo provide users with the best tools for 2D and 3D site and floor plan designs.
In under a few hours, you can have your plans all ready to go! To learn more about what Cedreo has to offer, be sure to get in touch.