In today's hectic world, homes have to work harder than ever, accommodating everything from socializing and cooking, to work and education. This can be a big point of confusion when it comes to design.

How do I organize rooms in a house? What features should be included? Which types of rooms are must-haves for my lifestyle, and which aren't? All of these questions can be daunting. And the problem is only compounded when you factor in limitations of space. When certain rooms have to pull double (or even triple) duty, the design challenge only gets steeper.

For this reason, we've made a quick guide to the functions of each room type and their characteristics. You'll learn the basics of what design in each space should achieve, as well as tips for integrating them into your whole-home floor plan.




12 Types of Rooms That Can be Found in a Home
There are about twelve common room types you'll find in average homes. While some ritzier residences may have other specialty-built spaces, the rooms in the list below are what will be encountered most often. These room types are popular for their practicality when it comes to meeting the daily needs of most households.

1. Foyer/Entryway
Foyers and entryways are the welcoming place of a home, where guests and residents alike are greeted and prepared to enter the rest of the dwelling. Furnishings and accessories like coat racks, shoe benches, and key organizers are frequently found here, making it easy for people to get comfortable and store their outdoor items.

In homes with lower square footage, foyers and entryways are typically not their own separate room, but rather a small portion of a living room or dining and kitchen space. This can make it difficult to incorporate the functional features necessary, which is why it's common to see many entryway furnishings that have multiple purposes.

Large homes with their own distinct foyers have much more room to not only accommodate storage, but also make a statement. These rooms are often designed to be "stage-setters", greeting those who enter with beautiful focal points and impressive decor. Sculptures, plants, paintings, and large mirrors are prime choices for dressing up these zones.

2. Kitchen
One of the most important rooms in a home, kitchens are often a central point of activity. Not only do they serve the purpose of facilitating food preparation, they are also often gravitated to when entertaining or simply catching up with other household members.

These spaces tend to do a lot of heavy lifting in terms of function, especially in smaller homes. Dining areas are often incorporated via breakfast bars and nooks, and storage space is usually worked in through extra shelving, cabinets, or walk-in pantries.

Designing kitchens can be tricky due to floor plan limitations. The structure of the space will determine what type of layout is possible – single-wall, galley, U-shaped, G-shaped, L-shaped, island kitchens, and being standard options. Layouts are typically built around the concept of the "kitchen triangle", which defines movement between the three points that see the most use. These include the stove, the sink, and the refrigerator. Best practices dictate that kitchen layouts should avoid interrupting the flow between these points to create a well-planned, functional space.

3. Family/Living Room
Family and living rooms are perhaps some of the most high-use rooms in a house. They act as the main setting for leisure and socializing, serve as ground-zero for childcare, and have even become the primary dining space in many of today's households.

This multifunctionality has driven many living room designs to emphasize comfort and usability. Low and delicate, sharp-edged coffee tables are being traded out for large, soft ottomans, or adjustable tables that can be raised to dining height. Storage is being incorporated into more furnishings, aiming to accommodate toys, pet accessories, and hobby-items. Built-in shelving is becoming a popular feature as a result.

Since living rooms tend to have the most square footage in a home, they are commonly used to place additional features. Bars, reading nooks, pet corners, and other fun zones are all becoming prevalent. Smaller homes without the space to dedicate extra rooms may also allot some living room space to home gym or office equipment.
4. Dining Room
Dining rooms are slowly diminishing in modern homes, especially the formal type that have their own walled-in area. The recent trend favoring open floor plans has relegated the dining room to a general area between the kitchen and living room. Surveys have shown that even this format sees little use, however.

Consequently, many homeowners are trading dining spaces for more practical areas, such as home libraries, pet rooms, homework rooms, or pantries. Frequently these rooms will be used to house home offices or gyms as well.

That being said, dining spaces are still major features in households that do a lot of entertaining, or are home to large families that hold the tradition of gathering at the table. Today's chicest dining room designs tend to lean heavily on statement lighting and large artworks. Dining furniture itself is becoming bolder, with eclectic pairings of chairs and unique tables serving as their own focal point.

5. Master Bedroom
Master bedrooms are the sanctuary of the home, where the head of the household can relax and unwind. The en suite bathroom is what distinguishes this bedroom from the rest, offering complete privacy. This seclusion tends to be the focus of design, with choices that emphasize the room's role as a personal getaway.

Panoramic windows are commonly found here, offering scenic views – often from the bed itself, or even separate seating areas where room allows. Fireplaces are popping up more in recent floor plans too. These features sometimes even act as a divider between seating areas or the attached bathroom, playing up privacy while distributing warmth throughout the entire suite.

6. Bathroom
Bathrooms are high-traffic areas that need to stand up to a lot more than most other rooms. Humidity, toilet overflows, and after-shower drippings are just a few of the moisture and sanitation concerns that must be accounted for in material selections. Non-permeable tiles and water-resistant furniture finishes are a priority in this space.

But beyond elemental durability, bathroom design also needs to address issues of comfort, atmosphere, and storage. Those who want to use their bathrooms as a place of self-care and relaxation will need floor plans that allot more space to these rooms, allowing for luxurious bath tubs, seated showers, or vanities to be accommodated. Space for linen cabinets and the storage of toiletries should also be considered to prevent the need for storing bathroom items in another area of the home.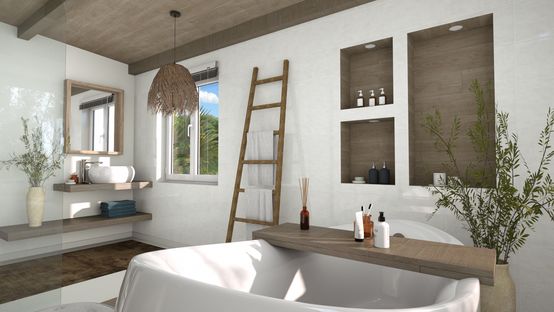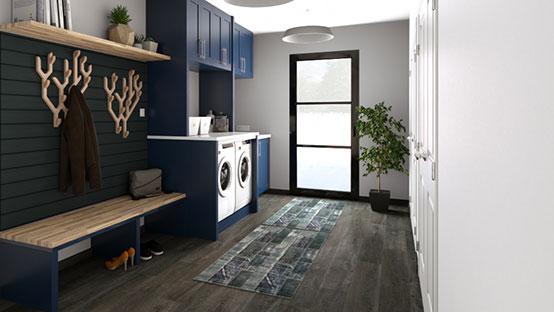 7. Laundry Room
Much like bathrooms, laundry rooms need a certain degree of toughness to resist the heat, humidity, and dirt that accumulates. Easy-to-clean surfaces such as tile and laminate are favored here.

The need for product storage prompts many homeowners to incorporate a lot of cabinet storage in these rooms, as well as counter surfaces for spot-treating clothing, placing baskets, and folding. Hanging space is desirable for leaving delicate garments to dry, and a deep-basin sink offers extra utility in an area where hand-washing certain items is a likely necessity.

8. Guest Room
Guest rooms are a fun space to design and decorate, as the priorities for this room type can vary depending on the individual needs of the household and those who visit.

While the goal may be to provide a comfortable and attractive home-away-from-home to family and friends, guest rooms are often used as storage, working, or hobby spaces when visitors aren't around. For this reason, closets and desk areas are big-ticket features in most guest rooms.

Residents should consider the needs of those who are most likely to visit when designing this space. Visitors with young children may value changing stations, cribs, or multiple beds, while elderly family members may get the most out of extra space for accessibility. Any type of guest will appreciate furnishings that can store their belongings and help them settle in.

9. Home Office
The new work-from-home era has sparked a boom in demand for home offices. Floor plans that are being designed today often include home offices as a must-have space.

Privacy is paramount for these rooms, so lockable doors should be chosen over open entries. Layouts that minimize glare are also very important for comfort. Avoid putting brigh lights or windows in spots that face computer screens. Task and ambient lighting should be balanced well to prevent eye strain.

Placement with respect to the rest of the home also matters greatly for good home office design. The best floor plans will place home offices in quieter areas of the home, away from distracting noises and interruptions.

10. Home Gym
Home gyms are increasingly popular. If you're a fitness-minded homeowner, you'll want a dedicated home gym with an energizing design that inspires you to stay active. The best designs accomplish this with ample natural and artificial lighting, creating an airy and cheerful atmosphere.

Wall shelving and racks are commonly implemented to store items such as weights, yoga mats, and other exercise accessories. Wall-mounted televisions may be important for those that enjoy following workout videos, or catching up on their favorite shows will they sweat.

Safety should be kept in mind when designing a home gym. The floor plan may need to be designed to limit access by children, pets, or elderly family members who could hurt themselves on gym equipment.

11. Basement
Basements are highly versatile rooms that can be tailored to meet a household's unique needs. Some may prefer to have this be a more utility-focused area, housing storage shelving, extra equipment, or even laundry zones.

Others choose to make this an additional living space that maximizes the home's offerings options for leisure. This area is commonly converted into a cozy den, home theater, or game room. Those who need more out of the area may target it for an extra bedroom, or even a separate apartment space or mother-in-law suite.

12. Garage
Garages tend to be storage-heavy areas. Everything from Christmas decorations to camping gear is typically destined for the garage, but all of this gear can quickly clutter the space if not managed well. Shelving and organizational units are in big demand in this zone as a result. Effectively sorting storage and keeping items in a designated space can free up the rest of the garage for parking, or even recreational use.

This room is also highly functional for hobbyists who need workshop space. Woodworking, pottery, painting, and many more crafty activities can be accommodated with a full garage studio. And of course, those with a mechanic's touch enjoy fully outfitting garages to house and care for their automotive projects.




Design Any Room with Cedreo's Home Design Software
Creating a well-thought-out floor plan requires experimentation and clear visualization. If you're looking for a way to compose floor plans that help you refine each room's design, look no further than Cedreo.

With our comprehensive program, you'll be able to draw and decorate full 2D and 3D floor plans for every room in your home. Lay plans with accurate measurements, creating beautiful reference models for your renovation or building project. Make edits as needed, and collaborate with your design team to get the perfect results.
Start Your Floor Plan