The living room is one of the most used rooms in a home, entertaining guests, relaxing, watching TV, and sometimes, even working, so it's important to make sure it's comfortable and practical.

Today, Cedreo's layout and decoration expert, Cécile, is here to give you her tips for setting up the perfect living room.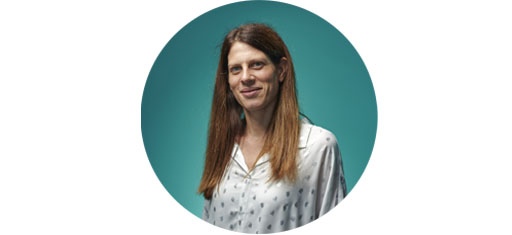 The Sofa – A vital element of any living room
A common mistake is making the TV the focal point in your living room, but this room is used for so much more than just watching TV! When relaxing, hosting guests, and partaking in other family activities the sofa is key. Making the sofa the key element of the room helps structure the space and determine the style of your room.

Here are some different ways to position your sofa:
Against a wall or at an angle: these are the most natural positions to optimize space if your living room is small.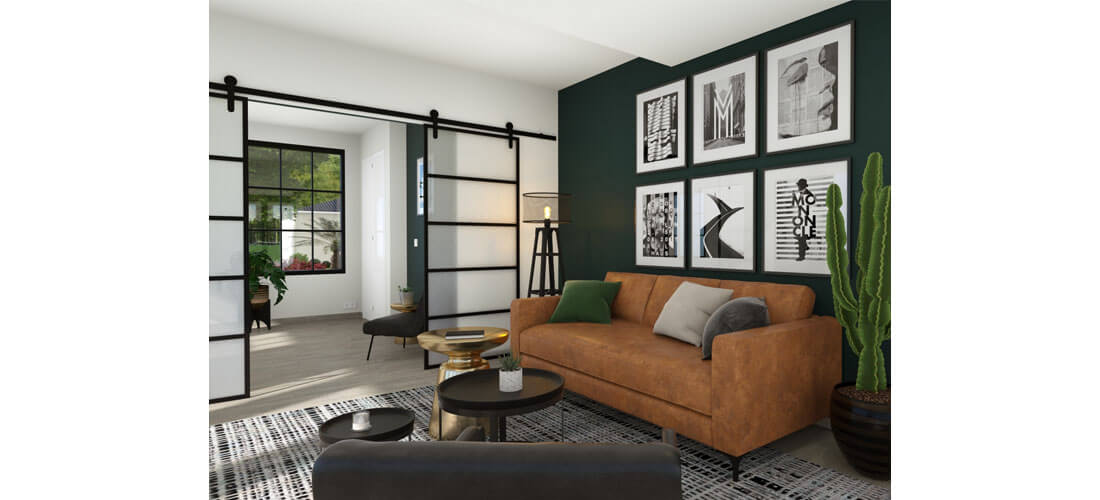 In the middle of the room: if you have a large space or open floor plan placing your sofa in the center of the room can help structure the space by defining the living area from the dining room or hallway.
Facing a point of interest like a fireplace or outdoor view: If your room doesn't have a point of interest, it's up to you to create one. It could be a nice sideboard, a beautiful painting, a colorful wall, or you can even install a fake fireplace. Then you build your living room around this point.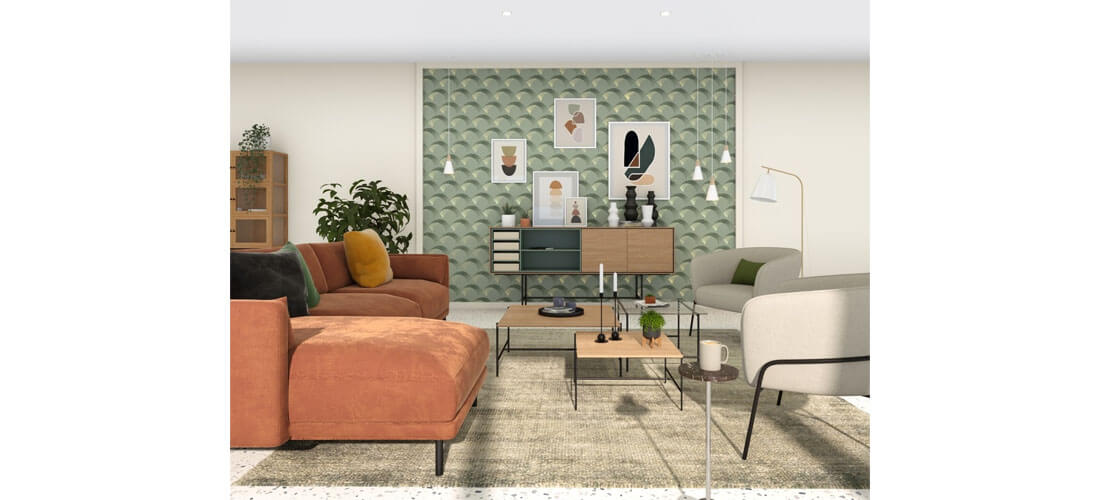 Arrange the Living Room base on your habits
Once the sofa is placed, you can think about the other living room furniture.

The sofa is usually accompanied by a coffee table or side tables. When it comes to the coffee table its size should correlate to the size of the sofa, but should never be wider than the sofa. A hot trend right now is having several small matching coffee tables of different sizes and heights or a series of nesting tables.

For the rest of the furniture, anything is possible! Ask yourself: what will we be doing in the living room?

For those who like to entertain, it's essential to have enough seating and other amenities necessary for your guest to be comfortable. Extra seating and even a bar or bar cart in the living room help bring the space to life. If you do not have a guest room, consider incorporating a pull-out couch.
The idea is to create a space where friends and family can chat face to face. The best way to accomplish this is to configure the room in an "L", parallel, or "U" style.
The traditional placement of accent chairs is on either side of the sofa, you can match them to the sofa, or mismatch them for a more contemporary look.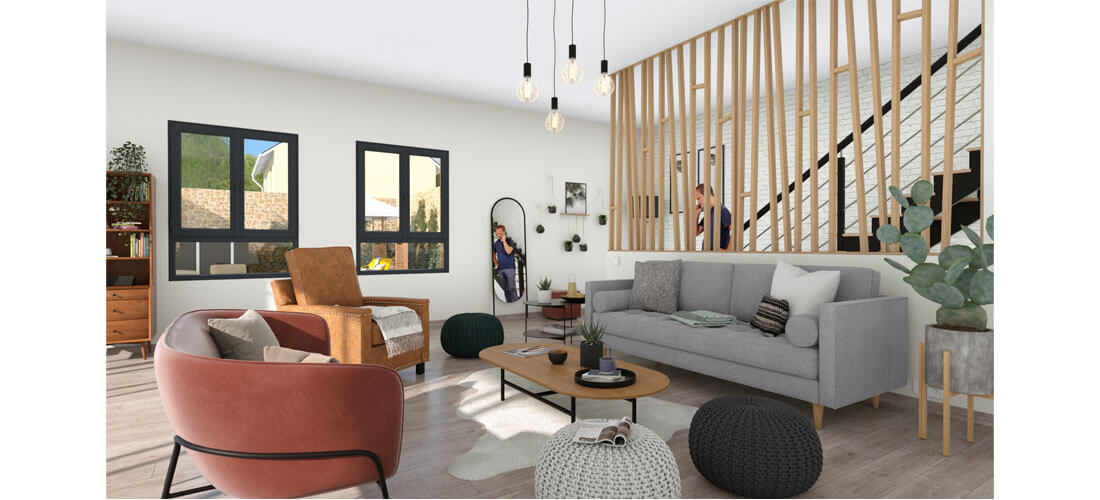 If your living room's main purpose is for
watching movies and TV
you may focus primarily on comfort. Opt for a fairly wide sofa with a deep seat and place it facing the television. If you tend to prop your feet up on the coffee table, choose one that's stable and shorter in height.
The challenge here is to
not arrange your entire living room around the TV
which can make the room seem somewhat cold and lifeless. Add in a few armchairs to the space to make it feel more welcoming. Another trick to warm up the space is adding a fireplace, bookcase, or gallery wall.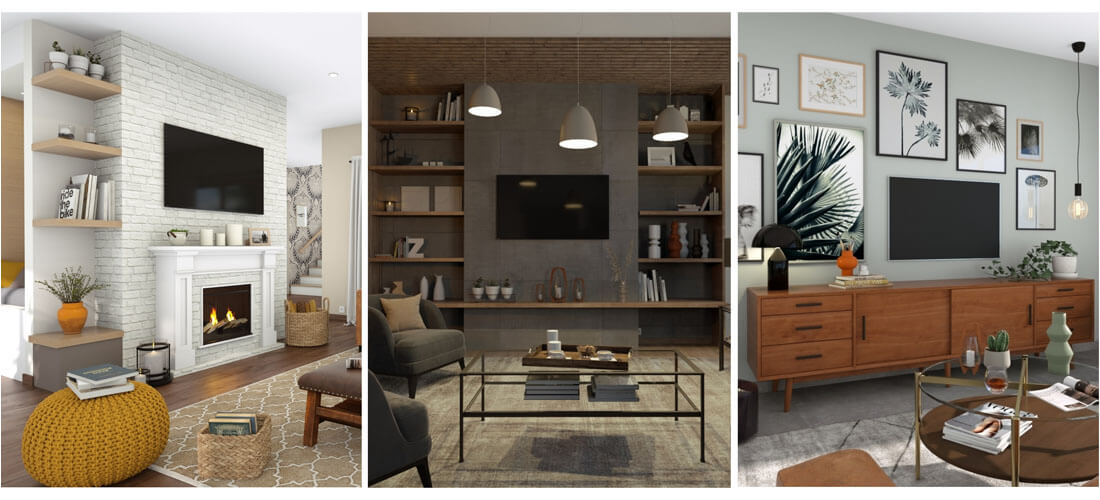 With remote work at an all-time high, the living room may have to double as a work space. Choose a spot near an electrical outlet to place a small desk that doesn't overwhelm the space. Avoid using an executive-type chair and choose one that can not only be used as extra seating when entertaining but fits with the style of the space.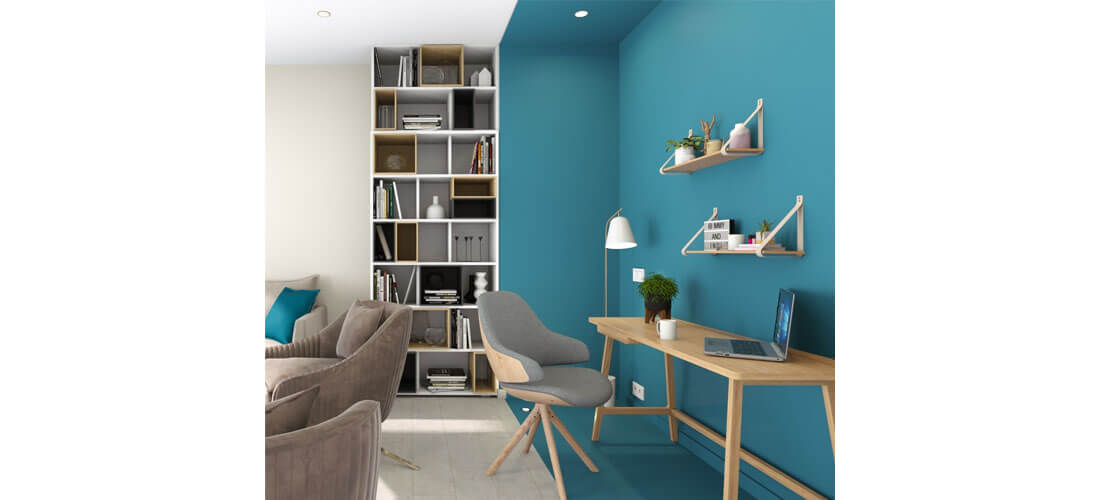 Arrange according to the size of the living room
For a welcoming and balanced living room layout, its size should be taken into account. Furniture should be proportionate and the space should be designed geometrically.
Small or medium space
The goal for this size room is to keep it as open and airy as possible. To do this try to avoid placing your large furniture, such as the sofa, against the walls. The objective is to create a central space, so try to position your sofa and armchairs in the center of the room forming a square.
Another tip for this size space is all about your choice of furniture. Avoid oversized pieces. Glass tables and mirrors help make a small space feel larger and lighter. Another great option is nesting tables that can give you more surface area without cluttering the space.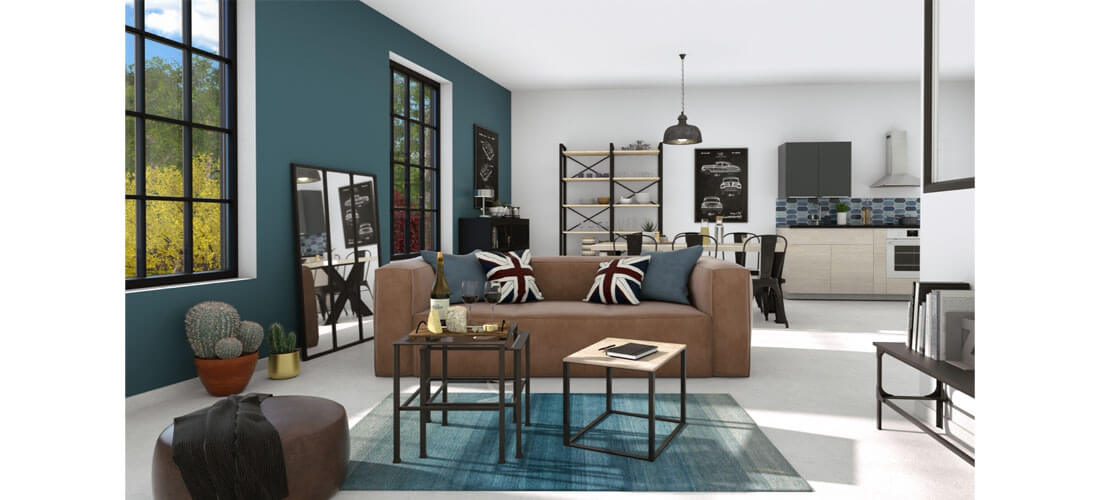 Large living space
Designinglarge living spaces can sometimes feel like an overwhelming task. The best place to start is to think about all the functions you want this space to serve. For example, you can set up an office area or a reading nook. Just make sure not to try to cram too much into the space making it feel crowded or cluttered. Creating different zones in a large living space helps to make it feel warm and inviting.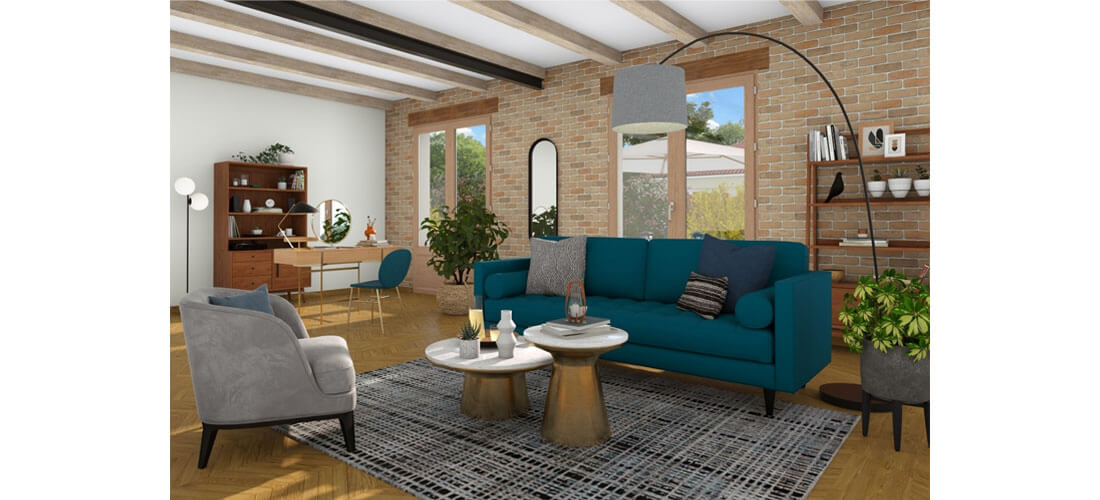 Arrange according to the shape of the living room
While the size of the living room is an important factor when designing a living room, another important thing to consider is the shape of the space. The layout will differ greatly depending on if the room is square, L-shaped, or long and narrow.

Here are some key points to consider depending on the shape of your room:
Square: A square-shaped living room gives off the impression of perfect symmetry. To design this space place the sofa along one side of the room with another sofa or armchairs across from it and a coffee table between them.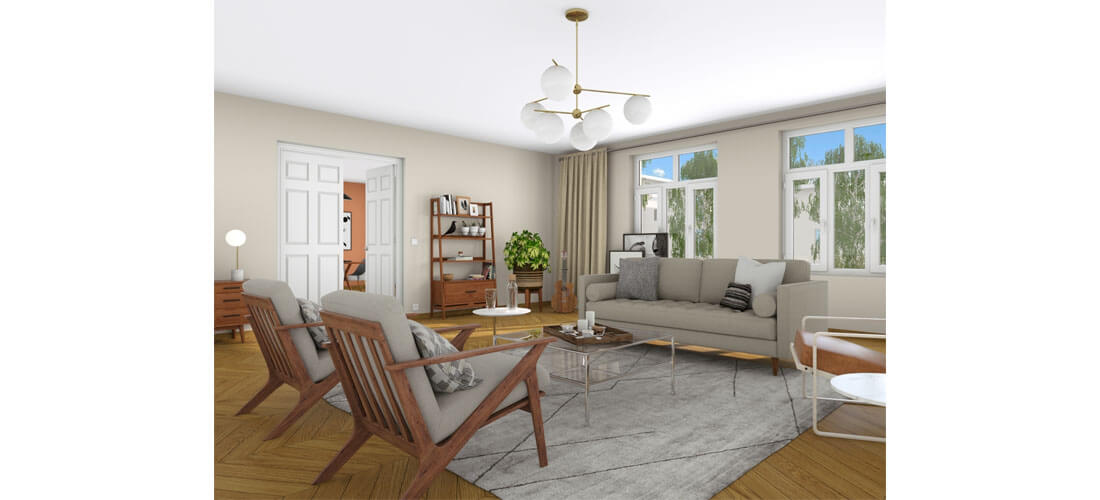 L-shaped: Two distinct areas naturally coexist in this type of living room. Therefore you can design a lounge area in one section and a dining or office space in the other. It's best to arrange your living room in a larger area or near the largest opening to optimize the natural light.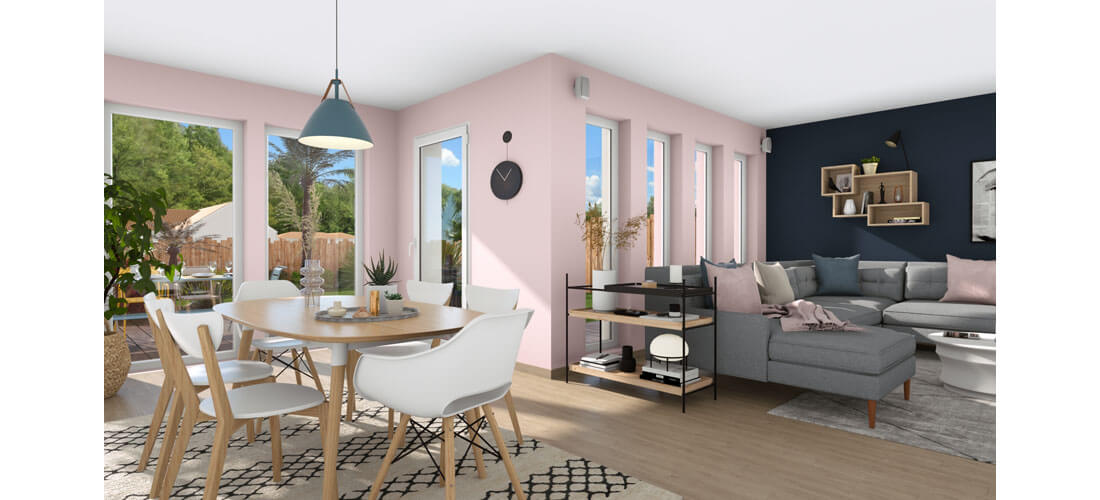 Long:
The key to designing a long narrow space is by creating several zones. This can be accomplished with the wall color, area rugs, and low furniture that separates the space without blocking the length of the room.
To make the room look bigger, choose a uniformed flooring such as waxed concrete or wood floors with a fairly large width. Typically wood flooring is laid in the direction of the windows, however, with this type of space, you will want to lay the floorboards in the direction of the width of the room to lengthen and widen the look of the space.
Another great tip for smaller, narrow spaces is to add mirrors which will diffuse the light and make the space look larger. We recommend a large mirror lengthwise above the sofa.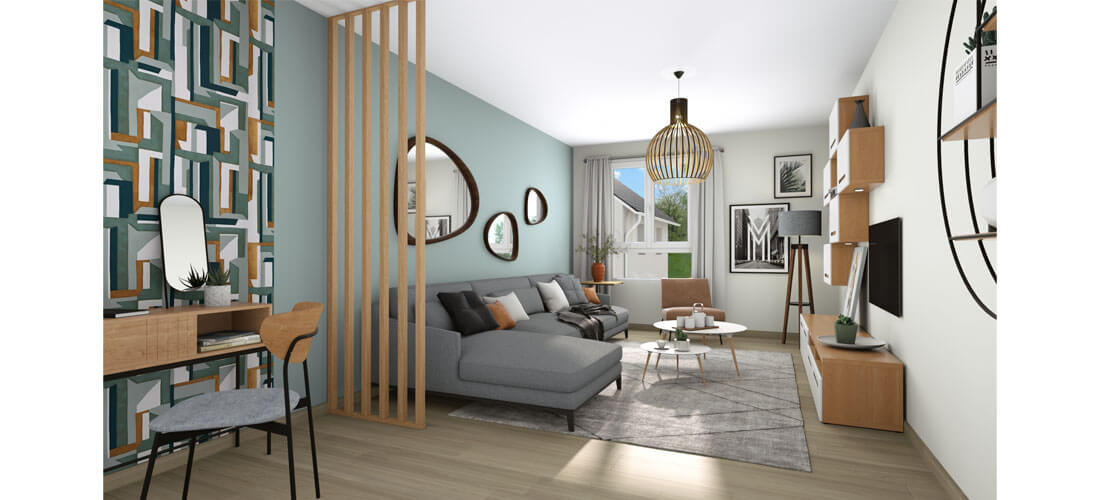 Don't overlook the lighting
Lighting is an important aspect in any room, but especially in the living room. You want to optimize natural lighting as much as possible and then supplement with additional lighting.

You will want to place your sofa as close to the natural light source as possible. Light-colored furniture helps make the space feel bigger and reflects light better than darker options.

Ideally, a light fixture will be hung above the coffee table, but if that isn't an option floor lamps are a great second option.

Table lamps placed on side tables or the TV console can add additional lighting where needed.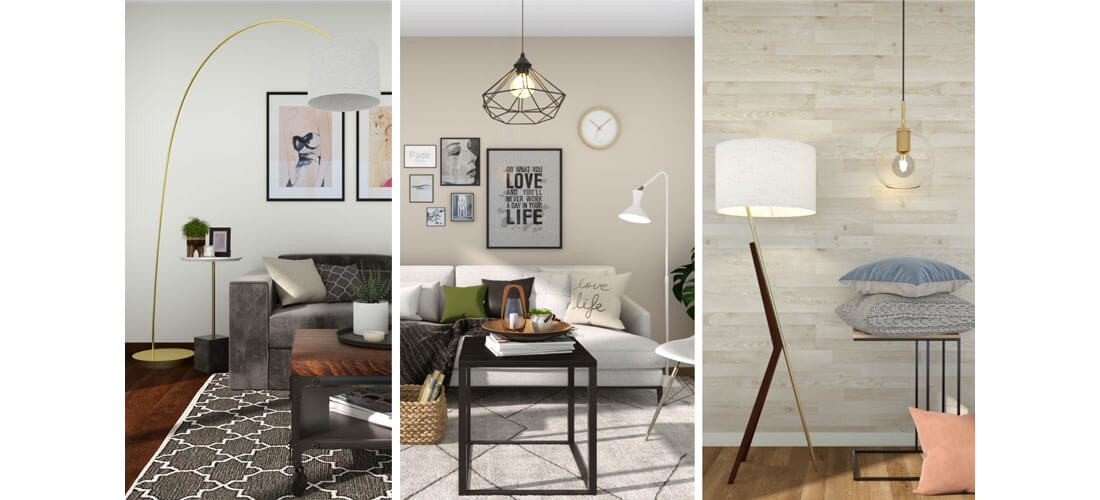 Decorate to fit your style
Your living room should reflect your taste and personality. This is where different decorative elements come into play to complete your living room design.

Here are some decor elements that will bring your room to life:
Rugs: An area rug in front of the sofa brings warmth and softness to the space. Choose the size and shape based on the layout of your furniture: rectangular if you opted for a sofa with two armchairs, and square if you have chosen two sofas facing each other.
Textiles: A beautiful throw and decorative pillows will bring comfort and charm to the room.
Decorative Objects: Adorn the coffee table with your favorite candles, stylish books, or a fun tray.
Plants: Bring life to your place with house plants.
Artwork: They say a picture is worth a thousand words. Make your walls speak with paintings, photos, and other framed artwork.
Window Treatments: Dress up your windows with curtains or shutters.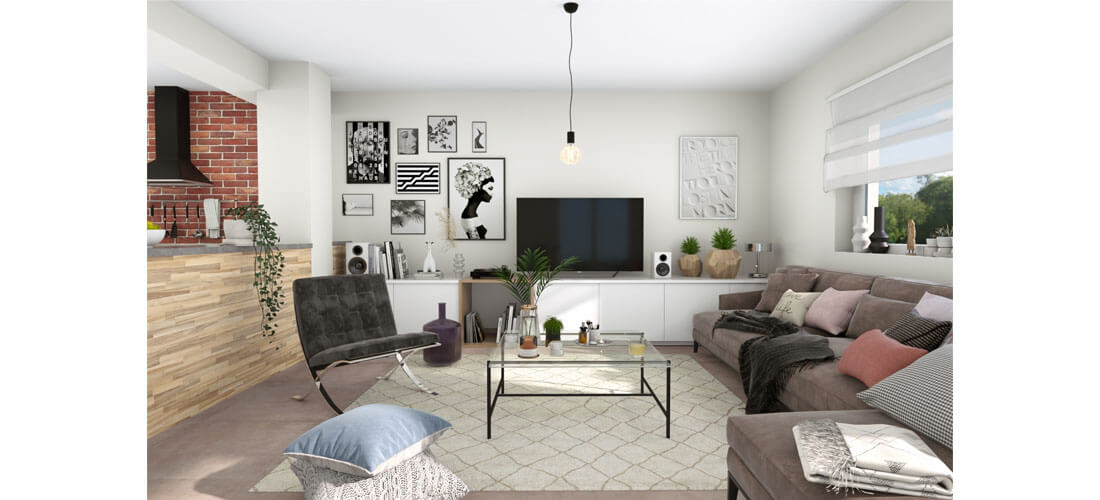 Now you know all the tips and tricks to design your living room.

Make your project a reality by creating a 3D design of your living room in Cedreo today!