Looking for the right home design software for your business? Let's compare three popular programs — Sweet Home 3D vs Sketchup vs Cedreo — to see which is the best for you.

It's true, they all share some similarities, like the ability to…
Create 2D and 3D floor plans
And add furniture and other objects to your designs
But there are some big differences that could make or break your decision to use these for your business. In this 5-minute read, we'll give you everything you need to make the right choice!




A Brief Introduction to Sweet Home 3D, Sketchup and Cedreo
To compare Sweet Home 3D vs Sketchup vs Cedreo, let's start with a review of the main functionality and key features of each software.

Sweet Home 3D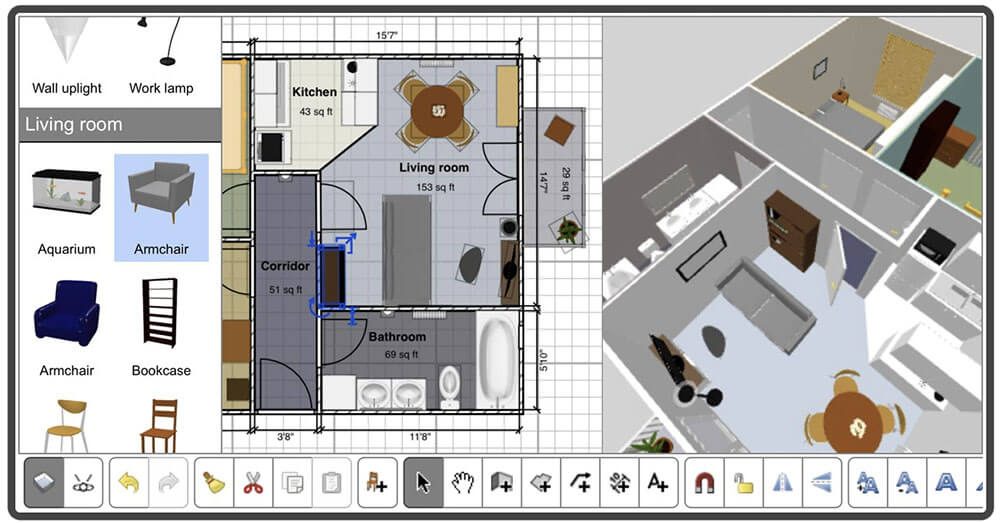 Sweet Home 3D is a free, open-source architecture design software. But despite being free software, it does have a surprisingly powerful toolset for creating custom house designs.

However there are some drawbacks. Sweet Home 3D's object library is limited, the user interface is outdated, and the 3D images leave a lot to be desired.
Draw 2D home designs with windows, doors, and other design elements
Test furniture layouts
Create basic 3D views to show clients
Best for:
Housing professionals on a tight budget who only need to create home designs from time to time.

Sketchup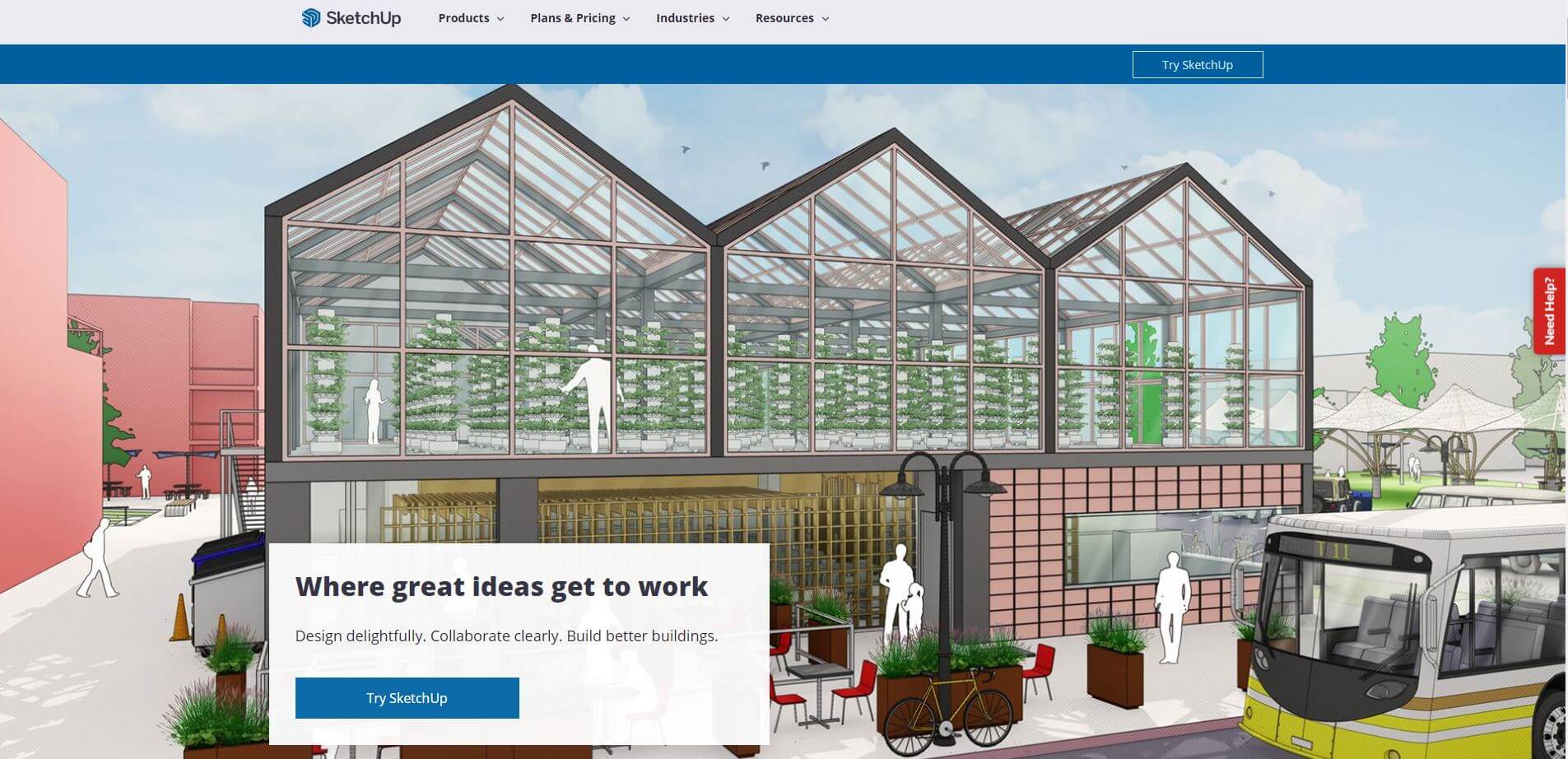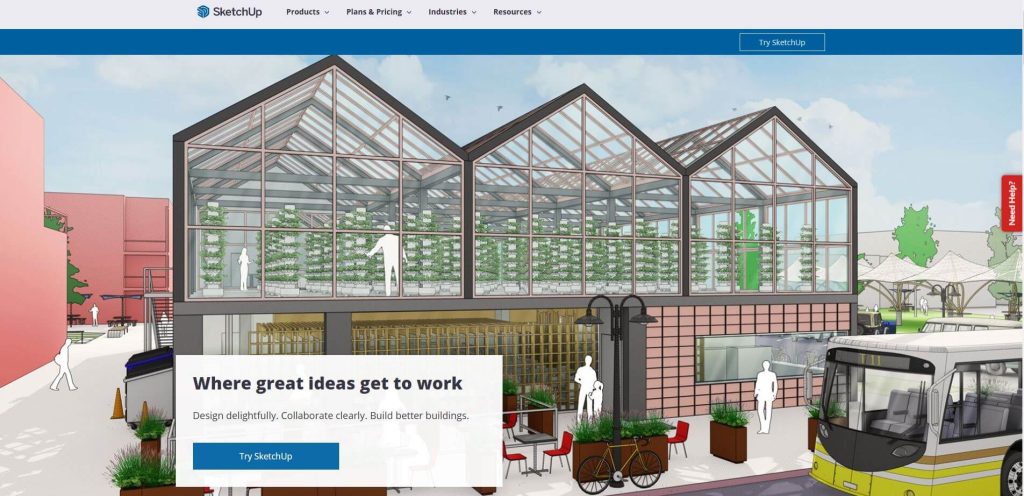 Sketchup is a popular 3D modeling software you can use to draw just about anything. By itself, Sketchup Pro (the professional paid version), is not strictly architectural software. However, with its powerful drawing tools and available plugins, housing professionals can do a lot with it — professional blueprints, custom designs, and 3D renderings.

But you do need to purchase extra plugins to access important architectural features. And if you don't have 3D or CAD experience, the program can be difficult to use.
Create virtually any custom shape to add to house designs
Choose furniture and decorations from the extensive user-generated 3D object library
Buy extensions for creating blueprints and photorealistic renderings
Best for:
Contractors with a bigger budget and previous CAD experience.:

Cedreo
Cedreo is the "Goldilocks" of the home design software space. It's not so simple that it lacks important tools while not being too complicated that it's hard to use. That's one of the reasons more housing professionals are switching to it.

It enables users to create professional residential floor plans and photorealistic renderings in a fraction of the time it takes with normal home design programs. It's got an easy-to-use interface as well as an extensive design library with materials, furnishings, and decorations.
Create a complete set of 2D and 3D plans for a new home in as little as 2 hours
Import an existing plan to save time
Quickly furnish a space with drag and drop tools
Export and download plans and renderings in easy-to-view formats
Get pro-quality HD renderings of a home's interior and exterior in just 5 minutes
Best for:
A professional contractor, real estate agent, interior designer, or a remodeler who wants to save time with easy-to-use residential design software.




Sweet Home 3D vs Sketchup vs Cedreo: Pricing Comparison
Home design costs can add up fast so one of the first things you need to consider is your budget. How do Sweet Home 3D, Sketchup, and Cedreo compare when it comes to their prices? Let's see.

Sweet Home 3D
Free plan: Yes

Pricing model: Free, open-source software

Paid plans: No paid plans but you can purchase add-ons and product packs

Sketchup
Free plan: Yes (for Sketchup Free)

Pricing model: Per User

Paid plans:

Shop – $119/year

Pro – $299/year

Studio – $699/year

Cedreo
Free plan: Yes

Pricing model: Either per project or per month (for unlimited projects)

Paid plans:

Personal – $119/project

Professional – $119/month

Enterprise – $149/user/month with team collaboration tools
Sweet Home 3D vs Sketchup vs Cedreo: Feature Comparison
While you can do a lot with each of these programs, there are definitely some gaps in their features. Check out an in-depth comparison to see which has the home design features your business needs.
| Features | Sweet Home 3D | SketchUp | Cedreo |
| --- | --- | --- | --- |
| 2D Floor Plans | ✔ | ✔ | ✔ |
| 3D Floor Plans | ✔ | ✔ | ✔ |
| 2D Site Plans | ❌ | ✔ | ✔ |
| 3D Site Plans | ❌ | ✔ | ✔ |
| 3D Renderings | ✔ | ✔ | ✔ |
| 3D Printing | ❌ | ✔ | ❌ |
| 3D Sculpting | ❌ | ❌ | ❌ |
| Import Blueprints | ✔ | ✔ | ✔ |
| Surface Area Calculations | ❌ | ✔ | ✔ |
| 3D Library | ✔ | ✔ | ✔ |
| Interior Design | ✔ | ✔ | ✔ |
| Lighting & Sun Orientation | ❌ | ❌ | ✔ |
| Share Designs | ❌ | ❌ | ✔ |
| Draw to Scale | ✔ | ✔ | ✔ |
| Custom Camera Viewpoints | ✔ | ✔ | ✔ |
| Reusable Project Templates | ❌ | ✔ | ✔ |
Sweet Home 3D vs Sketchup vs Cedreo: Customer Support Comparison
Good customer support is essential. You don't need your projects to get held up just because you're waiting days for an answer to your question. Let's compare Sketchup, Sweet Home 3D, and Cedreo's support. There's definitely one that excels!

Sweet Home 3D
Since Sweet Home 3D is free, open-source software, there aren't a lot of support options. If you have a question, you'll have to head to the user forum. You can also check out the tutorials and the user guide.

Sketchup
Sketchup Pro has a lot of user-generated tutorials and support options. If you have a question, there are numerous forums, videos, and self-help articles online where users can get answers. And while they do offer phone support for Sketchup Pro members, it can be hit or miss.

Cedreo
Cedreo has one of the strongest customer support teams. You don't have to rely just on forums or a generic "contact us" form. As a paying user, you get a dedicated success manager you can contact via phone, chat, or email any time you have a problem. And Pro or Enterprise users even get a free 1-on-1 training session with a real person!




Sweet Home 3D vs Sketchup vs Cedreo: Home Design Deep Dive
Let's continue with our comparison of Sweet Home 3D vs Sketchup vs Cedreo to see how they each work with a few common home design tasks.

Floor Planning
Floor planning is the "bread & butter" of home design software, so make sure the software you choose has the layout tools you need.

Sweet Home 3D has industry-standard layout tools, although the interface does seem outdated. Its tools enable you to create and edit walls as well as place furnishings. However, if you need to test different furniture layouts, you'll find the selection in the object library to be too limiting.

You can create a basic floor layout with Sketchup Free or Shop, but it feels awkward since it's primarily a 3D modeling program. Sketchup Pro has a special part of the program called Layout for creating floor plans, however, it's linked to your 3D models so if you don't know how to create them first, then you're out of luck.

Cedreo makes floor planning easy. Its drawing tools are user-friendly, it lets you import an existing floor plan layout, and you can simultaneously see your plans in 2D and 3D. As you draw, Cedreo instantly gives you updated measurements and surface area calculations. Plus, there are 1000s of different customizable furnishings you can choose from in the design library.

Interior Design
While Sweet Home 3D does give you some interior design tools, most interior designers should look elsewhere. With a limited object library and 3D views that leave a lot to be desired, it's hard to create visuals that impress clients.

If you have 3D modeling experience and can pay to connect extra plugins, Sketchup can create some impressive interior designs. However, most will find Sketchup Pro and the extra plugins too time-consuming to use for interior decorating.

Cedreo saves interior designers loads of time. The design library features 7,000+ items organized by style. Or if you're running short on time, select a pre-made product pack and decorate an entire room with just a single click! Best of all…you don't need to pay for any extra plugins or product packs.

3D Rendering
Sweet Home 3D does offer some basic 3D renderings. But clients nowadays expect high-quality visuals and Sweet Home 3D's images just don't make the cut.

With the help of some extra plug-ins, Sketchup can produce some impressive photorealistic renderings. However, you need to know how to create 3D models and how to use the extra plug-ins. All of that can take a lot of time to do.

Compare Sketchup to Cedreo and you'll instantly see how easy it is to get pro-level renderings with Cedreo. Once your home design is complete, select a view and submit it for rendering – no extra programs required! Then, in just 5 minutes, your rendering is ready to go. Plus you can adjust the sun's position, time of day, and lighting to get realistic images that impress clients!




Sweet Home 3D vs Sketchup vs Cedreo: Which Tool is Right For Your Business?
So in this comparison — Sweet Home 3D vs Sketchup vs Cedreo — which is the right one for you and your business?

If you're a hobbyist on a tight budget who works on the occasional home design project, Sweet Home 3D could work for you. For commercial construction companies with a team of designers and a budget to match, Sketchup Pro might be a good choice.

But for most housing professionals — remodelers, residential contractors, home builders, interior designers, real estate agents — Cedreo is the smart choice. Its combination of a top-notch support team, user-friendly tools, and high-quality 3D renderings make the choice an easy one.

Why not try the FREE version today? Sign up now and see what Cedreo can do for your next project!