In today's modern world, residential construction management is more important than ever. Between labor shortages and supply chain disruptions, even simple construction projects are surprisingly complicated.
So whether your next project is a new home build with multiple teams or a small bathroom remodel with two employees, it pays to brush up on your residential construction project management skills.
In this 10-minute read you'll learn about:
Let's get started!
What Is Residential Construction Management?
Residential construction management is a specialized form of project management focused on residential buildings. It involves managing everything involved in the project — budgets, schedules, employees, subcontractors and client communication.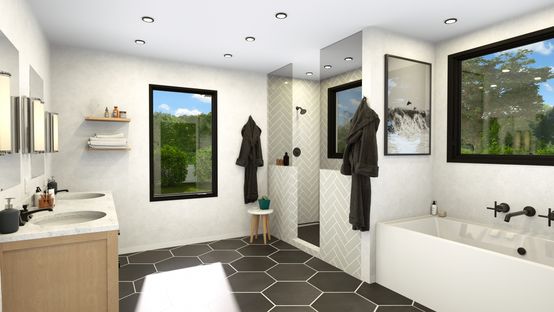 Project management is important because even small residential projects — like a remodel — have a lot of moving parts. You have to create budgets, manage employees, hire subcontractors, and order materials among other things. Each project is kind of like a puzzle and as the project manager, your job is to understand how to fit all the pieces together.
Since this can be a complicated process and residential construction management jobs are in high demand, some universities are even starting to offer residential construction management degrees.
Keep going in the next section to see some project management best practices.
Best Practices in Residential Construction Management
As you look over these best practices, think about your next residential construction project and how you can use these tips to effectively manage it.
As you look over these best practices, think about your next residential construction project and how you can use these tips to effectively manage it.
Build the right team
Any project manager will tell you that a good team makes the manager's job a whole lot easier. So try to build a skilled team that's easy to work with. Look for employees that have good construction skills as well as other important "soft skills" like good communication, problem-solving, and being a team player.
Manage expectations
The only way to stay on schedule and within budget is by setting reasonable expectations. Do that by getting all the stakeholders involved during the planning process. Then, make sure everyone on your team — from project management to subcontractors — understands what is expected of them.
Prepare for project setbacks
Every project suffers from unexpected delays. Maybe it's bad weather, an accident, or a lack of materials. So prepare for potential problems by building a buffer into your timeline and budget so that setbacks are less likely to cause larger problems.
Document everything
This is tedious but necessary. You need to keep track of the details. That includes…
Product documentation
Emails, messages, and memos
Receipts
Estimates
Contracts
Plans
Change orders
Instead of trying to manage it all on paper, most residential contractors use software to help centralize their project documents.
Communicate efficiently and effectively
Good communication is the foundation of effective residential project management. From conversations with clients to messaging contractors to check on progress, clear communication keeps the project running smoothly.
Employ technical resources
Modern technology can take a tedious part of project management that used to take teams of people days to complete and does it with the click of a button.
The right software can help you to…
Quickly create and manage estimates
Design a residential home in 2 hours
Collaborate with team members wherever they are
*Check out the last section with some of the top options for project management software.
Residential Construction Project Management Phases
Here are the 5 main phases of any residential construction project. Understand how these fit together and it'll be easier for you to manage your future projects.
Conception: Design and planning phase
The project conception stage is where everything starts. Maybe it's a sketch a client provides, an idea your team has, or a need you want to fill in the market. Either way, you take that idea and start to bring it to life. Do this first stage correctly and the rest of the project will go smoother.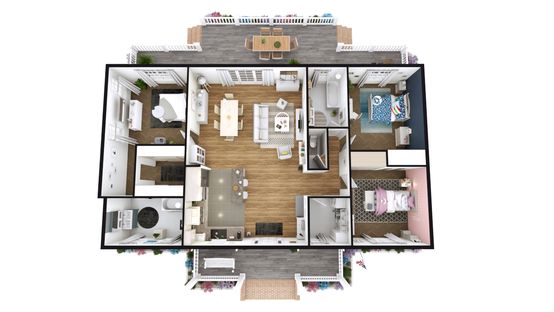 The design and planning phase for most projects involves:
Feasibility studies to consider all of the project's relevant factors such as legal, technical, scheduling, and financial considerations.
Defining goals that will guide you throughout the rest of the project. This usually involves setting a budget and timeline for completion.
Creating a set of residential construction drawings.
*Residential construction management software really comes in handy at this stage of the project. It'll help you save loads of time, money, and hassle.
Pre-construction
The design and planning phase quickly transitions into the pre-construction phase. Once you nail down the overall scope of the project, the pre-construction phase helps you make concrete plans for getting the project underway.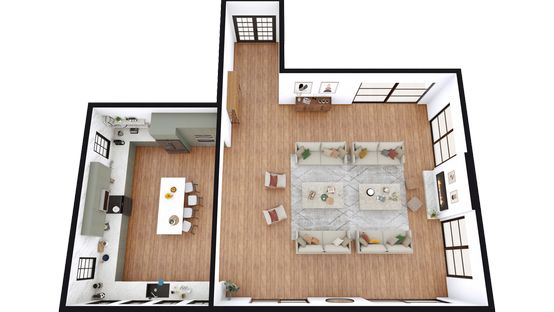 The pre-construction phase usually involves things like:
Forming the project team: You'll need to create defined roles and responsibilities. Make sure you include team members such as a project manager, field engineer, general contractor, and safety manager. It's also important at this point to create open lines of communication among everyone working on the project.
Basic site preparation: Perform soil testing and check for any environmental concerns you'll have to deal with.
Submitting the plans to local authorities in order to get permits for the work: Depending on feedback from local building code offices, you may need to make a few changes to the plans and then adjust budgets and timelines accordingly.
Procurement
This is where things start to get exciting. That's because once your project has moved past the design and pre-construction phases, you know it's approved and you can finally get to work! So the procurement phase helps you get organized before you break ground.
During the procurement phase you will:
Create takeoffs and material lists: Use the building plans to create detailed lists of all the materials your team will need.
Start ordering materials: For small projects, you might order all your materials at once. For larger projects, you can start ordering the materials you'll need to start and make a schedule for ordering other materials so they'll arrive at the site on time.
Buy or rent equipment: Make sure your team will have all the tools they'll need on-site — heavy equipment, power tools, job trailers, portable bathrooms, etc.
Hire subcontractors: Determine at which stages of the project you'll need to hire outside help and open it up to bidding from your network of subcontractors.
Construction
The construction phase is when everything comes together. If you've done the previous steps well, you'll have fewer problems during the construction phase. But as the project manager, just because you're not physically working on the site, doesn't mean you've got nothing to do.
During the construction phase, project managers will:
Continue to coordinate material ordering and logistics
Communicate with the contractors to check on progress and handle any issues
Manage quality control and safety checks
Keep track of necessary documentation
Communicate with clients regarding progress and any issues
Close-out and post-construction
Most contractors just want to finish construction and move on to the next project. However, not taking enough time for this final stage can lead to a problematic home and unhappy customers.
In addition to cleaning up the site, removing extra materials, and returning rented equipment, the close-out and post-construction phase involves:
Creating a punch list: The project manager and contractor will fully inspect the site from top to bottom and make a list of things that still need to be completed. It could mean finishing some touch-up paint, fixing a leaky drain, or troubleshooting the HVAC. Then you'll need to work with the contractor or subcontractors to check everything off the punch list.
Commissioning: You need to make sure all building systems are turned on, tested, and working well. Once everything is up and running, good contractors will also take the time to explain to new owners how to use the different systems.
Provide the owner with documentation for their home: Make sure the new owners have all the necessary manuals, accounting documents, and as-built drawings.
That's it! The project is finally done!
Residential Construction Management Software
As a contractor, remodeler or designer, you know that managing all of this can be a tedious and time-consuming process. Fortunately, there are some residential construction management software tools that can make your life a whole lot easier! These are some of your top options.
Cedreo


Best for: Construction design and collaboration
Cedreo is the leading residential home design software for builders and remodelers who want to save time. No other program lets you do so much, so fast.
You can start from scratch or import an existing blueprint. Either way, creating the layout is simple and painless with Cedreo's intelligent drawing tools. You can even create advanced designs like dropped ceilings and complicated roofs without previous CAD experience.
Cedreo also helps streamline the different construction phases with cloud-based collaboration. Go with the Enterprise plan and your entire team can collaborate on projects. And client communication is simple since you can download and share project documents in easy-to-view formats.
Key features:
Design an entire residential home — from 2D plans to 3D renderings of a furnished space — in as little as 2 hours!
Print plans to scale for your construction teams
Cloud-based software you can use anywhere you have a laptop and WiFi
Create photorealistic 3D renderings that impress clients
One-click decorating saves you hours
NEW! Use the CostCertified integration to do all your designing and estimating in one place
Jonas

Best for: Job costing
Jonas is an extensive project management tool used by specialty contractors and general contractors. While it doesn't have any design capabilities like Cedreo, it can help you manage almost every other aspect of your project like payroll, change orders, and even your accounts.
Key features:
Accounting tools
Inventory management for warehouses and trucks
Daily log reporting to keep track of what goes on at the job site
Document management
BuildBook

Best for: General management, scheduling
BuildBook uses Gantt-style scheduling as the backbone of its project management software. It keeps track of your project's schedule while helping to simplify communication with interested parties.
Key features:
Punch list management
Chat with subcontractors
Control team member permissions
Budget tracking
ProCore

Best for: Quality and safety
ProCore is a construction management program that helps during most phases of your project. It also has some impressive analytical tools that keep track of hazards and prevent accidents.
Key features:
Tools for large construction firms
Detailed financial analytics
Tracks data to help you understand safety risks
Final thoughts
Ready to start completing projects on time and under budget? Then it's time to improve how you manage your projects.
Remember:
Take the necessary time to prepare everything you need for your project — a good team, reasonable budgets, and detailed plans
Find ways to communicate effectively with all the stakeholders
And use technology to help manage your projects
So why not sign up today for Cedreo and see how it can help you manage your next construction project?
Easy-to-use tools to take you from concept to construction faster than ever
Cloud-based team collaboration saves you time and money
Use 2D and 3D plans to communicate your ideas easier and avoid miscommunications