When you're searching for a home design and floor plan tool, you may find yourself overwhelmed with options. Hundreds of programs and apps say they can meet all of your needs, but they can't all be right. At the end of a long search for the perfect floor plan and interior design tool, most people find themselves left with three leading options:
RoomSketcher
Floorplanner
Cedreo
But in the RoomSketcher vs. Floorplanner vs. Cedreo fight, who wins? Which tool is the best fit for you? That's precisely what we will explore in this article. Read on for an in-depth comparison of these three-floor plan design tools.
Roomsketcher, Floorplanner, and Cedreo: Overview and Use Cases
Floorplanner, RoomSketcher, and Cedreo are three of the most popular home design tools for home builders, remodelers, and interior designers, which is why we have chosen to compare these three pieces of software. Each comes with unique benefits and drawbacks, so it's important to have not only an in-depth understanding of each program but an in-depth understanding of your specific needs before you make your decision.

Here's a brief overview of each program:
Floorplanner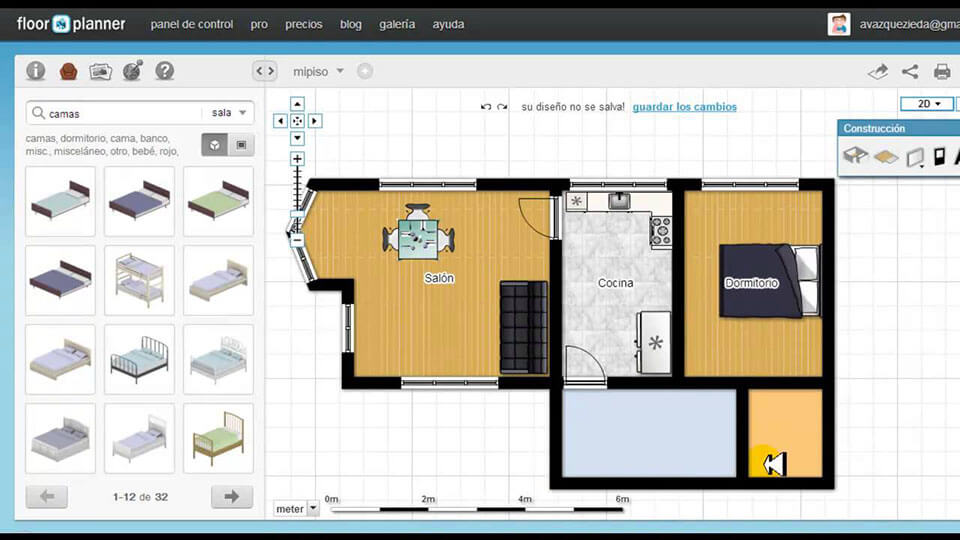 Floorplanner is an attractive option for industry professionals who have little to no CAD experience. That's because Floorplanner maintains a simple user interface.

However, the program focuses heavily on interior layout — leaving much to be desired for pros who want to include roofing, landscaping, and various other outdoor elements.
Best for:
Interior designers with limited CAD or design tech experience
Homeowners who want to mock-up designs in their existing space
Remodelers who need a simple visualization tool
Roomsketcher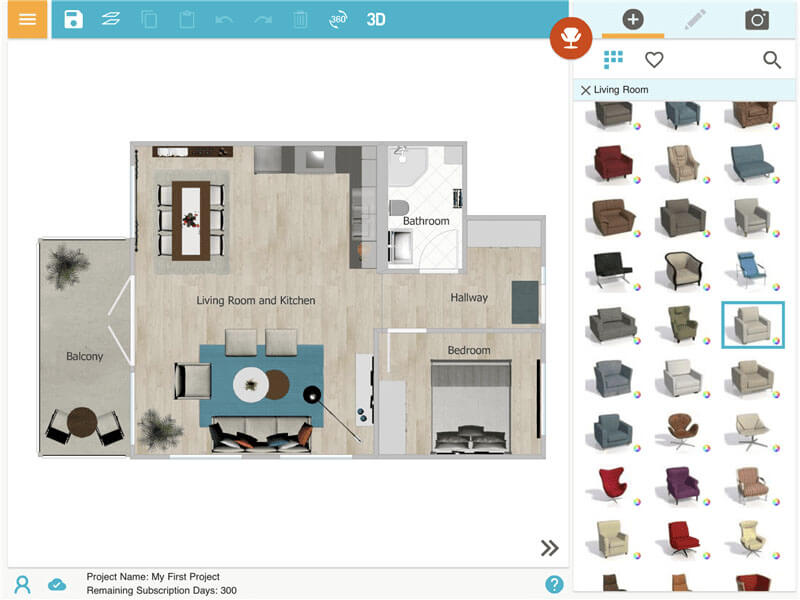 RoomSketcher allows users to create floor plans in 2D and 3D, but the program's renderings often hit below the mark for texture and quality.

The basic RoomSketcher plan offers some handy features that may benefit a wide variety of types of users, but those who would like more advanced features may encounter the frustration of selecting a paid plan only to find that the plan they've chosen doesn't include all of the features they're looking for.
Best for:
Personal users
Home builders who can afford the highest-cost plans for full features
Those who would like to download blueprints to scale
Cedreo
Among Cedreo's many claims to fame is its world-class interface that allows users to create complete home designs in two hours or less. But the time-saving aspect is only one part of what makes Cedreo a leading floor plan software.

The program also offers 2D and 3D floor plans, photorealistic rendering of both interior and exterior viewpoints, and an easy-to-learn ecosystem that comes with full-fledged support.
Best for:
Professional home builders
Experienced remodelers
Successful interior designers
Roomsketcher vs Floorplanner vs Cedreo: Pricing Comparison
If we're being honest, much of our decision about almost any business tool will come down to price. After all, you're running a business, and what you pay for your floor plan design tool makes a difference. With that in mind, we compare Floorplanner vs. RoomSketcher vs. Cedreo pricing below.
Floorplanner
Free plan: Yes

Pricing model: Credits

Paid plans:
Plus. Includes four credits and limited features for $5 per month.
Pro. Includes 30 credits and all available features for $29 per month.
Team. Includes 60 credits and limited features for $59 per month.
Business. Includes 225 credits and limited features for $179 per month.
Enterprise. Includes 800 credits and all available features for $599 per month.
Roomsketcher
Free plan: Yes

Pricing model: Credits

Paid plans:
VIP. Includes 20 credits and limited features for $49 per year.
Pro. Includes 50 credits and all available features for $99 per year.
High-volume. Pricing and credit limits are not available on the RoomSketcher website.
Cedreo
Free plan: Yes

Pricing model: Per license/user

Paid plans: There's a Cedreo plan to meet any budget. Check out our plans here.

Roomsketcher vs Floorplanner vs Cedreo: Feature Comparison
In this section, we provide an in-depth comparison of the features of RoomSketcher vs. Floorplanner vs. Cedreo. These features do not focus on new house design functionality because we have done a deep dive into that particular aspect in a separate section below.
| Features | Floorplanner | RoomSketcher | Cedreo |
| --- | --- | --- | --- |
| 2D Floor Plans | ✔ | ✔ | ✔ |
| 3D Floor Plans | ✔ | ✔ | ✔ |
| 3D Rendering | ✔ | ✔ | ✔ |
| 3D Printing | ❌ | ✔ | ❌ |
| 3D Sculpting | ❌ | ❌ | ❌ |
| Import Blueprints | ❌ | ✔ | ✔ |
| Surface Area Calculations | ❌ | ✔ | ✔ |
| 3D Library | ✔ | ✔ | ✔ |
| Interior Design | ✔ | ✔ | ✔ |
| Lighting & Sun Orientation | ❌ | ❌ | ✔ |
| Share Designs | ✔ | ✔ | ✔ |
| Draw to Scale | ❌ | ✔ | ✔ |
| Custom Camera Viewpoints | ✔ | ✔ | ✔ |
| Reusable Project Templates | ✔ | ✔ | ✔ |
| | | | |
Roomsketcher vs Floorplanner vs Cedreo: Home Design Deep Dive
Home design is what all three of these tools are all about, but if you look at Floorplanner vs. RoomSketcher vs. Cedreo, you will see that they don't all provide the same functionality for essential house design capabilities. Here's what you need to know.

Floor Planning
Basic floor planning is no problem in any of the three tools, but when you start to need more advanced features and functionality, the differences will start to appear.

The RoomSketcher app stands out because it allows you to order floor plans from its team for a price. However, for those who would prefer to draw floor plans themselves, the program may become frustrating due to limited features in not just the free version, but some of the paid plans.

Floorplanner's floor plan drawing capabilities go heavy on simplicity, which can be nice for those who need basic floor plans but don't have a lot of time. For example, most of Floorplanner's floor plan drawing functionality is drag and drop (including for doors and windows), and the program automatically keeps your rooms and walls connected and at scale.

Cedreo blends a simple and intuitive drawing interface with a deep bench of useful features. In continuous drawing mode, you simply click every time you want to create a wall angle. Another time-saving feature is the ability to import blueprints and generate floor plans directly from them — as well as the ability to save floor plans as templates to use in future projects.

Site Planning
Site planning can be an incredibly important function of floor planning software for house builders, real estate agents, construction professionals, and developers who need to bring holistic project visualizations to their clients. But with these three tools, you'll only find one that takes the importance of site planning fully into account: Cedreo.

With Cedreo, you can plan the entire lot from the start, including various other structures on it, the natural positioning of the outdoor features, elevation, and various landscaping elements.

RoomSketcher and Floorplanner have some limited site planning functionality, but they are both intended more for interior design and layout use rather than big-picture site planning.

Interior Design
RoomSketcher, Floorplanner, and Cedreo are all strong on interior design functionality. Each program includes a library of pre-made 3D objects you can use in your designs, and each allows you to draw a detailed interior floor plan to match a client's existing structure.

However, importing blueprints is an important part of interior design work because it can save you so much time when you don't have to design the client's existing home from scratch. Floorplanner doesn't have blueprint importing capabilities, but Cedreo allows you to import blueprints and generate floor plans from them. That way, you can design, arrange furniture and decorate right away.

3D Rendering
All three of these floor plan applications allow you to render your floor plans and designs in 3D. The real tangible differences start to show in the available customizations. For example, Cedreo allows you to adjust angles and natural lighting, but RoomSketcher and Floorplanner do not.

The other point to pay attention to is rendering quality. Not all 3D renderings are created equally, and you'll want the tool that provides the level of quality that you need to put in front of clients and colleagues.

Roomsketcher vs Floorplanner vs Cedreo: Which Tool is Right For Your Business?
Which floor planning tool will be best for you will depend on your unique needs. Sure, there are some objective winners and losers in terms of features between RoomSketcher, Floorplanner, and Cedreo, but, if you don't need those features, some of the drawbacks mentioned above may not matter to you.

If you need a relatively simple floor planning program with limited capabilities, Floorplanner may be right for you. If you need somewhat more advanced features and have a large budget to pay for them, RoomSketcher may be the right call.

But Cedreo tends to tick most of the boxes for professional construction companies, home builders, designers, and remodelers. With world-class support, advanced features, affordable pricing, and a stunningly simple user interface, you can't go wrong with Cedreo. Try it for free today.