Pre-selling homes can be a real challenge. That's because buyers are used to purchasing physical objects that already exist.

But when you pre-sell a home before it's move-in ready (or even before construction starts), you're asking someone to buy a big-ticket item that doesn't exist yet. You're essentially selling the future. And to do that, you need a way to help your clients accurately visualize the finished home.

The best way to do that is with 3D renderings and floor plans.

When you help potential buyers envision the finished home through photorealistic images and detailed 3D plans, they'll be much more likely to invest in the property.

Why is that?

In this 5-minute read, we'll give you 4 powerful reasons why 3D renderings can help you pre-sell homes faster than ever. Plus, you'll learn how anyone can start making professional 3D renderings to sell pre-construction homes.

Let's get started!




Visualize the Property
One of the biggest benefits of using 3D images to pre-sell homes is that they help potential buyers visualize the finished property.

2D blueprints are important for the builders or the engineering team. But it's really hard for a lot of interested buyers to envision a warm and inviting home from just a simple floor plan.

On the other hand, 3D floor plans that show an aerial view of the space make it easy for people to understand how a house is laid out. And when you add 3D furniture, cabinets, and other design elements, potential buyers quickly get a feel for the property's overall flow from room to room.

For the best results pre-selling homes, POV (point-of-view) renderings are also important. They help potential buyers get a feel for actually being in the space.

For example, maybe from the floor plan, potential clients think the living room will feel a little cramped. But when you show them a photorealistic rendering of that same space and they see the tall ceilings, large windows, and all the natural light, they really can appreciate how the design works.

The same goes for any part of the house — kitchens, bathrooms, bedrooms, and even outdoor areas.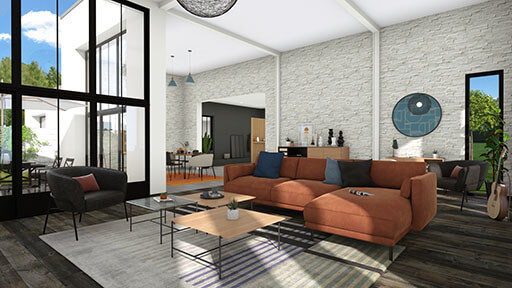 *One of the easiest ways to make a combination of 3D floor plans and POV renderings is with a home design program like Cedreo.




Call Attention to the Property's Benefits
To sell pre-construction homes, a lot of builders used to have model show homes. They used them to show interested people the property's benefits and other design features they could get in their own homes.

But nowadays, with an easy-to-use design and rendering program like Cedreo, you can showcase a property's benefits without all the expense and hassle of maintaining a model show home.

When you create a 3D rendering, you can add specific design elements or position the camera view to showcase benefits that'll impress specific clients.

Do you have a client that appreciates ample closet space? Then create some renderings that show views from inside the walk-in closets.

Got a client who loves to cook? Show them views from around the kitchen so they can appreciate its intelligent design.

Pitching a house to a family with kids? Use the renderings to showcase the home's convenient storage options and outdoor play areas for the kids.

And if you use a design program like Cedreo, you can quickly adapt each rendering to showcase benefits that'll target specific buyer personas — all without having to hire a 3D rendering company.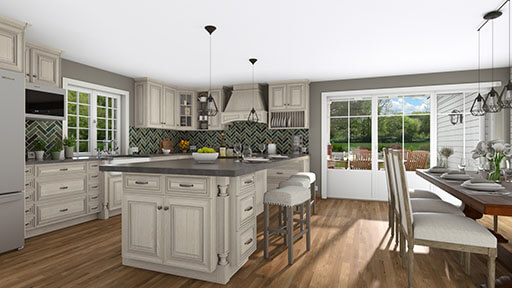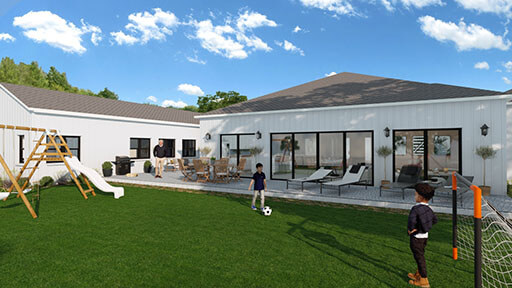 Let Your Client Form an Emotional Attachment
Real estate agents know the importance of staging a property. People are much more likely to purchase a home when it looks lived in. That's because a lived-in space creates a stronger emotional connection than an empty home.

3D renderings let you do the same thing when trying to pre-sell a home. They help you stage a home virtually and show images of the finished space — images that help clients form an emotional attachment.

But for the greatest emotional impact, it's best to add more than just a few pieces of furniture to the 3D images.
Instead of just showing a dining room table, show a table that's already set with plates and silverware as if your clients were getting ready for a family dinner.
Instead of an empty kitchen, add some pots to the stove and small appliances on the countertops so they feel like they're already cooking the first meal in their new home.
Don't just show a furnished living room. Show it in the evening with intimate lighting, blankets on the sofa, and a fire in the fireplace so they can imagine winding down after a long day of work.
Detailed 3D renderings like those create a strong emotional connection in potential buyers so you can pre-sell homes easier.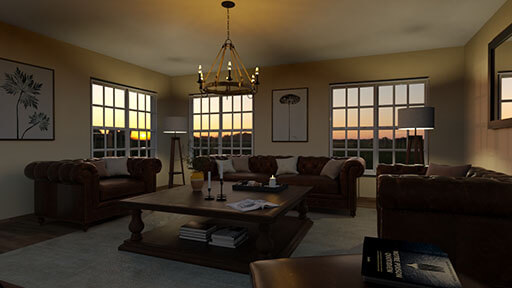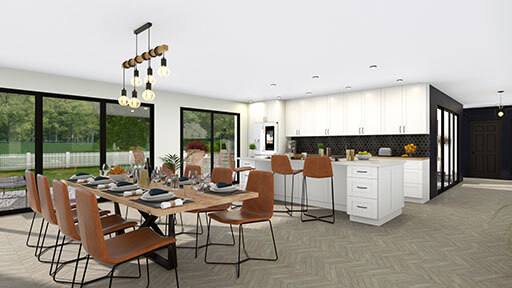 *Cedreo has 1,000s of design elements and pre-made product packs that you can easily add to your renderings.




Enhance Your Marketing Materials
Instead of relying on grainy pictures, black and white floor plans, and written explanations in your pre-sale marketing materials, add 3D renderings and start getting better results.

While 2D floor plans are a necessary part of your workflow, they don't have that "wow factor". That's why they usually don't work well in marketing materials. Your marketing materials need to catch people's attention and instantly create an emotional appeal.

There's no better way to spruce up your marketing materials for pre-selling homes than with photorealistic 3D renderings.

3D renderings catch people's attention and help them get excited about the possibilities. Plus, they're a cost-effective addition to your marketing materials since you don't have to physically build the projects you're presenting.

So once you create some 3D renderings of a planned project, add them wherever you can in your marketing channels.

Add 3D renderings to:
Project proposals
Your company's website
Social media
Real-estate listings
Lead generation websites
Printed flyers
And even billboard advertisements
A word of caution though! Poorly done renderings that look more like something from a 20-year old video game can do more harm than good.

If you're going to add 3D renderings to your marketing materials, make sure they're professional-looking photorealistic renderings — like the ones you can create with Cedreo.




Conclusion
Ready to start pre-selling homes faster than ever with 3D renderings?

Of course, you are! But who wants to go through all the work of hiring a 3D modeling company or learning complicated software, right?

Finally, there's an easier way!

Modern home design software like Cedreo lets anyone create professional photorealistic renderings — the kind with the WOW factor!

You don't need…
3D computer design experience
A team of CAD experts
Or complicated and expensive programs
With Cedreo's intuitive tools, you can design an entire home (including 2D plans, 3D plans, and photorealistic renderings) in as little as 2 hours!
Start your FREE trial today and see how Cedreo helps you sell pre-construction homes with 3D renderings faster than ever.