Barndominiums are exactly what they sound like.

Essentially, it's a barn that has been converted into a living space, and in many cases, also includes a shop, garage, or other type of workspace.

In the era of remote work, it's no surprise that barndominiums are gaining traction among clients looking for the perfect live-work space.

As such, professional builders and contractors may need to take a closer look at their tech stack and incorporate barndominium design software that can help them meet new demand.

In these next few sections, we'll look at selection criteria, then share our top picks for barndominium design software.




How to Choose the Best Barndominium Design Software
As with other types of architecture and design tools, barndominium software covers a wide range of applications.

Some are specialized tools that focus on one or two parts of the design process, whereas others offer an all-in-one feature suite that spans the entire business.

You may even need to invest in more than one solution, depending on your existing tech stack and current functionality gaps.

With that in mind, here's a look at the key things you'll need to think about before starting your barndominium software search.

Affordability
The first thing you'll need to nail down is a budget. This will help narrow your search to the options within your price range – whether you're working with limited resources or you're after an enterprise solution that can do it all.

Do note that you'll want to look beyond monthly subscription costs and instead, consider the big picture. For example, a "cheap" plan that doesn't solve all of your business needs might not deliver the returns you were hoping for. In some cases, you may need to invest in multiple applications, add-ons, or customizations, which can increase costs exponentially.

Additionally, investing in a complex, feature-rich application may require you to upgrade your existing equipment, or invest in new devices or storage solutions.

There's also the fact that your team might need some time and training before they're able to effectively use the new tools. So, in that case, you'll need to consider downtime, training materials, and the costs of starting a training program.

Ease of use
Some platforms come with a much steeper learning curve than others. These days, there are plenty of user-friendly options with drag-and-drop tools and baked-in automations that help just about anyone produce professional-grade designs.
For example, Cedreo users can create an entire 3D design from scratch in under two hours.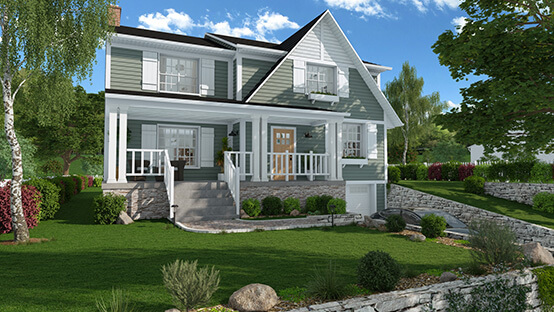 By contrast, some platforms are designed for people with a background in professional CAD or advanced 3D modeling, which may be overkill for a home builder or designer looking for simple floor planning and rendering options.

Ultimately, ease of use is relative and whether or not it's a priority depends on your experience and business needs. The more complex platforms tend to include a more robust feature set and support a wider range of functions.

Use case
Use case is another important consideration.

Where some platforms are designed for professional architects, home builders, and designers, others are made for the DIY crowd and wouldn't be suitable in a client-facing capacity.

Make sure you opt for a professional barndominium design platform if you plan to use it to share and collaborate on designs with clients.

You'll also want to consider whether the tool you're looking at is right for your role/business type. If you're a home builder, for example, an app for interior designers may not have everything you need to do your job, even if there are some features you'll find useful.

Feature set
Consider which features are most important to your business and clients. Will you need presentation tools, 2D and 3D floor planning, 3D rendering, home decorating, or 3D modeling? What about project management capabilities, a system for managing incoming leads, or ordering building materials?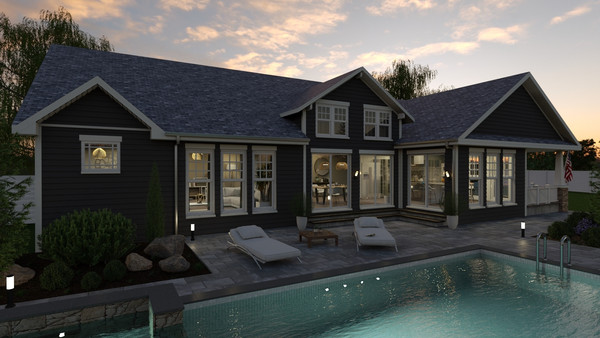 Support
Does the platform offer support for users? If so, what do they offer? Self-service options, hands-on guidance, access to knowledge base resources? Note that support options might vary based on the pricing tier.

For example, entry-level plans might only include self-service options, while enterprise plans might include a dedicated support specialist. In any case, you'll want to read the fine print before you commit to a plan.

8 Best Barndominium Design Software (Free and Paid) for 2022
As mentioned, barndominium software covers a wide range of applications from professional CAD platforms to DIY design apps you can download for free. This list includes a variety of options–from all ends of the spectrum–to help you narrow your search.
1. Cedreo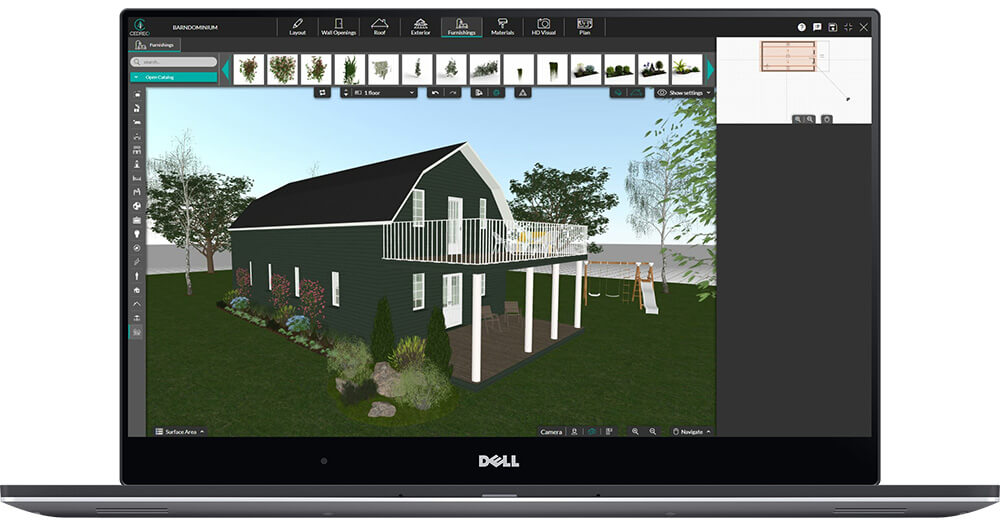 Source: Cedreo

Best for: Home builders, contractors, remodelers, architects, and interior designers

Overview: Cedreo is a 3D home-building and design platform that makes it easy for users to put together a complete design presentation in under two hours. Inside, you'll find a wide range of time-saving tools that make barndominium design – or whatever else you're working on a breeze.

Users can create floor plans in 2D or 3D, generate compelling 3D renderings to help clients understand the vision, and incorporate feedback in real-time.

Key features:
Photorealistic 3D rendering
Ability to save and reuse design templates
Access to 3D object library
Library of 7,000+ customizable home decorations and materials
Collaboration tools
1:1 training, onboarding, and phone support
Pricing: There's a Cedreo plan to meet any budget. Check out our plans here.


"Cedreo is a very user-friendly platform with exceptional features. I would highly recommend for any Construction and/or Interior and Architectural Design Firms."
Sheree R.
Sign up for a free account to get started today.
2. RoomSketcher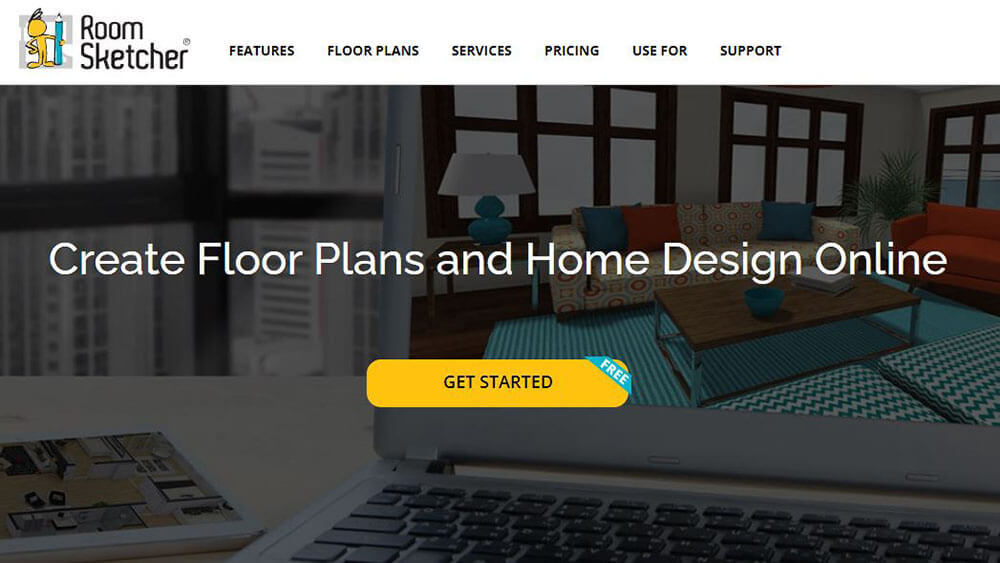 Best for: Interior designers, real estate pros, home builders, and DIY-ers

Overview: Roomsketcher is an app that could be an effective barndominium floor plan designer. Its primary use case is generating floor plans and home visualizations – focusing mostly on interiors

Users can upload existing blueprints, start from scratch, or trace over an image to get started – the app then automatically generates area calculations to ensure an accurate build.

Roomsketcher includes features that make it easy to plan specific room designs – think– kitchen, bathroom, or home gym. It also makes it easy to see what designs will look like "IRL" using its 3D walk-through tool and allows users to create 3D visualizations that can be shared and presented to clients.

It's also worth noting that you'll have the option to commission floor plans directly from the app, making it a good option for homeowners (barn owners?) looking to take on some parts of the project themselves.

Key features:
Interactive, live 3D floor plans
3D photos
360 views
Room planner
Price: PRO $99/year
3. Floorplanner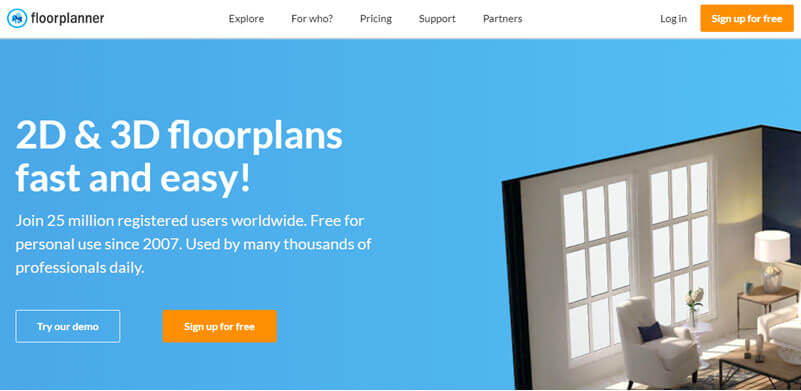 Best for: ​​DIY-ers, real estate pros, interior designers, and furniture retailers

Overview: Floorplanner is an online design app that allows users to generate 2D floor plans, then render designs in both 2D and 3D (and toggle between views in a single click).

Inside, you'll also find a "room wizard" feature that can walk you through the design process one step at a time, and a catalog containing over 150k items to decorate the space – and make it feel more like home.

As a custom barndominium design app, Floorplanner isn't the best fit. The web app is best for DIY-ers taking on small home improvement projects or interior designers and real estate professionals looking for a visual sales & collaboration tool.

Key features:
Room wizard
Generate 2D & 3D floor plans
Render in 2D & 3D
3D object library
Presentation & collaboration tools
Price: Free for personal use. Paid plans are priced at different "Project Levels" that can be upgraded by purchasing credits.
4. SketchUp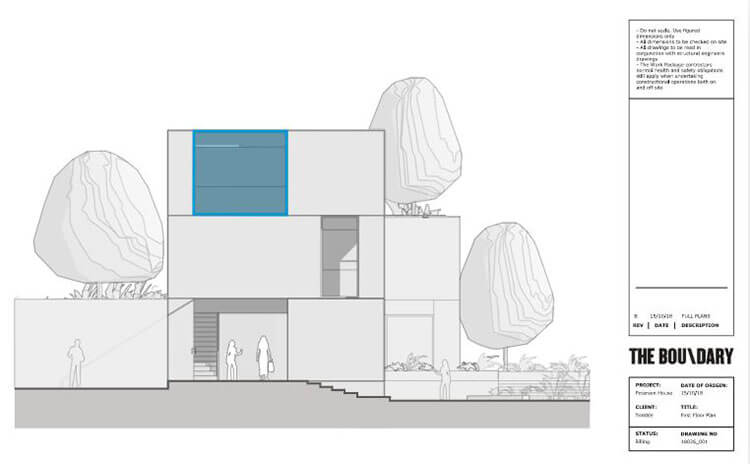 Best for: 3D modeling, 2D & 3D floor plan design

Overview: SketchUp is a popular 3D modeling platform that supports a variety of use cases – from landscape design and BIM modeling to video game design. Users can create 2D floor plans and construction documents, switch to 3D mode in a matter of clicks, and create animations, flyovers, and videos to transform design concepts into a compelling narrative.

We've discussed SketchUp's strengths and weaknesses several times in the past (for more info, you can check out our SketchUp-Cedreo product comparison or the top ten SketchUp alternatives). Ultimately, we've found that SketchUp is a solid tool with a ton of great features and support for a wide range of integrations and add-ons. Our key criticism comes from the fact that many users will need to rely on add-ons to gain access to features that come standard in other platforms. For example, you can't create 3D renderings in SketchUp without an add-on.

Key features:
2D design and documentation
Enhanced design research
3D modeling
2D and 3D design
3D presentation tools
Access to Extension Warehouse, 3D object library
Ability to customize the look & feel of any project
Price: SketchUp offers multiple plans – including a free option for individual users – though professional plans range from $119 to $699 per year. Keep in mind, these prices don't include add-ons.
5. SmartDraw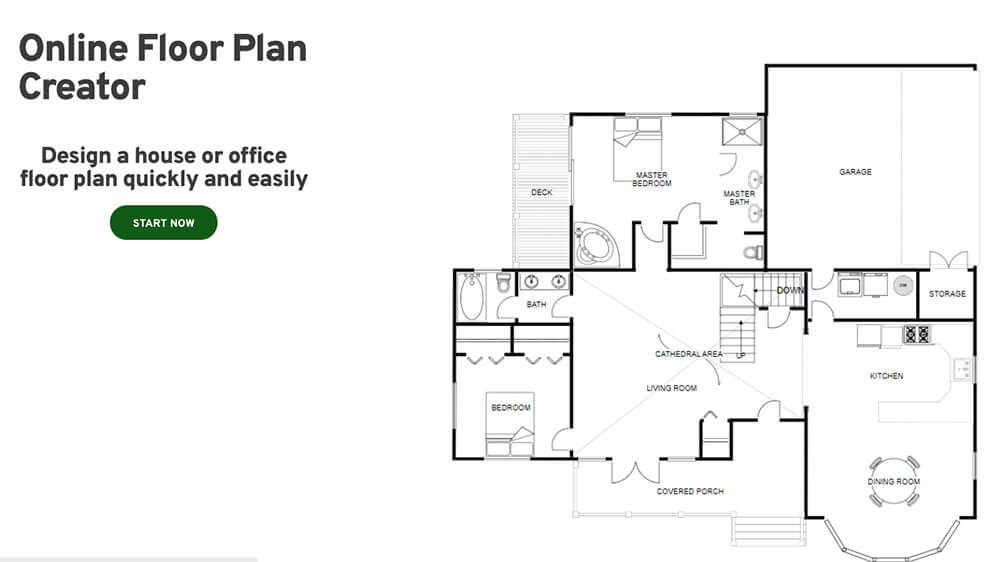 Best for: Contractors, remodelers, and home builders (assuming this isn't the only tool they're using)

Overview: SmartDraw is something of an outlier on this list. The platform is technically a "flowchart maker," and its primary use is designing and automating workflows.

That said, it can be used to create floor plans – though only in 2D.

There's no "barndominium-specific" templates, but users may be able to adapt templates for offices, warehouses, or stores to fit their needs. The key benefit for builders and designers is that the platform allows you to draw and print architectural and engineering diagrams to scale and automatically formats and resizes designs when users make a change.

The bottom line here is, SmartDraw is a powerful tool for many companies looking to automate and streamline workflows, create floor plans, and create flowcharts and visualizations that help them stay organized.

As we explain in another post, it's not really a design tool. The point is, the floor plan feature seems secondary to the SmartDraw's other features. And as such, SmartDraw users may need to invest in another tool if they need 3D rendering, project management, or interior design capabilities.

Key features:
Floor plan generator
Intelligent formatting
Access to quickstart templates and 70+ diagram types
Data automation
Seamless integration with productivity tools like Microsoft Office, Google Workspace, Jira, DropBox, and more
Easy cross-functional collaboration
Price: Plans start at $9.95 per user, per month, billed annually. For orgs with 5+ users, plans drop to $5.95 per user, per month, also billed annually.

Enterprise plans are $2995 annually for companies with 500 or fewer employees and $4995 annually for companies with 500-1000 employees; pricing for larger organizations is available upon request.
6. PlanningWiz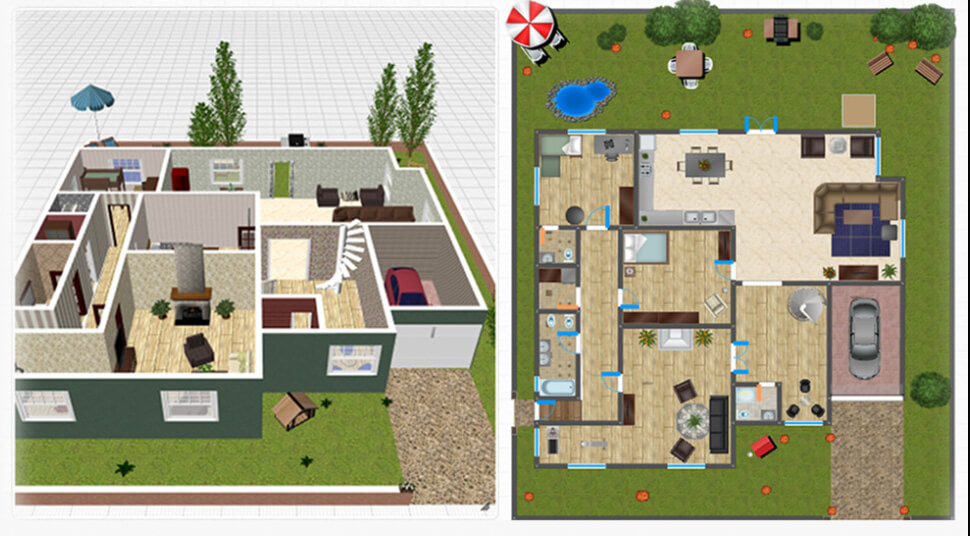 Best for: Real estate and sales professionals, individual homeowners

Overview: PlanningWiz is an online 3D floor plan app, designed primarily for use in the real estate, furniture retail, and gym equipment industries.

It can be used to design both indoor and outdoor spaces, though the focus is mostly superficial. With that in mind, it's best suited for redecorating projects or small-scale remodels. And as some users have pointed out on sites like Capterra and G2 Crowd, it's a solid app for taking accurate measurements and figuring out furniture placement, it's not the most professional tool.

Still, users can add their own catalog of products and customize the platform with their own branding, making this a solid option for presenting ideas to clients – assuming they're using other tools for the actual barndominium design.

Key features:
3D room planner
Customizable branding
Ability to use your own products in floor plans/designs
In-app reporting tools
Live 3D editing
Ability to integrate shopping carts/checkout into floor plans
Price: Pricing available upon request.
7. Planner 5D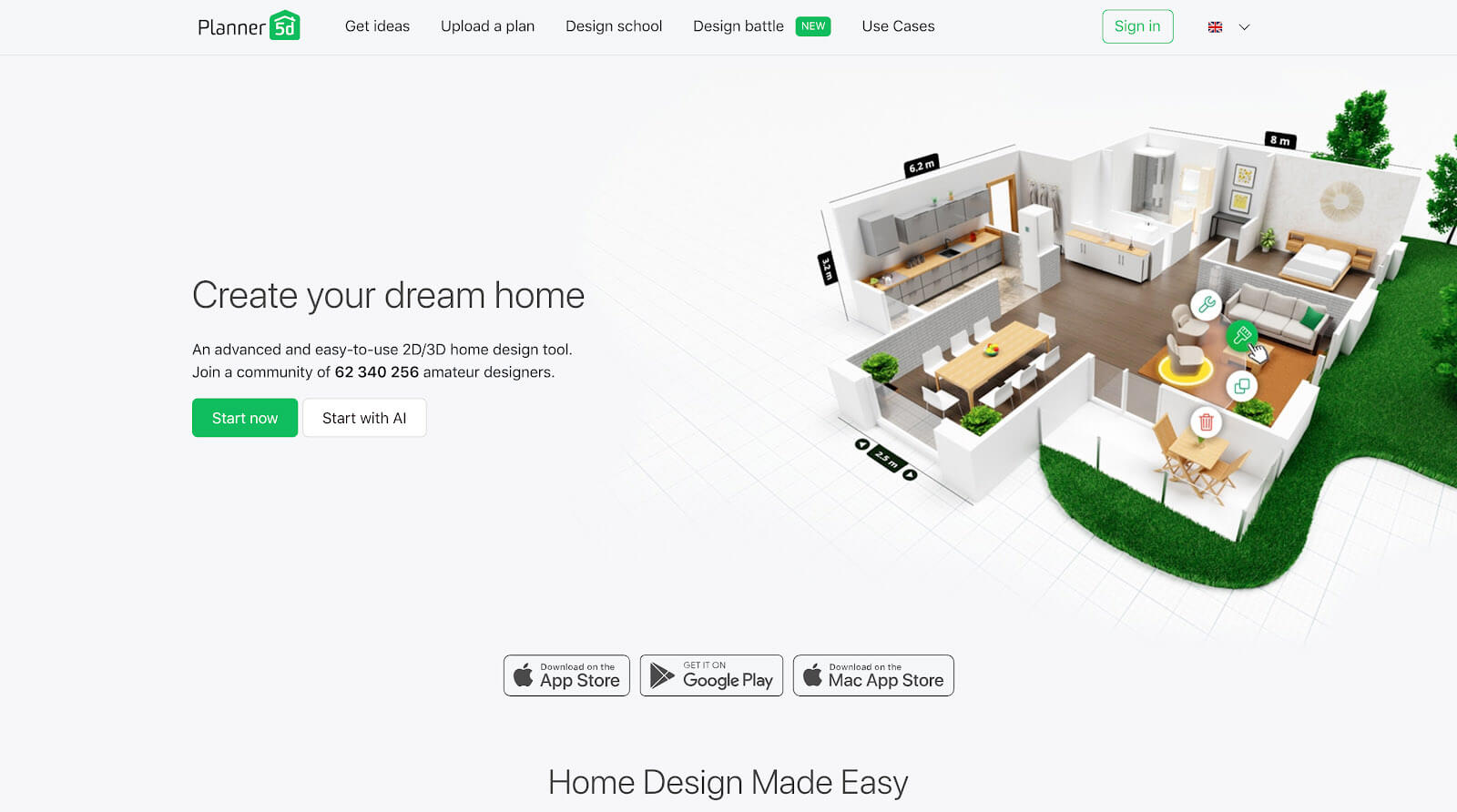 Best for: DIY-ers, interior designers

Overview: Planner 5D is a 2D and 3D home design tool that caters to both amateur designers and pros alike. Do note, however, that if you plan on using this tool in a professional setting, make sure you opt for the enterprise solution.

Where Planner 5D really shines is in its use of technologies like AR, VR, and automation. Even the DIY plan includes features like AI-enabled plan recognition, augmented reality furniture arrangements, and the ability to customize designs with products, measurements, and textures.

While the app comes with some tools contractors and builders will find useful, it's best suited for "inside" jobs. Think – updating paint colors, furnishings, and materials, or performing small-scale remodels like redoing a kitchen or bathroom. If you're converting a barn to a live-work "barndo," you'll probably want to look for a different tool.

Key features:
AI plan recognition
AR interior projecting feature
Automated furniture arrangement
2D & 3D design tool
Interactive online store
Price: Free for "amateur" plans, enterprise pricing is available upon request.
8. Live Home 3D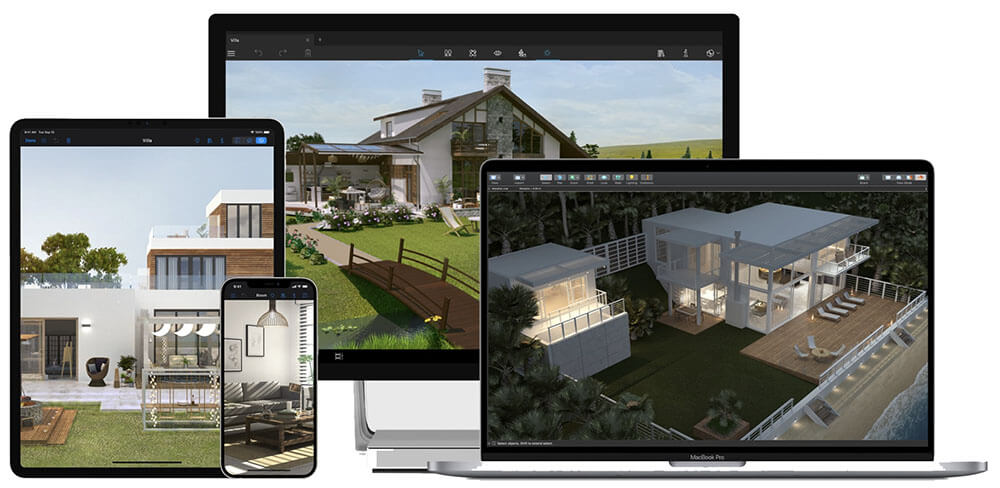 Best for: DIY home and interior design projects

Overview: Live Home 3D is a home building and interior design platform that enables "anyone" to create 3D renderings and detailed floor plans on their own – no experience necessary.

Live Home 3D does include some professional capabilities – including BIM modeling and client presentation tools. That said, you might be better off with a more modern-looking design platform if you're planning on using 3D renderings in proposals and marketing materials or sharing ideas with clients.

Key features:
Room scanning tool
2D & 3D designing
Roof assistant
Roof
Curtain wall creation
Terrain & materials editing
House movement & rotation
Price: Free version available. According to Capterra, users pay $19.99 per feature, but it's not especially clear how pricing breaks down.
Which Barndominium Design Software is Right for You?
Now, we've gone over several solid barndominium design tools that all stand to get great results. But, choosing the right solutions is more about your unique set of needs than what each tool brings to the table.

Cedreo's barndominium design software is best suited for professional builders and contractors looking for an easy way to generate 2D floor plans, 3D renderings, and collaborate with clients and colleagues in real-time.

Sign up for a free account to start designing today.