Technical drawings are detailed diagrams that communicate specific information about a project—and how it should be constructed.

They aim to create a common language that everyone involved in a project—architects, engineers, contractors, etc.—can easily understand. Essentially, technical drawings bridge the gap between the concept and its implementation.

As you might imagine, technical drawings are central to any architecture project—though the tools of the trade are changing. Below, we'll take a look at the essential tools—both traditional and modern—that belong in any architect's tool kit.




20 Best Architectural Drawing Tools
Modern architects rely on a blend of powerful digital tools and the analog standards they've used for centuries. Below, we'll take a look at 20 essential tools for drafting, drawing, and bringing designs to life.

1. 3D architectural drawing software
The first tool on our list—3D architectural drawing software—comes in several different flavors. For example, there are free architect tools that specialize in simple floor plan generation, as well as robust CAD platforms architects might learn to use in design school. Below, we've included our top picks—each bringing something unique to the tool kit.

Cedreo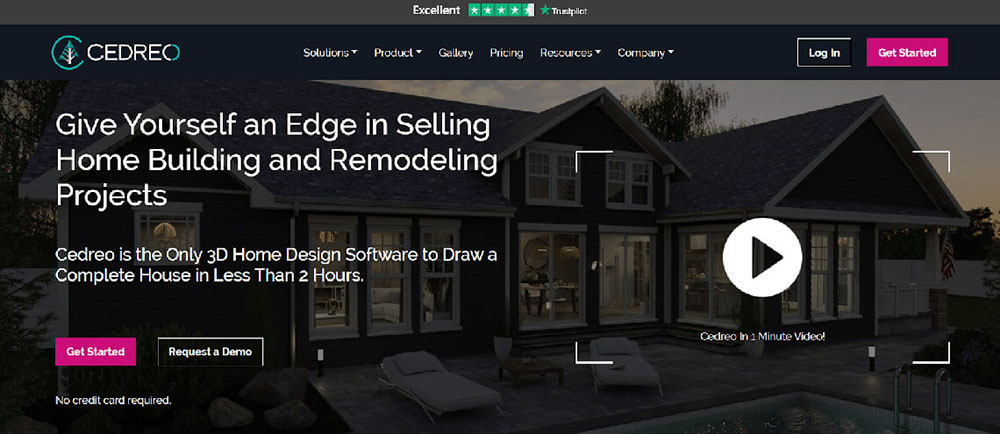 Cedreo is a 3D architecture and home design platform made for architects, home builders and designers.

The software includes everything you need to create professional architectural drawings and renderings online in a matter of clicks—all you need is a computer with access to the internet.

Cedreo users gain access to a robust suite of features that streamline the design process and improve the sales process. Users can generate 2D and 3D floor plans, photorealistic visualizations, architectural renderings, and more that communicate ideas visually—ensuring everyone is on the same page, every step of the way. The cloud-based software also includes built-in collaboration tools that make it easy to incorporate feedback on-the-fly, share updates with stakeholders, and make changes to drawings and designs in real time.

Key features:
Import and export floor plans
2D and 3D floor plans
Photorealistic 3D renderings
650+ customizable products — doors, windows, garage, and more
Extensive 3D object library
Mirror and resize projects
Built-in collaboration tools
Customizable camera angles, resolution, lighting, and sun orientation
_"Our business has changed so much, especially after the first project with Cedreo, we realized what level of service we were offering with the final product we were producing. We are now considering opening a new part of business dedicated to conceptual designs." Sheree Ramm, Co-founder, _Heartwood Build & Design

Chief Architect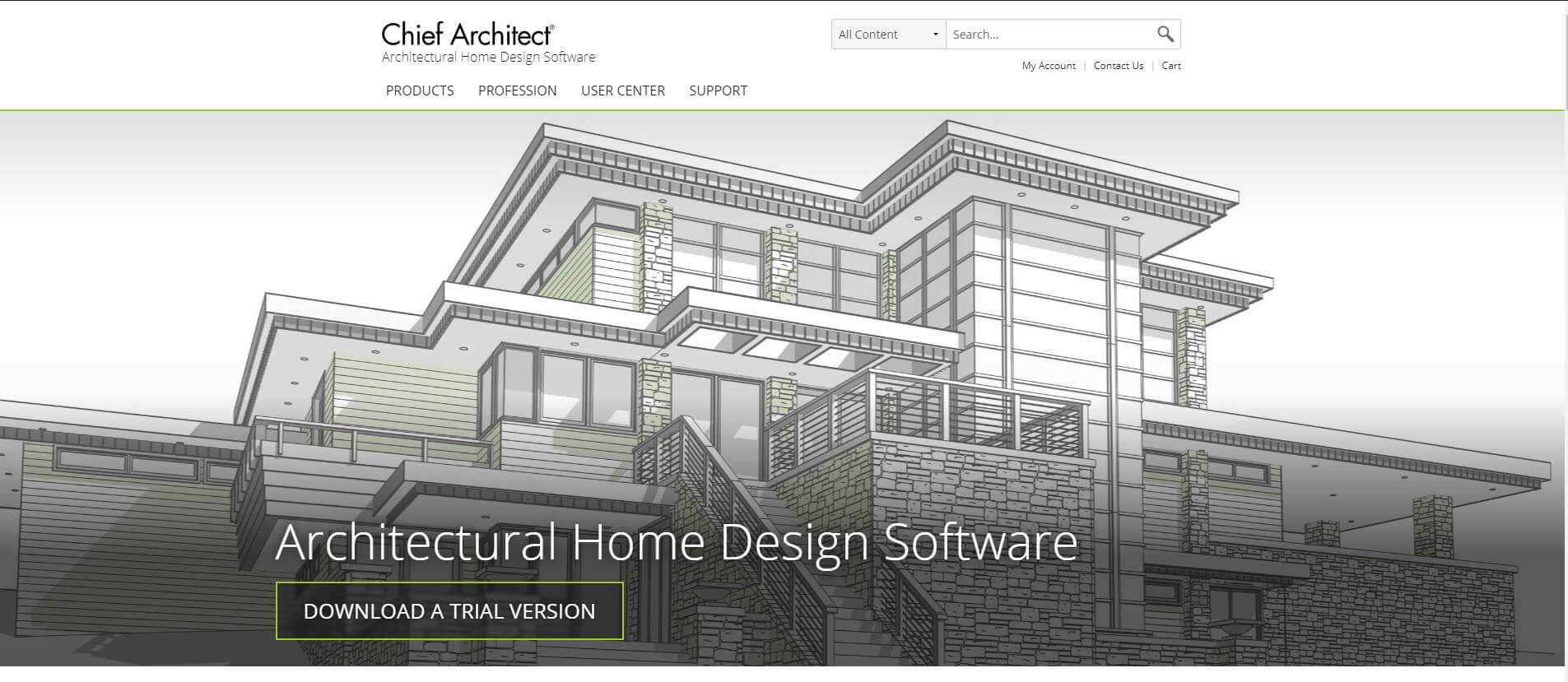 Chief Architect is a professional drafting, design, and modeling tool for architects specializing in residential and light commercial design work. The platform offers a robust suite of features including automated building tools for home design, kitchen & bath projects, and interior design. Users can create site plans and import terrain data to get the exact typography of a building site and import AutoCAD files that can be overlaid on designs for increased precision. Users can also automatically generate materials lists and schedules based on the elements included in their designs—making planning, budgeting, and estimation easy.

Key features:
BIM modeling
Floor plans, construction drawings
Automatic building tools
Instant materials lists & schedules
3D object library
3D imaging
Landscape design
Site planning
Presentation tools
SketchUp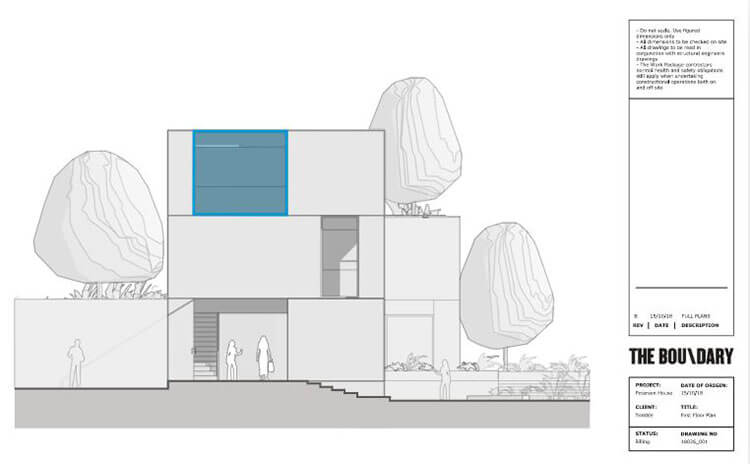 SketchUp is an easy-to-use 3D CAD platform that can be used for a range of use cases—including architectural drawings, interior design projects, animations, and landscape design.

SketchUp is designed to behave more like a pen and paper than some of the more complex 3D modeling software that's out there—and can be used to draw floor plans, put together construction documents, and create immersive virtual tours in AR and VR—at 1:1 scale.

At the same time, SketchUp users will likely need to invest in plugins and integrations to get all of the features they need. For example, the platform doesn't include 3D rendering out-of-the-box—a feature that comes standard with Cedreo, as well as most digital architecture tools available today.

On the one hand, SketchUp can be customized and adapted around your unique needs—which many users may consider an advantage. But on the other, it could mean taking on extra costs and complexity.

Key features:
3D modeling
2D drawing
Collaboration tools
Virtual tours/animations
Integration with existing tech stack and other design tools
ArchiCAD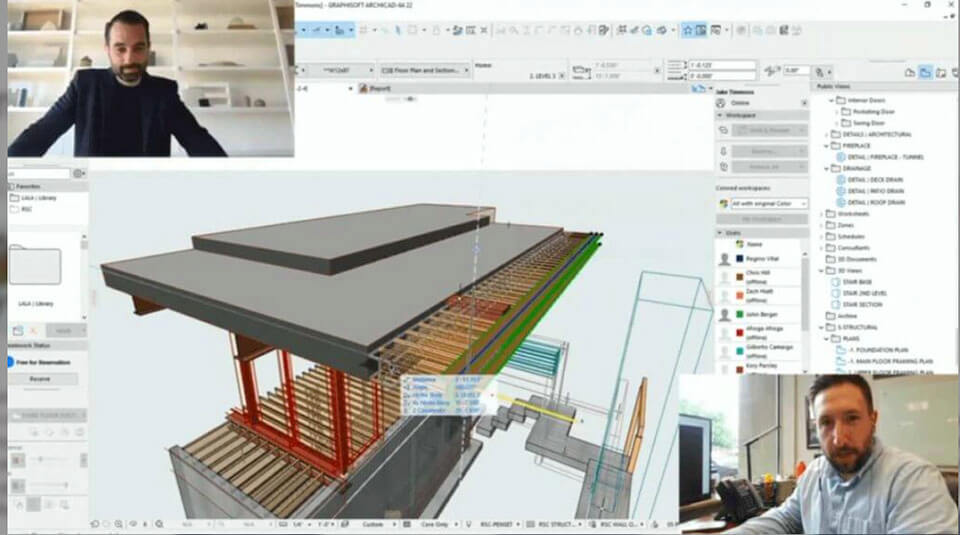 ArchiCAD is an architectural CAD and BIM platform that aims to cover the entire design and engineering process. That includes 2D and 3D drafting, visualization, rendering, modeling, and documentation.

The platform is ideal for larger firms, working on projects with many stakeholders and lots of moving parts. ArchiCAD's collaboration tools extend beyond easy file sharing and data-syncing. You'll also get tools that support change management efforts and project governance, automate publishing workflows, and make it easy to work across disciplines.

At the same time, some users might find ArchiCAD to be overly complex or difficult to learn—especially for smaller firms that may not need all of the project management and engineering features.

Key features:
2D drafting
Automatic drawing
3D imaging & rendering
Collaboration tools
Contract, contact, document, and change management
Architectural symbol library
Revit

Revit is a BIM platform designed by Autodesk to support architects–as well as engineers and construction pros–throughout the entire design process. Inside you'll find a stacked feature suite that covers everything from floor plans and renderings to VR tours and materials lists.

But what sets Revit apart from other architect tools is its collaboration and automation capabilities. Users can build custom automations that create a library of objects that can be used in any design. They can also generate construction documents, schedules, and materials lists from floor plans and share them with contractors and engineers.

All changes made to a model are automatically applied across all features, views, and disciplines–making it easy for engineers, architects, structural design teams, and project managers to get on the same page.

Key features:
2D and 3D design views
Photorealistic renderings
3D, VR, panoramic presentation tools
Design to documentation
Central workspace for all stakeholders
Photorealistic renderings
Collaboration tools
Building analysis tools
In the following sections, we'll take a look at all of the tools you'll need to create an architectural design the old-fashioned way–without software.
2. Architect's scale ruler
The architect's scale ruler is a specialized ruler for measuring and drafting architectural drawings like floor plans, blueprints, and orthographic projections.

This tool allows architects to measure angles against various scales to ensure all dimensions are accurate.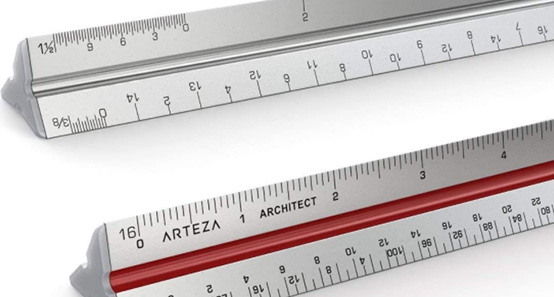 3. Drafting table and board
Architects create technical drawings on an angled table with parallel rulers on each side, which keep the paper in place and provide vertical and horizontal guides for the drawing.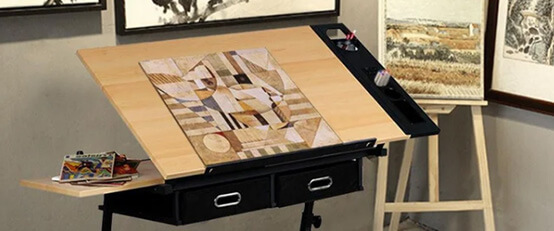 4. T-Square
A T-square ruler is another simple, yet critical element for creating architectural drawings. It's a convenient measuring tool with easy-to-read numbers that can be adjusted to different angles and makes it easy to draw straight lines.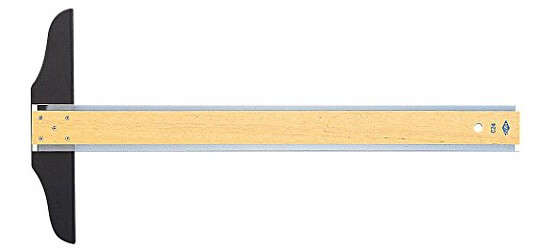 5. Cutting Mat
Architects often need to cut parts of their designs from different angles. A self-healing cutting mat protects your table from scratches and can be reused over and over, across many different projects. Additionally, cutting mats include measurements and grid patterns that make it easier to cut straight lines to the exact dimensions you need.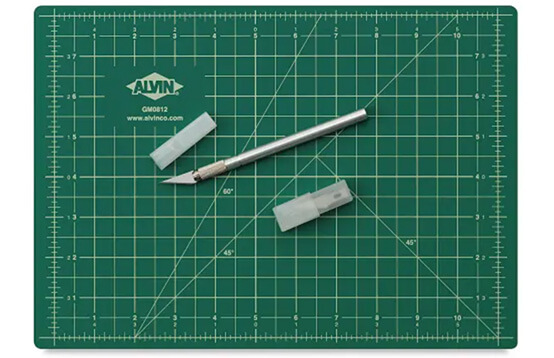 6. Protractor
Protractors are devices used in drafting to measure and draw precise angles—beyond say, 45 or 90 degrees.

They're typically semi-circular and made from transparent plastic (like the ones you may have used in math class), but are also available as a full-circle version or an adjustable "professional" version–like the one pictured above.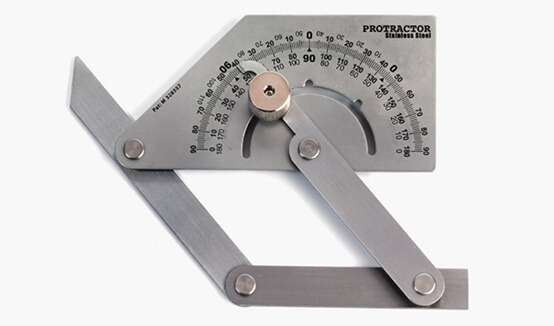 7. Compass
A compass is a tool for drawing circles or arcs, as well as measuring distances. Compasses (like this one) may also come with various extensions that can help you create larger curves and circles.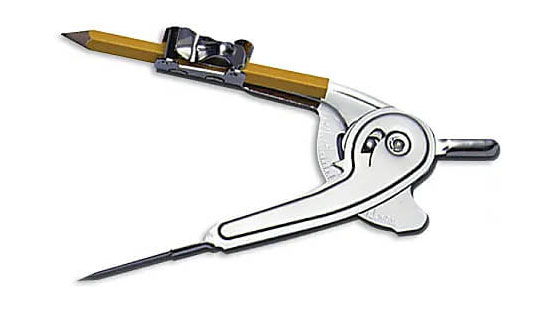 8. Adjustable triangle
An adjustable triangle is a tool that allows you to draw the consistent slope of a known angle. This tool features an adjustable arm that can be fixed at different angles and typically comes with a beveled edge to prevent ink from bleeding into other parts of the drawing.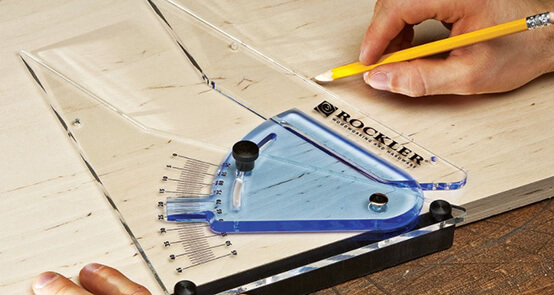 9. French curve
A French curve is a template—made from metal, wood, or plastic—with an edge composed of different curves. Before the age of architecture software, French curves were used in drafting to draw curved lines. Often, french curve rulers are purchased as part of a set–this one from Michael's includes three, while Amazon offers them in packs of six.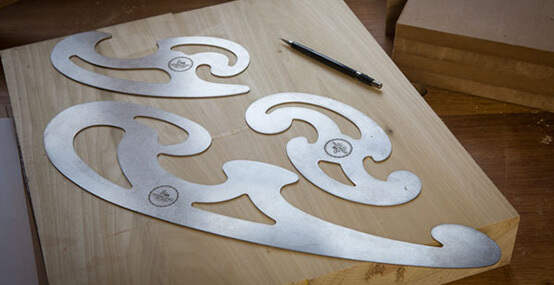 10. Lining pens
Most architectural drawings are initially created in pencil, then re-traced in ink to finalize the plan. Traditionally, architects used mechanical ink pens with adjustable nibs–though today, lining pens are available in many different widths.

While there are countless options available, Sakura's Micron pens, STAEDTLER Pigment Liners, Pentel Point Liners, and Uni Pin Fine Liner Pens are long-term favorites for their bold lines, smudge-proof, water-resistant ink, and long life spans.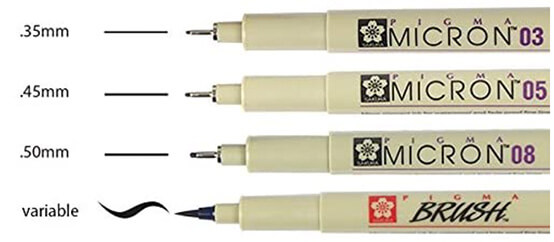 11. Mechanical pencils
Quality mechanical pencils are a staple of architectural work.

They're perfect for creating rough sketches with precise, fine lines that can easily be erased as you flesh out your ideas.

Pentel GraphGear 1000, Uni Kurutoga Pipe Slide, rOtring 800, and the Pentel P200 series all come highly-rated among pro architects and students alike.

Keep in mind, you'll want to consider factors like ergonomics, lead thickness, weight, and grip as you put together your pencil set.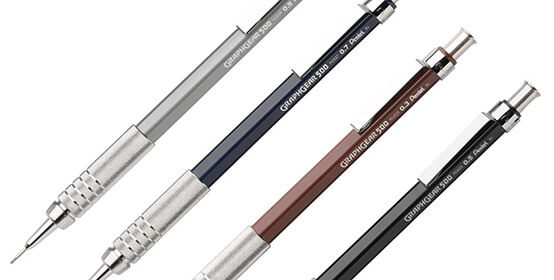 12. Artist markers
Artist markers are used to create illustrations, renderings, or add pops of color to a design. In this context, they're used to emphasize portions of the drawing or sketch out ideas. While markers were more of an essential before pen tablets and rendering software became ubiquitous, many architects and designers still use them to flesh out ideas by hand.

Brands like Copic, Tombow, Prismacolor, Stylefile get consistently high marks from architects, artists, and other design pros for their bold colors. Markers are one of those items where personal preference comes heavily into play.

Many artist markers are double-sided—with a chisel tip on one end and either a fine tip or brush tip on the other. You'll probably want to invest in a variety of tip shapes to produce different effects. For example, fine-point markers are great for detail work, brush tips produce a watercolor-like effect, and chisel tips are best for covering larger areas or producing hard edges.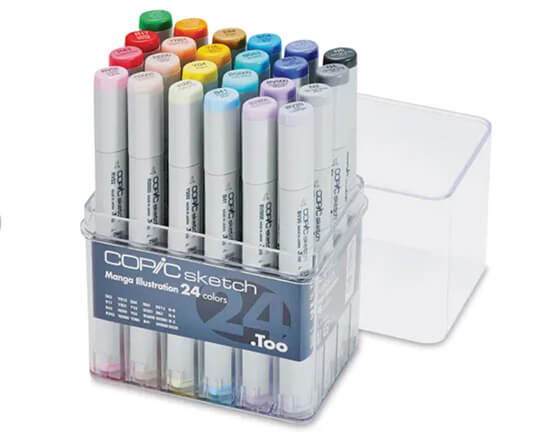 13. Tracing paper
Before architecture software and digital drafting tools became "a thing," architects relied on tracing paper to test out different ideas or make adjustments to an existing plan.

You can purchase a roll of tracing paper or in sketchbook form if you're looking for a specific size.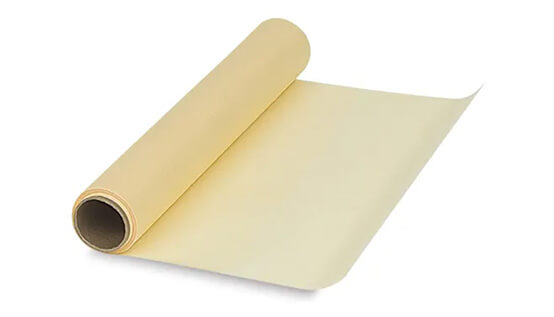 14. Pen tablet
A pen tablet is a specialized input device that emulates the look and feel of pen and paper. Pen tablets provide the flexibility of hand-drawings, along with the benefits of modern technology—and have become as essential as the sketch book or a set of high-quality pens.

Do note that tablets aren't meant to replace computers. Some models (like the XP-Pen Deco Pro) don't even include a screen and instead, connect to your desktop or laptop like a mouse or keyboard. Others–like the iPad Pro or the Wacom MobileStudio Pro 16 (pictured above) serve as standalone devices–but tend to cost considerably more than tablets without a screen. For example, the XP-Pen tablet is $129.99, while the Wacom MobileStudio Pro is about $3500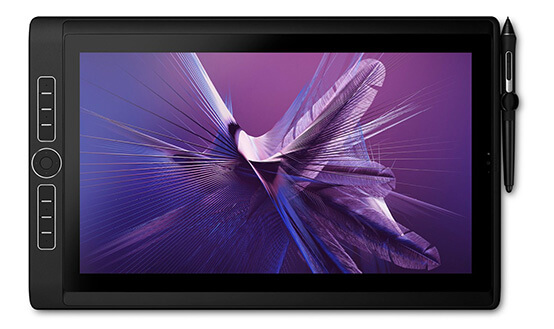 15. Eraser shield
An eraser shield is a thin sheet—made of metal or plastic—with holes of various shapes and sizes that looks a lot like a stencil. Eraser shields are laid on top of the line you'd like to erase, protecting nearby lines you'd like to keep intact. They can also be used to produce certain patterns or effects–circles, dotted lines, etc.–in an architectural drawing.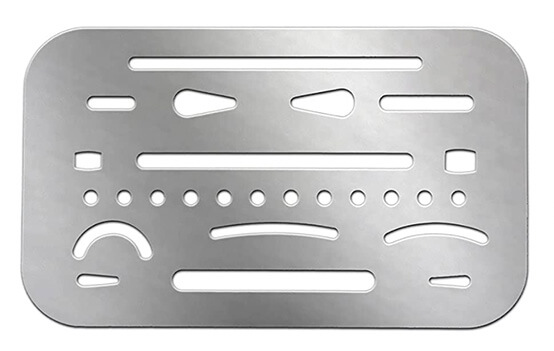 16. Drafting brush
A drafting brush is a simple tool used to keep drawings clean by gently removing pencil shavings, eraser crumbs, and lead from a drawing. Drafting brushes are traditionally made from horse hair and are designed to clean up drawings without damaging the paper. Additionally, a high-quality brush doesn't shed during use or leave scrape marks in its wake.

17. Measuring tape
Where rulers and T-squares are better for measuring straight lines, a measuring tape allows you to measure curves, corners, and other irregular shapes–making it an essential tool for taking measurements of physical structures.

Tape measures, of course, are easy to find at any hardware store. For example, here's a Stanley tape measure available at Home Depot for under $10. But–if you're looking for something more "design-y," you might try the Leatherology tape measure (pictured above) or this minimalistic black one from Amazon.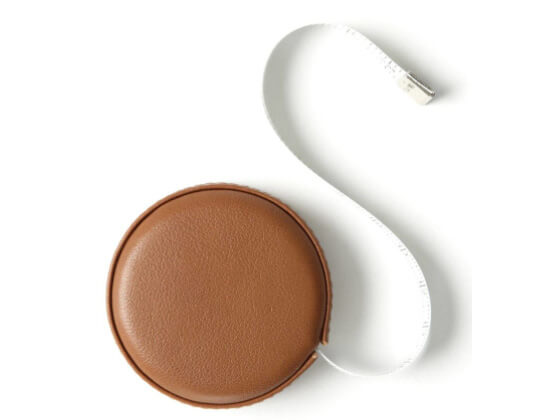 18. Drafting tape
Drafting tape is a type of masking tape that can be easily removed without damaging the paper and doesn't leave behind a sticky residue. It can be used in a variety of ways—to keep sections of paper clean, to draw straight lines, or to prevent ink or paint from bleeding into other parts of the drawing.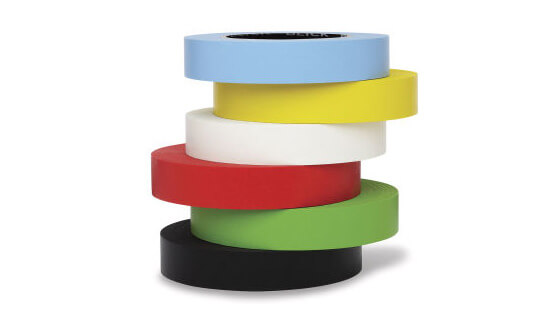 19. Paper trimmer
A paper trimmer allows architects—as well as teachers, librarians, and artists—to cut paper down to a specific size and is much more accurate and efficient than scissors.

Paper trimmers come with a line grid that makes it easy to cut to the exact dimensions you need.

You might opt for a smaller table top version, like the one pictured above. Or, you might go for the classic model–like this X-acto version–with a heavy duty blade that can cut through multiple sheets at a time.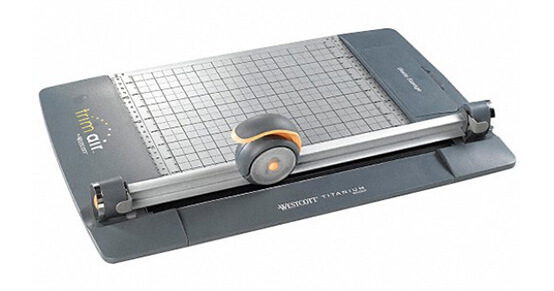 20. Sketchbook
Even in this age of architectural drawing software and digital pen tablets, sketchbooks remain a critical essential among architect tools. Architects use them to continue to hone their craft, keep track of ideas, and engage in some brainstorming and experimentation.

Like lining pens and markets, choosing a sketchbook is a personal decision. Some architects prefer to jot down their ideas on plain white paper, while others prefer the structure of graph paper or a dot grid notebook. Dot grids and graphing paper are ideal for creating scale drawings, whereas blank paper probably makes more sense for brainstorming and illustration.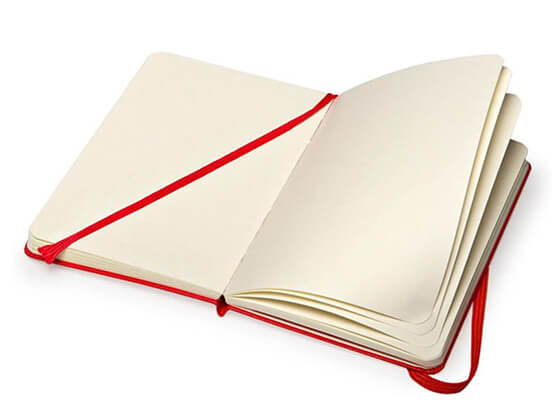 Create Professional Architectural Drawings
In the end, it's important to understand that architects should still master "old school" drawing and drafting techniques — as well as the tools that come with the territory.

But—analog tools on their own no longer cut it. Today's architects need to embrace technology. That includes complex CAD programs, collaboration tools, as well as 3D rendering and floor plan software that streamlines the design process.

Cedreo's 3D architecture software allows you to put together a complete proposal in less than two hours. To learn more about how it can help you speed up approval flows, reduce design costs, boost sales and client satisfaction, sign up for a free account.