Traditionally, architectural rendering has been a manual process. Architects used hand-drawn sketches, illustrations, and watercolors to bring their vision to life and strike an emotional chord with potential clients.
While architects might still use traditional architectural rendering techniques, technology has made it possible to create renderings in a fraction of the time. . With the right rendering software, architects, home builders, and designers can instantly create architectural visualizations for any plan before construction begins.
In this post, we'll take a look at architectural rendering's benefits and use cases, and explain how to create a professional rendering for your clients.
What Is Architectural Rendering?
Architectural rendering is the process of creating three-dimensional images of a proposed architectural design.
Architects use architectural renderings to enhance their designs and provide a more realistic view of what the final project might look like.
The best architectural renderings include custom details like furnishings and textures. An exterior rendering might include plants, trees, and patios… The goal is to communicate how a finished project will look and feel.
Why Are Architectural Renderings Important?
The more effectively architects and design pros can present their ideas, the more successful they'll be in closing deals.
Architectural visualizations allow design pros to share their vision in a way that everyone can immediately understand.
Here's a look at some of the critical benefits that architectural renderings bring to the table:
Share design proposals in context. Architectural renderings present design concepts in 3D, allowing clients and stakeholders to see how a project will look. Architects and designers can show interiors and exteriors from multiple angles and choose night or day views with natural light.
Find & fix design flaws. Architectural renderings allow you to look at exterior or interior design elements from multiple perspectives, making it easier to identify and fix issues you might not catch in a 2D sketch floor plan.
Attract new clients. Architects and designers can demonstrate their skills for potential clients by including completed renderings on their website, in their social media strategy, or in ad campaigns.
Collaborate with clients. Architectural renderings help interior design pros ensure that they're always on the same page with clients. Interior designers can show clients a few different versions of an architectural rendering, allowing homeowners to make decisions about which elements they like best.
Close more deals. Architectural renderings can help architects, designers, and contractors close more deals — and even boost their sales velocity. Design pros can generate personalized presentations on the spot, fast-track decision-making, and exceed client expectations.
Save money. Architectural rendering software like Cedreo can help you cut costs by eliminating the need to outsource conceptual design work. You're no longer waiting for hand-drawn renderings and can generate unlimited versions at no added cost.
Who Uses Architectural Renderings?
Naturally, architects use renderings to present ideas to clients, enhance proposals, and market their services. But they're not the only group that can benefit from this powerful tool.

Interior designers use renderings to grow their business and show clients what to expect from the finished project. Designers can also accelerate the design process by using architectural design software to create renderings.

Landscape designers can use exterior renderings to do the same for any outdoor project, even adding details like cars, people, and pets to really set the scene.

Contractors and builders can use architectural rendering to turn floor plans into photorealistic 3D representations.

Real estate agents use architectural renderings as a sales and marketing tool. Agents can use renderings to offer virtual tours, sell homes still under construction, and market their services.
Different Types of Architectural Renderings
Architectural rendering falls into three main categories: interior, exterior, and aerial. Here's a brief look at how each type is used by architects and designers on the job:

Interior renderings
An interior rendering is a design as seen from the inside. Unlike floor plans, which represent the interior as a 2D drawing, interior renderings bring designs to life, using color, lighting, and even custom furnishings and decor to provide a more realistic representation of how a room might look in person.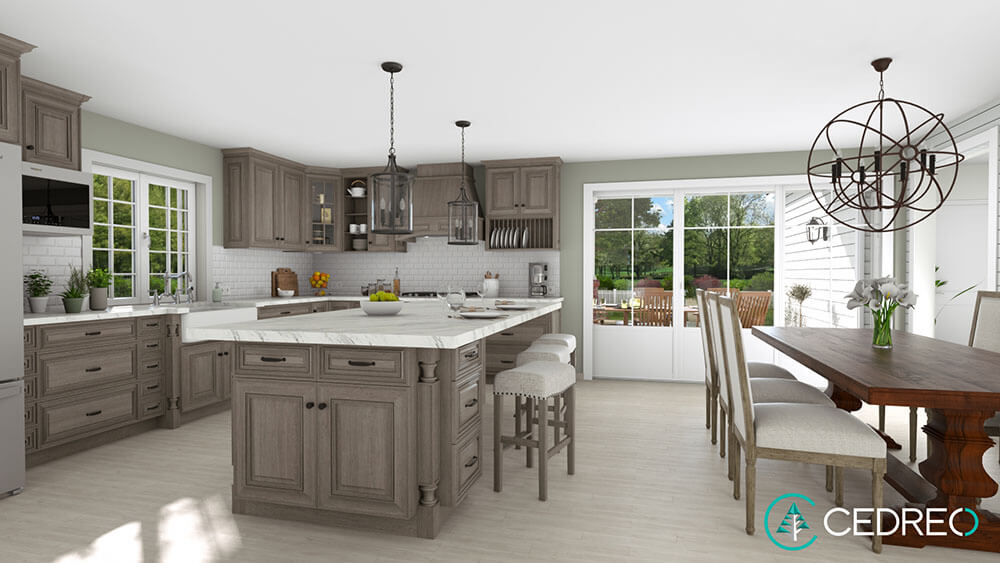 Real estate agents can use interior renderings as a sales tool. They might use them on their website and social media channels to attract prospective buyers or to demonstrate the degree of customization options available in new home builds.

Interior designers can also benefit from 3D renderings by using them to sell design services and collaborate with clients, testing different paint colors, flooring, and furniture before making any big decisions. Essentially, interior renderings help people envision themselves living or working in a particular space.

Exterior renderings
As you might imagine, exterior renderings depict a proposed design from the outside.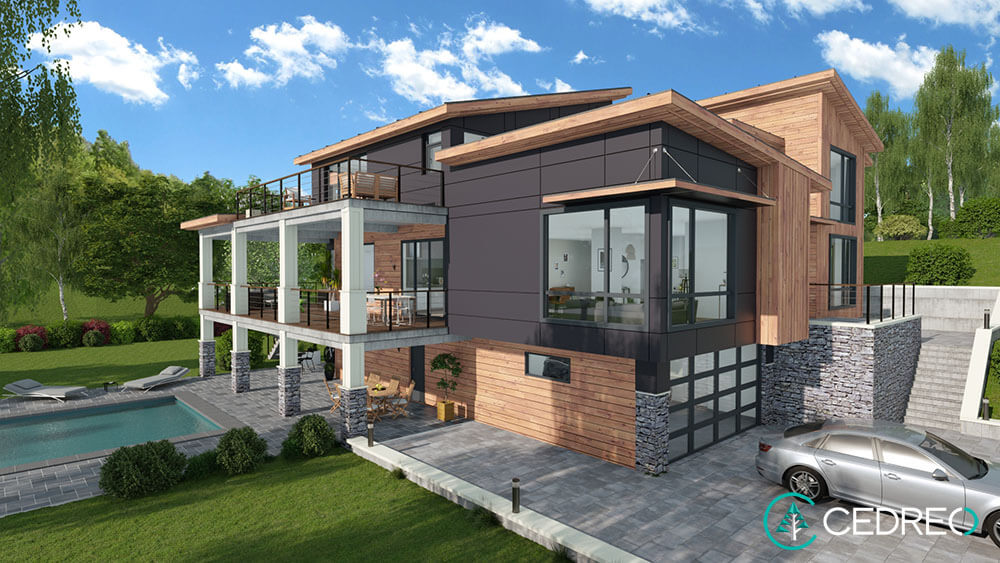 Architects might use exterior renderings to introduce a proposed project — be it the concept for a new housing development, museum, or office building. These renderings may be photorealistic, showcasing building materials, windows, and other features as they would appear in real life. Often, renderings include surrounding buildings, foliage, and hardscaping.

Exterior renderings are also useful for architects who need to provide direction for builders and contractors. With a fully developed 3D rendering, anyone working on a project can see how all of the project elements will come together (including the roof).

Aerial renderings
Aerial renderings provide a view of the building or home from above.

They're often used in client presentations to provide a better understanding of how the proposed design fits with the existing landscape. An aerial rendering helps clients evaluate designs based on factors like how close they'll be to their neighbor's property line.

How to Create a Complete Architectural Rendering
Creating a design using traditional architectural rendering techniques follows a process similar to drawing, painting, or illustration. While these skills will still serve you well, architectural rendering software allows you to do much more with your ideas.

You can play with different variations, customize designs for individual clients, and work collaboratively to ensure that the client loves every last detail.

Below, we've outlined the process for creating a complete architectural rendering using Cedreo. Keep in mind, the process might look a bit different if you're using another tool.

1. Import or draw a floor plan from scratch
The first thing you'll want to do is add a floor plan. You can upload an existing file or draw a new one from scratch.

To draw your plan from scratch, choose "Layout" from the top navigation. You can find it on the far left.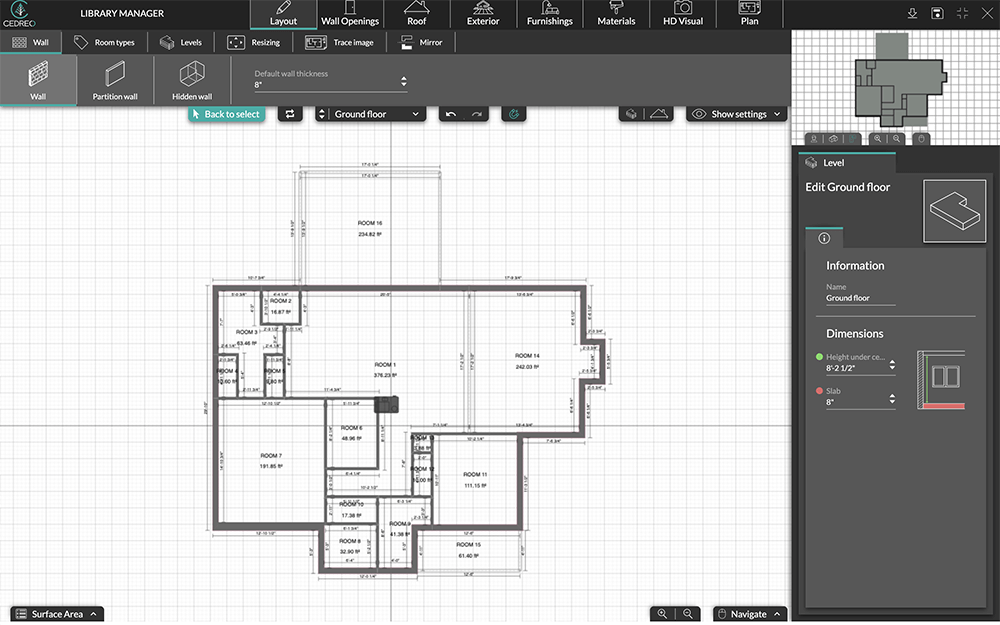 From there, you can customize wall placements, room dimensions, and room names.

2. Define exterior boundaries and terrain
Next, we'll head outside to define exterior boundaries and terrain of the proposed design.

Select "Exterior" from the top navigation menu to draw boundaries and borders of different outdoor areas.

You might then choose "Ground" from the left sidebar and add grass to the area surrounding the building.

Then you can draw hedges, patios, or whatever else you'd like to include here.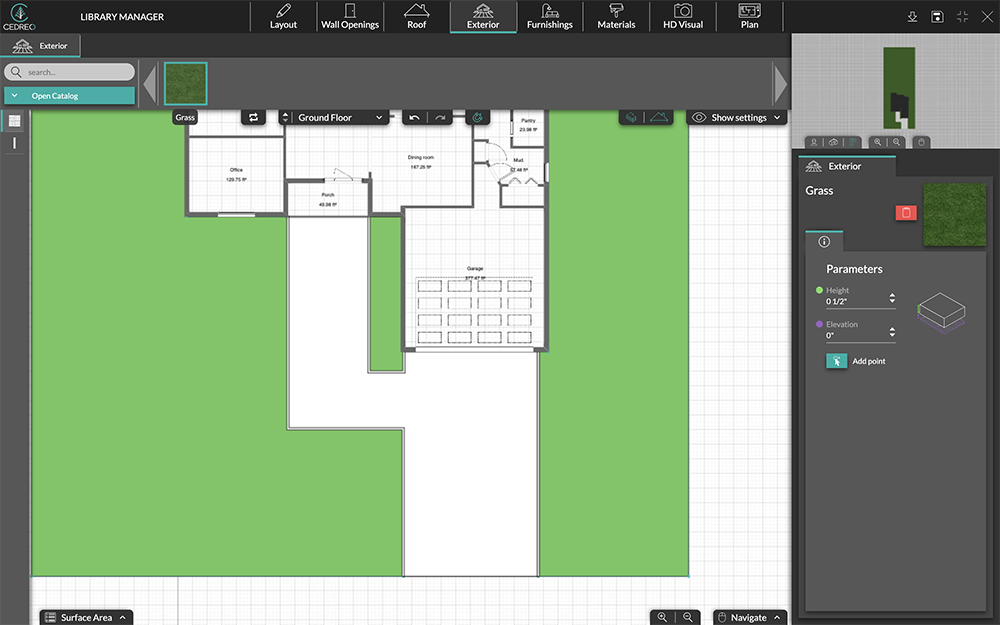 At this stage, you'll also want to adjust the height and elevation of each area you've outlined.

In other words, you might have a terrace or deck that's higher than the rest of the backyard. Or, maybe you'll be building on uneven terrain or adding balconies to different levels.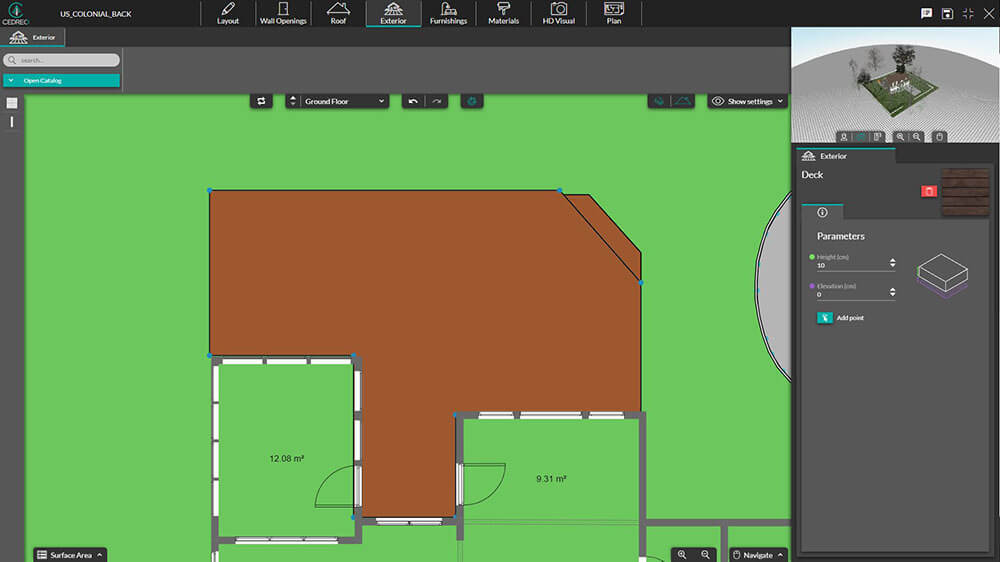 3. Add structural elements
When you've finished mapping out the terrain, you'll want to head back inside to add the structural elements that will help you flesh out your design.

This includes walls, windows, and doors, as well as transitional elements between each level.

4. Add aesthetic details
Cedreo's catalog includes 7,000+ materials, furnishings, and home decor elements you can use to customize your design. And our team is continuously adding new features and design elements, based on our customers' needs.

Click the "Furnishings" tab in the top menu to add furniture, wall art, and other design elements. You can also update paint colors and flooring, and move items around until you're happy with the results.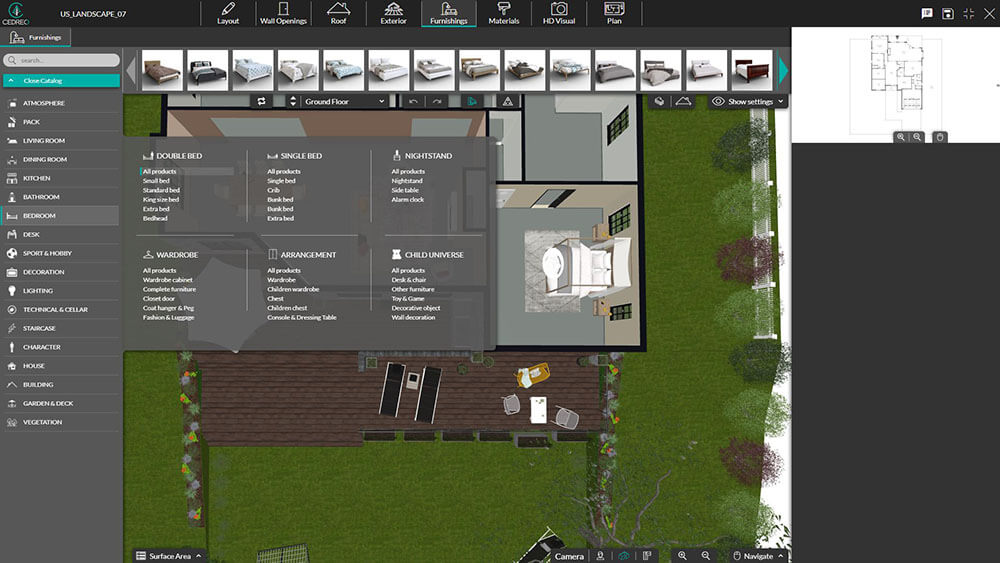 You can also select an "atmosphere" (Nordic, Contemporary, or Charming) to save some time.

5. Add exterior finishings
Next, you'll want to add and customize exterior finishings. To get started, select "Materials" from the top navigation bar, then use the left menu to customize exterior materials like siding, shingles, or concrete.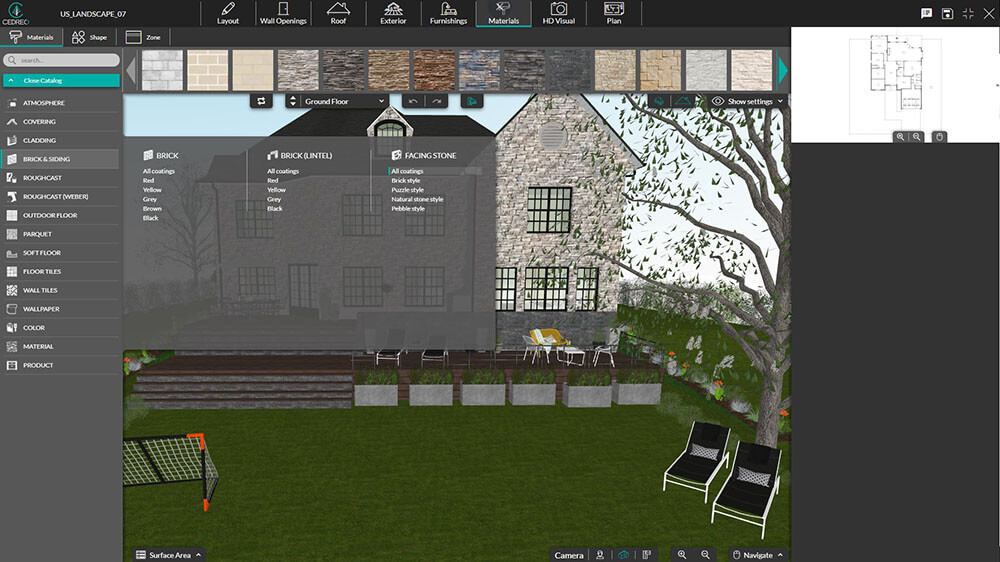 You'll also want to add decorative elements like plants and patio furniture.

To do that, simply choose furnishings from the top menu, then select "Garden & Deck" from the menu in the left sidebar.

6. Set lighting and sun orientation
Once you've completed the interior and exterior design, you'll want to set the lighting and sun position.

Click "HD Visual" from the top menu, then select an environment from the menu on the right. There, you can set the parameters for interior and outdoor lighting/sun.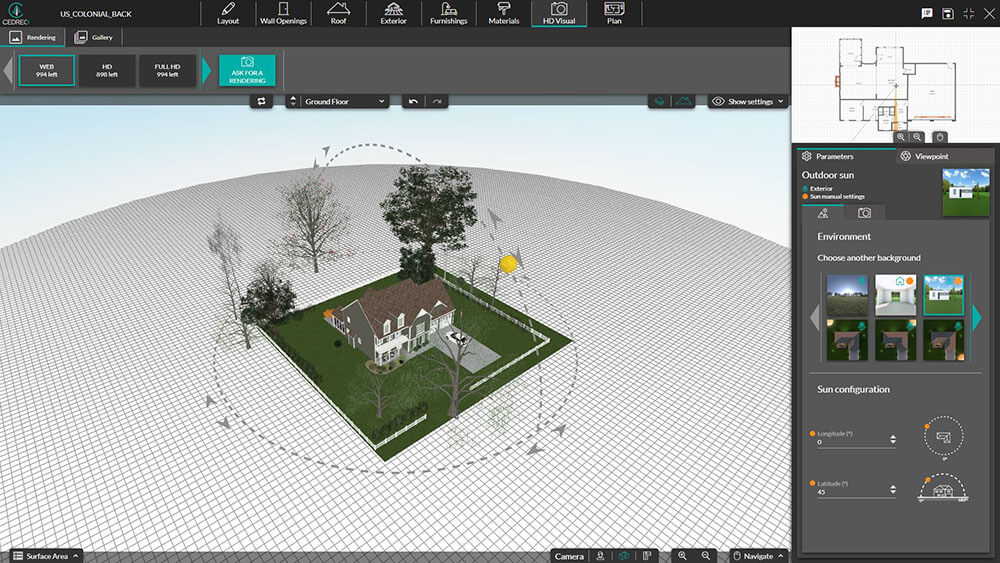 You can manage the sun orientation automatically, or you can do it manually using the mouse to adjust the sun's position along latitude and longitude axes.

7. Provide multiple viewpoints
Cedreo allows you to save and store a variety of viewpoints for each rendering, so you can reuse the same shots across all design variations.

At a minimum, you'll want to include shots of the structure from all sides, maybe even a couple of aerial shots, too.

This allows architects to try out different materials, layouts, and terrain without the need to reposition the camera each time they start working on a new rendering.

To save a point of view, select "HD Visual" from the navigation bar and choose which camera you'd like to use.

Then, select a viewpoint from the menu on the right and adjust the camera position. Once you're satisfied with the viewpoint, save your work.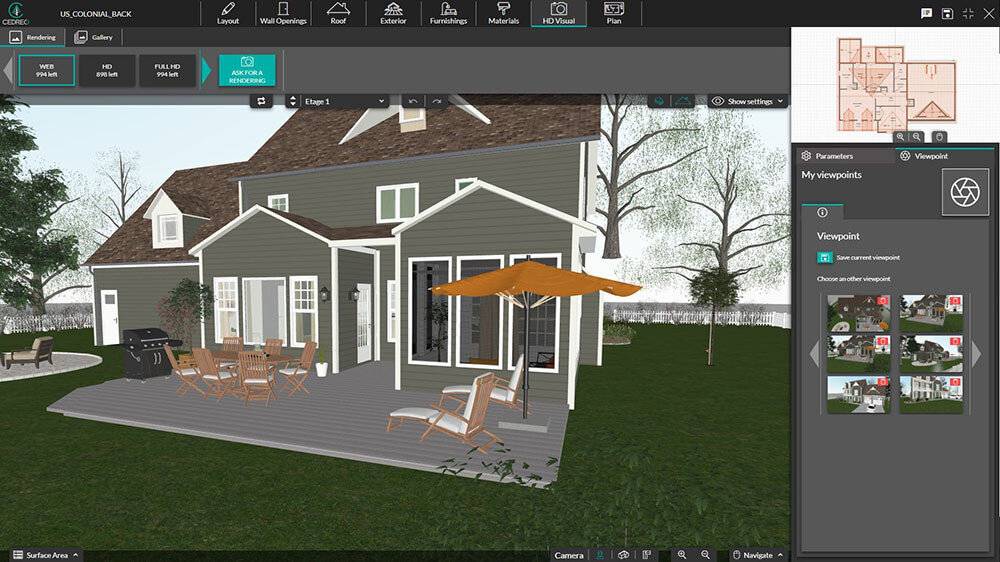 8. Generate a photorealistic rendering
Cedreo allows you to generate architectural renderings in a single click. Simply navigate to the "HD Visual" tab in the main menu and select the type of rendering you'd like to create: Web, HD, or Full HD.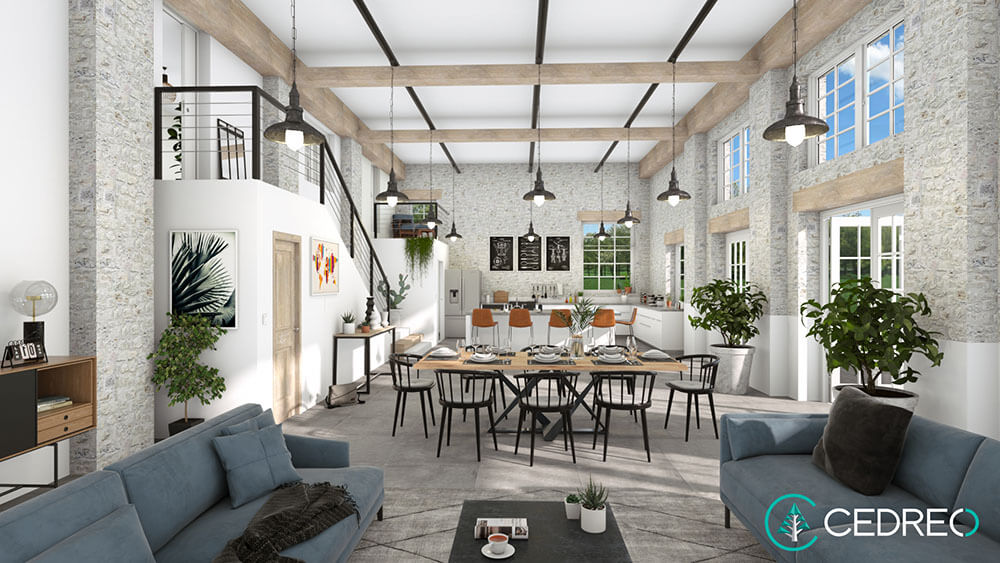 Make any necessary adjustments, and when you're happy with your creation, you can share it with colleagues and clients.
Create Interior and Exterior House Renderings With Cedreo
Creating interior and exterior renderings has never been easier. Architects, designers, builders, and real estate pros can generate stunning, customizable designs in a matter of clicks, then use their designs to attract qualified leads, close deals, and work with clients to ensure the ideal outcome.

Cedreo is a user-friendly, cloud-based architectural rendering platform that allows users to instantly generate renderings, customize their designs, and collaborate with clients and colleagues.

Sign up for the free trial to get started now.