Looking for the best architectural drawing apps? Read on.
Technology has transformed architecture.

Whether you're in the field, in the office, or working from home, architecture apps have changed the game for architects, contractors, and project managers.

They've streamlined design workflows, enabled seamless collaboration with clients and colleagues, and eliminated tedious paperwork.

That said, choosing the right technology for your business is easier said than done.

This is a massive category with apps designed for many users and use cases.

While some are very specific to construction professionals or architects, others are more general. In this article, we'll look at 13 of the best architecture apps available in 2023.
13 Best Architecture Apps for 2022
Architecture apps cover everything from CAD drawings and 3D models to concept sketching and augmented reality. Here are 13 apps to consider this year.
1. Cedreo
Best for: Conceptual home designs, floor plans, photorealistic 3D renderings, home decoration and design proposals.

Available on: Web

App overview: Cedreo offers 3D home design software that allows builders, designers, remodeling professionals, and architects to create drawings and complete design proposals in just two hours.

The platform helps users shorten the sales cycle and improve close rates, using photorealistic 3D renderings that help visualize design ideas and create emotional connections with potential buyers.

Designs can be incorporated on users' websites, proposals, social media profiles, and paid ads to attract new business and showcase expertise.

Key architectural features:
Floor plan sketching: Cedreo allows builders, remodelers, architects, and interior designers to draw 2D, 3D, and photorealistic floor plans.
Interior and exterior customizations: Select wall openings, windows, and doors from the in-app library, and add roofing in a single click.
3D renderings: Create photorealistic renderings that bring projects to life. Add surrounding buildings, manage sunlight orientation, add lighting effects, and show off custom exteriors.
Fast design modifications: Update your design based on client feedback and instantly generate a new rendering for review.
Sales presentations: Create complete proposals within a couple of hours.
Reuse projects: Store and organize all your home designs in one place. Share projects with team members, and use past projects as a starting template for new clients.
Home decoration: Cedreo includes an extensive library of 7,000+ customizable pieces of 3D furniture, home decor, objects, and surface coverings, allowing users to quickly create fully furnished home visualizations.
Tutorials and support: Cedreo has a tutorial video library that walks users through how to work with certain features. Users can also call the dedicated support line for help, and Enterprise users are assigned their own Success Manager.
Pricing: Cedreo offers plans and packages to meet any project budget. Review plan pricing here and be sure to sign up for Cedreo's free, no-obligation trial to learn more.
2. SketchUp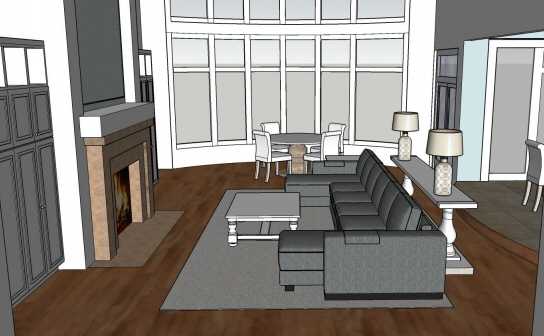 Best for: Architectural sketching and design.

Available on: Desktop and web

App overview: SketchUp is a 3D CAD program that has been in the game for more than 20 years. It's primarily used by architects, interior designers, and landscape designers.

Users can generate flyovers and walkthroughs to guide clients through architectural drawings.

One limitation of SketchUp is the software hasn't been designed specifically for the construction industry, and as a result, can be quite complex and difficult to adopt for a lot of users. In fact, this complexity is one of the major reasons why users have switched from SketchUp to Cedreo.

Key architectural features:
3D modeling. SketchUp is designed to behave more like a pencil than complex 3D modeling software and enables users to analyze and solve problems during the design process.
2D construction documents. Draw 2D floor plans, elevations, and more. On higher tier plans, any changes that are made to 3D models are automatically reflected in 2D supporting documentation.
3D warehouse. An extensive 3D model library lets users generate pre-set objects and work out their scenes quickly.
Mixed reality presentation tools. Give clients a tour of 3D project models using the platform's AR & VR presentation tools.
Pricing: 30-day free trial. Plans range from $119 to $699 per year.

Editor's note: Unlike Cedreo, SketchUp's features are not tailor-made for housing professionals.

Cedreo eliminates many of the tiny steps that add up to a lot of wasted time. For example, you don't need to export your model to another platform to share 2D plans with clients or drag 3D shapes around the interface to add a window. In addition, Cedreo offers far superior 3D rendering capabilities.

SketchUp is available on desktop and has a mobile viewer to visualize already made designs. Cedreo is available exclusively as a web application.
3. Morpholio Trace Pro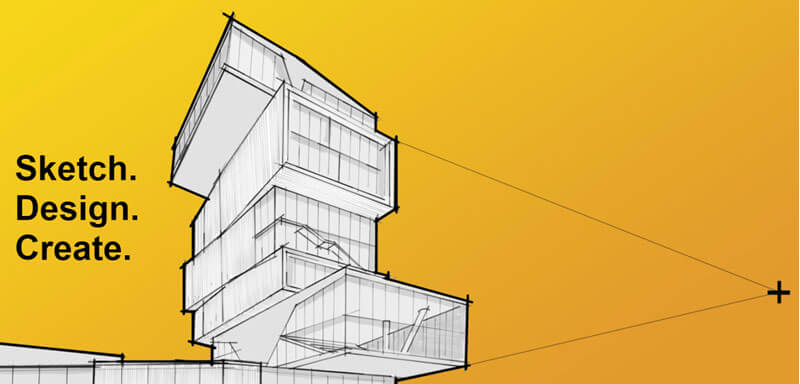 Best for: Sketching, CAD, and interactive presentations

Available on: iOS

App overview: Morpholio Trace Pro is a sketching and drawing app for architects that allows users to draw on top of maps, photos, images, and other documents.

Users can collaborate with in-app markup tools, and enhance hand drawing with AR, VR, and in-app intelligence.

Key architectural features:
AR Sketchwalk. This feature allows users to go "inside" their designs for a more immersive experience — perfect for taking clients and stakeholders on virtual tours to communicate your vision and make it feel more "real."
AR Perspective Finder. This built-in drawing tool simplifies complex sketching tasks using virtual perspective grids at scale.
ScalePen. The platform's ScalePen feature automatically checks the scale and zoom level of a plan as you're drawing and automatically calibrates a set of technical pens based on those measurements.
Drag'n'Fly 3D Viewer. Users can embed live 3D models into their sketches to create infinite views. From there, the app automatically generates the perspective grids you can use to enhance your drawings.
Custom stencils. Turn any image into a custom stencil template you can reuse and update for future projects.
Pricing: Free plan available. Most advanced features are available only with paid tiers, which range between $4.99 and $19.99 monthly.
4. ARki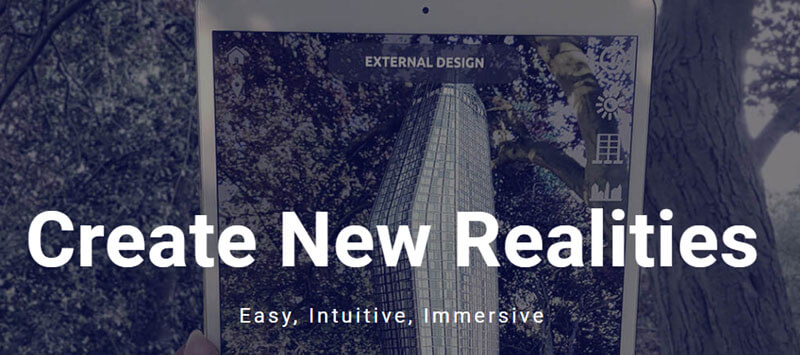 Best for: Interactive AR and 3D presentations.

Available on: iOS

App overview: ARki is an award-winning augmented reality and 3D visualization platform that allows architects, designers, and engineers to create interactive presentations. Users can import models from external platforms, create dynamic layers, and toggle between different views.

Key architectural features:
Create full-scale AR experiences. ARki allows users to explore 3D models from anywhere, at scale.
Create interactive layers. Users can design interactive layers and toggles from multiple models, building on existing plans and ideas.
Cross-device syncing. Sync projects between devices and access files from anywhere. You'll also have the option to store models locally, allowing you to access models offline, too.
Import 3D models. Import 3D Models in .FBX file format from programs like Blender, ArchiCAD, Maya, Revit, SketchUp, and more.
Pricing: Free plan available. Paid plans are $24/month ​or $268/year; enterprise pricing is available upon request.
5. Graphisoft BIMx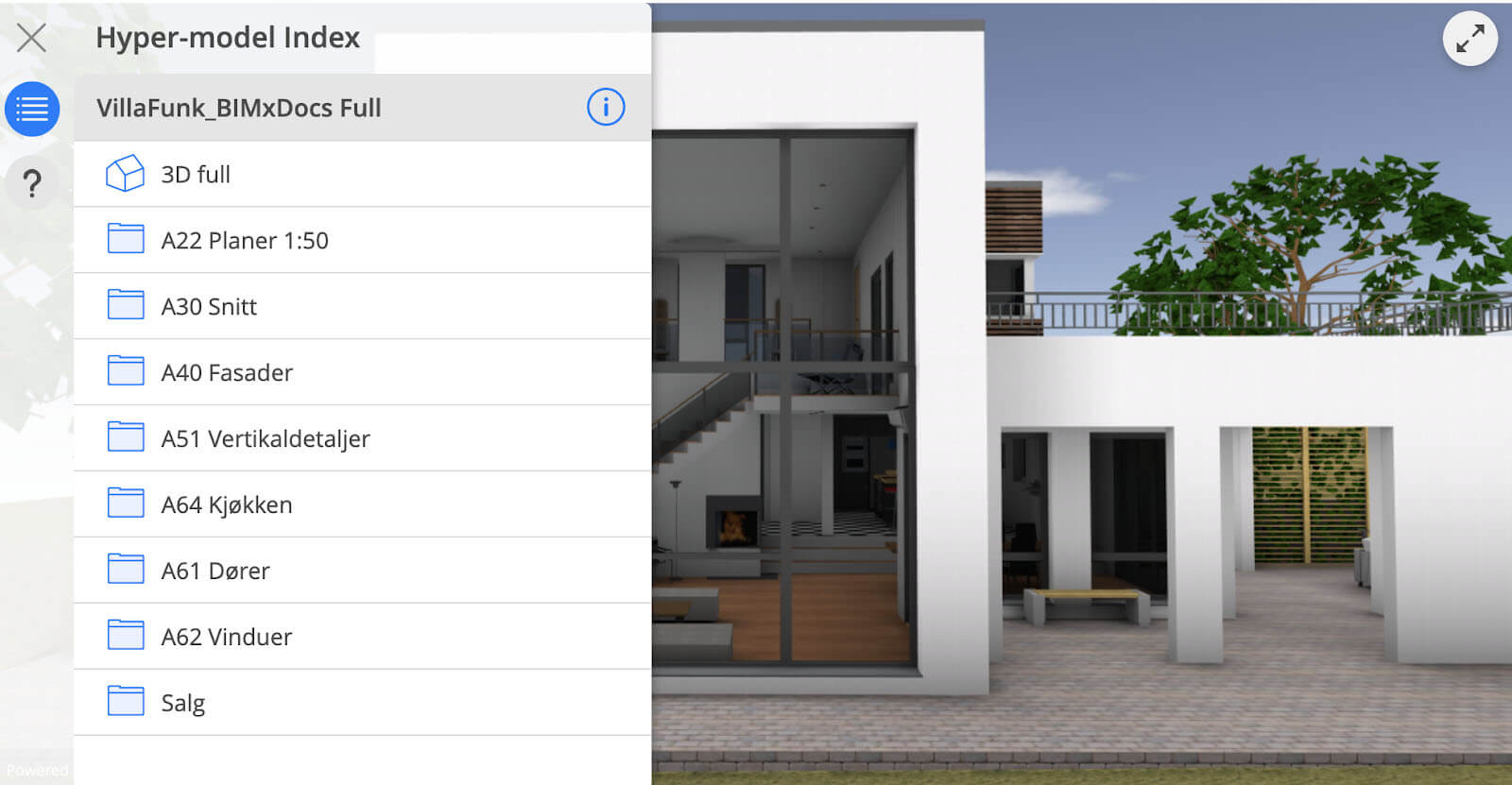 Best for: Building information modeling (BIM) presentations.

Available on: iOS, Android, desktop

App overview: Graphisoft BIMx is a presentation tool that allows users to share and explore 2D plans and 3D models with clients, contractors, and other stakeholders. Users can access all construction documents from anywhere to get in-context measurements or leave feedback and markups directly on the design file.

Key architectural features:
Mobile presentation. Users can access and share model data from anywhere and make changes to building models while on-site or with clients. Additionally, BIMx's all-digital model means a lot less paperwork.
BIM Hyper-model. The BIM Hyper-model is an in-app technology that provides a game-like navigation experience. This feature lets anyone explore the model and understand the project vision.
Pricing: Free limited plan. Pricing for paid plans is available upon request.
6. Procreate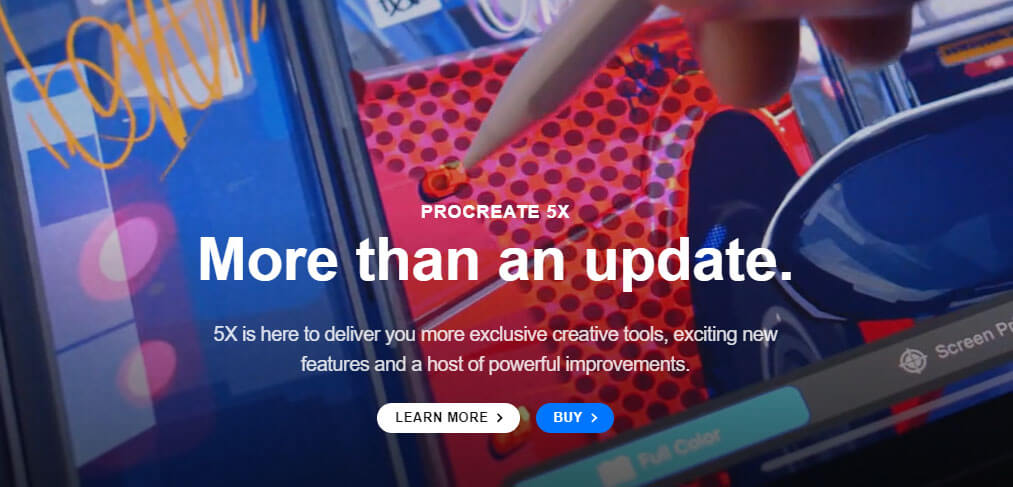 Best for: Art & exterior designs.

Available on: iOS

App overview: Procreate isn't an official architectural drawing app. Rather, it's designed for digital artists, animators, and designers. Still, Procreate is one of the best digital drawing tools around — perfect for creating design concepts that can sell your ideas to clients and other stakeholders.

Key sketch features:
Brush library. Procreate includes 150+ brushes and pencils that allow you to draw, paint, and color as though you're working with physical materials.
Reference companion. Users can import a reference image that will remain in view while drawing.
Valkyrie graphics engine. Procreate allows you to paint at a high speed — 120fps on newer iPads with Apple's ProMotion technology.
Advanced layering system. Procreate's advanced layering feature allows you to work on designs one step at a time.
Pricing: $9.99 one-time purchase
7. Magicplan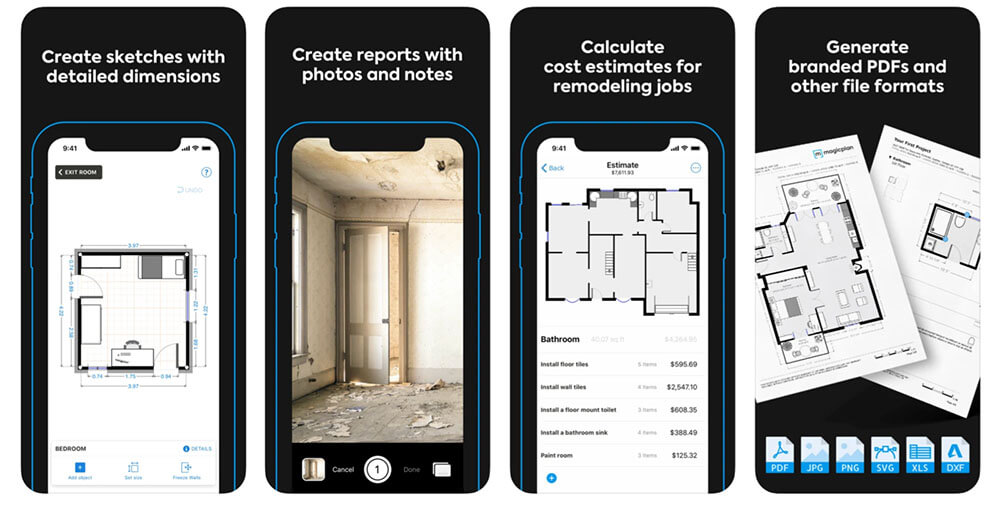 Best for: Floor plans, estimates, and field reports.

Available on: iOS, Android

App overview: Magicplan is an all-in-one architecture sketching app that allows users to design and share floor plans, generate field reports and estimates, and sync all data back to one centralized hub.

Several reviewers stated that Magicplan allowed them to create professional architectural drawings and floor plans quickly without needing to hire a professional architecture firm, making this a great choice for small contracting businesses with limited resources.

Key architectural features:
Measuring and sketching. Magicplan makes it easy to measure and sketch professional-looking 2D and 3D floor plans.
Reporting. Add photos, 360° images, notes, custom forms, and markups to create structured reports that eliminate any risk of confusion.
Estimating. Magicplan provides project estimations and automatically calculates pricing on your mobile device.
Structured data. All associated data is automatically structured, providing a complete contextual understanding for what's going on within a particular project.
Anywhere access. You can access all documents through Magicplan Cloud, generate PDF reports, and share projects with clients and collaborators.
Pricing: Plans range from $9.99/user/month to $89.99/user/month. Enterprise pricing is available upon request.
8. Autodesk FormIt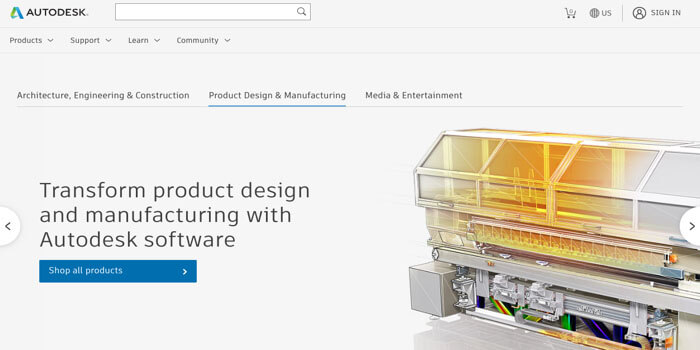 Best for: 3D modeling and architectural sketching.

Available on: iOS, Android, Windows, Web (Note: The paid plan, FormIt Pro is only available through Autodesk's Architecture, Engineering & Construction Collection)

App overview: Autodesk FormIt is an intuitive 3D architecture app that allows users to share designs with clients, colleagues, and contractors. Energy and solar analysis tools will appeal to professionals interested in green building initiatives.

Key architectural features:
Real-time collaboration. The Pro plan comes with real-time collaboration tools including a shared camera view and in-app chat.
Integrated energy analysis. The energy analysis feature uploads data from your FormIt models to the cloud and runs hundreds of analyses to determine the energy efficiency of your proposed design.
Materials library. FormIt's in-app materials library allows you to find sample materials that bring designs to life. Think floorboards, carpeting, and paint colors.
Pricing: 30-day free trial for FormIt Pro.

Free version offers access to limited features; Pro plan is $370 per month or $2,965 annually.
9. RoomScan Pro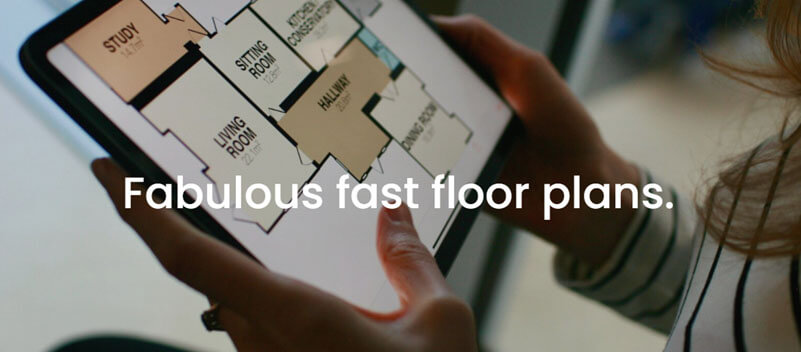 Best for: Floor plans and property condition reports.

Available on: iOS

App overview: RoomScan Pro allows you to generate a floor plan from your smartphone by literally "scanning" the space. The app then automatically generates a floor plan based on your room scan.

Users also have the option to create floor plans by drawing it by hand or by tapping the smartphone against each wall in a room. All three modes can be combined with a Bluetooth laser measure for enhanced accuracy.

RoomScan Pro also allows you to dictate notes related to floor plans and reports, and stores the location of each floor plan.

Key architectural features:
Fast floor plan generation. Create floor plans quickly with your iPhone.
ExteriorScan & PlotScan. RoomScan Pro can also be used to map outdoor projects. Use the camera to scan building exteriors, gardens, and yards.
Create virtual tours. Create flyovers and 3D models you can show off to clients in augmented reality.
Pricing: Free version with limited features; $8.49 per year for full version.
10. Planimeter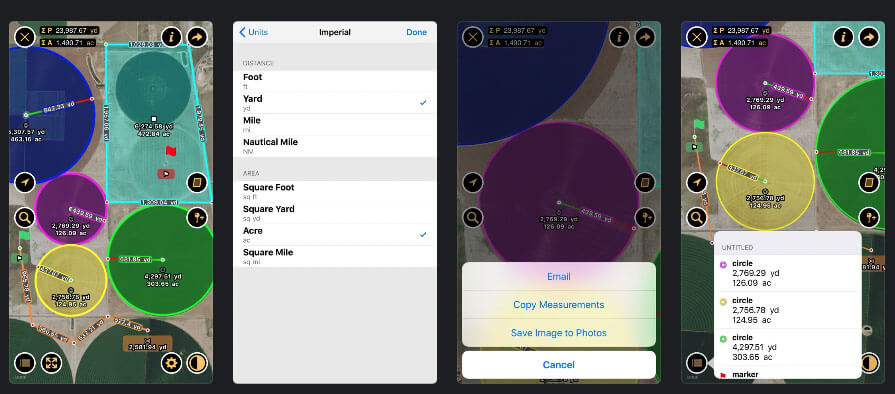 Best for: Land surveying and field area measurements.

Available on: iOS, Android

App overview: Planimeter is an app that measures distances and land areas on maps.

Users can measure (in metric or imperial units) perimeters, paths, landscaping projects, lawns, fences, and more, using the app's built-in satellite map.

Ideal for contractors, urban planners, landscape designers, and construction engineers, users can access this app anywhere to measure area, distance, perimeter, bearing, and angles.

Key architectural features:
Find the right location. You can search for a specific address or let your smartphone or tablet do it for you.
Drop a pin to start measuring. Planimeter allows you to place pins on the map to start measuring outdoor projects. Additionally, the app comes with a magnifying glass feature to ensure accurate pin placement.
GPS tracking. Planimeter's GPS tracking makes it easy to measure dimensions while onsite by walking or driving around a boundary.
Pricing: $7.99, one-time purchase
11. Sun Seeker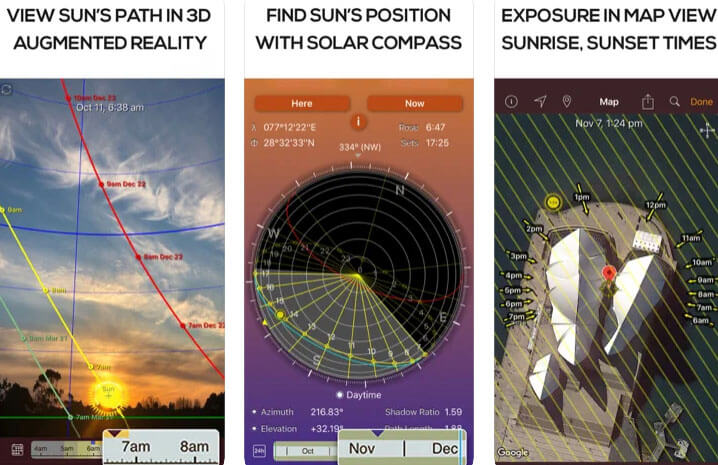 Best for: Tracking sun position.

Available on: iOS, Android

App overview: Sun Seeker is an AR app that allows users to find the solar path of any location on the planet during any time of day.

Additionally, the platform's intelligent solar path system uses GPS and magnetometer technology to find the correct sun position and path for their current location.

While this app has many use cases, Sun Seeker is one of the best architect tools in the App Store as it allows you to instantly reference the sun's position while working on a design.

Key architectural features:
3D sundial. The app's 3D sundial allows users to visualize the sun's position and how shadows change based on time of day or time of year.
AR sunlight & moonlight simulation. Fast forward from sunrise to sunset in an instant using the app's AR overlay.
Choose between 3D or flat compass. Sun Seeker comes with both a flat view compass and an AR camera option that allows users to view the sun's path in 3D.
Pricing: Free limited version; Pro plan is a one-time purchase of $9.99.
12. ArchiSnapper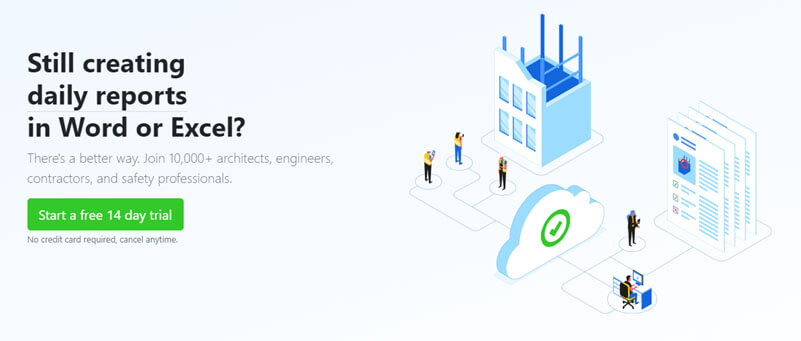 Best for: Field reports, punch lists, checklists, and inspections.

Available on: iOS, Android, Web

App overview: ArchiSnapper is a mobile field-reporting app that allows you to use your smartphone or tablet to quickly generate reports during site visits with text, photos, assignees, and floor plan annotations.

The app eliminates the need to use Word or Excel to draft field reports, reducing paperwork, and stores all project information in a central dashboard.

Key architectural features:
On-demand report generation. Instantly generate PDF reports and share them with colleagues or clients. You can even convert paper checklists into digital inspection forms and file a PDF version directly from the app upon completion.
Annotation. Add feedback to reports or photos to record any issues or observations from the job site. This feature makes it easy to identify specific areas in the plan, providing more context for everyone involved.
Project planning. Users can manage, share plans, and keep everyone informed with accurate, real-time project plans.
View all documents from any device. All documents are stored in the cloud, allowing users to access, update, and share reports from any device.
Pricing: 14-day free trial. Plans start at $24/month, plus an $14/month for each additional user.
13. Construction Master Pro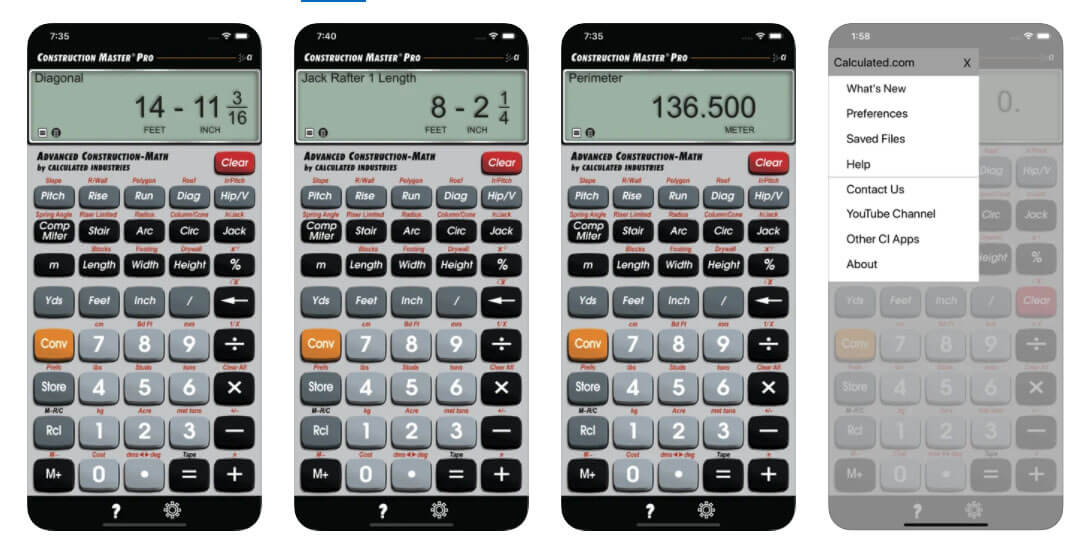 Best for: Solving construction-based math problems from your mobile phone.

Available on: iOS, Android, Windows

App overview: Construction Master Pro brings your construction calculator to your mobile phone or tablet, offering the exact same features and functionality of both the Construction Master Pro and Pro Trig models.

Users can solve construction math problems from anywhere, generate accurate estimates, and reduce costly errors at every stage, from estimation to bidding and building.

The app also includes a user's guide and help function that offers definitions, explanations, and examples of keystrokes for support on the job.

Key architectural features:
Complete trigonometric function. Calculate cosine, sine, tangent, arcsine, arccosine, and arctangent angles.
Move between dimensional formats. Users can work in any dimensional format including yards, feet-inch fractions, metric, inch fractions, and decimal feet and inches.
Advanced tape. Users can display, review, save, and share inputs, descriptions, and calculated values for each function.
Pricing: $24.99, one-time purchase. (Note that if you change from an iOS device to an Android or vice versa, you will need to purchase a new license).
Which Architect Apps Are You Going To Try?
Ultimately, you'll want to select a solution (or solutions) that align with your day-to-day tasks and make your life easier. Whether you need an architect app that can help you generate more accurate floor plans or sell your ideas to potential clients, the apps outlined above are a great place to start.

Sign up for for free to find out if Cedreo is the right architectural drawing app for you.