What is an atmosphere in Cedreo? What is it for ? Here are some answers that will allow you to easily organize the interiors of your homes. We will focus on the new "Coastal" atmosphere that has just been added and give you a short overview of the characteristics of the other five.




1. What is an atmosphere?
Atmospheres allow you to arrange and decorate your interiors in a uniform way thanks to products and coverings specifically designed to correspond to a specific style of decoration. Once again Cedreo makes your life easier by allowing you to quickly furnish your rooms while perfectly combining furnishings and materials.

In the 3D libraries submenu, you will find the "Atmosphere" tab. All you have to do is choose the room you want to furnish according to the chosen style. At the "Furnishings" step, you will find a selection of furniture (individually or grouped in packs), lighting and small decorations. At the "Materials" step, you can select parquet, tiles, colors or even wallpaper.
2. The new "Coastal" atmosphere
We have just added the "Coastal" atmosphere to the 5 existing ones. This style is using seaside tones and textures to bring the beach into the home. Embracing open spaces, keeping rooms uncluttered for a sense of calm. Allowing as much natural light as possible. Coastal designs usually incorporate many natural elements. This comes through in the furniture, often made out of wicker, rattan, or light, weathered woods, and fabrics. Driftwood (or distressed wood), sea shells, or rope are perfect accents in small amounts for furniture, lighting, or décor.

White or warm off-whites, tans and beiges are the main colors that you can use. And if you want to add touches of colors, aqua, blue, seagrass green, corals or gray will fit with this style.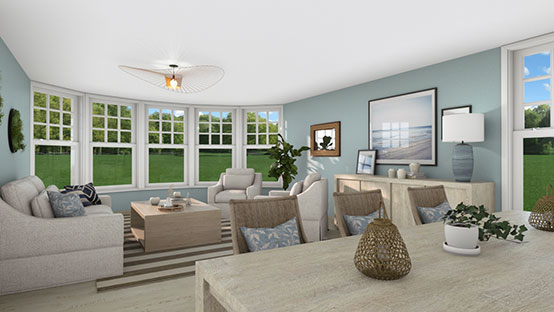 Coastal Living Room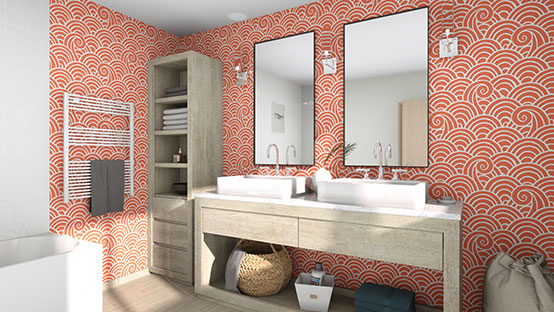 Coastal Bathroom
3. The others atmospheres
3.1 The "Nordic" atmosphere
Simple and functional design are the characteristics of this atmosphere. In terms of colors, white predominates as it is associated with light and pastel colors. You will find geometric patterns and touches of more intense colors (yellow, blue, gray) on textiles and wall coverings. Wood is the principle material for both floor coverings and furniture, which will have a clean and simple design.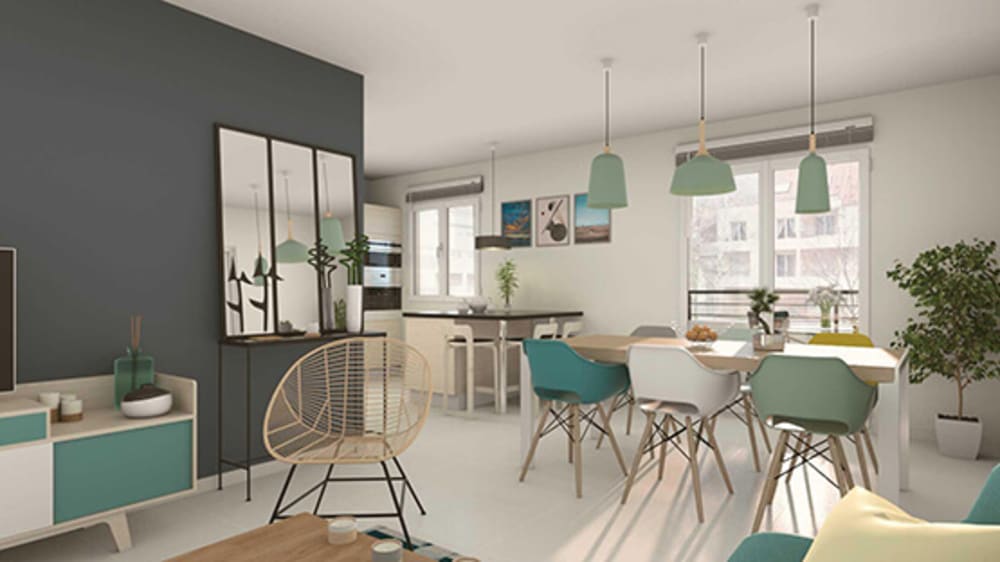 3.2 The "Moderne luxe" atmosphere
Chic and elegance are the key words of this atmosphere! In terms of colors, there are grays, black, enhanced by more intense and lively hues. The materials used for the coverings and the furniture are noble and natural materials such as wood, marble and leather. Accessories and fixtures are in black and gold hues.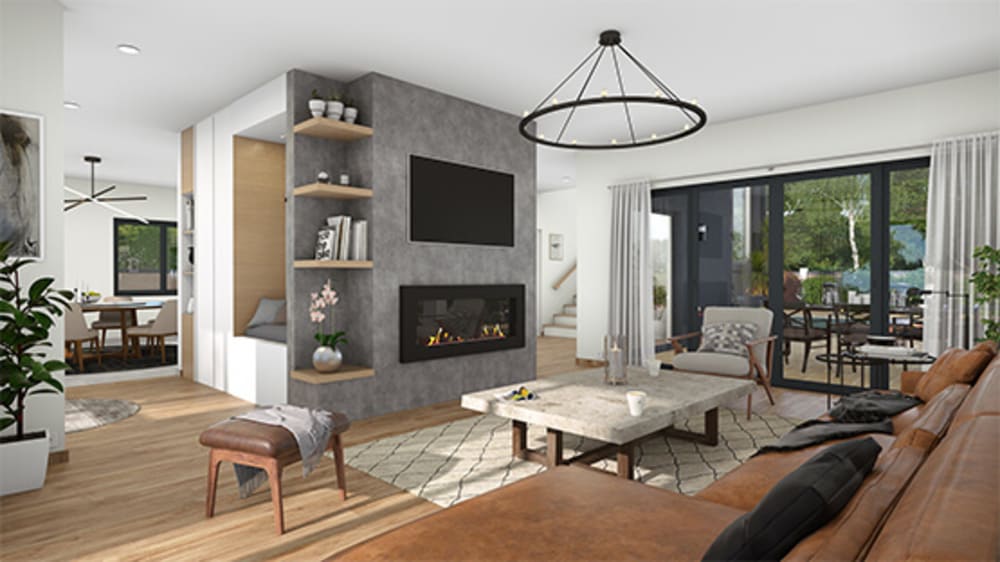 3.3 The "Modern Farmhouse" atmosphere
This atmosphere is distinguished by an elegant and warm design. The dominant colors are soft and there are neutral shades (beiges, browns, grays). In terms of patterns, the spotlight is given to floral or fine striped patterns. The furniture as well as the coverings are primarily wooden with an antiquarian style.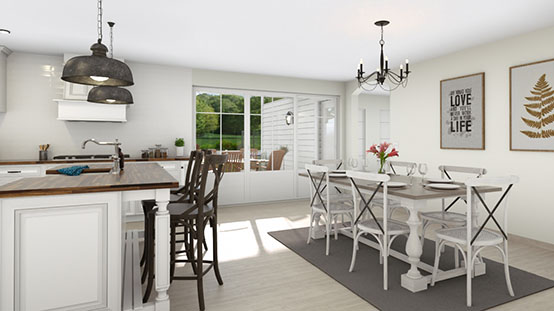 3.4 The "Mid-Century" atmosphere
"Less is more" can be the baseline of this decoration style which favors function over form. Elegant and clean lines, open spaces and a marked Scandinavian influence are characteristic.

Mid-Century Modern is also meant to be a celebration of color: fiery shades, like purple and red, sit alongside rich earth colors. Brown, burnt orange and mustard yellow are all the rage.

In terms of materials, wood is blended with glass, plastic, vinyl and even metal.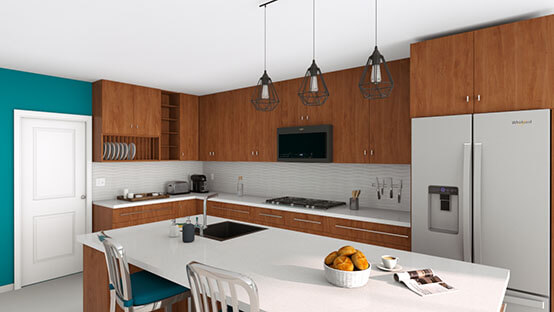 3.5 The "Industrial" atmosphere
The industrial-style interior design is inspired by the aesthetics of old industrial spaces. It is characterized by large, very bright spaces with few divisions, in which the materials are highlighted in their raw and natural state.

Versatile and neutral style, it stands out for the combination of materials such as wood, metal, concrete, leather and iron, but also for the brick walls, stripped floors, visible beams and concrete for the walls and floors.

The color scheme is sparse but can nevertheless enhance the tone of your decor. You will mainly find dark colors such as black, anthracite gray, dark green or even rust which can be enhanced by slight touches of red or yellow.

Remember that this style is suitable for any room, not just the kitchen.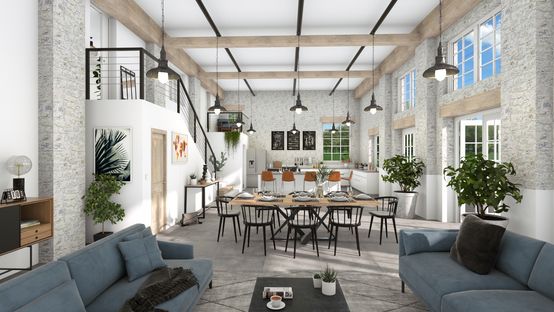 Now over to you! And do not hesitate to send us your most beautiful renderings that we will be happy to share them on social!