Whether you're planning a remodel or searching for a new home, one of the first things to consider is the size of the bedrooms. And it's no wonder since you spend a third of your life in your bedroom.
So what is the average bedroom size?
And how can you make the most of your home's bedrooms regardless of their size?
In this 5-minute read, we'll take a look at some standard bedroom sizes and design ideas from the pros.
Average vs Standard Bedroom Sizes
The average bedroom size in U.S. homes is 11 feet x 12 feet (132 square feet). That is the average size when you take into account the standard sizes of master bedrooms, secondary bedrooms, guest suites and their normal variations.

So 11'x12' or 132 sq. ft. is the average bedroom size across the board. But what about the standard bedroom sizes for different types of bedrooms?

Here are the standard sizes not including any attached bathrooms or walk-in closets.
The standard size of a master bedroom is 14 feet x 16 feet or 224 square feet. This allows enough space for a king-size bed and other pieces of bedroom furniture like chests of drawers, nightstands, a TV stand, and a chair for a sitting area.
The standard size of a secondary bedroom is 10 feet x 12 feet or 120 square feet. This will give you enough space for a queen or full bed and a few other small pieces of bedroom furniture.
The standard size of a guest bedroom is similar to that of a secondary bedroom — 10'x12' or 120 sq. ft.
The standard size of a kids' bedroom is 10 feet x 10 feet or 100 square feet. The smaller size will still accommodate a twin or single bed along with a few small kid-size pieces of furniture like a dresser and desk.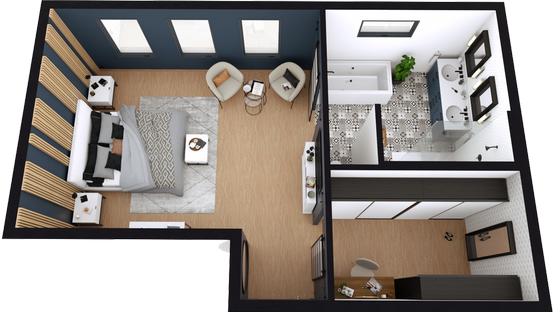 Keep in mind that these standard sizes are similar to what you'll find on most average-sized house plans in the U.S. However, you can expect to see small variations based on the overall floor plan. Learn more about this in the next section.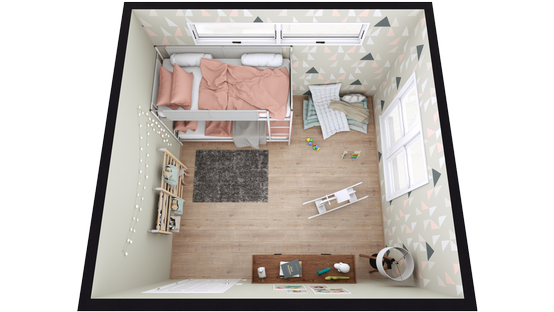 Bedroom Designs Based on Your Floor Plan
Yes, there are some standard sizes for different types of bedrooms. But the final size and layout will depend on the home's floor plan. Here are some examples.

Modern Craftsman: This is a popular home design found throughout the U.S. since they have a relaxed and contemporary feel. Modern craftsman homes typically have 3-5 bedrooms and each bedroom type tends to stick to the standard sizes.

However, larger floor plans over 2,500 sq. ft. will have space for larger bedrooms. You can even see some master suites as large as 16'x19'.

Traditional Ranch Floor Plan: Popular in the mid to late-twentieth century, traditional ranch homes feature simple and efficient floor plans that make excellent use of space. Traditional ranch homes normally have 1-3 bedrooms that range from standard sizes to slightly smaller than standard.

It's normal to see some bedrooms on older ranch homes as small as 8'x10'. On smaller floor plans, the master bedroom takes the biggest hit and will often be just slightly bigger than the standard bedrooms.

2-Bedroom Condo/Apartment Floor Plan: Condos and apartments have to fit a lot into a small space. Because of that, bedrooms rarely exceed the standard sizes.




Design Ideas for Smaller Homes
What if you have or are looking at purchasing a small home or condo with smaller-than-average bedrooms? Here are a few ideas for making the most of those small rooms. Let's start with the bed.
The Bed: The bed takes up the most amount of space in a bedroom. So why not maximize that space and get a bed with storage underneath?
The Layout: Position the majority of the furniture on one wall. And in very small rooms used by one person, position the bed in a corner.
Use the Vertical Space: Instead of a wide dresser, get a tall wardrobe. It doesn't take up as much floor space but still has the same (or more) storage room for your clothes. If the ceiling is tall enough you could even try a loft bed with office or storage space underneath.
The Illusion of Space: Use mirrors — wardrobe mirrors, accent mirrors, mirrored furniture — to make a small bedroom instantly feel bigger.
*Having a tough time envisioning your bedroom ideas? Why not use a program like Cedreo to quickly create a 3D model of your bedroom design? It's super easy to use and you can start for free now!




Standard Bedroom Sized Design Ideas
Check out these ideas for other types of average-sized bedrooms.
Kid's Room/Nursery
Room to Grow: Babies quickly outgrow age-specific furniture, so look for furniture that can grow with the child, like a changing table that doubles as a dresser.
The Right Color: Avoid red as well as bright yellow, orange and pink. They can stimulate frustration and make it harder for a child to settle down. Muted tones of yellow and pink are popular. Blue, green and purple are also great at promoting calm and relaxation.
Guest Room
Make Good Use of the Nightstand: Make sure it has essentials that your guest will need, like a source of light, a phone charging station and a catchall for jewelry and keys.
Add Some Storage Space: Guests need a place to unpack and store their clothes during their stay. A folding luggage rack makes it easier for them to unpack. A few empty drawers and space in a closet or wardrobe ensures guests don't have to live out of their suitcases.
Small Touches: Some small touches can make a guest room more functional and inviting: hooks on the back of doors for coats and towels, a large mirror to make the room seem larger and give guests a place to get ready, and a wall-mounted desk that doubles as a vanity and a workspace.
Get Creative
Just because it's marked as a "bedroom" on the floor plan doesn't mean it has to stay a bedroom. Get creative and turn it into something else like a…
Home Gym
Sitting Room
Playroom
Extra Large Walk-In Closet
Home Theater
Craft Room
Library
Pet Sanctuary
Bar and Lounge
You could even bust down some walls and expand an existing bedroom or bathroom!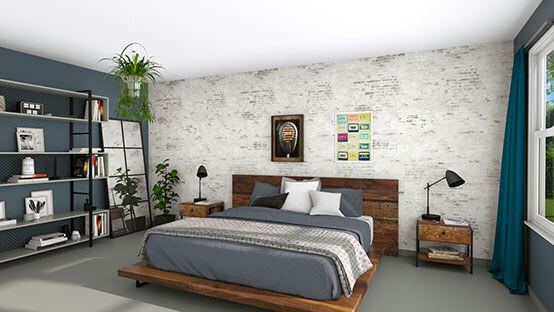 Master Bedroom Design Ideas
What about the master bedroom? Since master bedrooms have a larger average size, there are more possibilities. Here are three pro tips for arranging your master bedroom.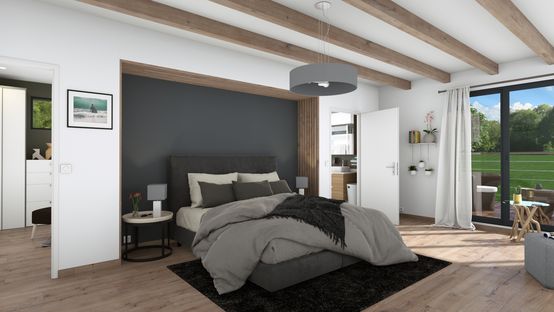 Add Extra Seating: Consider adding a chair or two with side tables and a lamp. They're nice not just for sitting but also as an extra space to place items (coats, bags, etc.) so that everything doesn't always end up on the bed.

If you're short on space, be sure to go with smaller pieces of furniture that don't disrupt the flow of traffic through the room. Try to put any seating on the opposite side of the room from the entrance.

Pay Attention to Your Nightstands: Nightstands are a staple in any master bedroom. They should always be about the same height as your mattress and if anything, a little shorter.

Divide Large Rooms in Two: Large master bedrooms are perfect for dividing into two separate spaces — usually a sleeping space and a sitting area. Place a set of chairs or a small sofa with their backs to the bed. Add an extra rug to help divide the space even more. Complete the sitting space with a coffee table or entertainment stand facing the seating.
Conclusion
Whether you're working with an average bedroom size or an enormous master suite, it can be tough to envision your bedroom ideas. That's where an easy-to-use 3D design program like Cedreo comes in.
Create a simple bedroom layout with just a few clicks
Add furniture and fixtures to test your ideas
Instantly see a 3D view of your bedroom
Download HD photorealistic renderings with accurate lighting and textures
Whether you're a designer, remodeler or homeowner, Cedreo makes it easy to bring your ideas to life. Sign up today for free!