The last few years have been filled with a host of unexpected events and the resulting trends across virtually every industry. From the global pandemic to supply chain issues to housing shortages, the construction industry hasn't escaped the upheaval.

So how is all of that affecting construction industry trends in 2023? And how can you keep ahead of the curve and stay current as a business while adjusting to these trends?

Let's take a quick look at…
Some of the biggest construction trends you can expect to see in 2023
Plus, tips for taking advantage of each trend
Key Trends to Expect in 2023
Here are 5 key trends in the construction industry you can expect to see in 2023. We'll have a quick look at each trend and what it means for you and your business.
Focus on Sustainability
About the Trend: Public concern for the environment continues to grow year over year. In fact, this increased global awareness has even been called an "eco-awakening".

The construction industry is definitely feeling the effects of this movement. Sustainable construction used to be a niche market, but it's now becoming mainstream.

Here are some of the sustainable construction trends you can expect to see in 2023.
Increased interest in sustainable materials
More locally sourced materials
More budget-friendly energy-efficient fixtures
Cheaper solar power options
More commercial projects using green building systems (green roofs, rainwater harvesting, etc.)
What This Trend Means for You:
Not all clients prefer to pay the premium price that sometimes comes with sustainable materials and designs. However, it's worth it for you to start adding them to your portfolio. An easy way to do that is by offering eco-friendly material options and energy-efficient fixtures. Be prepared to explain to your clients the environmental benefits and cost savings over time.
Digitization in the Construction Industry
About the Trend: As the construction industry continues to struggle with a shortage of skilled laborers, digitization is becoming even more important.

Construction companies are turning to digital solutions to increase productivity and efficiency in the absence of skilled workers. This turn to Industry 4.0 and IoT (Internet of Things) technologies has been a long time coming for the construction industry, but it is finally gaining traction.

This construction industry trend can take many forms, such as…
Paperless record keeping
Increased use of sensors embedded in tools, construction materials, and job sites
More powerful BIM (Building Information Modeling) software
More automated processes — from estimating to building construction
AI-assisted cloud-based design programs
What This Trend Means for You:
It's time to start adopting some of these technologies. Fortunately, it's easier than ever for construction firms to jump on this trend.
A great place to start is with smart software. Automated and AI-powered software is one of the easiest digital trends to adopt that will give you a quick return on your investment.
*A great example of this is the combination of Cedreo and CostCertified. Together they streamline your entire design and estimating process. And best of all…they don't need a computer genius to figure out how to use them.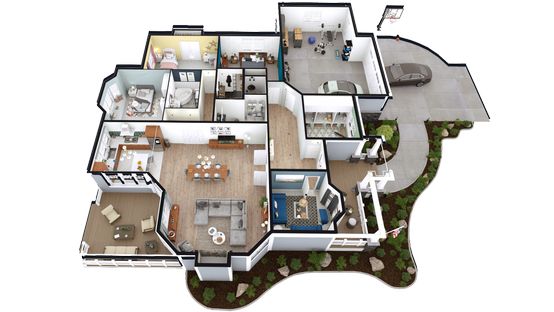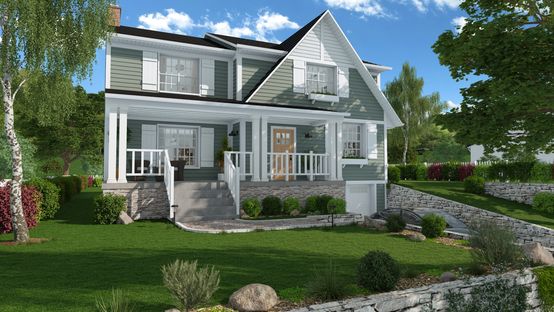 3D Renderings, Floors Plans, and Printing
About the Trend: Everything 3D is growing in popularity — 3D building designs, 3D project visualizations, and even 3D home printing.

While 3D home printing still hasn't reached the mainstream construction industry, there is growing interest in the field. This is especially true for low-income and emergency housing.

3D home design is also skyrocketing in popularity. It used to be limited to large firms with big budgets and large design teams. But now with easy-to-use programs like Cedreo, even small remodeling companies can start producing professional 3D renderings and floor plans.
What This Construction Trend Means for You:
Since easy-to-use 3D software is available to everyone, there's no reason not to start using it.
With Cedreo, anyone with no previous 3D experience can create a 3D home model in just a few hours. That makes it easy to show your clients a detailed 3D floor plan and accurate visualizations of the finished project.
*Want to see how easy Cedreo is to use? Sign up for FREE today.
New Construction Materials
About the Trend: With skyrocketing building material costs and a greater focus on sustainability, it's no wonder there's increased interest in alternative construction materials like:
Recycled materials including cardboard, glass, and plastic
Self-healing concrete
Flexible concrete
Engineered timber
Steel rebar alternatives
Passive cooling ceramics
Carbon-fiber
What This Means for You:
Look for ways to incorporate alternative materials into your existing designs.
Check with local suppliers to see what's available.
Include alternative materials and their benefits as options in your project presentations
Declining Workforce
About the Trend: In the last few years it seems that every industry has suffered labor shortages. However, the worker shortage combined with an increasing demand for homes means the construction industry has suffered worse than most.

What This Means for You:
Good talent is in high demand. That means you need to be prepared to offer potential hires perks like sign-on bonuses and flexible schedule options.
Focus on keeping your current employees by looking for ways to invest in your existing workforce. Although it costs to invest in your employees, it's often cheaper than finding and onboarding new hires.
Offer training and opportunities for growth. Make sure your employees feel appreciated and valued. Help employees maintain a positive work/life balance by offering flexible schedules.
Summary: What to Expect in the Construction Industry in 2023
So what's the key to facing these 2023 construction industry trends?

We could sum it up in one word…adaptability.

Old trends are dying and new trends are emerging faster than ever. That means as a business, you need to quickly pivot and adapt to the changing needs of your clients.

One of the fastest ways to do that is with easy-to-use software like Cedreo.
Streamline your workflow and save loads of time in the design process
Create custom home designs with modern features
Impress clients with 3D renderings
Use the CostCertified integration to create flexible budgets that make it easy to offer sustainable features
Why not sign up for Cedreo today to see what it can do for your business?