If you're designing a home for the first time, it's normal to feel overwhelmed by the process. There are a lot of options and factors to consider.

There is a significant level of technical knowledge required to design a home, so it's important to partner with a reputable general contractor. From local building codes to architectural design principles and structural requirements—it's simply not possible to design an entire house without some level of professional experience. But there are things you can do to get the process started on your own.

In this article, we'll explore how you can design your dream house in five simple steps. This article is intended to help you get started with the design process so that it streamlines the pre-building stage with your general contractor.

Keep reading to learn how to design a home so you can ensure your builder knows exactly what you want.




5 Steps to Design Your Dream Home
Before you even start designing your home, you'll have to do some research and planning. A lot of this research can be completed by a contractor, but there are some things you should already know before your preliminary meeting with a builder.
Set Your Budget
It will be difficult to know how much a home design-build will cost without speaking to a contractor about your wishlist, but it's a good idea to know your budget ceiling. This way, your contractor can help you set realistic expectations.

Relying on online quotes and estimates isn't completely off-limits—it's an excellent way to get a very general estimate of what the costs will be. But prices can vary drastically depending on the quality of materials and the expertise of your contractor.

Bottom line: the complete cost of a design-build is only possible to predict by working directly with a contractor. But you shouldn't begin the home design process without having a general idea of what your budget is.
Think About House Placement
Once you've done your research, it's time to start creating a site plan.

If you're completing this step without the help of a contractor, you likely won't be able to create a precise, project-ready site plan. There are a lot of restrictions and codes that govern where buildings and structures can be placed on a lot, but that doesn't mean you shouldn't decide on a few key factors.

For example, you should determine which direction your home will be facing. This is important for window placement and plumbing design. If you want a kitchen with south-facing windows and the front of your home is facing north, then your kitchen will be overlooking the backyard.

You can create site plans using Cedreo—a user-friendly online design software where you and your contractor can create precise, project-ready blueprints, floorplans, and 3D visualizations in a matter of hours.
Choose a Style That Matches Your Lifestyle
Once you're ready to start designing the floor plan, it's time to make some style decisions. This stage may seem frivolous, but the more mindful you can be about your home design, the better your chances of having a finished product that suits your lifestyle.

Consider your life goals and values: how big should the home be? How many bedrooms will you need? Which rooms need the most natural light? Which rooms will need to be quiet?

Answering these questions will help determine your priorities during the planning stage.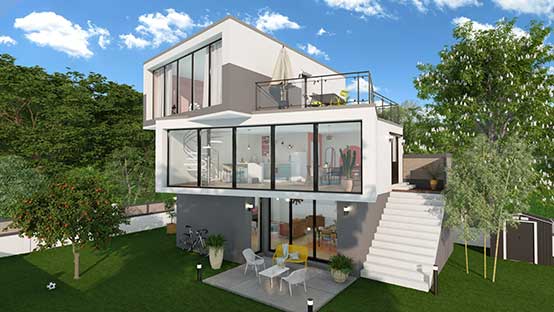 Create Your Floor Plans
Now that you have a good idea of your site plan, style, and budget, it's time to draft a floor plan.

There are many ways to do this. You could work with a professional designer or architect, which would take many weeks and be quite costly. There's also the option of hand-drawn blueprints, but that would take time and effort that ultimately isn't worth it.

By far the best way to design a home is with design software like Cedreo, the same software for designing site plans.

In Cedreo, you can create floor plans and then transform them into 3D visualizations. To design a home in Cedreo, start by creating a basic room. The software is intuitive; you can create a room with just four clicks. Then, drag and drop basic structural elements such as windows and doors.

Complete each room in your home, then create 3D renderings of each room and the entire finished project to see how your future home might look.
Share Your Designs With Your Architect or Home Builder
Cedreo was engineered to be used by contractors, so builders can use the design you create and modify it to meet any structural and building code requirements.

From there, they can make minor modifications to the floor plan to make it precise and project-ready, then they can print it for the construction team to begin work.




The Benefits of Using a Home Design Software
Using home design software allows you to better understand the effects of different choices, so you can feel more confident in your home plans before builders begin construction.

You'll be able to see with more clarity the impact of things such as window and door placement, and you can design rooms with furniture in mind.

The construction team will know exactly how to create your dream home, so they will be better equipped to avoid costly and time-consuming mistakes. The result will be a finished house that is as close as possible to your wishlist.




Design Your Dream Home With Cedreo
Cedreo is the go-to software for designing a dream home. It was engineered to support general contractors and other building professionals, allowing them to complete the design phase in-house for a fraction of the cost of outsourced architecture and design services.

Whether you want to create site plans, 2D floor plans, or 3D visualizations, Cedreo makes it easy and affordable. Plus, with a wide range of 3D rendering options, homeowners can get a unique view of their finished home before breaking ground.
Cedreo is the 3D design software that helps contractors improve client relations, increase sales, and establish a professional reputation. Sign up to start using the free version of Cedreo today.